The summer solstice arrives this week, which means it's time for us all to escape the heat and humidity by going to baseball games -- where we can cool ourselves in the refreshing air currents generated by batters striking out in record numbers. (And if the Astros are playing, fans may want to pack a fleece jacket.)
How I plan to spend my summer …
Taking a cue from the Nationals and Stephen Strasburg, I will shut myself down for a stretch of several weeks. I will carefully nurse my right elbow by never lifting anything heavier than a 16-ounce cup of $10 beer at the ballpark.
I will, however, carry around a boombox in my other arm so I can honor Mariano Rivera in his final season by blasting "Enter Sandman" as my entrance music whenever I walk into a house, an office, a restaurant, a store or a room.
Like a kid listening for an ice cream truck's jingle, I will eagerly await the Yankee Stadium speakers once again playing the recording of Bob Sheppard saying, "Now batting for the New York Yankees, No. 2, Derek Jeter, No. 2.'' However, I will wear industrial strength ear plugs if Alex Rodriguez is ever introduced anywhere this summer.
And, of course, I will root against the possibility of Rivera, Jeter, A-Rod or any other Yankees players extending their seasons into October. Instead, I will root for the Orioles to reach the postseason, and I will wish that I was standing at Boog's BBQ with a pit beef sandwich in my right hand while my left hand reaches out to catch another Chris Davis home run.
I will stay up late on these long summer nights, sprawling on my couch and watching yet another nail-biting marathon go long past midnight as baseball continues on pace to play a record number of extra-inning games and bonus panels. And then, as the game edges into the 20th inning, I will drift asleep with a smile on my face while dreaming of line drives into the gap and runners rounding third.
I will mute the TV for 30 seconds, however, whenever that C.J. Wilson/Josh Hamilton commercial comes on.
I will root for the resurgent Padres to reach the postseason, wishing that I was in San Diego and eating fish tacos until my waistline has expanded so much that I'm mistaken for the Swingin' Friar.
I will toss away my shaver for the summer and grow a beard so long and scraggly I look either like Josh Reddick or like I should be calling a volleyball "Wilson."
Although I am a lifelong Giants fan, I will not inoculate myself against Puig-mania spreading beyond Dodger Stadium.
I will attend the All-Star Game in New York, but I will not sit in the same section with the cougars who were recruited to stuff the ballot box for David Wright.
I will NOT attend the Hall of Fame ceremonies in Cooperstown, where there will not be a single living player inducted. Instead, I will tune to the Blue Jays broadcast from Toronto and listen to Jack Morris while wishing he was delivering an acceptance speech from the Cooperstown podium.
I will listen for the finest sounds to come out of Motown since the Supremes and Marvin Gaye: the crack of the bat when Miguel Cabrera or Prince Fielder are at the plate, and the pop of the catcher's glove when Justin Verlander, Max Scherzer and Anibal Sanchez are on the mound.
I will postpone mowing the lawn, weeding the yard and painting the house until there is a makeup doubleheader so I can perform these miserable chores while listening to the radio broadcast. The work still will not be pleasant, but the announcers' play-by-play will at least make it tolerable. Unless the Marlins are playing.
No matter how sweaty and dirty the chores leave me, however, I will not shower in the Oakland Coliseum clubhouses.
I will ride my bike to a Mariners game and sit in the King's Court, wearing my foam crown and yellow T-shirt, holding my K card in one hand, a giant roasted turkey leg in the other and fervently hoping that someday, King Felix will receive the run support his reign deserves.
And all summer long, I will root for Andrew McCutchen and the Pirates to finally end their record streak of 20 consecutive losing seasons, wishing that I was eating a Primanti Brothers sandwich at baseball's best ballpark, with the Pittsburgh skyline and the Roberto Clemente Bridge beyond the fence . . . and wishing even harder that I will be there when summer is over and leaves are falling in late October.
CSI: Box Score
Each week, I provide a fragment from an old box score and challenge you to determine what game it is from and why it's significant. I give this one a difficulty rating of 7. Answer below:
Baseball Card of the Week
Returning to the time machine that is the 1988 Topps baseball card set …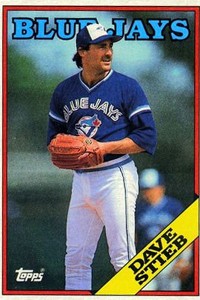 Last week marked the 75th anniversary of Johnny Vander Meer's consecutive no-hitters, a feat that has never been matched in the majors. But in 1988, Toronto's Dave Stieb (1988 Topps, No. 775) came painfully close when he was one out away from a no-hitter in EACH of his final two starts of the season. Talk about frustrating. He settled for consecutive one-hitters.
Box Score Line of the Week
Mariano Rivera padded his all-time save total by "protecting" a five-run lead despite allowing four baserunners and retiring only two batters while four runs scored when he was on the mound (2/3 IP, 3 H, 1 R, 1 ER, 1BB, 1 K). Speaking of the Yankees, Travis Hafner (8 AB, 0 R, 0 H, 0 RBI), Kevin Youkilis (7 AB, 0 R, 0 H, 0 RBI) and Vernon Wells (8 AB, 0 R, 0 H, 0 RBI) went a combined 0-for-23 in New York's 18-inning loss to the Athletics on Thursday.
Meanwhile, White Sox starter Chris Sale pitched a complete game on Friday, struck out 14 and didn't allow an earned run -- and still lost (8 IP, 5 H, 2 R, 0 ER, 1 BB, 14 K). But this week's award goes to Max Scherzer for this line on Monday night:
Scherzer W, 10-0 6 IP, 7 H, 1 R, 1 ER, 2 BB, 10 K
That's the first time we've seen a 10-0 record in a pitching line since Roger Clemens won his first 10 decisions in 1997.
As colleague David Schoenfield wrote very well on Tuesday, wins aren't a perfect statistic. But despite what some advanced sabermetric types would have you believe, they are still kind of important in determining whether a team reaches the postseason.
Yeah, Well, That's Like, That's Just Your Opinion, Man
Don Drysdale, However, Would Probably Have Disagreed. A disturbing aspect in last week's brawl between the Dodgers and Diamondbacks was the involvement of Zack Greinke again. Greinke hit Miguel Montero in retaliation for Ian Kennedy throwing at Yasiel Puig. That prompted Kennedy to hit Greinke with a pitch, which started the fight. Old-schoolers might applaud Greinke for showing support for his teammates by throwing at an opponent in retaliation, but that's the wrong view. Greinke already missed five weeks after being hurt in an earlier brawl. He could have been hurt again because he threw at Montero. After signing a $150 million contract, Greinke's main responsibility to the Dodgers is to stay healthy so he can pitch and earn his salary. The best way he can show support for his teammates is staying off the disabled list, not provoking fights.
CSI: Box Score Answer
To get this one, you needed the big clue -- Blackwell giving up two hits in nine innings -- plus a reminder last week in the stories about the 75th anniversary of Vander Meer's consecutive no-hitters. The closest a major leaguer has come to duplicating the feat was in 1947 when Vander Meer's teammate -- Ewell Blackwell -- threw a no-hitter June 18, 1947, then took a no-hitter into the ninth inning four days later. Then Eddie Stanky singled with one out and Jackie Robinson singled with two outs.