The Pirates could be heading toward their first winning season in 20 years (cross fingers). Derek Jeter might be back in the Yankees' lineup regularly again (hopefully for more than one game). Mariano Rivera will take the mound to "Enter Sandman" for the final time (get your cameras ready).
And hopefully, the umpires will be brushing up on the rulebook.
But what else can we expect in the second half of the season? Off Base calls up its crystal ball app ...
July 18: Expressing pure excitement over his prognosis, A-Rod tweets he will be back with the Yankees over the weekend, adding that "I am in mid-October form!" Frustrated Yankees general manager Brian Cashman responds by telling reporters that if A-Rod is truly in mid-October form, "He'll have to continue his #@%&ing rehab assignment another six weeks."
July 19: Walking to the stadium for his first game back from his strained quad muscle, Jeter ducks out of the way of a falling safe only to step through an open manhole and go back on the disabled list.
July 21: The Centers for Disease Control officially raises Puig-mania from epidemic to pandemic level after Yasiel goes 4-for-5 with two home runs to raise his batting average to .429.
July 22: A-Rod refuses to join the Yankees in Texas, tweeting that it's too hot in Arlington and there is absolutely nothing to do there, and tells the team that he would prefer to simply wait until New York plays in San Diego the following week. "Or perhaps Tampa Bay in August."
July 28: Despite a considerable write-in campaign from Dodgers fans, Puig is not invited to Cooperstown for induction into the Hall of Fame. Yoenis Cespedes isn't invited either, but he shows up in Cooperstown anyway, thrills the crowd by hitting 32 home runs at Doubleday Field and receives a Hall of Fame plaque.
July 31: In a youth-building movement completed just minutes before the trading deadline, the Yankees acquire Raul Ibanez, Jason Giambi, Jose Contreras and Betty White.
Aug. 3: The Rangers-Athletics game at Oakland's Coliseum is postponed after Bartolo Colon causes the stadium's plumbing to back up again.
Aug. 8: In a bid for cleaner energy, President Barack Obama proposes that the U.S. set up generators at major league ballparks across the country to harness the wind produced by Adam Dunn, Josh Hamilton, the entire Astros roster and every other major leaguer swinging and whiffing in record numbers.
Aug. 12: Jeter comes off the disabled list but strains a groin muscle before the game while putting on his pants in his customary manner of two legs at a time.
Aug. 24: New York manager Joe Girardi enrages Yankees fans, the players' association and the Twitter-verse when he has Rivera pitch in the eighth inning rather than wait to the top of the ninth with no one on base and a three-run lead, as specified by the First Rule of Closer Etiquette.
Sept. 5: Umpire Tom Hallion ejects Tampa Bay's David Price from the game because the pitcher didn't send him a birthday card.
Sept. 12: Prior to his start, 24-1 Max Scherzer bets Torii Hunter that if he goes 25-1, even sabermetricians who consider WAR the ultimate barometer of a player's value will be impressed. Scherzer wins the game but loses the bet.
Sept. 27: Rivera closes out his long career with perhaps his greatest save of all when he's on hand to stop Jeter from stepping into an empty elevator shaft.
Sept. 28: In the final game of the season, Baltimore's Chris Davis briefly electrifies baseball fans with his 62nd homer by blasting a home run that travels 482 feet and hits the B&O Warehouse at Camden Yards and then bounces back onto the field. The celebration is short-lived, however, when crew chief umpire Angel Hernandez reviews the replay and declares that it was only a ground-rule double.
Oct. 3: Jeter breaks two ribs during the opening round of the playoffs when he rolls off his couch while watching the games on TV because the Yankees didn't reach the postseason.
Oct. 30: The Pirates' late rally against Detroit in Game 7 of the World Series is cut short with the bases loaded when crew chief umpire Fieldin Culbreth gets confused over the rules again and calls Andrew McCutchen out on strike two for the game-ending second out of the eighth inning.
CSI: Box Score
Each week, I provide a fragment from an old box score and challenge you to determine what game it is from and why it's significant. I give this one a difficulty rating of 6. Answer below:
Baseball Card of the Week
Reggie Jackson had been in the majors for two years before his rookie card was finally issued (1969 Topps, No. 260). It was a different era back then.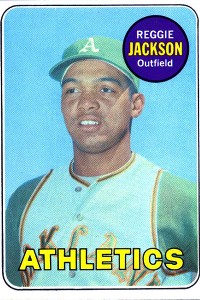 As you've probably heard a time or two in the past week, Chris Davis tied Jackson for the American League "record" for most home runs before the All-Star break (37). This is a somewhat bogus stat because the All-Star Game is played at various points in July. In 1969, it was played on July 23 (after being rained out the day before), which is a fairly late date. Oakland had already played 92 games. This year's game also was fairly late; Davis' Orioles have played 96 games this season. We are well past the midway point in the season, folks.
Reggie's power declined considerably in the "second half" in 1969. He hit just 10 home runs in Oakland's remaining 70 games. He still finished with an outstanding total of 47 but never approached the season record.
Davis is on pace to hit 62 home runs, and I hope he can continue that pace. That still would be far short of the record, which, despite what some want to believe, is held by Barry Bonds, not Roger Maris.
Box Score Line of the Week
Cleveland's Danny Salazar took a no-hitter into the sixth inning in his major league debut Thursday, struck out seven (6 IP, 2 H, 1 R, 1 ER, 1 BB, 7 K), got the victory ... and was sent back to the minors the next day. Houston's Jarred Cosart took a no-hitter into the seventh inning in his major league debut Friday and wound up throwing eight scoreless innings for the victory (8 IP, 2 H, 0 R, 0 ER, 3 BB, 2 K).
But this week's award goes to Tim Lincecum, who not only took a no-hitter into the sixth and seventh innings Saturday night in San Diego but kept it going in the eighth and ninth to get his first career no-no. His line:
9 IP, 0 H, 0 R, 0 ER, 4 BB, 13 K, 148 pitches
The 148 pitches were one fewer than Edwin Jackson threw in his no-hitter three years ago for the most in a no-hitter in the past 25 years.
Best of all for Lincecum? The Giants did not send him down to the minors the next day.
CSI: Box Score Answer
There were small clues and large clues in this fragment. The smaller ones were Hall of Fame names such as Foxx, Hubbell, Cronin and Mize, which should have been an indication this was an All-Star Game. But which one? The bigger clues provide that answer. Those would be the names of Averill and Dean, because this box is from the 1937 All-Star Game when Earl Averill hit a ball off Dizzy Dean's foot. Told that his toe was fractured, Dean reportedly said, "Fractured, hell. The damn thing's broken!"
Dean sat out a couple of weeks then tried to come back too early. Doing so, he altered his pitching motion to reduce the pain in his toe and wound up hurting his arm and losing his fastball. Although he was only 27 at the time, Dean won only 16 games the rest of his career because of the injury.
Which makes the complaints about the injury risk of the World Baseball Classic seem silly. The All-Star Game cost Dean his career. It severely damaged the rest of Ray Fosse's time in the majors -- Pete Rose ran over him at home plate in the 1970 All-Star Game. Any time you compete, you risk an injury. If it's acceptable to risk an injury for the Midsummer Classic exhibition, or a spring training exhibition, it's more than all right to risk it in the WBC when you're playing for your country.