The Biogenesis penalties have been handed down, and baseball has another public black eye, darker and uglier than any Sylvester Stallone collected in his six "Rocky" movies.
Once again, steroid use is the preferred punch-line for baseball in the media. The game right now is probably cleaner than it's been in the past 15 years, but the pundits are back to making easy wisecracks about prolific doping in baseball. The Biogenesis affair makes it clear that baseball is actively trying to rid the game of PEDs -- an approach that should be praised and celebrated -- but much of the reaction has been to make the game the butt of more jokes and grist for a continuing stream of negative stories.
Meanwhile, the NFL, with players whose physiques are impossibly big compared to baseball players', is rarely questioned about possible PED abuse the way baseball is. And funny how the NBA was linked to the Biogenesis scandal but has been silent on the matter.
Why is that? It's simple. Other leagues know the rules for maintaining a clean image:
1. Never, Ever, EVER Investigate Media PED Allegations. When the media breaks a story about possible PED abuse, do not make matters worse by launching your own investigation, for heaven's sake. Definitely do not try to clean up the mess by punishing some of the biggest names in your sport. Instead, just sweep the dirt under the rug! If a newspaper reports that players on a Super Bowl team took steroids or that NBA players were involved in Biogenesis, just say, "These aren't the droids you're looking for. Move along. And hey, when is baseball ever going to clean up its sport?" It also helps to hold up shiny objects.
2. Don't Strain A Muscle Trying To Catch Cheaters. Don't give yourself bigger and blacker eyes by catching everyone you possibly can. Just repeatedly stress that you are aggressively testing, even if you are not. For instance, make a dramatic public announcement that you're going to test for HGH … but then never get around to actually doing it. Or warn the players ahead of time that they'll be tested for PEDs. This way, you'll keep positive tests to a minimum and keep everyone focused solely on what happens on the field. (Just so long as the attention is not on all those darn concussions, which, of course, are completely harmless.)
3. Keep The Punishment Light. Now, if by some remote chance you do catch someone, don't go overboard with the sentencing. Forget about lifetime or multiyear bans. Just suspend first-time offenders for four games and everyone will have forgotten about it when they come back in a month.
4. Don't Let Any Of Your Big Names Be Suspects. So what if a player looks like Hugh Jackman's stunt double in "The Wolverine" and bounces back from an injury many, many months ahead of the norm and then has a superlative season. Make sure the media hypes it as awesome and inspiring, not suspicious.
5. Do Not Revere Statistics and Records. The only time fans really care about players getting suspiciously bigger, faster and stronger is when someone challenges or breaks a hallowed record. So avoid this problem by never hallowing any records! Make historical statistics irrelevant, as they are in football and basketball. (Quick, what's the record for most yards passing in a season? Or the most points scored in a season?) Ignore career or season statistics. Make certain the only statistics anyone cares about are the points in their weekly fantasy leagues. Once those games are over and the scores are totaled, make everyone's sole focus the next game. Remember, this is the age of Twitter. If it happened five seconds ago, it's ancient history. Move on. As Satchel Paige said, Don't look back. Something may be gaining on you. And that something probably is carrying a camera and has some uncomfortable questions to ask.
Of course, none of these rules will actually help clean up your sport in any way. But they will either make people think the sport is clean or keep them from caring that it isn't.
Which, as other sports have shown, is really what matters, isn't it?
CSI: Box Score
Each week, I provide a fragment from an old box score and challenge you to determine what game it is from and why it's significant. I give this one a difficulty rating of 5. Answer below:
Baseball Card of the Week
Hmmmm. I wonder how the Biogenesis suspensions are affecting the futures market for this card (1994 Upper Deck, No. 24 rookies).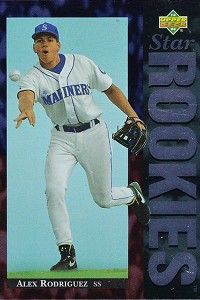 Box Score Line of the Week
Miami rookie Jose Fernandez gave Marlins fans a rare night to savor with a brilliant start on Friday (8 IP, 3 H, 0 R, 0 ER, 1 BB, 14 K), while Chris Perez gave Cleveland fans a night to forget on Monday (0 IP, 3 H, 4 R, 4 ER, 1 BB, 0 K).
But this week's award goes to Alex Rodriguez for making a useless and ironic return to baseball just hours after he had been suspended until the 2015 season. His infuriating line:
4 AB, 0 R, 1 H, 0 RBI
I don't know what baseball has on Rodriguez, but as suggested above, giving him a far stiffer penalty than the rules specifically call for is only going to drag out this whole sordid story longer than necessary. It also puts baseball in the puzzling spot where the most prominent of its suspended players is allowed to play. If by some chance A-Rod helps the Yankees win a crucial game or two and reach the postseason, how will the league justify it to the team that finished behind them?
Probably, MLB won't have to, mostly because A-Rod is not going to help New York much, and the Yankees are not going to reach the postseason. Which is another reason why, rather than push for a suspension that lasts to the end of next year, baseball should have just stuck to the 50-game suspension for an aging and oft-injured player who might not be able to come back to play again anyway.
Yeah, Well, That's Like, That's Just Your Opinion, Man
Sad Tale Of The Tape. The Biogenesis suspension of Jesus Montero adds another layer to the question of whether the Yankees or the Mariners got the worse end of the well-hyped Montero-for-Michael Pineda trade. Was it New York, which has yet to receive a single inning from the still-injured Pineda? Or Seattle, which received negative WAR value from a quadruple threat who couldn't catch, couldn't run, couldn't hit and couldn't obey the rules?
Some Pre-Movie Trailer/Commercial Segments Last Longer (And Aren't Nearly As Gripping). In another dreary movie summer laden with $200 million, 2½ hourlong violence-fests, "Fruitvale Station" is a highly recommended low-budget, 84-minute alternative. Yes, it hinges on a shooting, but we never see the gun, just the horrible aftermath. Fruitvale station is the BART stop next to the Oakland Coliseum stop. A young man was fatally shot by BART police there on New Year's Eve 2009. That information is not a spoiler, because the movie begins with phone-video recordings of his shooting and then captures his complicated life in the 24 hours leading up to the incident. I will never again ride through Fruitvale station on my way to the Coliseum for an Athletics game without thinking about this tragedy. And making people aware of what happened was clearly was one of director Ryan Coogler's goals in making this movie.
CSI: Box Score Answer
I took some liberties with this box score fragment, which you might have picked up on because of those very few at-bats. Obviously, this had to be from a rain-shortened game. And the names in the home team lineup are a strong indication that this was from a late-'80s Cubs game. But which game? Well, there is only one rain-shortened game worth remembering, and that would be the first scheduled night game at Wrigley Field, played 25 years ago this Thursday.
As you likely know -- and possibly are still complaining about right now -- that game was rained out in the fourth inning, before it became official. Thus, all the at-bats, hits and runs in this fragment were erased from baseball's official records. But I thought it would make for an interesting box score on the anniversary of the big night, anyway.
And for much more detail on the first night game at Wrigley -- including a wild story from Rick Sutcliffe -- look for my oral history later this week.