The World Series is over and the 2013 season is at an end. It is 106 long days until pitchers and catchers report to spring training. What does the rest of the year hold for fans? A look inside the Off Base crystal ball. …
Nov. 6: Boston's entire plumbing system is backed up by facial hair clippings clogging the city pipes after Red Sox wives and girlfriends insist that the players finally shave their ridiculously long, bushy and ugly beards.
In a related story, Boston rescinds a three-year contract offer to Mike Napoli after a medical examination reveals the free agent has rabies from the raccoons that had been nesting in his beard.
Nov. 9: New agent Jay-Z announces that free agent Robinson Cano is demanding a $300 million baseball contract as well as a $100 million recording deal. "He'll either sign with the Yankees, the Dodgers or Def Jam Recording," Jay-Z says.
Scott Boras reacts by saying Jay-Z is ruining baseball with his greedy demands.
Nov. 12: Still insisting that they suffer more than anyone else, Red Sox fans point out that they haven't won the World Series at the old Huntington Avenue Grounds for the past 110 years, when they beat the Pirates in 1903. "We haven't won there since before Babe Ruth signed with us," one fan says. "That means we're still suffering through The Curse of the Bambino."
Fans in Cleveland, Houston, Seattle, Milwaukee, San Diego and the north side of Chicago are unconvinced.
Nov. 14: Miguel Cabrera aggravates his strained groin while receiving the MVP award.
Nov. 22: Attempting to replicate Boston's worst-to-first success, the Astros acquire R.A. Dickey, Josh Reddick, Brian Wilson (the pitcher, not the singer), Kenny Rogers (the singer, not the former pitcher), Zach Galifianakis, ZZ Top, Fidel Castro and the cast of "Duck Dynasty."
With this significant addition of talent, Houston goes on to improve its record by 20 victories in 2014 and finishes ahead of the Mariners in the AL West.
Thanksgiving Day: Pirates fans gather and give thanks for the first time in more than two decades.
Meanwhile, in New York, a fully healed Derek Jeter receives the thunderous applause of thousands as the grand marshal of the Macy's Thanksgiving Day parade. Shortly afterward, however, Jeter suffers yet another setback when he is trampled by shoppers during the mad rush to enter Macy's for its early opening on Black Friday.
And in Seattle, Felix Hernandez's wife, Sandra, will later experience her own personal Black Friday when she opens her credit card bill for December.
Nov. 29: Christmas shoppers are greeted by the familiar sight of general managers Billy Beane and Andrew Friedman standing next to red kettles outside department stores, ringing bells and asking for donations so they can sign enough players for 2014.
Dec. 1: Catcher David Ross opens his jammed mailbox and finds 372 letters asking for his autograph, along with 210,000 letters from children and teenagers asking him to bring them the new X-box and smart phone for Christmas.
Meanwhile, up at the North Pole, Santa Claus moves Ryan Braun to the "naughty list" for 2013. Baseball moves Alex Rodriguez to the naughty list through 2015.
Dec. 8: The winter meetings open in Orlando with the Angels tossing out the ceremonial first $200 million contract they will come to deeply regret within six months.
Dec. 10: Tea Party Republicans again try to repeal the Affordable Care Act, this time by shutting down Stephen Strasburg.
Dec. 12: Angels owner Arte Moreno gives Cano a blank check, his platinum American Express credit card, the passcode to his offshore bank accounts and complete power of attorney.
Dec. 15: Fozzie Bear loses his job when Michael Wacha replaces him on the Muppets annual Christmas show and delivers such a spectacular performance that even Statler and Waldorf in the balcony give him a standing ovation.
Dec. 23: Baseball announces that A-Rod will be suspended for the entire 12 days of Christmas. The player's lawyers immediately appeal, saying Rodriguez should only have had to sit out the eight days of Hanukkah.
Dec. 24: Torii Hunter's annual delivery of Christmas presents to the poor goes awry when he gets stuck slipping head-first down a chimney, with only his legs visible above the bricks. His assistant, security officer Steve Horgan, raises his arms in either a call for help or a display of seasonal joy.
Christmas Day: After Cubs fans once again receive lumps of coal in their stockings, their parents tell them, "Just wait 'til next year."
Dec. 31: Tens of thousands gather in Times Square to watch the traditional dropping of the New Year's ball, followed by Yasiel Puig picking it up and overthrowing cutoff man Ryan Seacrest.
CSI: Box Score
Each week, I provide a fragment from an old box score and challenge you to determine what game it is from and why it's significant. I give this one a difficulty rating of 4. Answer below:
Baseball Card of the Week
In recognition of election day this week, here is a rare card (1990 Topps USA 1) picturing the first President Bush from his playing days at Yale.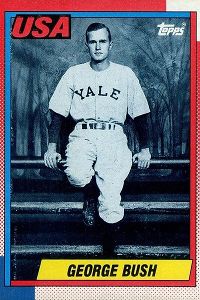 Bush the Elder was elected a quarter-century ago when Republicans and Democrats in Congress kind of got along and our government sort of worked. Not to get too political; but as a friend of mine remarked that it's interesting how differently people react these days if you say something is being done for the government rather than for the country, when it's usually the same thing. Just replace "country" for "government" and responses change completely. "Your country needs you to help provide adequate health care for your fellow Americans" would be greeted much differently than, "The government requires you … "
Box Score Line of the Week
Well, with only one game played since the last Off Base, there weren't many lines from which to choose. There was John Lackey's clinching start in Game 6 (6 2/3 IP, 9 H, 1 R, 1 ER, 1 BB, 5 K) as well as the start in which a team finally caught up to rookie Michael Wacha (3 2/3 IP, 5 H, 6 R, 6 ER, 4 BB, 5 K).
But this week's award goes to World Series MVP David Ortiz, who did not get a hit in that game but still reached base safely four times and scored two runs. His line:
1 AB, 2 R, 0 H, 0 RBI, 4 BB
While Red Sox fans celebrate, Seattle fans can only grumble that the Mariners traded Ortiz (then known as David Arias) to the Twins for Dave Hollins in 1996. And Minnesota fans can only grumble that the Twins let Ortiz go to the Red Sox for nothing after the 2002 season. Would Boston have three world championships in the past decade had it not been for Seattle's deadline deal blunders? (In 1997, the Mariners traded Jason Varitek and Derek Lowe to Boston for Heathcliff Slocumb.)
CSI: Box Score Answer
The clues in this fragment were the names of three Dodgers pitchers -- Hooton, Sosa and Hough -- along with the presence of a New York pitcher. Put them together and you should have been able to surmise that this box score is from Game 6 of the 1977 World Series at Yankee Stadium, when Reggie Jackson hit three home runs -- one each off Burt Hooton, Elias Sosa and Charlie Hough.
That series helped Reggie cement his title as Mr. October, but people often forget that he didn't have that great an October in 1977. Yes, Reggie hit .450 with five home runs in the 1977 World Series. But just before that, he hit only .125 in the American League Championship Series and was benched for the final game. (He entered later as a pinch-hitter.)
Such stats are good to remember when talking about great postseason players. Play enough series in October and you're bound to have some good ones and some bad ones, just like in the regular season. Just look at Ortiz. As great as his World Series was, he hit only .091 in the ALCS, though that did include a rather crucial grand slam.
And consider this: Player A has an .875 career postseason OPS with a batting average at or below the Mendoza line in six postseason series. Player B has an .838 postseason OPS with a batting average in seven series at or below the Mendoza line. Player C has an .833 postseason OPS and six series with a batting average at or below the Mendoza line.
Player A is Reggie. Player B is Derek Jeter. Player C is A-Rod. (For Mendoza line comparisons, I did not count Rodriguez's 1995 postseason when he was a bench player with only one at-bat in each series.)
Just one more thing to debate around the Hot Stove this winter.