Baseball is expected to trim the number of games played in those "natural'' National and American League rivalries next year when interleague play becomes a daily part of the schedule. The Padres and Mariners still will probably play some games against each other; but hopefully, such "unnatural rivalries'' will eventually end because they have never been heated enough to keep a cup of Starbucks lukewarm.
You can't manufacture baseball rivalries as if they were a "Real Housewives'' series. They must evolve naturally and slowly, like Derek Holland's mustache. Great rivalries also require certain key elements, such as:
Proximity. Teams must play in cities close enough to each other that fans of the winning team can make life miserable for fans of the losing team. When the Yankees beat the Red Sox, Boston fans know they will hear about it everywhere from the office water cooler to the church confessional. I would instruct you to say an act of contrition, 10 "Our Fathers'' and five rosaries for your sins, but watching your bullpen is penance enough.
Parity. To be true rivals, teams need to be relatively equal. One team beating up another for generations is not a rivalry, it's bullying.
History. Cole Hamels certainly ruffled some feathers in Washington by plunking Bryce Harper last week, but a true rivalry is not based on one game or one week or even one season. A true rivalry needs to fester for years, decades and generations, until even your grandmother refers to an opponent as "Those @#$ing Dodgers!''
Commonality. Rivals must share a common precious goal such as a league or division title, so that as much as one team enjoys its success, it savors the other team's corresponding painful failure even more.
Proximity. Didn't I mention this earlier? Yes, but this time I don't mean the teams' proximity to each other. I mean their proximity to a national sports TV/Radio/Internet/Magazine company with eight channels, a thousand stations and a million webpages. And preferably located halfway between the two rivals so that employee allegiances are split evenly. Trust me, if ESPN's headquarters were in Des Moines, the Twins-Royals rivalry would be considered baseball's fiercest.
At least, those are the elements for rivalries between teams. But teams aren't the only ones feuding in baseball's 10 fiercest rivalries:
10. Old School Stats vs. Sabermetrics. This is a fierce battle between people in the game who consider everyone else a moron because they never actually played baseball and people outside the game who consider everyone else a moron because they don't know enough advanced calculus to understand that actual wins are not nearly as important as wins above replacement.
9. Giants vs. Athletics. Don't worry. I'm not talking about Bay Area fans, who are so congenial I've seen people wearing caps with both logos. (Whereas a White Sox fan would rather wear a prison jumpsuit than an item with a Cubs logo.) No, I'm talking about ownership and management, particularly the Giants who are making life miserable for the Athletics by claiming such wide territorial rights that the closest city they will allow the A's to relocate to is Pyongyang, North Korea.
8. Pete Rose vs. the Hall of Fame. Nearly a quarter-century after being banned from baseball, the only Pete Rose-related item likely to hang on any wall within the village of Cooperstown is a sign on a memorabilia shop advertising that the Hit King will drop by to sign autographs for $100 (flat items only) just as soon as he gets back from the World Series of Poker.
7. Players vs. Owners. From 1972 (the first strike) to 1994 (the last strike,) these two groups bickered in a feud as endless and irritating as anything in a Kardashian series. Fortunately for fans, however, they have been so friendly lately that commissioner Bud Selig and players' association chief Michael Weiner may open a B&B together.
6. Jeff Novitzky vs. Barry Bonds and Rogers Clemens. Can we please have an end to baseball's least enjoyable feud -- in which, by the way, Novitzky is currently batting below the Mendoza Line?
5. Cubs vs. Cardinals. Why do these teams' fans hate each other so much? One team is almost never a factor in the other team's pennant hopes, though that's mostly because the Cubs never have any.
4. Owners vs. Fans. You can be among the 1 percent who regularly lays off several thousand workers to boost your stock options, but the surest way to be hated in this world is to buy a team and:
A. Raise ticket and beer prices;
B. Let a player sign elsewhere for $150 million;
C. Waste $150 million on a free-agent flop;
D. Not win;
E. Threaten to move unless the city builds you a new stadium.
Sadly, this is one rivalry that not only will never end, it's also one fans will never win.
3. Dodgers vs. Giants. This rivalry is so heated it survived a cross-country move half a century ago, and it's as even as Jamie and Frank McCourt's mutual greed. The Giants have won the pennant 19 times and the World Series six times, while the Dodgers have been to the World Series 18 times and won it six times. The rivalry has suffered in recent decades, however, because the two teams have rarely been good at the same time. But when the two teams go down to the wire again, you'll see a rebirth of a rivalry so heated that Jimmy Fallon and Drew Barrymore will probably make a terrible movie about it.
2. Yankees vs. Red Sox. Yes, it's a great rivalry, but it's also been overhyped by the East Coast media. Sure, the Yankees and Red Sox hate each other, but from the Babe Ruth trade in 1919 until 2004, New York went to the World Series 39 times and won 26 while Boston went four times and won none. In other words, until recently, this rivalry was as one-sided as the IRS vs. a taxpayer.
1. Yankees vs. Everyone Else. Boston fans love to whine about how much they hate New York and how often the Yankees have mercilessly broken their hearts over the decades. But the thing is, Boston fans aren't special. Everyone hates the Yankees (though the Red Sox are rapidly closing ground in that regard). And while many fans are a long way from Yankee Stadium, they unfortunately are never far from an obnoxious Yankees fan.
CSI: Box Score
Each week I provide a fragment from an old box score and challenge you to determine what game it is from and why it's significant. I give this one a difficulty rating of 8. Answer below.
Baseball Card of the Week
If you think Greg Minton couldn't have a worse baseball card than this (1982 Fleer, No. 396) …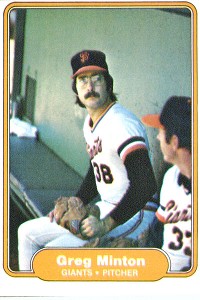 … Guess again (1978 Topps, No. 312).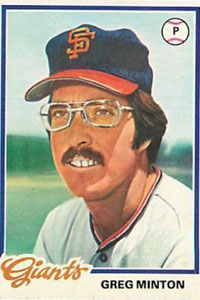 Box Score Line of the Week
Texas starter Colby Lewis was both immensely hittable and unhittable last Thursday, allowing three home runs to the first three batters he faced and two later, but retiring 18 in a row in between with 12 strikeouts (7 IP, 5 H, 6 R, 6 ER, 1 BB, 12 K). Stephen Strasburg, meanwhile, struck out 13 and didn't allow any home runs (6 IP, 5 H, 2 R, 1 ER, 3 BB, 13 K). C.J. Wilson became the first pitcher in 10 years to start games on back-to-back days thanks to a rain-shortened first start. And Toronto's Brandon Morrow nearly drew to an inside straight (5 IP, 4 H, 6 R, 1 ER, 4 BB, 7 K).
But this week's award goes to Cleveland's Derek Lowe, who shut out the Twins despite striking out no one in this unusual line:
9 IP, 6 H, 0 R, 0 ER, 4 BB, 0 K
It was Lowe's first shutout in seven years and the first complete game shutout without a strikeout in the majors since Scott Erickson had one in 2002.
Yeah, Well That's Just, Like, Your Opinion, Man
My "I Hate Closers'' Note Of The Week: After Mariano Rivera's possible career-ending injury, Sports Illustrated and other media outlets pointed out how many closers other teams had gone through during Mo's 1997-2011 run, many in double digits. And there is no denying Rivera's longevity, which is what truly sets him apart from closers not named Trevor Hoffman. But there is another, possibly more important way of looking at it: How much did those teams pay for their saves? Fortunately, the excellent baseball writer Masa Niwa did the research. And he found that the Yankees paid an average of $241,000 per Mariano save. The other teams paid $97,000 per save by their "designated'' closers. (The Athletics paid just $59,000.)
And as Sweet Science's Dave Schoenfield found, the ninth inning lead protection success rate was not significantly different between the Yankees from 1997-2011 (97 percent) and the worst team in baseball during the same span, the Pirates (95 percent). The lesson is this. Mo has been durable and successful, but he has also been costly. That's no big deal for the Yankees, who can easily afford a closer who makes only a one- or two-win difference per year. But other teams are better off investing their money in less expensive relievers who will protect ninth inning leads nearly as well, allowing the team to beef up the rest of the roster so it will have more ninth inning leads to protect.
CSI: Box Score Answer
This wasn't easy, but there were a couple clues. One, the innings pitched for the home team add up to only 8 2/3 instead of nine. Also, there is no winning or losing pitcher listed for either team. That wasn't due to an oversight; it was because this was the last home game the Senators played in 1971 before moving to Texas the next season. The Senators led 7-5 heading into the ninth; but with two outs, fans swarmed the field for souvenirs, prompting the umpires to halt play and declare a forfeit. That cost the Senators (and reliever Paul Lindblad) a victory in what would be the final major league game in Washington for more than three decades.