Baseball players travel a lot, spending half the season in a dozen or so great North American cities, plus Cleveland.
But most ballplayers had might as well stay at home given how little they get out and experience a city on a road trip. Players get to the ballpark so early in the day now -- most arrive between noon and 2 o'clock for a 7:05 p.m. game -- and games can last so long into the night that the next step in stadium design will be adding lockers with king-sized beds and chocolate mints on the pillows. Players spend much of their careers on what should be great summer road trips, but too few take away anything more from the experience than the leftover cash from their per diem.
"It took me six years to get out of my hotel room,'' Anaheim second baseman Howie Kendrick acknowledges. "I'm not a person who is shy about going different places. I love going different places."
Kendrick didn't get out and start exploring until he was properly motivated. What provided that motivation was taking photos of his two young sons last year and discovering the joy of photography. Now he brings a camera with him to record the sites -- and sights -- of the road, and posts the images on Tumblr (look for his blog at HK472B) and other social media.
"It's just something good to get me out of the room and get me to see different things, to experience the places we are," he says. "Because sometimes on the road, you can get tired of sitting in your room. Another thing you can do is go out and shop. And that gets old, too."
Photography, he says, gives him "that opportunity to do something different, to see something different."
Kendrick is among a small group of major leaguers with the camera jones, including Colorado's Michael Cuddyer and Angels teammate C.J. Wilson (who loaned Kendrick a memory card at last year's All-Star Game). While Wilson says he concentrates on photographing teammates, coaches and players he knows -– "I don't really like taking photos of strangers because they don't mean anything to me" -- Kendrick enjoys shooting whatever and whomever he comes across.
"I love shooting people. I classify myself as a street photographer," he said during the Angels road trip to Seattle over the weekend. "I don't really have an agenda. I just go out and shoot. … Here [in Seattle] in the Market or [Chicago's] Michigan Avenue on Saturdays and Sundays. That's when all the people come out, and the street performers. And we stay in San Francisco when we play Oakland, so you always get a different mix of people. There are all these cultures; and to be able to take all these photos for my own personal collection, it's just something I've gotten into."
I've interviewed Kendrick several times; and while he's always been polite and accommodating, he also seemed guarded at times. But when I asked about his photography, he lit up and spoke enthusiastically. That was no coincidence. The camera, he says, helps him connect.
"It helps you get over some of those social barriers sometimes," Kendrick says. "When you go out and about, you usually just mind your own business. You never take time to talk to other people or pay much attention to what's going on. Going around [with a camera], I see a lot of homeless people and I wind up talking to them. They let me take their photos.
"Even now, I have a hard time with the social side of things. I think everyone to a certain extent has a social anxiety -- and me, too, sometimes more than others. I think if someone recognizes me in public, I'm a little more shy than I would be around someone I know. Getting out with the camera helps me, too. It's like therapy. … It's loosened me up a lot more."
So if you see Kendrick around when the Angels are in town, be sure to smile. And for all you budding photographers, remember that photography can be a lot like baseball.
"You never know what you're going to catch," Kendrick says. "The spontaneous part of that is I can go out, but I don't know what's going to happen that day. I might get some great pictures, but there are days when I don't get anything."
CSI: Box Score
Each week, I provide a fragment from an old box score and challenge you to determine what game it is from and why it's significant. I give this one a difficulty rating of 4. Answer below:
Baseball Card of the Week
If I hadn't seen the name at the bottom of this card (1990 Fleer, No. 528), frankly, I wouldn't have recognized a very young Omar Vizquel. (He was 22 when the photo was snapped.) Omar recently turned 45, but he's still playing (with Toronto now) and probably doesn't have a single additional ounce of fat on his body.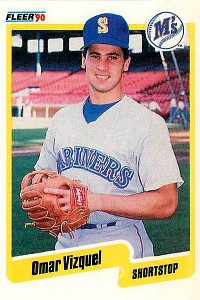 Back in his rookie year, I remember Omar also taking photographs of life in the majors, as Kendrick, Wilson and Cuddyer do today. Of course, photography was a little more cumbersome for players back then. As I recall, Omar needed two mules to carry around a wagonload of equipment while shooting wet-glass daguerreotypes a la Matthew Brady.
Box Score Line of the Week
Anaheim's Dan Haren pitched a brilliant game against the Mariners -- doesn't everyone? -- on Thursday (9 IP, 4 H, 0 R, 0 ER, 0 BB, 14 K). Johan Santana continued his comeback from shoulder surgery with his first shutout in two years Saturday (9 IP, 4 H, 0 R, 0 ER, 0 BB, 7 K). And the ultra-slim Chris Sale struck out 15 on Memorial Day (7 1/3 IP, 3 H, 1 R, 1 ER, 2 BB, 15 K).
But this week's award goes to Jered Weaver for his injury-shortened game that forced him off the mound --and onto the disabled list -- after just four batters on Monday:
0 IP, 2 H, 3 R, 0 ER, 0 BB, 0 K
Hopefully, Weaver's injury won't keep him on the DL too long because the Angels finally have begun winning the way so many expected. They've won eight games in a row, moving from last place to second and finally reaching above .500. The Rally Monkey definitely has entered the building.
"You see us moving forward with confidence,'' manager Mike Scioscia said. "Some areas, we're doing a great job. The bullpen has really gotten itself together. Offensively, some guys are swinging the bat well; but as a whole, we're not pressuring teams like we will. … Guys are walking out there with more confidence and playing better."
The most prominent of those is Albert Pujols, who was batting .194 with no home runs on May 5. He's hit seven home runs with 16 RBIs in the past two or so weeks, while raising his average to .238. "There is no doubt there is a comfort level he's finding in the batter's box," Scioscia said.
Yeah, Well, That's Just Like Your Opinion, Man
I Mean, Really, Trampoline? As usual, this summer's Olympics will include competitions in trampoline, synchronized swimming and, of course, the ever-popular rhythmic gymnastics. But for the first time since 1980, there will be no baseball or softball. Naturally, this is ludicrous and offensive to baseball's global reach -- at last glance, there were major leaguers from Italy, Brazil and Taiwan, in addition to the Dominican Republic, Cuba, Japan and the other familiar foreign nations. And despite Yan Gomes becoming the first Brazilian major leaguer this month, there won't be any baseball at the 2016 Olympics in Rio, either, when golf gets in. There is some hope for 2020, however. International Olympic Committee president Jacque Rogge announced last week that one sport will be added to the 2020 Games, and baseball remains one of eight previously declared candidates. Here's hoping the IOC realizes that baseball not only is a world game, it's a slightly more popular spectator sport than wakeboarding (one of the other sports under consideration).
All Of This Means Some Restaurants Are Losing Some Big Lunch Tabs Following up the Kendrick item, there was a time when players had more time to see a city on road trips. When I started out as a beat writer in the late '80s, most players -- and the coaching staff -- took the team bus to the ballpark roughly three hours before first pitch. So why do they show up so early now? One, there is video of opponents to study, which wasn't used much back then. Two, there is video to enjoy -- most modern clubhouses have several TVs and extensive movie libraries in addition to sports broadcasts from around the league and around the country. Three, clubhouses are larger and far more lavish these days, which makes hanging out there much more enjoyable; many not only have extensive batting cages and workout rooms but also saunas and kitchens with talented chefs. And four, there is a certain amount of one-upmanship in all this, with players (and particularly coaches) feeling a need to get there ever earlier than the other guy.
If You Thought Elvis Andrus Was Balletic, Check Out These KidsThere are no superheroes in costume. No explosions. No 3-D special effects. But the most dazzling, enthralling and inspiring movie I've seen this spring is "First Position,'' an absolutely stunning documentary on young ballet dancers competing at the Youth American Grand Prix. Trust me, what these kids do with their bodies is far more magical and gravity-defying than anything you'll see involving iron men, gods of thunder or captains of America.
CSI: Box Score Answer
The biggest clue here is the name Gehrig, who is listed as pinch hitter. That's because this fragment is from the game that began Gehrig's famous playing streak on June 1, 1925. Contrary to popular legend, Gehrig began his streak as a pinch hitter for Pee-Wee Wanninger, not as a replacement for Wally Pipp. He subbed for Pipp in the second game in the streak, the day after this one.