Why, in the name of Nolan Ryan and all else that is holy, would anyone leave a no-hitter early?
This is not a rhetorical question. It's the question I posed to fans repeatedly Friday night as they rushed out of Safeco Field in the eighth inning while the Mariners were no-hitting the Dodgers. This might not have seemed so unusual to me if the game was at Dodger Stadium, where fans leave to beat the traffic almost before the national anthem begins. But this was Seattle, and I counted about 100 fans leaving even though the Mariners were en route to just the third no-hitter in club history.
Why? Why leave a game with a no-hitter in progress?
"Because it's cold and I'm freezing and I'm old and go to bed early," a gray-haired fan named Carol said.
Yes, but your Mariners have a no-hitter going!
"And we're real proud of them," Carol said, continuing on her way to the parking garage.
"I live an hour away from here and I fall asleep on the road if I leave later," said a fan in a Brooklyn Dodgers jacket.
I called after him, "But it's a no-hitter!"
He shouted back, "That's what radio is for!"
This line of questioning, as I learned, is a touchy subject. Most of the fans declined to provide their last names, if they gave any name at all. Some, such as a guy who identified himself only as John, got a little defensive when I asked if he'd ever seen a no-hitter before.
"I have," he said. "I saw [Philip] Humber earlier this year. A perfect game."
Oh, well, in that case, OK. After all, no-hitters are as plentiful as Starbucks. No need to sit in the stands for one more entire inning to see yet another one.
"I don't get excited over multi-pitcher no-hitters," John added.
Right. Because there have been soooo many of those. Why, Friday's was the 10th in major league history. Boring!
Still, John's view was shared by others. Paul Milkie said he would have stayed but, "It's not a real no-hitter." I countered that multiple-pitcher no-hitters are indeed real no-hitters, but he didn't buy it. He just kept walking to his car, as did the guy right behind him who answered my query about why he was leaving with a disgusted, "My wife is bored!"
Well, how do you argue with that?
Now, if you think this reflects poorly on Seattle fans, don't be too quick to point fingers. I'll bet there are fans who left Johan Santana's no-hitter before it was over, as well. Get thousands or more people together and you're going to get some inexplicable behavior. Look at the ratings for the Kardashian and "Real Housewives" shows. Heck, when Humber was throwing his perfect game for Chicago against the Mariners, a colleague saw guys wearing White Sox jerseys leaving Safeco Field early.
Besides, not everyone I met outside the stadium on Friday wanted to be headed home.
"Our ride is leaving," complained Justin Emery, adding that he and friend Sam Britt definitely would've stayed had their pal with the car not insisted on leaving.
"He's like, 'I'm going,' and I'm like, '@#*$! I've got to get a ride home,'" Emery said. "Apparently, he's not a baseball fan."
Andrew Deming, Jake Wham, Zach Curry and Alex Diaconou, meanwhile, were at a nearby concert venue for a night on the town -- they even carried the sort of black canes used with top hats -- when they heard the Mariners had a no-hitter going. They were on their way in to the stadium.
"We're all die-hard Mariners fans. Die-hard," Deming said. "I was here at the Humber perfect game earlier this year, but for the chance to be on the other side of it? We rushed over here. Even though Kevin Millwood came out of the game, it's still a no-hitter. And then when we scored, we rushed over here!"
And they arrived just in time to see other fans leaving.
"I don't understand it," Deming said. "I can't understand how you can go to a baseball game and leave when something amazing is about to happen. I just don't get it. We're trying to take advantage of it and trying to see what happens, no matter what happens."
I don't get it, either. I've seen a couple of thousand games in my career, and lord knows, I've left plenty of them early. I know fans have good reasons to leave a game before it's over. Bad traffic. Work or school in the morning. Expensive babysitters. Miserable weather. Lousy game. A new episode of "House Hunters International."
But to leave during something as rare and magical as a no-hitter? When the game is nearly over anyway? I just don't get it. Why even come in the first place if you're only going to leave when the game gets exciting?
I understand if it's a lousy game and you leave, say, just before four players suddenly hit back-to-back-to-back-to-back home runs in the ninth. How were you to know that would happen? But there are certain conditions in which you do know you risk missing something magical if you leave early.
Here they are: The 10 conditions under which you cannot leave until the game ends, no matter how bad the traffic, how early your boss wants you in the office or how cold/hungry/bored/cranky your spouse is.
1. A no-hitter is intact. This law is so immutable that hardened baseball writers follow it even when they're not actually covering the game. The hilarious Peter Schmuck of the Baltimore Sun tells a great story on himself about this.
Schmuck was at Yankee Stadium one night to write on an advance feature on Ken Griffey Jr., who was in town with the Mariners. He got his interview with Griffey before batting practice, then went to the press room to begin working on the story. He was pounding on his keyboard there but looked up at the TV long enough to see that two Mariners had reached base in the first inning and that Seattle was hitting rockets off the Yankees starter.
Assuming the Mariners had a hit or two, Schmuck left shortly after the Yankees got their first hit, and caught a train back to Baltimore. After arriving there, he stopped by the office on his way home late that night and asked the copy desk how many hits Griffey had gotten. None, they told him.
"And," one copy editor added, "neither did anyone else."
Schmuck's heart sank. All those rockets off the Yankees starter had been caught. The Mariners had reached base on walks, not hits. He had accidently left a no-hitter by Dwight Gooden early.
Moral of the story: Don't leave until there is a hit AND you've double-checked that scoreboard.
2. Batter has three home runs. Especially if he's playing against the Rockies.
3. Pitcher has 13 K's or more after the sixth inning. Especially if he's facing the Mariners.
4. Batter is one hit shy of the cycle. Unless it's Prince Fielder and he needs a triple.
5. Significant record or milestone is in reach. Three thousand career hits, 700th home run, 263rd hit or 74th home run of the season, 57th consecutive game hitting streak … basically, anything truly noteworthy (not including most pitching changes in one game).
6. Any potential clinching game. Even if it's looking impossible -- say, the Rays trail the Yankees by seven runs in the eighth inning on the final night of the regular season -- you must stay and cheer your team if there is something important on the line. Because you never know. Plus, there are title-starved fans in Kansas City who would sell their souls to be down 7-0 to the Yankees in the eighth with a postseason berth on the line.
7. Actually, any final game of the season. Savor those last innings no matter where your team is in the standings. Winters can be long. Especially in Minnesota.
8. A star's final game. And cross your fingers that he goes out like Ted Williams (a home run in his final at-bat) instead of like Steve Carlton (kicking, screaming and giving up nine runs in a loss).
9. Any World Series game your team plays. Even if they're getting slaughtered. World Series games are so precious that to squander even one inning in a rout is considered a sin by the baseball gods. Plus, how could you later face a Cubs, Mariners, Brewers, Royals, Astros or Padres fan and say, "Ehhh, that World Series game got boring so I left early to beat the traffic. I'll go again next year."
10. Game goes beyond the 12th inning. Yes, it sounds counterintuitive that the longer the game lasts the more reason there is to stay; but I've found that once games go deep into extra innings, all sorts of wild, wonderful things happen. One of the most memorable games I ever saw was a 2000 Red Sox-Mariners game that Mike Cameron won on a 19th-inning home run. As the late, great Dave Niehaus and I discussed, the longer the game lasted, the more we wanted it to go on forever.
After all, the whole reason we go to games in the first place is to see something interesting, right?
By the way, maybe you're wondering why I was outside the stadium last Friday night? It's because once again, I was elsewhere and rushed to the ballpark to see the final innings. (You really don't want to know the details this time; suffice to say it involved a colonoscopy.) Anyway, I still have never seen a no-hitter from beginning to end, which might explain some of my hostility toward the fans who left early.
CSI: Box Score
Each week I provide a fragment from an old box score and challenge you to determine what game it is from and why it's significant. I give this one a difficulty rating of 4. Answer below:
Baseball Card of the Week
I'm just guessing, but I don't think Mike Schmidt liked the question posed to him in this photo (1989 Upper Deck, No. 406). Perhaps it was something along the lines of, "You hit just 12 home runs in 1988. Don't you think it's time to retire?"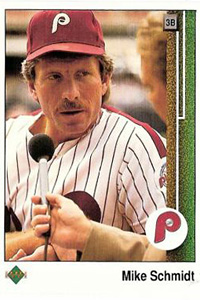 Box Score Line of the Week
Stephen Strasburg struck out 13 batters in six innings (6 IP, 4 H, 2 R, 2 ER, 2 BB, 13 K) while Jamie Moyer pitched five scoreless innings, albeit for Baltimore's AAA Norfolk team (5 IP, 1 H, 0 R, 0 ER, 0 BB, 5 K), prompting manager Ron Johnson to tell the trainer, "I'm going to have to go out tomorrow after the game and start running."
But this week's award goes to Kevin Millwood, who started Friday's no-hitter and pitched six innings before leaving with a strained groin muscle. He didn't even get the win because the game was scoreless when he left. His line:
6 IP, 0 H, 0 R, 0 ER, 1 BB, 6 K
The Mariners, meanwhile, are still trying to figure out how to divide the game ball. Cut it up six ways? Let each pitcher have it for a day like the Stanley Cup? Auction if off on eBay?
For now, Tom Wilhelmsen, the last of the six pitchers who combined for the no-hitter, has possession of the ball.
"I have asked a couple guys what to do," he said. "And I will continue to ask guys until I get the answer I want."
Yeah, well, that's just, like, your opinion, man
The sweetest sight in Pittsburgh next to a Primanti's Bros. sandwich -- may it last longer. Apologies to all ESPN.com users for the mistake we made Monday. Somehow, we had the Pirates in first place in our standings … Wait. I guess that wasn't a mistake. The Pirates did, indeed, open the week tied for first with the Reds. That's the best thing I've seen in baseball this season (with the possible exception of the Red Sox in last place). Then again, we saw this as late as last July, too, before the Pirates fell apart in the second half. Can they hold up this season? The improved pitching is a help, but the offense (last in the league in runs) needs to improve. And the Pirates are in first despite a minus-17 run differential. Still, cross your fingers and enjoy it while you can.
Probably best not to have Sheen deliver any pep talks. Fans of Tucson's Hi Corbett Field -- former spring home of the Rockies, Cleveland and Charlie Sheen and Tom Berenger in "Major League" -- will be happy to know that the University of Arizona Wildcats have made it their home field. Arizona more than doubled its attendance by moving there this season, drawing 14,055 for a three-game series with Arizona State. The school drew 6,400 for two Super Regional games over the weekend, despite noon starts that surely baked fans in the roofless seating.
Rest in peace, Bos. Former Twins pitcher Dave Boswell, whose good humor enriched many lives, died of a heart attack this week at age 67. His best season was 1969, when he won 20 games and pitched 10 scoreless innings in Game 2 of the ALCS, only to lose 1-0 in the 11th. He will be missed.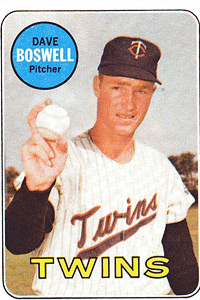 CSI: Box Score answer
The Mariners became the 10th team in history to have multiple pitchers combine on a no-hitter last weekend. But sharp-eyed readers should have identified the one clue in this fragment to recognize that this is from the famous June 23, 1917, game when Babe Ruth and Ernie Shore became the first pitchers to ever combine on a no-hitter. Not that Ruth contributed much.
Still a pitcher at the time, Ruth started the game but walked leadoff batter Ray Morgan on four pitches and started arguing with home plate umpire Brick Owens. The argument escalated. Ruth punched Owens in the ear. Owens ejected Ruth. Shore relieved Ruth. Morgan was thrown out trying to steal second. Shore retired the next 26 batters in a row for what was then officially considered a perfect game (and which I still consider a perfect game).