Covering the U.S. Olympic team track and field trials for 11 days and experiencing the joys, agonies and unmatched drama of our swiftest and finest athletes attempting to earn trips to the London Games left me with goose bumps so large I was pulled aside twice for mandatory drug testing. It also triggered a superb idea for an equally thrilling and inspiring athletic competition in baseball:
The Mascot Olympics.
Yes, I'm serious.
Hear me out.
First off, I'm not talking about team mascots like the Philly Phanatic or the Swingin' Friar or Wally the Green Monster. Please. I mean, no offense, but let's be serious. Those furry, feathered and finned creatures are usually so obese and anatomically-challenged they can barely walk through the buffet line, let alone sprint in a race. And I'm sorry, he may be in decent shape but there is no way Mr. Met would pass his drug test.
No, I'm talking about the class of seasoned, competition-tested mascots that originated with Milwaukee's beloved Sausage Race. The sleek, swift Bratwurst, Polish Sausage, Italian Sausage, Hot Dog and Chorizo have thrilled Milwaukee fans for years. They are so popular you can get racing sausage bobblehead dolls, T-shirts, hats and lunch pails. They also have inspired imitators around the majors.
We now have racing pierogis in Pittsburgh (Cheese Chester, Sauerkraut Saul, Jalapeno Hannah and Oliver Onion), racing hot dogs in Cleveland (ketchup-, mustard- and onion-covered hot dogs), racing U.S. Presidents in D.C. (Washington, Jefferson, Lincoln and Teddy Roosevelt), racing Texas Legends in Arlington (Sam Houston, Jim Bowie, Davy Crockett and that other famous Alamo fighter, Nolan Ryan), the rather lame racing Diamondback "Legends" in Arizona (Randy Johnson, Luis Gonzalez, Matt Williams and Mark Grace, aka Racing Gracie, who always loses) plus others in Minnesota, Miami and Atlanta. And undoubtedly more to come.
These races have spread for a reason. Who doesn't enjoy seeing guys in big goofy costumes waddling as fast as they can across a baseball field? It's why watching Bengie Molina run to first base was so much fun.
But these races could be even better if we knew the contests were legitimate. Whenever I see a giant costumed hot dog bun suddenly wandering toward the dugout, I get the impression the race may not be entirely on the up and up.
This is how the new race in Minnesota is described on the team site: Throughout the season, Louie (the kooky loon), Wanda (the flirty fish), Skeeta (the mischievous mosquito), Babe (the schmoozing ox) and Bullseye (man's best friend) will take the field with unexpected twists that keep the race engaging and fun, game-after-game.
Such "unexpected twists" tend to damage the integrity and dignity of racing mascots. Which is where my mascot Olympics comes in.
Here's how it would work:
• All teams would keep stats on their racing mascots, awarding points for each race based on finish -- five points for first, three for second, one for third and none for fourth or lower. At midseason, the mascot with the highest points from each stadium would advance to the coveted Racing Mascot Olympics at the All-Star Game. (It's safe to say we'll never see Arizona's Racing Gracie there.)
• In order to advance, however, the mascot also must meet an "A'' qualifying standard, just as U.S. Olympians must. So in addition to earning the most points, a mascot must have run at least one race within a league-specified time that same season.
This would require teams to time each mascot race, which would make the races all the more exciting. Fans love seeing pitch velocities flash on the scoreboard. They'll go crazy for race times, which would, of course, be broken down to the hundredth of a second and available on baseball-reference.com (and perhaps the Daily Racing Form). This would be a very good thing. Frankly, it's appalling that we live in an age when we know the batting average of balls in play (BABIP) for every major league pitcher, but Elias doesn't provide the outfield corner-to-third base split times for Jalapeno Hannah.
• The mascots would run in a series of heats between rounds of the Home Run Derby, with the top two in each semifinal advancing to the championship race for individual gold, silver and bronze medals. Or, if they prefer, red, yellow and green condiments.
• The big race, however, would be reserved for the seventh-inning stretch of the All-Star Game. That's when the four fastest stadium mascots in each league would run a 4X100 relay around the field. If you thought the U.S. relay teams have struggled recently with their exchanges, picture Cleveland's mustard-covered hot dog trying to pass the baton to the Minnesota mosquito.
The mascots would have to train hard on those exchanges, because more than pride would be at stake. The league with the winning mascot relay team would earn home-field advantage in the World Series. This not only would provide further incentive to the mascots, it also would appease critics who think something so important as home-field advantage at the World Series should not be decided by anything as trivial as an otherwise meaningless exhibition baseball game.
I tell you, this could be bigger than the Home Run Derby, bigger than the All-Star Game itself. If people got excited over the Michael Phelps/Ryan Lochte rivalry or the Allyson Felix/Jeneba Tarmoh dead heat, imagine their anticipation for a race between Nolan Ryan and Sauerkraut Saul.
And that's just how the Stadium Racing Mascot Olympics would start. As the years pass, the events would expand. Instead of just a simple sprint, mascots would race longer distances such as the mile or the 5K or perhaps even a marathon (though the latter would probably stretch over the entire All-Star break, plus the second half of July and most of August).
Long jumps, high jumps, pole vaults … the sky is the limit. In fact, I would be surprised if this doesn't quickly lead to the most exciting possibility of all: Racing Mascot fantasy leagues.
Eric Karabell, are you listening?
CSI: Box Score
Each week I provide a fragment from an old box score and challenge you to determine what game it is from and why it's significant. I give this one a difficulty rating of 3. Answer below:
Baseball Card of the Week
With Kansas City hosting the All-Star Game, I thought Royals fans might appreciate this card (1983 Topps, No. 219) from their glory days. Then again, maybe not.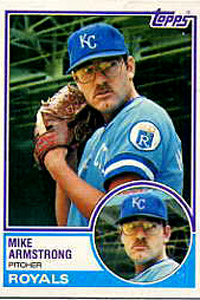 Box Score Line of the Week
Tampa Bay's James Shields threw a 14-hitter (7 2/3 IP, 14 H, 4 R, 4 ER, 1 BB, 6 K), while Arizona's Aaron Hill hit for his second cycle of the season (5 AB, 2 R, 4 H, 3 RBI, 1 2B, 1 3B, 1 HR) to join Babe Herman as the only players to ever accomplish that feat. But this week's winner is Raul Mondesi Jr. of the Class A Helena Brewers for this deceptively simple line:
3B-Mondesi.
Why does such a simple line win this award? Because of the story behind it.
With his team trailing the Missoula Osprey 2-0 with two out in the bottom of the 10th inning, Mondesi Jr. hit an apparent game-tying two-run homer. Except for one thing. He missed home plate. The Osprey appealed and Mondesi was ruled out, ending the game, handing Helena a 2-1 loss and turning Mondesi's apparent home run into that triple in the box score.
CSI: Box Score Answer
There are several clues. The first is the listing for the National League (along with all those marquee names among the pitchers), which makes it clear this fragment is from an All-Star Game box score. But which one? The second clue answers that question: There is no losing or winning pitcher listed. That's because this box is from the infamous 2002 All-Star Game in Milwaukee that ended in a tie when the teams ran out of pitchers. You know, back before the game counted. Unlike now, when hosting the World Series is on the line and players still leave for the airport in the middle of the game.
Of course, all of that will change when players have a mascot relay race to stick around for.