Baseball's best pitcher this season is a 37-year-old knuckleballer whose offseason training included climbing Mount Kilimanjaro and writing a New York Times best-seller. A 49-year-old won two games. A teenager hit eight home runs and created a national catchphrase. Ten pitchers have been involved in no-hitters or perfect games, including one for the New York Mets. A player listed at 5-foot-5 made the All-Star Game. Magic Johnson bought the Dodgers.
And in the most stunning development of all, the Pittsburgh Pirates are in first place. Seriously. The Pirates are leading their division!
If the first half was filled with so many delightful surprises, what does the second half of the season hold? Glad you asked.
July 15: Kansas City fans mercilessly boo Royals manager Ned Yost for not starting designated hitter Billy Butler in a day game after a night game.
July 18: Knuckleballer R.A. Dickey continues his remarkable season by pitching a no-hitter, then climbing, without supplemental oxygen, up his team's mountain of debt.
July 20: When Mayor Michael Bloomberg asks whether McDonald's will celebrate Dickey's no-hitter by removing high-calorie, sugar-filled sodas from its Happy Meals sold in New York City, Ronald McDonald responds, "That's a Bryce Harper question, bro."
July 22: Kansas City fans swarm the Hall of Fame induction ceremonies to fill the air with a deafening chorus of boos for the voters who did not elect ex-Royal Joe Randa to Cooperstown.
July 28: During a campaign stop in Seattle, President Obama throws out the ceremonial first pitch before a Mariners game, then stays on the mound and no-hits Seattle 3-0.
Aug. 5: Miami manager Ozzie Guillen again angers South Florida fans and sparks protest marches demanding his dismissal when he tells Time magazine that he loves the home run sculpture at the Marlins' new ballpark.
Aug. 8: In a last desperate bid to salvage his reputation, federal investigator Jeff Novitzky files suit against Roger Clemens for never returning his Netflix videos.
Aug. 14: Tampa Bay's David Price throws a perfect game against the Mariners in front of a full house at Safeco Field on "Guaranteed No-Hitter Night." That is, there is a full house until the eighth inning when, as Seattle tradition dictates, fans begin leaving early to avoid seeing history.
Aug. 29: The Kansas delegation at the Republican National Convention mercilessly boos Mitt Romney for not choosing Billy Butler as his running mate.
Sept. 1: Mr. Met becomes the third member of the team to throw a no-hitter.
Sept. 12: Baseball's oldest rivalry is rejuvenated when the Giants and Dodgers enter the season's final three weeks tied for the NL West lead and Larry Bird buys the Giants.
Oct. 3: The regular season ends with the Yankees, White Sox, Rangers, Giants, Pirates and Nationals winning their respective divisions, and every other team except the Cubs, Royals, Astros and Mariners tied for the four wild-card spots.
Oct. 6: After three days of heated meetings, baseball drafts a complicated tiebreaker system that includes a monthlong 20-team round-robin format to determine which clubs will fill the wild-card spots, as well as a runoff between Olympic sprinters Allyson Felix and Jeneba Tarmoh.
Nov. 6: A well-organized get-out-the-vote campaign among San Francisco Giants fans results in the United States electing Pablo Sandoval as its 45th president. Tea Party members and Mets fans howl in protest, insisting that Kung Fu Panda was born in Kenya.
Nov. 18: Jamie Moyer celebrates his 50th birthday by signing a minor league deal with his record 17th organization of the year, including twice with the Mariners.
Dec. 8: The Phillies' postseason hopes suffer a setback when the team trades Cole Hamels during the winter meetings, which began during the fourth inning of his NLCS-opening start. The Rangers likewise take a hit when Josh Hamilton files for free agency during an at-bat with runners in scoring position.
Dec. 21: With nobody on and a seven-run lead in the ninth inning of Game 7 of the NLCS, the Pirates are one out from their first World Series in 33 years when, unfortunately for Pittsburgh fans, the world comes to an end as predicted by the Mayan calendar.
CSI: Box Score
Each week I provide a fragment from an old box score and challenge you to determine what game it is from and why it's significant. I give this one a difficulty rating of 4. Answer below:
Baseball Card of the Week
If you're Ray Fosse, what's more painful: the memory of Pete Rose crashing into you to end the 1970 All-Star Game or the uniform you wore when this card was photographed (1977 Topps, No. 267)?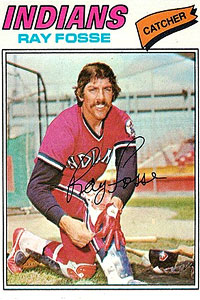 Box Score Line of the Week
Rookie Mike Trout (2 AB, 2 R, 2 H, 2 RBI) and veteran Miguel Cabrera (3 AB, 3 R, 3 H, 3 RBI) provided rare and beautifully symmetrical boxes while Justin Verlander sunk the American League with a terrible start in the All-Star Game (1 IP, 4 H, 5 R, 5 ER, 1 BB, 2 K). But this week's award goes to Roy Oswalt for his stunning performance when he allowed 13 hits and 11 runs. His line:
4 2/3 IP, 13 H, 11 R, 9 ER, 1 BB, 4 K
What's really amazing about that line is it was Oswalt's second consecutive 13-hitter. And you thought Dickey's consecutive one-hitters were impressive.
Yeah, Well, That's Like, Just Your Opinion, Man
With Results Like That, Give Them Unlimited Presidential Votes As Well. Why was there all the fuss over the San Francisco vote? Fans voted only three Giants to the NL team, and two of them (Melky Cabrera and Buster Posey) deserved to start. Sandoval shouldn't have started ahead of David Wright, but he is hitting .300 and did knock in three runs with a base-loaded triple Tuesday night, so it wasn't as if his presence in the starting lineup was a crime against humanity. I mean, what's the deal? Are only East Coast cities supposed to be over-represented?
Of Course, We Would Have To Clear It With K.C. Fans If This Meant Bumping A Royal. This was the second All-Star Game without Albert Pujols. True, he had a miserable start to the season, but he's been hitting more like the usual Albert since late May. He is the best hitter of his generation and a player of that magnitude should be at the All-Star Game. Even a subpar Pujols is far preferable to a marginal player who happened to have three good months. If you're going to call it the All-Star Game, obvious Hall of Fame stars such as Pujols should be on the roster. Willie Mays played in the All-Star Game for 19 consecutive years, and it wasn't always because he was having a great season, but because he was a great player who belonged there.
The Straw That Stirs Up The Radio Talk Shows. The Yankees attempted the near-impossible last week when they placed a cone of silence over Reggie Jackson after his quotes about Alex Rodriguez in Sports Illustrated. But if you actually read the article, the comments don't seem outrageous at all. Like some other Hall of Famers (I'm thinking specifically of the late Bob Feller here), Reggie expresses his opinion that recent inductees don't measure up to his lofty standards. He also says that recent stats and records were tainted by the steroid era. He's hardly a lone voice in that respect. Asked whether he includes A-Rod in that, Reggie said Rodriguez is a friend, but that his admitted steroid use places some of his totals in question. Again, this is hardly a minority opinion. The Yankees aren't the team that should be upset -- the Twins are, because Reggie said neither Kirby Puckett nor Bert Blyleven belong in the Hall.
A Post-NFL Tale Sadly More Frequent Than A Reggie Controversy. Speaking of Sports Illustrated, the lead story in its "Where Are They Now?" issue is on Earl Campbell, so pain-wracked from football that he is wheelchair-bound and, until recently, addicted to painkillers. It seems as if we often read similar updates on other NFL veterans, so why is the media so tough on baseball for its steroid era? If the real concern is over player health, why be so relentlessly critical of the league whose ex-players are far healthier?
CSI: Box Score Answer
Again, all the marquee names are a clear indication this fragment is from an All-Star Game. Which one? Well, let's just say that the game still mattered a little, because look at how many at-bats Cal Ripken Jr., Ivan Rodriguez, Tony Gwynn and Mike Piazza had. The 1994 Midsummer Classic went 10 innings, yet Gwynn, Pudge and Ripken played the entire game.