When a pitcher such as R.A. Dickey salvages a career by developing a knuckleball and throwing it well enough to make the All-Star team and possibly win 20 games, this logical question comes up:
Why the heck aren't teams trying to resurrect the careers of other players by developing knuckleballers?
"That's a fantastic question," Dickey said. "And whenever I've posed that question to someone who might influence a decision to do that, the answer is always that those [minor league] roster spots are valuable, whatever that means.
"It maybe does require a general manager or a farm director to think outside the box. But if you were going to risk that spot on a guy you were going to release anyway, who had great makeup and you think might have a shot, and if he could be even half as productive as Phil Niekro was, wouldn't you want to take that chance?"
I certainly would if I ran the Rockies.
But no teams do. Otherwise, we'd be seeing more frustrated batters smashing the dugout toilet with their bats after swinging and missing at a 70 mph floater that suddenly darted a foot outside the strike zone.
Why don't teams teach borderline pitchers the knuckler? Partly because there is a bias against it. It isn't a manly pitch. Catchers can't catch it. The people who throw it are different; they're better suited for writing books than pitching.
Which is just nonsense. As Dickey proves, you can write a best-seller AND pitch in the All-Star Game.
"The school of thought is that I'm a very unique case. I disagree," Dickey said. "I think there are people who could learn. Now, you would need a pitcher, you would need a mentor, someone who knows what they're doing and can teach it. And those guys are few and far between."
That's a significant problem. While knuckleballers always seem willing to help another young player learn the pitch -- Dickey says they all feel a responsibility to pass on their skills -- there are only so many who have the expertise. Phil Niekro can't work for every team.
Seattle pitching coach Carl Willis said that a couple of years ago, the Mariners had a minor league pitcher who occasionally threw a knuckleball, and so they went looking for someone to help him. They asked the Red Sox if Tim Wakefield was willing to talk to him. Wakefield was, but Willis said the minor leaguer wasn't interested in becoming a full-time knuckleballer.
Which brings up the other major obstacle: Throwing the knuckleball isn't easy.
"It's a very difficult thing to do, to throw a knuckleball, especially if you've done something a certain way your whole life," Dickey said. "Having to unlearn that way and re-learn something else, it's almost like making a right-handed hitter a switch-hitter in the middle of his career. It's very difficult to do and that's one reason you don't see more people do it."
Pitchers pretty much will only try it when their fastballs and curveballs and sliders and everything else won't get it done anymore. No one grows up dreaming about being a knuckleballer. And no team is searching for anyone who is throwing the pitch at age 17.
p> "You don't have any scout in the world going out and looking for the next Hoyt Wilhelm," Dickey said. "They're looking for Stephen Strasburg."
Teams should, though. They invest enormous amounts of money, time and roster spots on conventional pitchers, and the vast majority of them never reach the majors, if they even come close. Why not devote just a little of that investment to teaching a very successful pitch, to developing knuckleballers? It isn't easy to learn, but it isn't as if there are a lot of borderline knuckleball pitchers. The ones who have really devoted themselves to throwing it have generally been pretty successful. Niekro, Wakefield, Wilhelm, Dickey, Charlie Hough, Wilbur Wood -- you can't name a lot of bad knuckleballers.
Plus, the knuckleball doesn't just help the pitcher who throws it. It can help the high-velocity pitcher who throws the next day, as well.
"If you send a knuckleballer out there and he can go through the order three times," Willis said, "it always seems to have a lasting effect the next day when you've got a guy throwing 94 again. Their timing is off."
And the knuckleball doesn't have to be reserved for struggling pitchers whose careers are on the brink. If I ran the Nationals, for example, I would be teaching Strasburg the knuckler right now. That way, when he reaches his 160-whatever innings limit, Washington can just have him throw knuckleballs and keep him pitching into the postseason.
CSI: Box Score
Each week, I provide a fragment from an old box score and challenge you to determine what game it is from and why it's significant. I give this one a difficulty rating of 8. (Answer below.)
Baseball Card of the Week
If you've ever seen this card (1984 Fleer, No. 182), you've probably asked yourself, "What in the world is Glenn Hubbard doing with a snake around his neck?"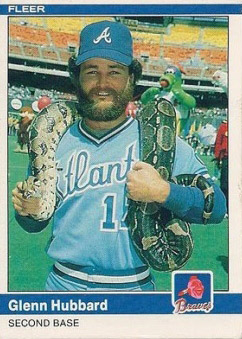 I caught up with Hubbard recently and he explained that the photo was taken on Zoo Day in Philadelphia. (You can see the Phanatic in the card's background.)
"They were having pets on the field and there was a boa constrictor and I grabbed it and I saw a photographer and said, 'Hey, can you take a picture?' He did and he sent me a big blowup," Hubbard recalled. "I didn't know he was a freelance photographer for Fleer; and so next spring training, a kid comes up and says, 'Can you sign this?' I'm like, 'What is that doing on a baseball card?'
"For years, every time someone sent that card in the mail, I would take that card and send them back another one. I would try to take that card off the market."
Eventually, Hubbard gave up and now can smile about it. Sort of.
"I look at that card now and I think, 'I really let my beard get that long?'"
Box Score Line of the Week
This week's award goes to Cleveland rookie Zack McAllister for this interesting line Monday night against the Twins:
1 2/3 IP, 6 H, 9 R, 6 ER, 2 BB, 3 K
McAllister leads the majors in unearned runs with 18, even though he's pitched only 70 innings. So while his earned run average is a very nice 3.60, his total run average is a somewhat less attractive 5.91.
I've always found it interesting that very early on, baseball made a statistical distinction between runs that should be charged against a pitcher and runs that should not because of his teammates' failings. And I agree with that. But at what point does the pitcher bear some responsibility for plugging the leak? Not to pick on McAllister, but there were two outs when the error was made that opened the door for Minnesota. Because he did not respond well -- he allowed a walk, two singles and a double before getting the hook -- the Twins wound up scoring eight runs after the error.
Pitchers should not be penalized for their teammates' errors. But if they find a door is open, they still need to close it.
CSI: Box Score Answer
There were two main clues to spot. The first was the 0 2 0 0 line next to Foxx's name. The other clue was the high number of at-bats for the players surrounding him in the lineup. Put those clues together and do a little guesswork and you might have figured out that this box score fragment is from the June 16, 1938, game in which Jimmie Foxx set the still-standing big league record for most walks in a game with six.
Six walks in one game? That would be a good season for Alexei Ramirez.