My hometown newspaper recently ran the obituary for my old Little League coach. When he died, a little bit more of my childhood passed away with him.
I will refer to my old coach as Buttermaker, the Walter Matthau character of that name in "The Bad News Bears." That movie came out soon after I played for him and Matthau reminded me a bit of him. He never offered us beer in the dugout but I liked him a lot, anyway. He was a good manager. He was fun, and he loved baseball.
We had three divisions in our Little League -- minor, major minor, and major. Minor league was for 9- and 10-year-olds and was basically the equivalent of instructional league in that we were taught how to field a ground ball without peeing our pants. Or after peeing our pants, as was occasionally the case.
Major-minor was for 10- to 12-year-olds and was the equivalent of Double A or Triple A. If "Baseball America" or Keith Law had been around back then, they would have written about us. Jimmy shows promise as a catcher, but his future is in the outfield because of his arm and because he insists on wearing his shin guards to bed and his mother is really getting tired of how they rip the sheets.
The majors, of course, were the big leagues. You played on the best field against the best players. And unlike the kids in the two lower leagues who wore T-shirts with the team names stenciled on the front, players in the majors wore real uniforms with jerseys, pants and stirrup socks. All that was missing was chewing tobacco and groupies.
Just like the real major leagues, if a team in our major league called you up one season, it owned the rights to you for the remainder of your Little League career regardless of your age (even age 9). The key was that you pretty much needed that call-up by age 11. Otherwise, you became a non-prospect stuck in major-minor as the Little League equivalent of Crash Davis, without the benefit of Susan Sarandon.
Unfortunately, I started my 11-year-old season in major-minor. This was depressing because I desperately wanted to wear a real uniform, and I knew that this meant I would likely be stuck in major-minor the next year as well. But just before the season started, Buttermaker called me up to the majors. I don't know why there was a roster spot -- maybe Kelly Leak moved out of town or had been arrested -- but I didn't care. I was going to the majors and I was going to wear a real uniform!
Of course, the honor of wearing a uniform was diminished somewhat the next year, when our coach chose hideous orange-and-black polyester uniforms with vertically striped socks for us to wear.
Well, it was the 1970s. At least he didn't make us wear shorts like the White Sox.
That awful uniform choice is my only complaint about my old coach, though. He knew baseball and taught it well. I was a second baseman and catcher at the time but he shifted me to center field, which is where I had always wanted to play. Buttermaker also was a great motivator. After our offense started off sluggishly in my 12-year-old season, he began paying us for base hits.
Generally, a hit was worth 10 cents -- remember, this was before free agency and Scott Boras. Against the top pitchers, though, our coach doubled it to 20 cents. And against the league's best pitcher, he paid 30 cents. Thirty cents! That was enough for a Daredevil or Spiderman comic book. It was like playing for the Steinbrenners. Plus, this worked out great for me because I knew the secret of hitting the best pitcher. Lay off the curveball he threw toward the strike zone because it would break outside. Instead, wait for the curve he threw at you, because it would break over the plate. I was kind of the Tony Gywnn of our league, only skinnier.
We were basically a .500 team when I was 11 years old, but Buttermaker managed us to the league championship the next year. We came from behind to win the title in our final game that season, which remained the highlight of my career in baseball until I had covered teams on the road long enough to earn lifetime platinum status with Marriott.
That championship season was my last summer in Little League, and I lost all contact with Buttermaker after that. But I still recall him very fondly.
These days, youth coaches must deal with a certain level of suspicion regarding their motives, another sad fallout to the Jerry Sandusky scandal. The vast majority of coaches devote their time and energy to coaching simply because they love the sport and enjoy teaching kids how to play it. They don't get much out of it other than a lot of phone calls, emails and texts from whiny parents bitching about why they don't play their kids more often.
They don't get much thanks from the players, either. I regret that I never made the effort to thank my old Little League coach for calling me up that one year, for passing on his knowledge of the game to me, and for making baseball so much fun that it eventually became a career.
I also should have thanked him for the money.
CSI: Box Score
Each week, I provide a fragment from an old box score and challenge you to determine what game it is from and why it's significant. I give this one a difficulty rating of 2. Answer below.
Baseball Card of the Week
In recognition of the Olympics finish, I give you this card (1959 Fleer, No. 70), which shows the greatest hitter who ever lived (Ted Williams) posed alongside the original World's Greatest Athlete (Jim Thorpe).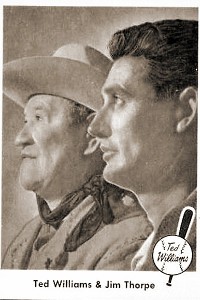 One hundred years after Sweden's King Gustav bestowed the World's Greatest Athlete title on Thorpe at the 1912 Summer Games in Stockholm, Ashton Eaton became the latest Olympian to earn it. Eaton is a great representative. I asked him last week if he would now sign his autograph with the letters "WGA" the same way some Hall of Famers sign theirs with "HoF," but he said no, he wouldn't feel comfortable doing something like that.
Eaton is sort of the anti-Usain Bolt.
Box Score Line of the Week
Ichiro drove in five runs in one game for the Yankees last week (5 AB, 0 R, 2 H, 5 RBIs), which is as many runs as he drove in during his final 29 games combined as a Mariner. And rookie of the year/MVP candidate Mike Trout drove in five runs Friday with just one hit (3 AB, 1 R, 1 H, 5 RBI) thanks to a three-run homer and a two-run sacrifice fly. (Yes, you guessed it: He hit that two-run sac fly against the Mariners.)
But this week's award goes to Felix Hernandez for his magnificent performance Wednesday against Tampa Bay when he became the third pitcher this season to throw a perfect game. He also threw the third no-hitter in Seattle this season. His line:
9 IP, 0 H, 0 R, 0 ER, 0 BB, 12 K
Friends who knew I am still in Europe after covering the Olympics sent me texts updating the perfect game and joking that I needed to get on my bike and ride to the stadium. I appreciated the updates, though I was frustrated to once again miss seeing a no-hitter. Three no-hitters in Seattle and I only made it to the end of two of them and missed the third completely! And the third was the best -- a wondrous 12-strikeout perfecto by King Felix.
It was only several hours later that it occurred to me to wonder whether the Mariners had actually won the game.
Or how many people left the game early.
CSI: Box Score Answer
This should have been an easy one. All you needed was the "TP-Minnesota 2" line to know this was the July 17, 1990, game in which the Twins became the only team in baseball history to turn two triple plays in one game. Both of those triple-killings were 5-4-3 in which third baseman Gary Gaetti fielded a sharp grounder, stepped on third for the first out, threw to Al Newman for a force out at second, and Newman then threw on to first baseman Kent Hrbek to complete the triple play.
I was covering the Twins that season. When I saw them make those plays -- they made both of them look so easy and commonplace -- my question was why it doesn't happen more often. I still wonder.