McCourt Divorce Trial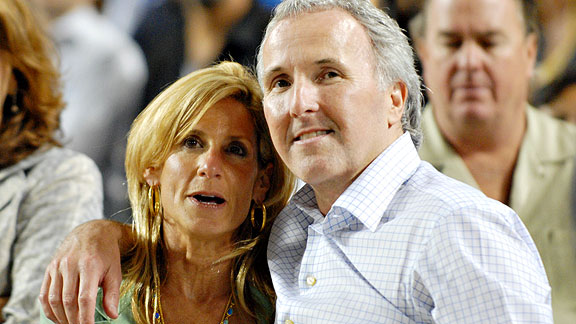 Frank and Jamie McCourt have been owners of the Los Angeles Dodgers since January 2004, when Frank McCourt purchased controlling interest of the team from News Corp. for $430 million. As chairman, Frank McCourt named Jamie McCourt president of the franchise in August 2005 and chief executive officer in March 2009. On Oct. 14, 2009, the McCourts announced that they were separating, and on Oct. 22, 2009, Frank McCourt fired his estranged wife from her position as CEO. On Oct. 27, 2009, Jamie McCourt filed for divorce.
On Nov. 23, 2010, Judge Scott Gordon granted a request to officially change the McCourts' marital status to divorced, though the proceedings to divide their shared assets were still ongoing. Two weeks later, Gordon granted Jamie McCourt's request to throw out the marital property agreement that gives her ex-husband sole ownership of the team, leaving the divorced couple as the co-owners of the Dodgers. On June 17, 2011, the two sides announced a settlement, that will involve having a one-day trial to determine if the title for the Dodgers goes to Frank McCourt or whether the team should be deemed community property.
Major League Baseball took over operations of the Dodgers on April 20, 2011.
AUDIO RESULTS FOR MCCOURT DIVORCE TRIAL
TOP STORY
Frank McCourt to sell Dodgers
Owner Frank McCourt reached an agreement with Major League Baseball on Tuesday night to sell the Los Angeles Dodgers, along with Dodger Stadium and the surrounding real estate. Story » ESPNLA.com »
DODGERS OWNERSHIP HISTORY
| Years | Primary Owner(s) |
| --- | --- |
| 2004-present | Frank and Jamie McCourt |
| 1998-2004 | News Corp. |
| 1970-1998 | Peter O'Malley |
| 1950-1979 | Walter O'Malley |
| 1944-1950 | Branch Rickey |
| 1938-1944 | Dearie and James Mulvey |
| 1913-1937 | Stephen McKeever |
| 1897-1912 | Charles Ebbets |
| 1890-1897 | Charles Byrne |