On paper, UFC 217 was built to be the card of the year ... and it delivered.
Barring something incredible in the next eight weeks, Saturday's event will be remembered as the best of 2017. It's already among the most entertaining ever and has been called one of the important cards in UFC history, too. But examining two of three marquee results begs the question: How will the night affect the UFC long term?
Demand, particularly in recent years, is star-driven, not brand-driven. Recent pay-per-view numbers prove parity doesn't move the needle, nor do rivalries without A-listers. Of the UFC's 10 highest-selling cards, nine were headlined by Ronda Rousey, Brock Lesnar or Conor McGregor.
We've been through this list before. It isn't a long one. Rousey has effectively retired, and her air of invincibility is gone. Larger-than-life, 40-year-old Lesnar has more hurdles to a UFC return than a Summer Olympics track, and, as of Sunday, McGregor has not fought in mixed martial arts in a year, with hopes of making a comeback if he's able to get equity in the UFC. Add on Jon Jones' expected lengthy suspension for a second performance-enhancing drug violation and the UFC is hungry for the next generation of stars.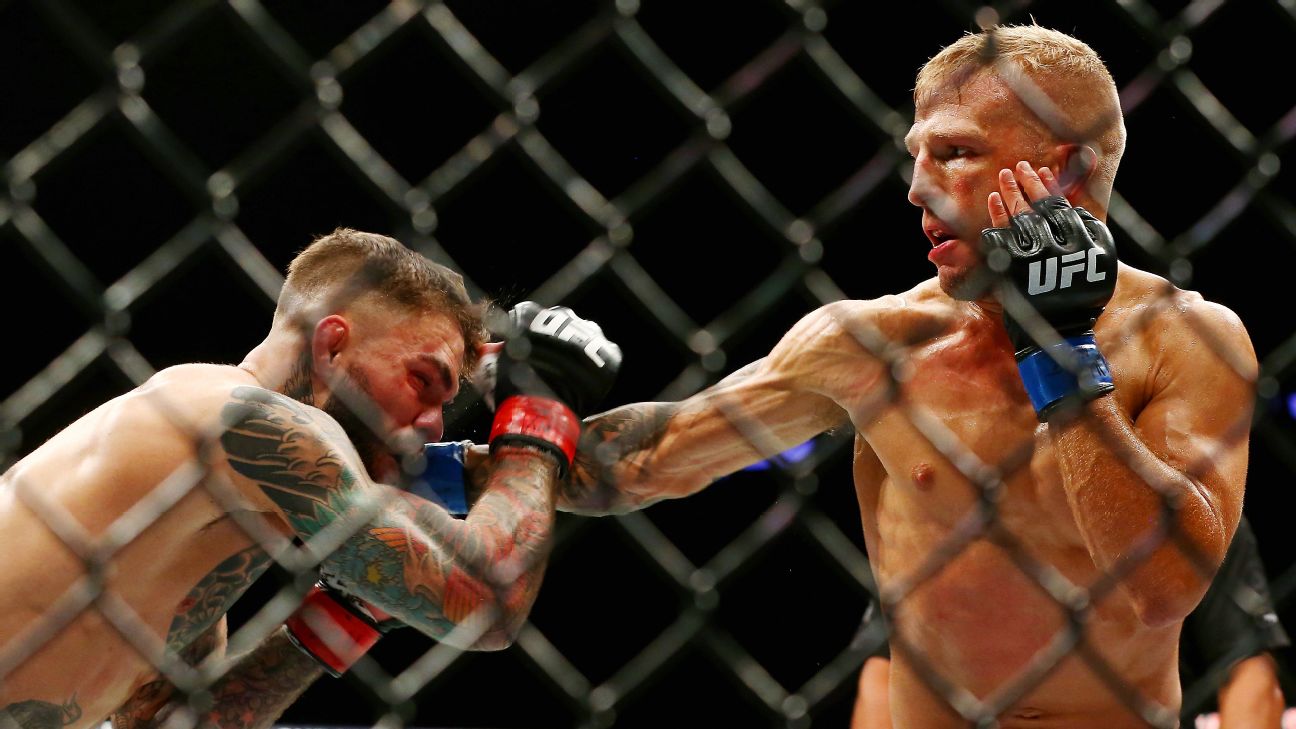 High on that list of potentials, as of Saturday afternoon, were two undefeated, fan-friendly champions entering their primes: Joanna Jedrzejczyk and Cody Garbrandt. The return of Georges St-Pierre drew more casual fans than normal, with a seldom-seen seven-figure pay-per-view in range. Being included on high-selling cards helped build Jedrzejczyk at UFC 205 and Garbrandt at UFC 202, and the Madison Square Garden crowd popped at the introduction for each Saturday night, while reaction to their challengers was mixed, at best.
It was a dream platform for the UFC and for the fighters. And it was taken from them, with a left hook from Rose Namajunas and a right from TJ Dillashaw a half-hour later.
By no means is all lost. Look no further than the career arc of UFC 217's main event winner.
St-Pierre was 25 years old and 13-1 when Matt Serra shocked the world by knocking out the French Canadian at UFC 69 in one of the sport's biggest upsets. St-Pierre hasn't lost in 13 fights since and became arguably the greatest mixed martial artists of all time.
Should Jedrzejczyk, 30, or Garbrandt, 26, rebound in kind, each seems to have the following and the personality to surpass the marketability each had heading into MSG. Neither held back during postfight media responsibilities, with both owning their losses. Genuineness, almost as much as greatness, played in the favor of Lesnar, Rousey, Jones and McGregor.
Saturday could also be the launching point for the new UFC strawweight champion. Namajunas appeared utterly immune to Jedrzejczyk's prefight psychological games. The 25-year-old challenger was every bit as unflappable in the Octagon and after her win. Her performance in the seemingly inevitable rematch -- or rematches -- against Jedrzejczyk could vault "Thug Rose" into the conscience of the general sports viewing public.
UFC 217 did send the promotion into 2018 with all the momentum for which it could hope.
GSP's next fight is a guaranteed blockbuster. It could be a unification bout against interim middleweight champ Robert Whittaker, a 26-year-old Australian UFC star poised for a long, successful run in an aging division. Or St-Pierre could go back to welterweight and fight McGregor, which surely would set PPV records. St-Pierre, although his legendary stock rose, is not much longer for the sport. He has made public a three-fight plan, of which just two remain before expected retirement.
Two fighters primed for taking a giant step toward that transcendent upper echelon of MMA took high-profile hits Saturday. Thankfully for Jedrzejczyk and Garbrandt -- and for the UFC -- chances at redemption await.
But mulligans are finite, especially for those wanting privileged promotional pull. In a sport with such small margin for error, two fighters on that doorstep have one less misstep to make going forward.