Here we go. Khabib Nurmagomedov versus Conor McGregor. The UFC's undefeated lightweight champion versus the sport's biggest star, returning from a two-year hiatus.
It's everything you want in a main event: divisional supremacy, bad blood, dueling fan bases, clashing styles. McGregor is a great salesman and he'll never want for a crowd, but what he's selling here is 100 percent legitimate. This is not some tuneup fight he has come back for. This is, arguably, the riskiest fight he could have taken.
Here's what you need to know about the UFC 229 main event at T-Mobile Arena in Las Vegas on Saturday.
---
Khabib Nurmagomedov (26-0) vs. Conor McGregor (21-3), lightweight championship
Odds: Nurmagomedov -165; McGregor +155
It's cliché to say it, but it truly feels as if McGregor never left.
A sea of McGregor fans flooded into the Park MGM on Thursday, for his first prefight news conference in the UFC since November 2016. The superstar Irishman showed up about 25 minutes late. His tardiness prompted Nurmagomedov to exit early, in favor of starting his weight cut.
Not that McGregor missed him. When asked whether he might have blown an opportunity to get into his opponent's head, or whether he already has done so, McGregor responded in form.
"I don't really care about his mentality or what he's thinking," McGregor said. "I do not give a f---. I am ruthless here. I am coming to put a hole in this man's skull."
How did McGregor ever find his way into a damn boxing match against Floyd Mayweather last summer? Because of promotional events like Thursday and performances like the one he has promised to deliver Saturday.
MMA hasn't fallen flat without him, but it's impossible to overlook the presence he brings. The 155-pound division, which McGregor took control of by defeating Eddie Alvarez in November 2016, has barely moved since he last fought -- mostly because of inopportune injuries and weight-cutting fiascos.
If he's back for good, that figures to change. He clearly stated that, should anything happen to Nurmagomedov in the final 48 hours, he'd find someone else to fight at UFC 229 -- and after "sparking" Nurmagomedov on Saturday, he might just feel like headlining UFC 231 one month from now at Madison Square Garden.
"It's another day, setting the bar high and knocking it out of the park," said McGregor, on the magnitude of his return. "I plan on knocking that man's nose straight into the nosebleeds."
Of course, Nurmagomedov will have a chance to have his say Saturday. During Thursday's news conference, he admitted this bout has become "personal," referring to it as more than just a fight for the title.
Who would have guessed, McGregor found a way to make his opponent take a fight against him personally. See, it really is as if the man never left.
---
Fight breakdown
How can McGregor claim the lightweight title at UFC 229?
Gilbert Melendez details what Conor McGregor needs to do against Khabib Nurmagomedov in order to win the lightweight title at UFC 229.
The natural talk around McGregor's lengthy break from MMA is: How negatively will it affect him? But what if he's actually better than we remember?
Isn't that a possibility? We're talking about an elite athlete with a sharp mind and a proven work ethic. A guy who knew his weakness -- at the very least, his perceived weakness -- was defensive grappling. Would anyone out there put it past McGregor to have quietly trained his wrestling the past two years and be a heck of a lot better in that regard come Saturday?
Point is, while the layoff is real and certainly worth considering from a negative standpoint, we should keep in mind the real possibility McGregor has actually added to his skill set. And an area in which he very well may have improved most would be his wrestling.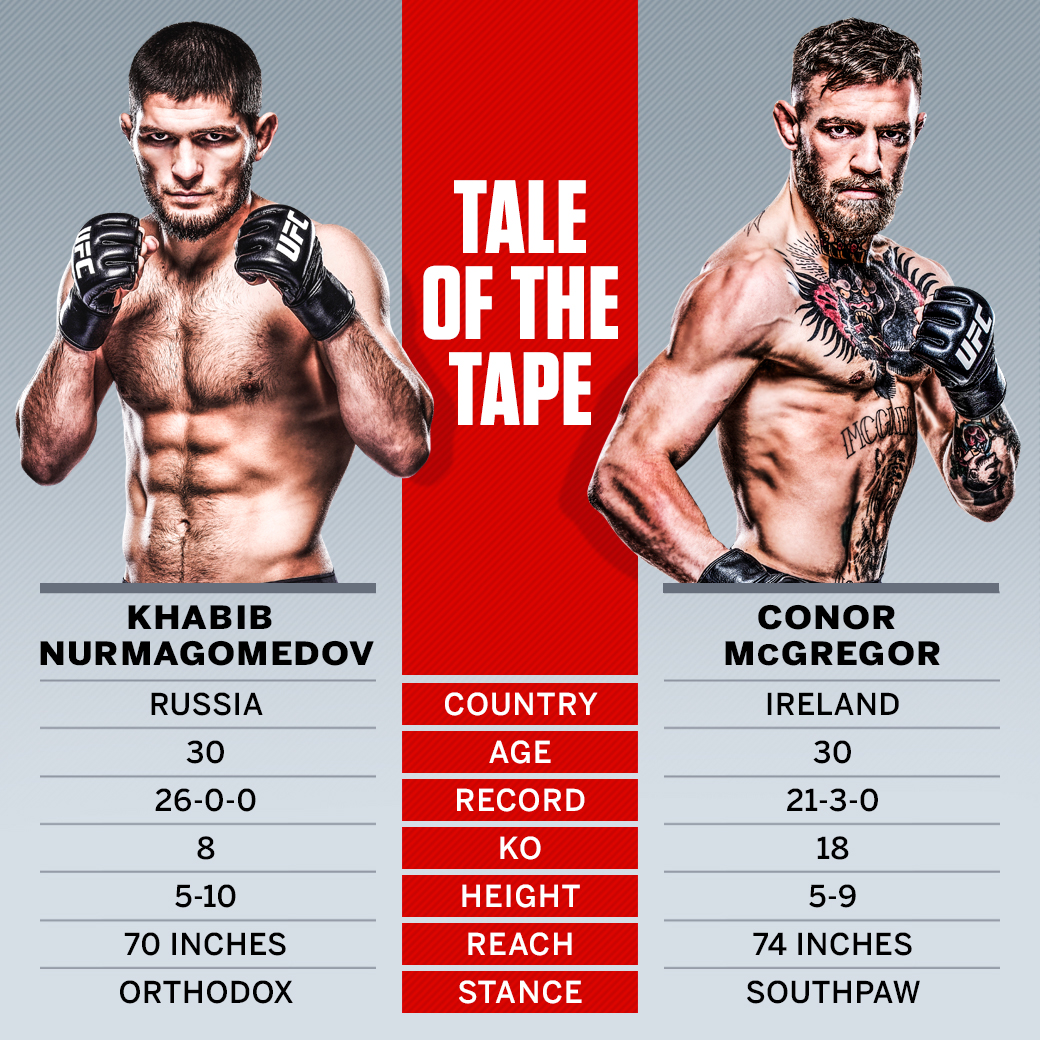 That said, Nurmagomedov is an absolute beast on the ground. Everyone believes Nurmagomedov will have his way once it hits the floor, and I believe that's likely accurate. The question is, how efficient will Nurmagomedov be at getting it to the ground?
Nurmagomedov has to be all-in or all-out. If he's going to throw strikes, it has to be on the move, closing distance. He showed off a pretty jab in his victory over Al Iaquinta back in April. That was great and fun to see, but he needs to throw that out the window here. If he sits at a distance where McGregor can reach him and tries straight punches, he's in trouble.
The million-dollar question in my mind is what happens when Nurmagomedov takes that first shot, isn't initially successful and tries to follow through into a body lock or trip takedown. In other words, what happens in those scrambles when he can get his hands on McGregor but can't take him down immediately?
If the answer is that McGregor can force separation and land something on the way out, this entire arena is going to take a deep breath of concern for Nurmagomedov. But if the answer is that Nurmagomedov's chain wrestling allows him to find those takedowns even when his first shot is unsuccessful, then it will be a bad night for McGregor.
Prediction: Nurmagomedov by submission, fourth round.