Curry drops easy 32 points in opener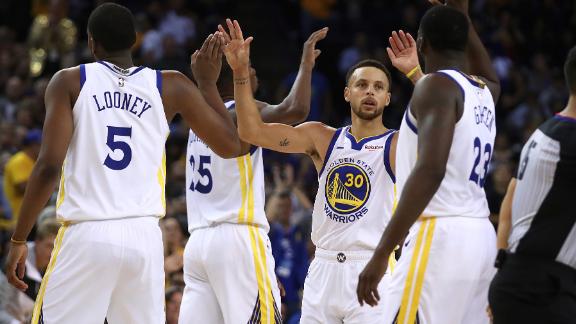 Draymond's son wants nothing to do with presser
Draymond Green Jr. joins his dad at the podium and doesn't have much to say, but throws up the deuces before they leave.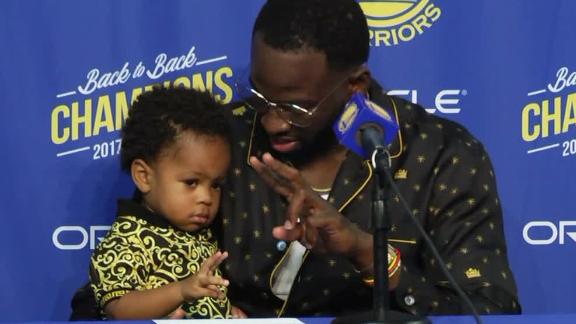 KD drives for tough floater late
Kevin Durant muscles to the basket and knocks down a tough floater. Durant would hit the ground hard, but he would get back up.
Curry says Warriors know what's at stake this season
Steph Curry explains how the Warriors were able to hold off the Thunder and what the team's approach is as they search for a 3-peat this season.
KD looks to close out Oracle Arena with another ring
Kevin Durant reflects on the Warriors' 108-100 win and looks to have another successful year in their last season at Oracle Arena.
Curry cruises to nice finish off the glass
Steph Curry drives straight to the bucket and flips in a layup off the glass.
George drops 15 points in the 3rd quarter
Paul George is single-handedly keeping the Thunder in it as he puts up a 15-point third quarter.
George's stepback gets Westbrook to his feet
Paul George knocks down a stepback jumper over Kevin Durant, which gets Russell Westbrook to his feet.
Durant splits the defense on reverse finish
Kevin Durant drives to the bucket and between two defenders he sinks a filthy reverse layup.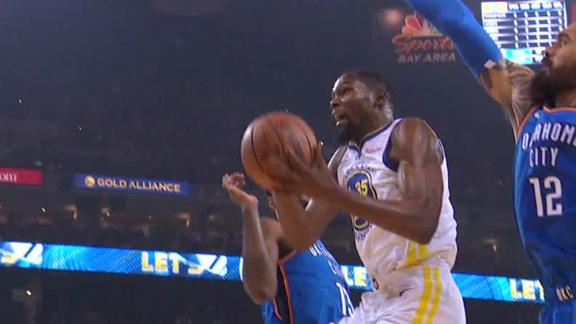 Durant sends Grant flying with crossover
Kevin Durant embarrasses Jermani Grant with a nasty crossover before getting called for an offensive foul.
Stephen A: Thunder are 'no match' for Warriors
Stephen A. Smith breaks down why Oklahoma City can't challenge Golden State this season.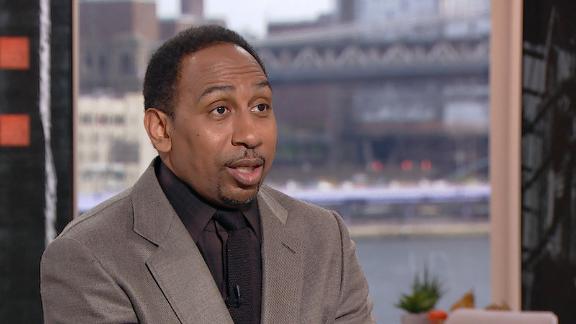 Chalk
Embiid: 'I do whatever it takes to win'
Joel Embiid talks to Rachel Nichols about balancing his confidence and being humble before the start of the 2018-19 season.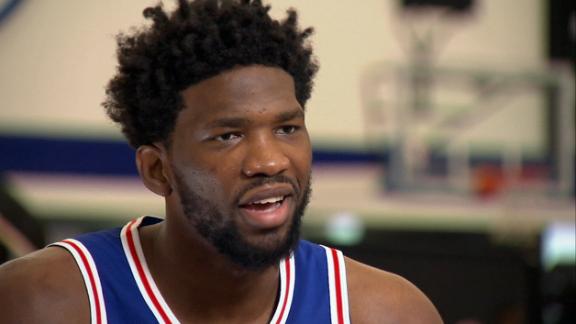 Customize ESPN

Sign up for FREE!
Thearon W. Henderson/Getty Images

Healthier than he's been in years, D-Rose is ready to prove he can still hoop.
Rocky Widner/NBAE via Getty Images

Which NBA teams have bragging rights, and which are the most miserable? The Sports Misery Index rates the NBA 1-30.
Brian Babineau/NBAE/Getty Images

Zach Lowe breaks out his comprehensive guide to the most watchable (and least watchable) NBA teams, ranked from 30 to 16.