Kings troll Curry, show moon landing during starting lineups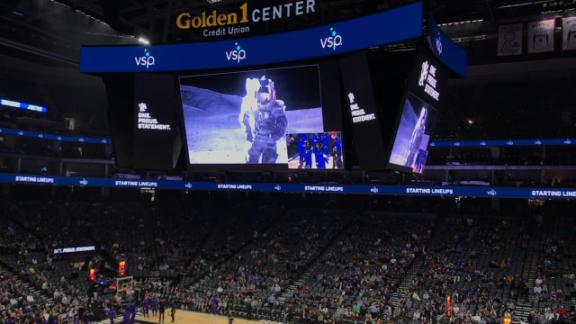 Russell Westbrook, Jamal Murray get into fourth-quarter scuffle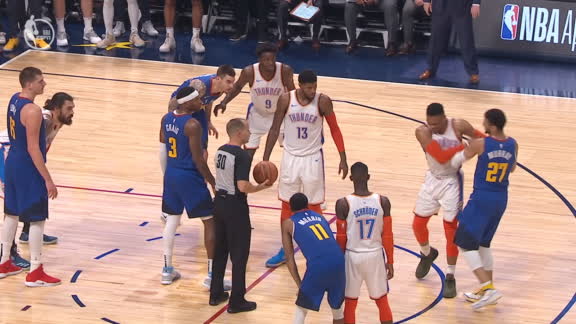 Jokic leads Nuggets to key win over Thunder
Nikola Jokic scores a team-high 24 points and comes up one assist shy of a triple-double as Denver gets an impressive 109-98 win over Oklahoma City.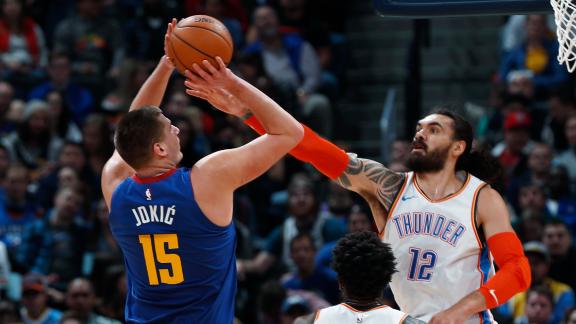 George goes for 32 in loss to Nuggets
Paul George does his best to lead the Thunder to a comeback win over the Nuggets, but Oklahoma City falls short despite his 32-point night.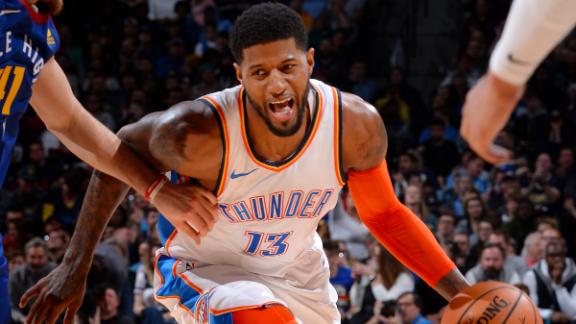 Plumlee's block leads to Lyles' slam
Mason Plumlee swats away Dennis Schroder's layup, and Trey Lyles capitalizes with a two-handed jam on the other end.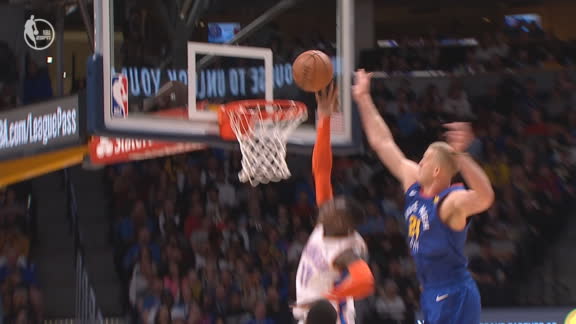 Jokic: 'It's a great win for us'
Nikola Jokic reflects on the Nuggets' big win over the Thunder and comments on his more prominent role within the Denver offense.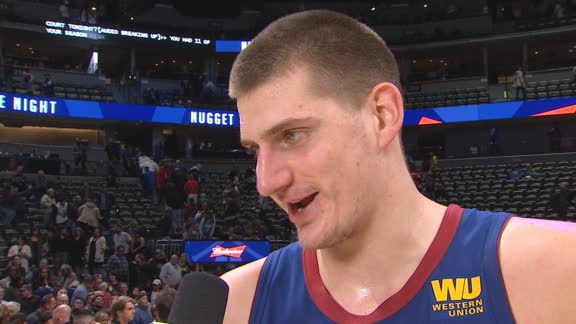 Jokic throws dime to Craig for slam
Nikola Jokic drops a beautiful bounce pass to a cutting Torrey Craig, who rises up for the huge two-handed jam to extend the Nuggets' 4th-quarter lead.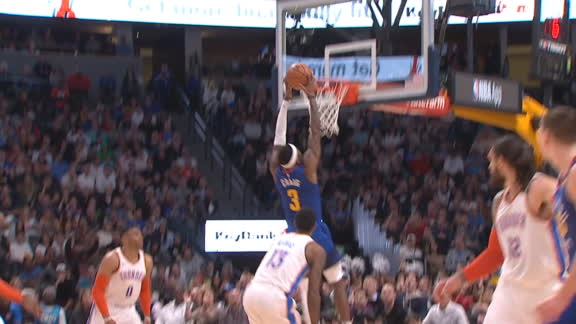 Craig finds Plumlee for huge alley-oop jam
Torrey Craig comes off the screen and sends a pass toward the rim, where Mason Plumlee puts down a rim-rocking two-handed stuff.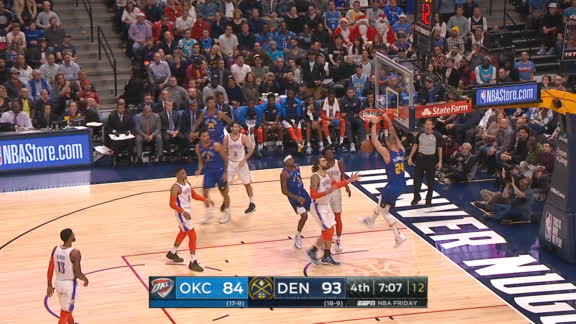 George flies in for two-handed stuff
Paul George fakes out Juan Hernangomez and takes off for the rim, finishing with a thunderous two-handed dunk.
George slices through defense for and-1
Paul George gets past Juan Hernangomez and challenges Nikola Jokic at the rim, finishing through the contact for a bucket and a foul.
Jokic finds Craig for two-handed jam
Nikola Jokic draws the double team and feeds a wide-open Torrey Craig, who elevates for the strong two-handed finish.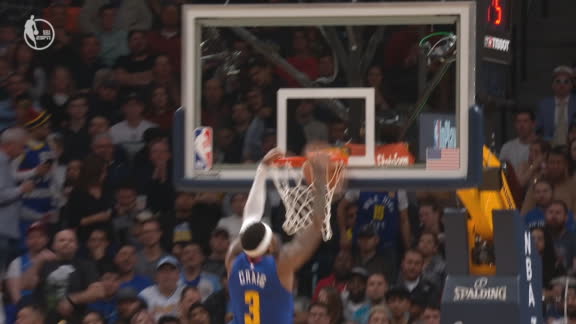 Joel Embiid goes off for 40 points and 21 boards against Pacers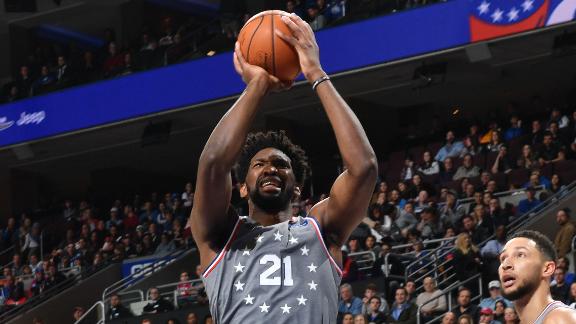 Young's 26 points lead Pacers past 76ers
Thaddeus Young finishes with 26 points and 10 rebounds as the Pacers capture a 113-101 road win vs. the 76ers.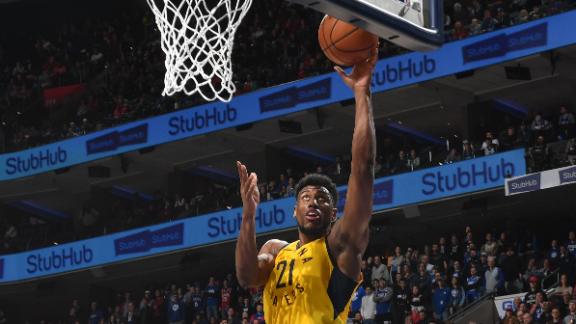 Embiid pushes through Turner and slams it down
Joel Embiid powers past Myles Turner on the baseline and throws down a one-handed dunk.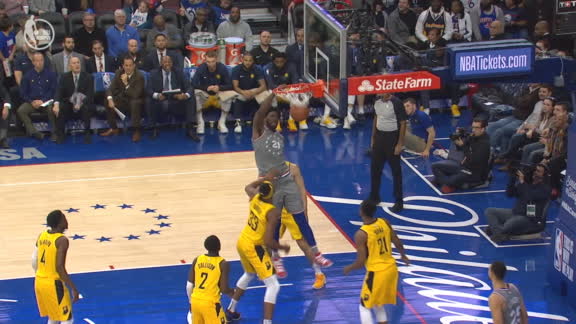 Brown on Embiid: 'I think he has got a lot on his shoulders'
76ers coach Brett Brown speaks to the media about what went wrong for Joel Embiid in the second half vs. the Pacers.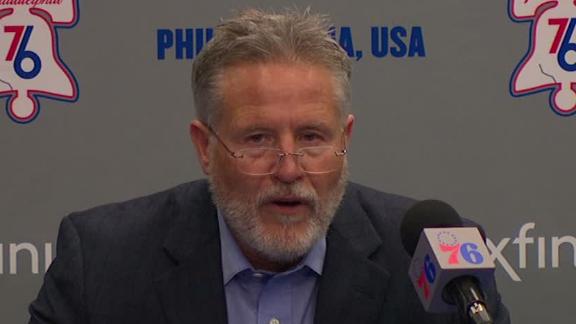 Oladipo crosses over and nails jumper off one foot
Victor Oladipo puts a move on Wilson Chandler and gets separation to drain a mid-range jumpshot.
Embiid racks up 28 in 1st half
Joel Embiid pours in 28 first-half points vs. the Pacers as the 76ers lead at halftime.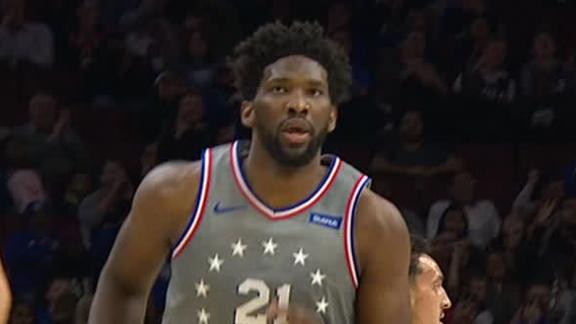 Collison shoves Simmons in 2nd quarter
After a Pacers bucket, Ben Simmons pushes away Darren Collison, who retaliates with a shove before halftime.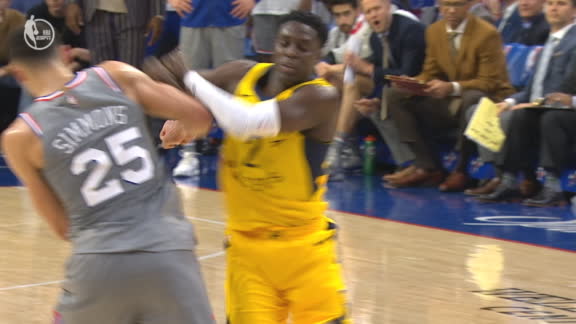 Embiid spins and scoops in layup for and-1
Joel Embiid gets a pass in the low post, spins around his defender and flips in a tough layup to complete the 3-point play at the line.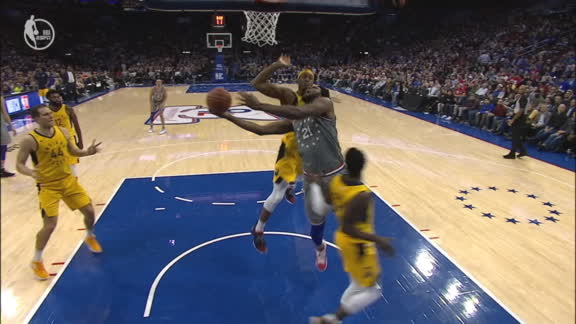 Oladipo makes fast-break layup
Victor Oladipo runs with Darren Collison off a steal and puts in a layup.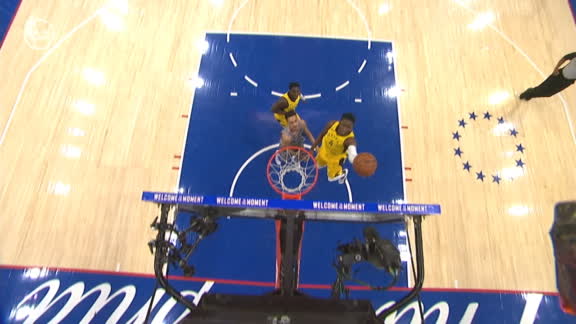 Simmons darts pass to Embiid for slam
Ben Simmons rebounds a missed 3-pointer and fires to a wide open Joel Embiid for a powerful one-handed dunk.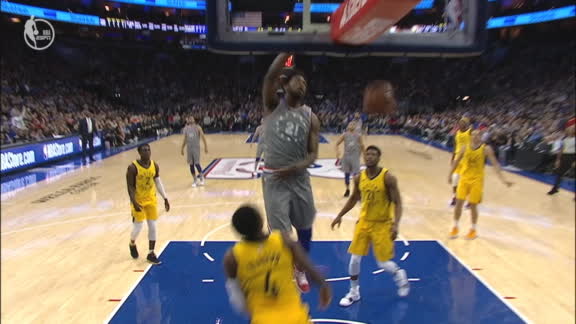 Redick off to hot start vs. Pacers
JJ Redick hits his first three shots, including a pullup jumper after dribbling around a Joel Embiid screen.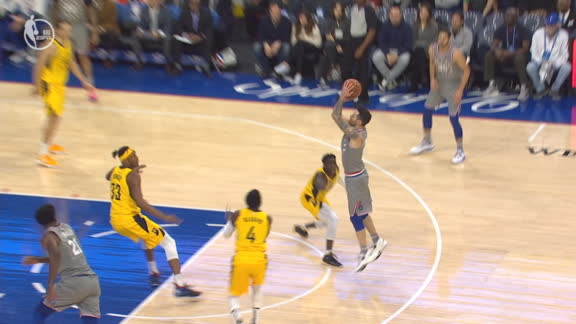 Giannis ties career-high 44 points in Bucks' win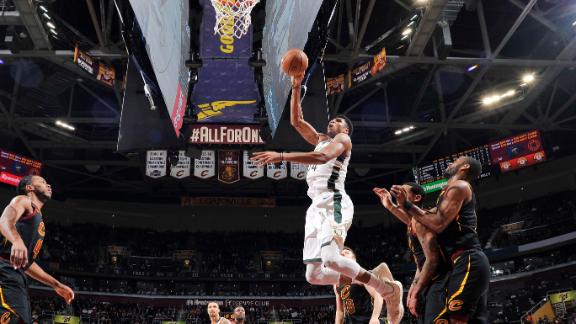 Monk has words with Hardaway after dunk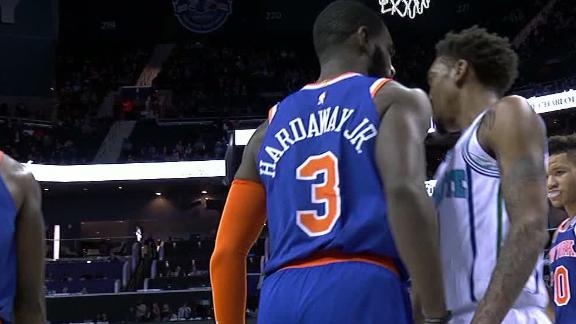 Robinson slams down the alley-oop
Courtney Lee feeds Mitchell Robinson for the huge throw down.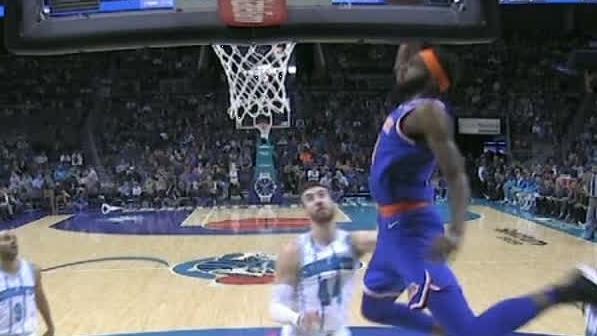 Oubre reaches for the two-handed slam
Kelly Oubre Jr. reaches out with two hands to slam it down for the Wizards in the first quarter.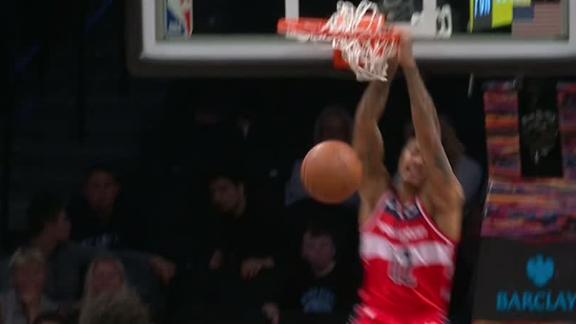 Greek Freak slams alley-oop over multiple men
Giannis Antetokounmpo comes out of nowhere to throw down a big alley-oop over a couple of defenders.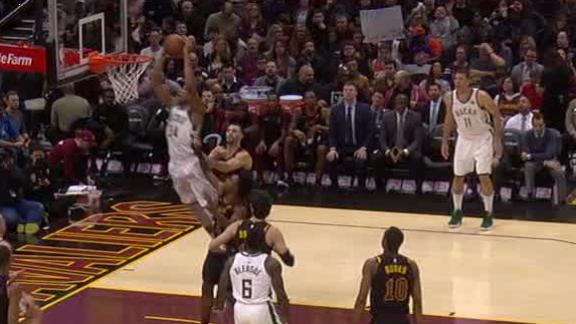 Hayward lobs to Theis for alley-oop flush
Gordon Hayward draws the defense and throws it up to Daniel Theis, who rocks the rim with a strong two-handed finish.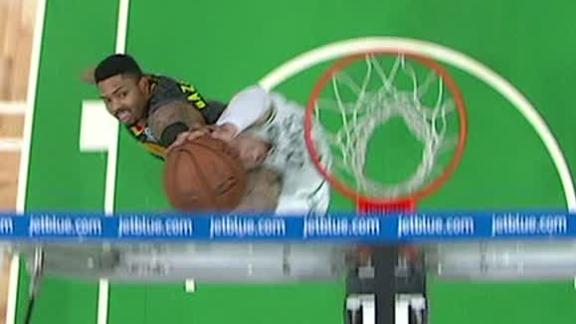 What makes Harden and Doncic similar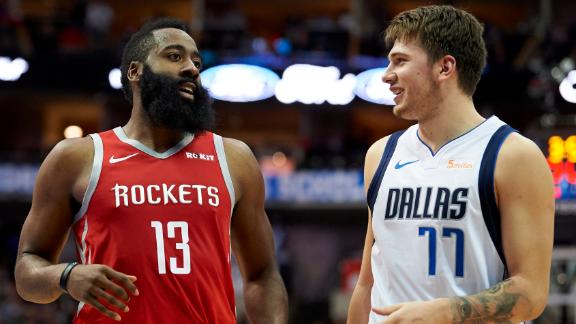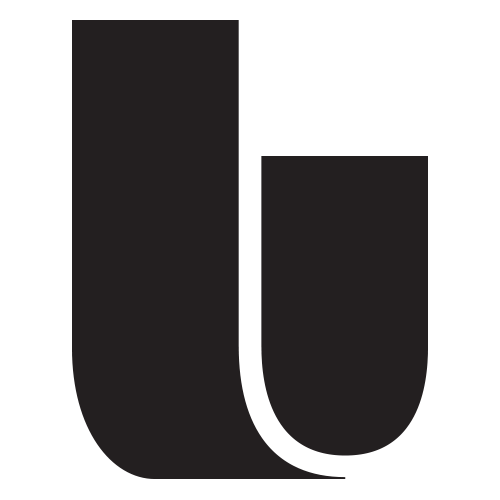 The Undefeated
Customize ESPN

Sign up for FREE!
Brian Rothmuller/Icon Sportswire

Gregg Popovich says there's no beauty in basketball anymore. Melo's fall helps make his case.
Joe Murphy/NBAE via Getty Images

The man who replaced Melo in Houston is leaning on his other legendary point guard.
Kelley L. Cox/USA TODAY Sports

We polled the ESPN Forecast panel of experts for their votes on what's next for KD.
ESPN Fan Shop
Powered By