LeBron drops 44, moves to fifth all time in scoring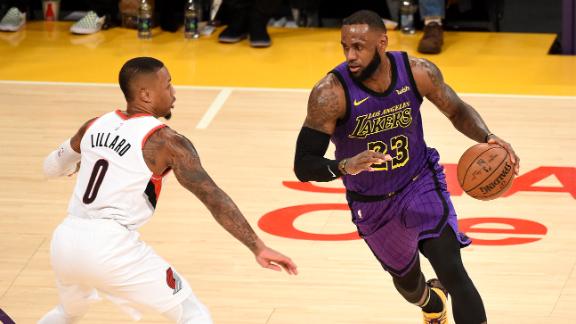 LeBron after moving to 5th in scoring: 'I'm able to do what I love to do'
LeBron James talks about what it means to pass Wilt Chamberlain for fifth all time in scoring and reflects on the Lakers' fourth straight victory.
LeBron caps off huge night with block and 3-point play
LeBron James denies Damian Lillard on the defensive end, then dives to the rim and finishes through contact for a 44-point night.
LeBron converts and-1 to become 5th all-time in scoring
LeBron James falls away and sinks a jumper through contact, then hits the free throw to pass Wilt Chamberlain for fifth on the NBA's all-time scoring list.
McCollum pulls down LeBron for flagrant 1
LeBron James drives the lane and gets pulled down by CJ McCollum, hitting the deck hard to draw a flagrant 1.
LeBron goes over Collins for and-1 finish
LeBron James comes off a screen and challenges Zach Collins at the rim, adjusting in mid-air to finish the and-1 layup.
LeBron turns defense into offense after block
LeBron James stuffs Nik Stauskas at the rim, then goes coast-to-coast and finishes with a spin move.
LeBron schools Turner for reverse layup
LeBron James gets the offensive rebound and spins free from Evan Turner before finishing with a smooth reverse lay-in.
LeBron lobs, Chandler slams
LeBron James drive into the lane and throws it up for Tyson Chandler, who puts down the alley-oop stuff with two hands.
LeBron nails two 3-pointers to give Lakers halftime lead
LeBron James pulls up from way downtown to put the Lakers in front, then beats the 1st-half buzzer with a straightaway triple.
The Greek Freak throws down the right-handed hammer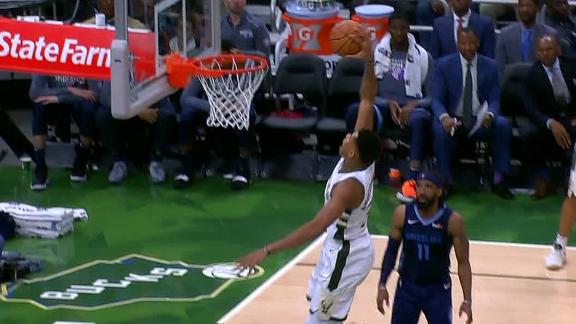 George shakes the earth with emphatic dunk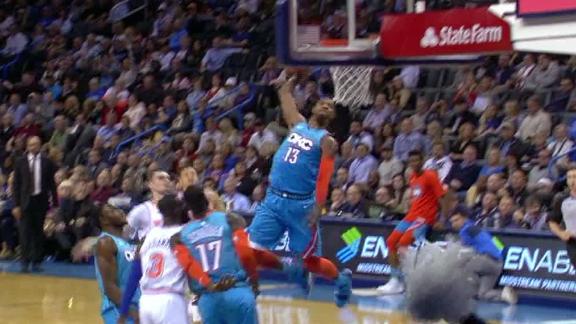 Andrew Wiggins finishes a huge dunk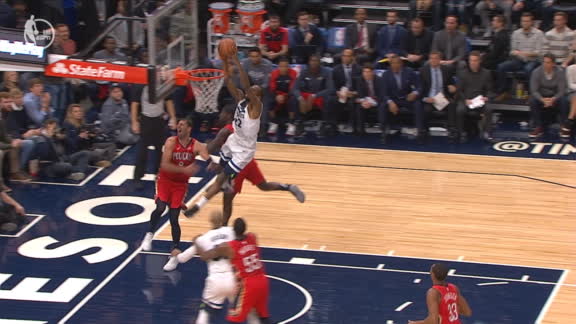 Butler makes debut in 76ers' loss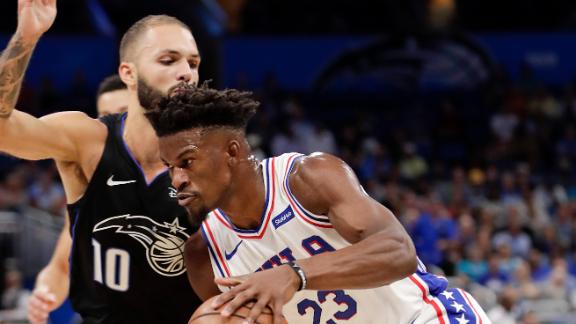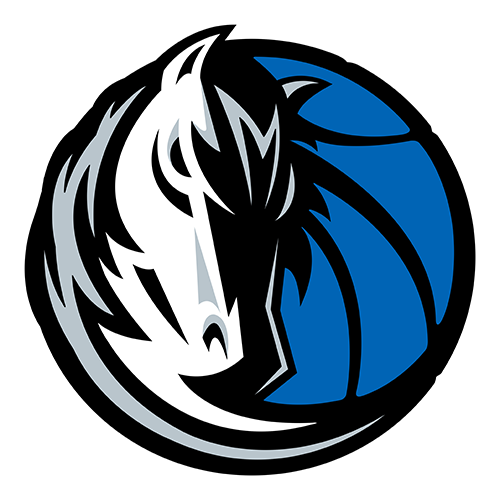 Follow the ball
Gobert falls for Doncic's fake
Doncic fakes a pass for the basket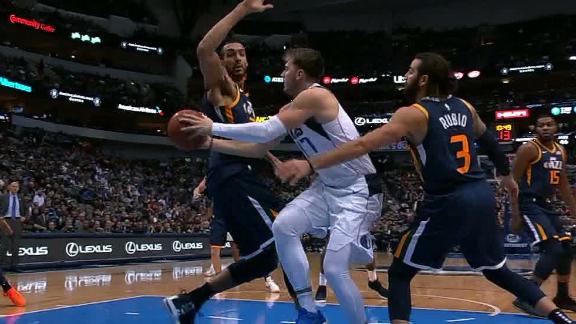 Customize ESPN

Sign up for FREE!
Benny Sieu/USA TODAY Sports

The NBA's offensive explosion leaves defenses helpless, Brian Windhorst writes, plus why the Nets' offer sheet slump won't hurt them.
Cleveland Cavaliers

Time to hand out some grades for Nike's final batch of City uniform designs.
Jennifer Pottheiser/NBAE via Getty Images

The Hawks' rookie point guard has high hopes and famous friends in Atlanta.
ESPN Fan Shop
Powered By