Kawhi fakes out defenders for nifty layup
Kawhi Leonard fakes out two defenders at once while driving to the rim for a layup.
DeRozan pulls off insane 360 layup
DeMar DeRozan pulls off the insane 360 layup in the second quarter against the Spurs.
Pop plays it minimal when talking DeRozan
Gregg Popovich doesn't disappoint with his answers in an interview with ESPN's Jorge Sedano.
DeRozan gets ovation after videoboard tribute
The Toronto crowd gives DeMar DeRozan a standing ovation after the Raptors show a videoboard tribute thanking him for his time as a Raptor.
DeRozan scores first points in Toronto
DeMar DeRozan scores his first points in Toronto on an and-1 since being traded to the Spurs.
DeRozan greeted with standing ovation
Former Raptor DeMar DeRozan is introduced in his first game in Toronto since being traded and is greeted with a standing ovation.
LeBron leads Lakers' 19-point comeback vs. Rockets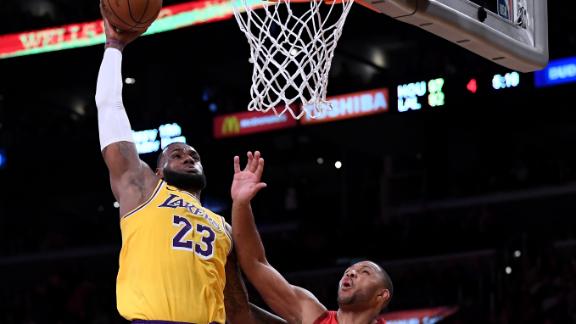 Customize ESPN
AP Photo/Gerry Broome

Commissioner Adam Silver discussed tampering, trade demands and more in Charlotte. What does it all mean for the future of the league?
Shayan Asgharnia for ESPN

No matter where he spends the rest of his career, Kevin Durant is determined to set himself up for success for the rest of his life.
Kent Smith/NBAE via Getty Images

In 1995, Charlotte icon Muggsy Bogues had a busted knee, a broken marriage and a brother addicted to drugs. Bogues couldn't fix the knee or save his marriage, but he could help his brother. So he did -- and changed both their lives forever.
ESPN Fan Shop
Powered By