Cavs even East finals off LeBron's 44-point effort
LeBron James is perfect from the field in the first quarter and finishes with 44 points as the Cavs beat the Celtics 111-102.
Stephen A.: LeBron is on 'Mount Rushmore of basketball'
Stephen A. Smith explains how LeBron James is able to continuously play at a high level in his 15th year in the league.
James leaps over two defenders to grab Love's full-court pass
Before Game 4, LeBron James describes how certain plays, like a Kevin Love long pass, create momentum. In the second quarter, James scores off one.
LeBron: 'Humbling' to be mentioned with the greats
LeBron James reacts to setting another all-time playoff record and what it means to be in the same category with the greats of the NBA.
Korver jokes: 'I'm going to be hurting tomorrow'
Kyle Korver says that he's going to do "whatever it takes" to help the Cavaliers reach the NBA Finals, including diving for the ball.
LeBron ready for a hostile Boston environment in Game 5
LeBron James explains why he's playing at such a high level in his 15th season and the importance of shutting down Al Horford the last two games.
Latest milestone makes LeBron reflective
The King's reaction to becoming the playoff leader in made field goals stretches from his childhood to a humbled shrug.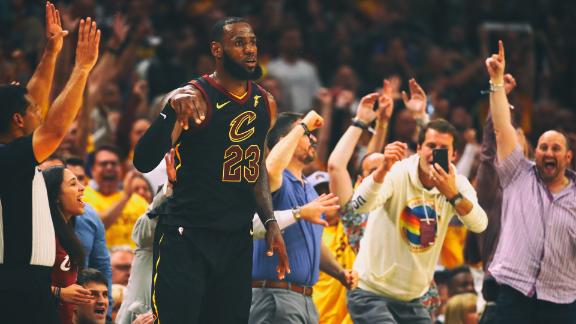 Age tops youth as Korver stuffs Brown
37-year-old Kyle Korver denies 21-year-old Jaylen Brown on multiple occasions in the first half of the Cavs' Game 4 win.
LeBron wills Cavs to Game 4 win
The Celtics stayed within striking distance, but LeBron James was too much for Boston with 44 points to even the series at two games apiece.
Cavs cruise to Game 4 victory
LeBron James records his sixth 40-point game of the postseason while Kyle Korver adds 14 off the bench, leading the Cavs to an 111-102 win.
Horford: Can't take LeBron 'for granted'
Al Horford admits that most have come to expect LeBron James' impressive stat sheet, but that doesn't mean they can't work harder to "contain him."
Lue in awe of Korver, especially at age 37
Ty Lue praises Kyle Korver for being so versatile on the court and after confusing his age, jokes "we playing him too many minutes."
Nichols: Celts 'not daunted' by Game 4 loss
Rachel Nichols sheds some light on the atmosphere in both locker rooms, saying both teams feel equally as confident heading back to Boston.
LeBron gets 6th 40-point game of playoffs with 3
LeBron James jumps over the 40-point threshold with a late triple in his incredible Game 4 performance.
LeBron follows turnover with steal and layup
LeBron James carelessly passes the ball away, but gets a steal of his own and barrels into Marcus Smart to hit the lay-in.
Durant swears by Curry's cursing
Kevin Durant is a big fan of Steph Curry's profane reaction to a layup and explains why the F-word means so much when playing basketball.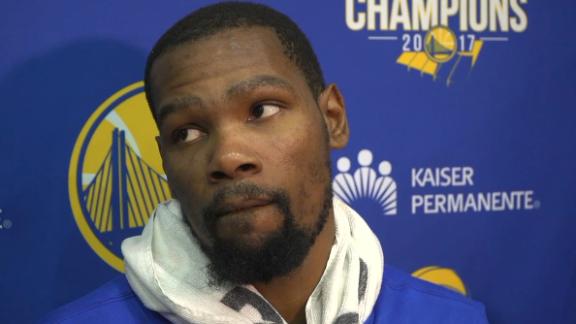 NBA Draft
Customize ESPN
The scariest three minutes in the NBA
Diego Patino

By the time opponents know what's hit them, it's already too late. This is how the Warriors crush -- and how the NBA fails to fight back.
Kawhi, Pop and the NBA's most fascinating mystery
Soobum Im/USA TODAY Sports

What's behind the tension between the Spurs and Kawhi Leonard's camp? And how will the NBA's most fascinating mystery end?
Russell Westbrook's fashion
ESPN Illustration

Russ does what he wants -- on and off the court. We tracked every outfit the NBA's biggest fashion star wore this season. But even if you think you can pull off Westbrook's look, it'll cost you.
Joel Kimmel illustration

From LeBron James backing up Stephen Curry to Joel Embiid taunting victims on a weekly basis, if you weren't locked in to social media, you weren't getting the full story of the 2017-18 NBA season.