What makes Harden and Doncic similar?
Check out a break down of highlights showcasing the signature moves of Luka Doncic and James Harden.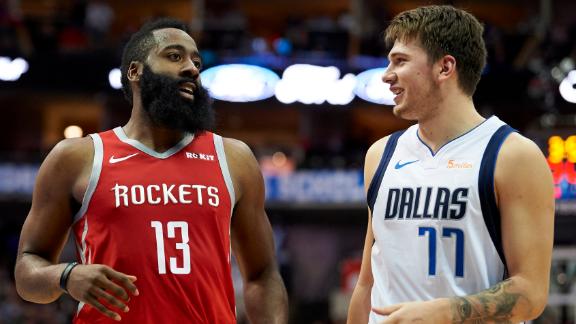 Leonard-less Raptors dominate Warriors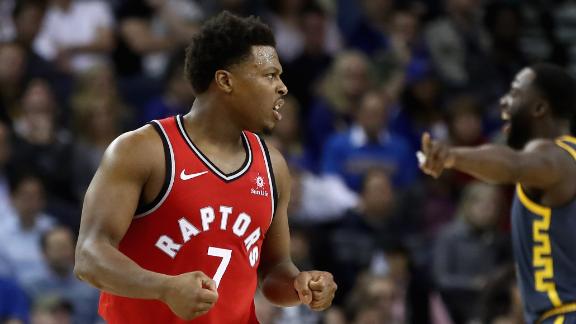 Lowry feeds Ibaka for dunk
Kyle Lowry bounces a pass to a driving Serge Ibaka, who finishes with a two-handed dunk.
Lowry says Raptors stepped up in Kawhi's absence
Kyle Lowry expresses his thoughts on the Raptors huge win over the Warriors without Kawhi Leonard and how well he played tonight.
Durant's 30 can't help Warriors in loss
Kevin Durant drops an impressive 30 points, but it wasn't enough as the Warriors lose big to the Raptors.
Monroe backs down Livingston for and-1
Greg Monroe backs his way towards the basket and sinks a tough layup while drawing a foul on Shaun Livingston.
Siakam drives baseline for circus shot
Kyle Lowry bounces a pass to Pascal Siakam, who goes baseline for an acrobatic reverse layup.
Durant posterizes Ibaka
Kevin Durant dribbles behind his back, flies to the rim and throws down a thunderous one-handed dunk over Serge Ibaka.
Valanciunas screams in pain after contact from Draymond
Draymond Green gets a part of Jonas Valanciunas' hand as he goes for the steal and Valanciunas seems to jam his fingers and screams in pain.
Lowry uses shot fake for and-1
Kyle Lowry drives to the basket, uses a shot fake to draw contact and still manages to bank in his shot.
Davis dominates down low in Pelicans' win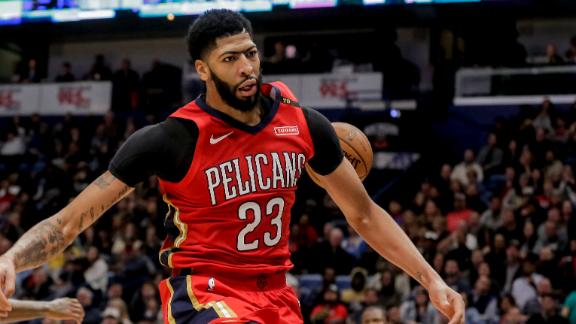 Davis drops floater for 40 points
Anthony Davis gets by Paul George and then sinks a floater with the left hand to give him his 5th 40-point game this season.
Abrines can't connect on potential game winner
Russell Westbrook kicks it out to Alex Abrines, who puts up a 3-point shot with 0.4 seconds left and misses, sending the Thunder to a 118-114 loss vs. the Pelicans.
George flies to basket for and-1
Paul George drives to the basket for a layup while drawing a foul late in the fourth quarter.
Davis takes open lane for hammer dunk
Tim Frazier bounces a pass to Anthony Davis, who glides to the basket for a monster one-handed jam.
Davis rises up for putback dunk
Tim Frazier is off the mark with a short floater, but Anthony Davis jumps up to stuff it in with one-hand.
Schroder nearly gets lob to go in
Dennis Schroder sends a long lob towards the basket that almost goes in by itself, but Hamidou Diallo tips it in at the last second.
Davis rises above defenders for and-1
Jrue Holiday lobs a pass up to Anthony Davis, who jumps above two defenders and tips it in while drawing a foul.
Davis emphatically finishes alley-oop
Jrue Holiday lobs a pass up to Anthony Davis, who rises up for a powerful two-handed slam late in the second quarter.
Westbrook elevates for big block
Frank Jackson tries to sink a layup, but Russell Westbrook jumps high to swat the shot out of bounds.
Simmons high rises for alley-oop dunk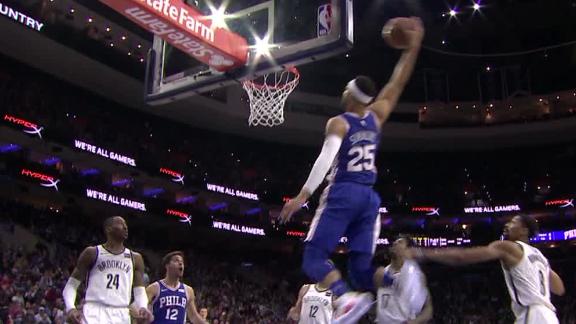 Monk throws down the hammer
Nicolas Batum bounces it to a cutting Malik Monk, who drives down the paint and destroys the rim with a nasty one-handed dunk.
Knox with the big dunk down the stretch
With the Knicks in transition, Emmanuel Mudiay feeds Kevin Knox for the one-handed dunk.
Drummond destroys the rim off a steal
Andre Drummond collects the steal, runs and throws down the one-handed dunk.
Giannis throws down slam on Oladipo
Giannis Antetokounmpo gets the bounce pass from Eric Bledsoe and evades Victor Oladipo for the huge one-handed jam.
Customize ESPN

Sign up for FREE!
Brian Rothmuller/Icon Sportswire

Gregg Popovich says there's no beauty in basketball anymore. Melo's fall helps make his case.
Joe Murphy/NBAE via Getty Images

The man who replaced Melo in Houston is leaning on his other legendary point guard.
Kelley L. Cox/USA TODAY Sports

We polled the ESPN Forecast panel of experts for their votes on what's next for KD.
ESPN Fan Shop
Powered By