LeBron drops 46 points in 46 minutes
LeBron James comes up huge in another elimination game, sitting just once to fuel the Cavs to a Game 6 victory.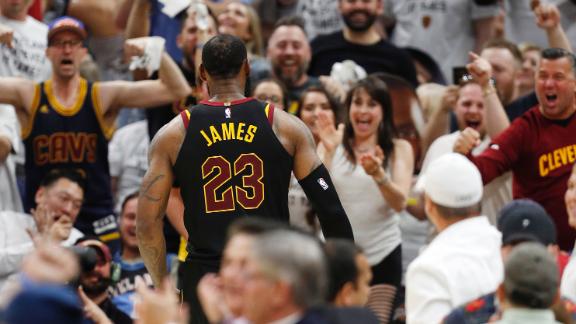 LeBron drills two stepback 3s over Tatum late
LeBron James takes Jayson Tatum one-on-one twice in a row late in Game 6.
LeBron comes up big in Game 7s
LeBron James is clutch in Game 7s in his career, averaging 34.9 points per game. Revisit how the King has fared in seven career Game 7s.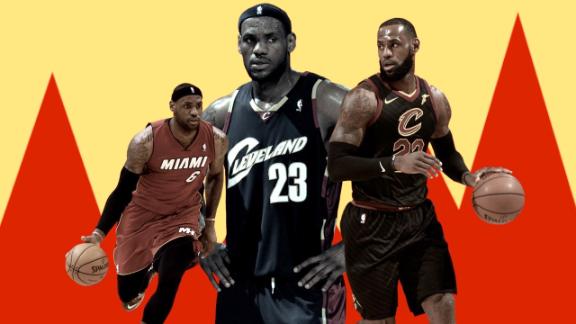 Stephen A. wants to see Celtics in Finals
Stephen A. Smith says that he doesn't want to see LeBron James and this Cavs team in the NBA Finals because it won't be a competitive matchup.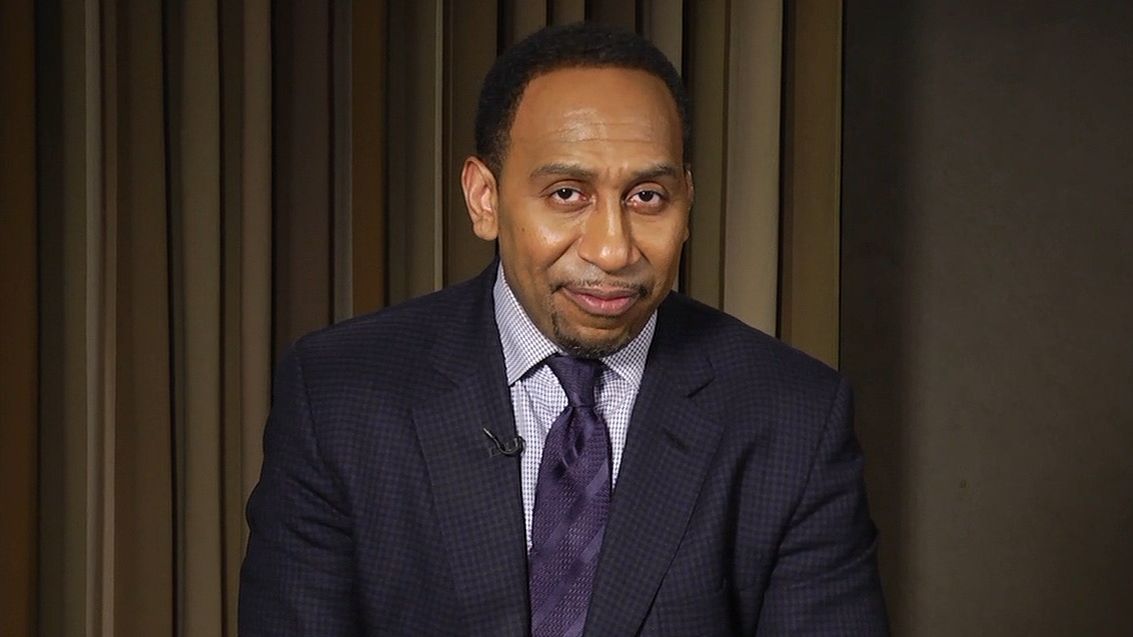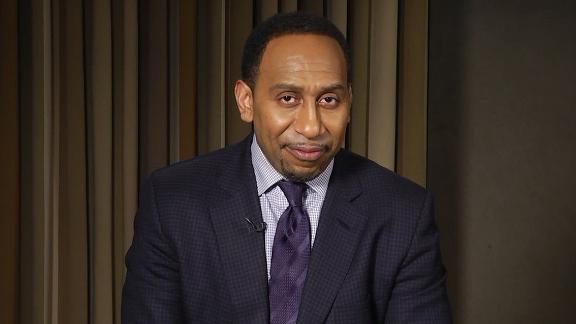 Love heads to locker room after collision with Tatum
Kevin Love goes to the locker room in the first quarter of Game 6 after colliding with Jayson Tatum.
LeBron puts Cavs on his back to force Game 7
LeBron James drops 46 points in 46 minutes as the Cavs stave off elimination.
LeBron calls Game 7: 'Just basketball'
LeBron James is very calm when looking ahead to an epic Game 7 in Boston.
Brown after Game 6: 'We were right there'
Jaylen Brown talks about how close Boston is to getting over "the hump" and winning on the road.
Hill says LeBron's play is 'remarkable'
George Hill details LeBron James' greatness and talks about the mindset heading into Game 7.
LeBron: 'I wasn't coming out'
LeBron James says he didn't see Larry Nance Jr. crash into his leg and felt pain but wasn't considering leaving the game.
LeBron's 2018 Game 6 déjà vu to 2012 performance
LeBron James's 46-point performance to force Game 7 is reminiscent of the 2012 ECF when he scored 45 points, also against the Celtics.
LeBron appreciates reporter acknowledging his clutch gene
LeBron James shares how he learned to handle clutch situations over his career.
LeBron's son mesmerized by his performance in Game 6
LeBron James shares a cool moment with his son after an epic outing in Game 6 of the Eastern Conference finals.
Hill 'for sure' finding a Chipotle in Boston
George Hill says that it may sound "funny" but before Game 7 he needs to find a Chipotle Mexican Grill and eat barbacoa.
LeBron, Cavs force Game 7
LeBron James scores 46 points in a near triple-double as the Cavs defeat the Celtics 109-99 to avoid elimination.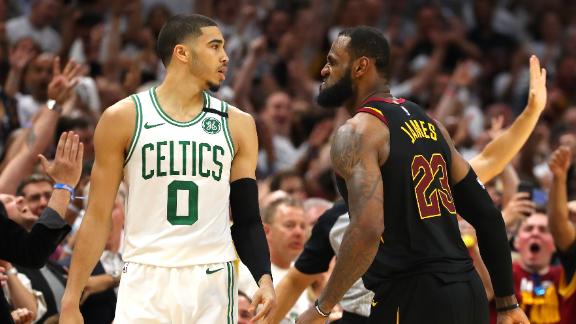 Lue on LeBron: 'Greatness. Championship pedigree'
Ty Lue says that LeBron James "carried us home" especially with Kevin Love out early and adds that he expected nothing less from the Cavs' star.
Stevens on Game 7: 'It's win or go home'
Brad Stevens says that "it's an absolute blast" to prepare for Game 7, especially up against a "tremendous individual player" in LeBron James.
LeBron shines with his back against the wall
Paul Pierce loves what he saw from LeBron James and the key performances the Cavs got from their role players.
Burke: LeBron's greatness continues to leave us in awe
Doris Burke calls herself lucky to witness LeBron James play so well in the playoffs and discusses the role players that need to step up in Game 7.
NBA Draft
Where will Doncic land in NBA Draft?
Jonathan Givony calls Slovenian prospect Luka Doncic "the best pure basketball player in the draft."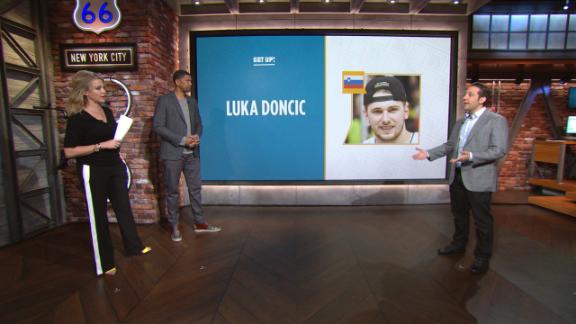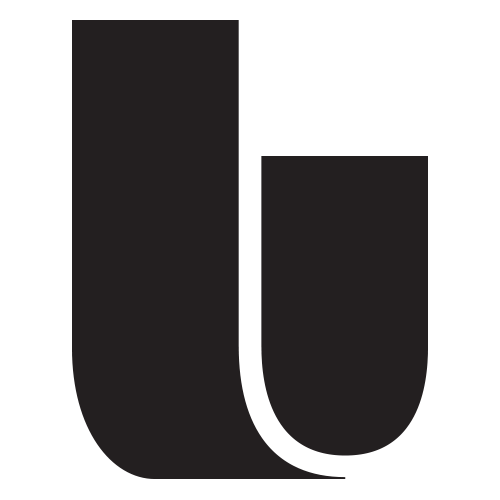 The Undefeated on The Rockets

World Fame 100
ESPN The Magazine
Customize ESPN
Kyle Korver's perseverance
Melissa Majchrzak/NBAE/Getty Images

Despite the sudden loss of his youngest brother, Cavs guard Kyle Korver has managed to play his best.
The scariest three minutes in the NBA
Diego Patino

By the time opponents know what's hit them, it's already too late. This is how the Warriors crush -- and how the NBA fails to fight back.
Kawhi, Pop and the NBA's most fascinating mystery
Soobum Im/USA TODAY Sports

What's behind the tension between the Spurs and Kawhi Leonard's camp? And how will the NBA's most fascinating mystery end?
Russell Westbrook's fashion
ESPN Illustration

Russ does what he wants -- on and off the court. We tracked every outfit the NBA's biggest fashion star wore this season. But even if you think you can pull off Westbrook's look, it'll cost you.