Rising In The East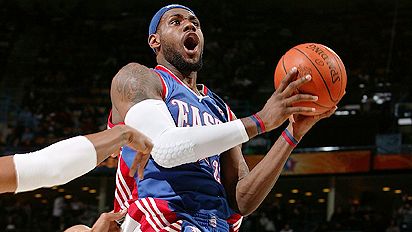 Garrett Ellwood/NBAE/Getty Images
MVP King James held court at the All-Star Game Sunday.
LeBron James and Ray Allen helped the East raise its profile. They held off a late West rally in the All-Star Game.
Story
|
Highlights

•
Hollinger's grades
|
TrueHoop: Better effort
|
All-Star photo gallery
•

Watch:
Dime TV
|
Highlights
|
LeBron MVP
|
Dwight's dunk show
•
Adande: It's all about the game
|
Scoop: Returning to NOLA's courts
More from ESPN.com
All-Star Weekend Schedule
FRIDAY, FEBRUARY 15
Gibson wins MVP with 11 3-pointers as sophs win again
SATURDAY, FEBRUARY 16
Howard wins dunk title; Kapono repeats as 3-point champ
SUNDAY, FEBRUARY 17
James, Allen lift East to All-Star victory
*All events were held at New Orleans Arena
2008 All-Star Starters
East Starters
West Starters
Dwyane Wade
Miami Heat | Guard
4th All-Star appearance
Kobe Bryant
Los Angeles Lakers | Guard
10th All-Star appearance
Jason Kidd
New Jersey Nets | Guard
10th All-Star appearance
Allen Iverson
Denver Nuggets | Guard
9th All-Star appearance
Dwight Howard
Orlando Magic | Center
2nd All-Star appearance
Yao Ming
Houston Rocketss | Center
6th All-Star appearance
LeBron James
Cleveland Cavaliers | Forward
4th All-Star appearance
Carmelo Anthony
Denver Nuggets | Forward
2nd All-Star appearance
Kevin Garnett
Boston Celtics | Forward
11th All-Star appearance
Tim Duncan
San Antonio Spurs | Forward
10th All-Star appearance
Meet The All-Stars
We're talking to the All-Stars in New Orleans. Listen to the interviews:

•
Kobe Bryant
•
Dwyane Wade
•
Caron Butler
•
Brandon Roy
•
Dwight Howard
•
Chris Bosh
•
Chris Paul/David West
•
LeBron James
•
LaMarcus Aldridge
•
Daniel Gibson
•
Jeff Green
•
Antawn Jamison
•
Al Horford
Rewind: 2007 Player Movement

Stars Head East
Kevin Garnett and Ray Allen to Boston. Rashard Lewis to Orlando. Zach Randolph to New York.
Player Movement
Rewind: 2006 Player Movement

Big Ben Becomes Bull
Chicago landed the biggest free agent in Ben Wallace. And the '06 draft was loaded with trades.
Player Movement