MVP Race: LeBron Is Preseason No. 1
1. LeBron James, Cavs
G
MIN
FG%
3P%
FT%
STL
BLK
RPG
AST
PTS
PER
75
40.4
.484
.315
.712
1.8
1.1
7.9
7.2
30.0
29.2
These days the U.S. dollar isn't worth what it used to be. And to judge from last season's MVP voting, where James finished fourth, 30.0 ppg,
7.9 rpg and 7.2 apg don't have the value we thought they did either.
2. Chris Paul, Hornets
G
MIN
FG%
3P%
FT%
STL
BLK
RPG
AST
PTS
PER
80
37.6
.488
.369
.851
2.7
0.1
4.0
11.6
21.1
28.4
By all accounts, CP3 is one of the good guys in the league. If that is the case, how do you explain the way he bullied his way to the top of the point guard line, cutting in front of elders Steve Nash and Jason Kidd?
3. Kobe Bryant, Lakers
G
MIN
FG%
3P%
FT%
STL
BLK
RPG
AST
PTS
PER
82
38.9
.459
.361
.840
1.8
0.5
6.3
5.4
28.3
24.3
There wasn't a ceremony, but I'm sure Bryant was happy to leave James with the "Best player never named MVP" title. Now, he has to take care of his pinky, keep Lamar Odom happy and work Andrew Bynum into the mix.
4. Kevin Garnett, Celtics
G
MIN
FG%
3P%
FT%
STL
BLK
RPG
AST
PTS
PER
71
32.8
.539
.000
.801
1.4
1.3
9.2
3.4
18.8
25.3
When Dirk Nowitzki took home the Maurice Podoloff Trophy two years ago, the formula for winning the MVP was simple: Be the best player on the best team. Despite falling into that category, KG finished third last season.
5. Dwyane Wade, Heat
G
MIN
FG%
3P%
FT%
STL
BLK
RPG
AST
PTS
PER
51
38.2
.469
.286
.758
1.7
0.7
4.2
6.9
24.6
21.6
His knee and shoulder were banged up and his team stunk, so we never got the chance to see the real Wade last season. As he showed during the Olympics, he is ready to reclaim his spot among the game's elite.
6. Tim Duncan, Spurs
G
MIN
FG%
3P%
FT%
STL
BLK
RPG
AST
PTS
PER
78
34
.497
.000
.730
0.7
1.9
11.3
2.8
19.3
24.4
With Manu Ginobili out through December with a bum ankle, Duncan will keep the Spurs competitve in the West. Regardless of how well Ginobili and Tony Parker played last season, Duncan is still the main man.
7. Deron Williams, Jazz
G
MIN
FG%
3P%
FT%
STL
BLK
RPG
AST
PTS
PER
82
37.3
.507
.395
.803
1.1
0.3
3.0
10.5
18.8
20.8
He makes everyone around him play harder because they know if they are open, he will reward them with the rock. The Jazz are the top team in the Northwest, and he will continue to battle Paul for top playmaker honors.
8. Dwight Howard, Magic
G
MIN
FG%
3P%
FT%
STL
BLK
RPG
AST
PTS
PER
82
37.7
.599
.000
.590
0.9
2.1
14.2
1.3
20.7
23.0
At some point, someone will make the argument that Player A is the MVP because his team is X-X when he plays and X-X when he doesn't. This rule doesn't apply to Superman because he's never missed a pro game.
9. Amare Stoudemire, Suns
G
MIN
FG%
3P%
FT%
STL
BLK
RPG
AST
PTS
PER
79
33.9
.590
.161
.805
0.8
2.1
9.1
1.5
25.2
27.6
As ridiculous as his numbers were last season, I know I'm not the only one who feels he is capable of a lot more. With apologies to the two players who already have won MVP awards, the Suns are his team.
10. Elton Brand, Sixers
G
MIN
FG%
3P%
FT%
STL
BLK
RPG
AST
PTS
PER
8
34.3
.456
.000
.787
0.4
1.9
8.0
2.0
17.6
18.0
If the Sixers are as good as the experts predict they will be, most of that credit will go to their prized power forward, who is a double-double machine. He appears to be fully recovered from his Achilles tendon injury.
Rookie Watch: Oden vs. Beasley

1. Greg Oden, Blazers:
As a defensive force, he will do a lot of impressive things that will help Portland win but won't show up in the box score (
singing isn't one of them
). Portland has enough players who can score, so it is counting on Oden to rebound and anchor the defense.
2. Michael Beasley, Heat: If the voters look strictly at stats and don't watch enough games, Beasley could run away with this award. He projects as an above-average scorer and rebounder, although he won't be asked to carry the load on a team featuring Shawn Marion and Wade.
3. O.J. Mayo, Grizzlies: At times, he will remind us of John Starks in Game 7 of the 1994 NBA Finals (2-for-18, 0-for-11 in the fourth quarter), but the athletic, high-scoring combo guard is on a team that will get up and down the floor in a style that is perfect for his skill set.
4. Kevin Love, Timberwolves: He rebounds, finishes around the basket, passes well and can knock down the outside shot. His conditioning and defense need work, but overall, he'll be effective.
5. Rudy Fernandez, Blazers: He qualifies as a rookie, but anyone who saw him perform during the Olympics or the preseason knows Fernandez, who played seven seasons in the Spanish ACB League, is going to be special.
Coach Watch: Nate's To Lose

1. Nate McMillan, Blazers:
Although the West is loaded, Portland will find a way to squeeze into the playoffs. McMillan has a problem most coaches would love to have -- finding enough minutes for his roster stacked with young, talented players.
2. Maurice Cheeks, Sixers: After finishing below .500 last season, Philadelphia will be one of the best teams in the East, although I don't see Cheeks guiding them to anywhere near the Celtics in the Atlantic.
3. Rick Adelman, Rockets: The headache that is Ron Artest loved playing for Adelman in Sacramento. If the handle-with-care duo of Tracy McGrady and Yao Ming doesn't miss extended amounts of time (although it probably will), Houston can challenge for the top spot in the West.
4. Erik Spoelstra, Heat: Miami won 15 games last season, but with a healthy D-Wade and rookie Beasley teaming with Marion, the Heat will more than double their win total. A playoff berth is a strong possibility.
5. Jerry Sloan, Jazz: Everybody knows he has been one of the best coaches in the NBA for more than 20 years, so please explain how he has never won the award. Is this the season he finally gets his due?
Defensive Player: KG Again

1. Kevin Garnett, Celtics:
Boston has the most dominating defense in the league, and KG is the engine that makes it all work. Not only does he give maximum effort on the defensive side of the court, he demands his teammates try to match him.
2. Shane Battier, Rockets: He closes out on shooters as well as anyone and never takes a play off. After he slowed down Bryant on national TV, high school coaches around the country started telling their players to simply put a hand over a shooter's eyes instead of trying to block the shot. He's out at the moment with a foot injury.
3. Marcus Camby, Clippers: Not only does he pile up the blocks and steals and erase his teammates' mistakes, he also is an exceptional rebounder. The trade from Denver won't hurt his defensive value at all, although Chris Kaman could take away a couple of his boards.
4. Josh Smith, Hawks: He might not be a great one-on-one stopper yet, but when it comes to stuffing the stat sheet with hustle plays such as drawing offensive fouls (he drew 38 of them), blocks, steals and rebounds, Smith gets the job done.
5. Ron Artest, Rockets: When it comes to ranking the best on-the-ball defenders, Artest has to be near the top of the list. With Yao patrolling the middle and Battier up to his usual stuck-on-you tricks, it is going to be a lot tougher to score on Houston this season.
Most Improved: Harris Rules

1. Devin Harris, Nets:
Vince Carter
can't do it all by himself, so look for Harris to do even more on the offensive end of the floor now that
Richard Jefferson
is gone. He already is a defensive standout, although this was
flat-out embarrasing
.
2. Jermaine O'Neal, Raptors: An unhappy and injured O'Neal is coming off his worst season since he left Portland in 2000. Once arguably the top big man in the East, he averaged just 13.6 points and 6.8 rebounds in 42 games with the Pacers last season. A trade to Toronto, where he'll join Chris Bosh in the frontcourt, seems like the perfect cure to return him to his All-Star level … if he can stay healthy.
3. Chris Duhon, Knicks: He wasn't effective as a starter in Chicago, but if he can fight off Nate Robinson and Stephon Marbury for the majority of playing time at the point, he could put up big numbers in Mike D'Antoni's system.
4. Rajon Rondo, Celtics: Who needs a jumper when he can get to the basket whenever he wants? Last season, Rondo added four points and more than an assist per game to his averages, and he should continue to build on that.
5. Nene, Nuggets: To say he is a health risk is an understatement; he has played just 81 games the past three seasons. With Camby gone, the center position is all his, and he has the build and quickness to average double digits in points and rebounds.

ESPN'S NBA AWARDS WATCH
Maurice Brooks, former Race to the MVP columnist at NBA.com, is an NBA editor at ESPN.com.
Reader feedback
• Vote now in the SportsNation poll
• Send Maurice your questions and comments
Kobe Bryant: My best is yet to come
Sixth Man Watch: Barbosa the Blur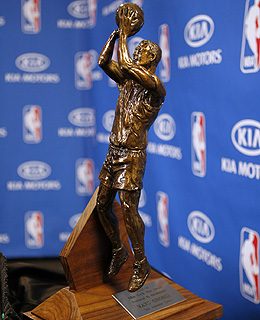 Joe Murphy/NBAE/Getty Images
1. Leandro Barbosa, Suns: If the voters decide to penalize Ginobili for time missed, the high-scoring Barbosa should step in and win the award for the second time. He is expected to play less point guard and see more time at the 2, which could mean a spike in his scoring average.
2. Rodney Stuckey, Pistons: Although he sits behind two All-Stars, there are plenty of minutes to go around in the Detroit backcourt, and he will make the most of backing up Chauncey Billups and Richard Hamilton. He needs to work on making his outside shot as effective as his rumbles to the hoop.
3. Louis Williams, Sixers: He scores points in bunches and is capable of running the team, which makes the 21-year-old the perfect sub when Andre Miller needs a breath at the 1 or Andre Iguodala comes out of the game at the 2.
4. Ben Gordon, Bulls: Playing for a new contract, the former Sixth Man winner needs to prove he can do more than just score, which might be difficult to demonstrate in a crowded Chicago backcourt.
5. Manu Ginobili, Spurs: He was named sixth man of the year after posting career numbers last season. He would be the overwhelming favorite to win the award again, but he will miss the first couple of months of the season after having surgery on his ankle.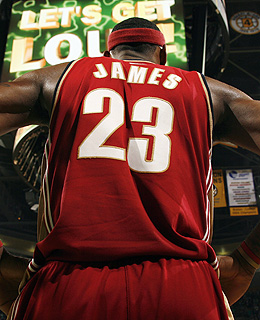 Nathaniel S. Butler/NBAE/Getty Images
Predicted offensive and defensive leaders:
Points per game: LeBron James, Cavaliers
Rebounds per game: Dwight Howard, Magic
Assists per game: Chris Paul, Hornets
Blocks per game: Marcus Camby, Clippers
Steals per game: Dwyane Wade, Heat
Field goal pct: Tyson Chandler, Hornets
3-point field goal pct: Steve Nash, Suns
Free-throw pct: Chauncey Billups, Pistons
Executive Watch: Two-Man Race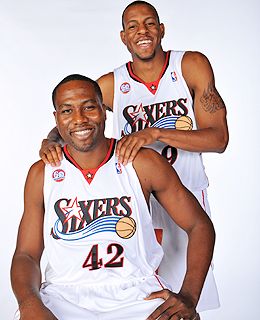 Jesse D. Garrabrant/NBAE/Getty Images
1A. Ed Stefanski, 76ers: He convinced coach Mo Cheeks to play the young guys last season, which will pay huge dividends this season. Then he swung a couple of deals to free salary cap space to acquire Brand, drafted a solid big man in Marreese Speights and re-signed key reserve Louis Williams and budding star Iguodala. If the Sixers win 50-plus, the award is his.
1B. Kevin Pritchard, Trail Blazers: The Blazers were one of the biggest surprises in the league for most of last season, and with the additions of rookies Oden, Fernandez and Jerryd Bayless, they will be even better. Pritchard is the architect of a team that is ready to challenge for a playoff berth a year or two ahead of schedule.