MVP Race: The Hornets' Leading Man
1. Chris Paul, Hornets
G
MIN
FG%
3P%
FT%
STL
BLK
REB
AST
PTS
PER
3
38
.500
.333
.870
2.3
0.3
5.3
12.0
21.7
30.9
Even though you know the plot, you still watch your favorite movie. Same thing with CP3: Every game it's 21 points, 12 assists, 2 steals, Hornets win. Will he provide an alternate ending to the season finale this year?
2. Kobe Bryant, Lakers
G
MIN
FG%
3P%
FT%
STL
BLK
REB
AST
PTS
PER
3
32
.472
.400
.833
1.7
0.0
7.7
3.7
24.0
26.6
Not too long ago, it would take a heroic effort from Kobe in order for L.A. to win. The Lakers are so stacked now that he probably needs to use his superpowers on special occasions … like the final moments of games.
3. Chris Bosh, Raptors
G
MIN
FG%
3P%
FT%
STL
BLK
REB
AST
PTS
PER
3
41.7
.540
.000
.800
.067
1.0
10.0
3.7
26.0
26.2
Kobe Bryant has the most passionate and loyal fans in the NBA. A close second? The Raptors. Since I didn't include Bosh in my preseason list of top 10 MVP candidates, you know what my inbox looked like last week.
4. Carlos Boozer, Jazz
G
MIN
FG%
3P%
FT%
STL
BLK
REB
AST
PTS
PER
3
32
.630
.000
.625
0.3
0.3
10.7
1.7
21.0
29.4
You would think playing without Deron Williams would mean reduced numbers for not only Boozer but all the Jazz. Turns out that's not the case, as the rugged power forward has led Utah to a 3-0 start.
5. Joe Johnson, Hawks
G
MIN
FG%
3P%
FT%
STL
BLK
REB
AST
PTS
PER
2
38
.581
.400
.857
1.0
0.0
5.0
3.5
30.0
31.6
Without checking, name the league's leading scorer after the first week. Half of you said LeBron and the other half said Kobe. The correct answer is Johnson, who gets most of the credit for Atlanta's two victories.
6. Yao Ming, Rockets
G
MIN
FG%
3P%
FT%
STL
BLK
REB
AST
PTS
PER
3
39.3
.523
.000
.955
0.0
1.3
11.3
1.7
22.3
25.5
Growing up, everyone sweated the new kid in school, so I'm sure a lot of props for Houston's undefeated start went to Ron Artest. Don't overlook Yao, who has started the season with three straight double-doubles.
7. Dwight Howard, Magic
G
MIN
FG%
3P%
FT%
STL
BLK
REB
AST
PTS
PER
4
39
.623
.000
.477
1.8
4.5
14.5
1.0
21.8
28.7
The MVP race is about more than just numbers, but it is hard to ignore the fact Howard has blocked five shots in a game three times and grabbed at least 14 rebounds in all four of Orlando's games this season.
8. Amare Stoudemire, Suns
G
MIN
FG%
3P%
FT%
STL
BLK
REB
AST
PTS
PER
3
40.7
.641
.000
.727
0.7
0.3
11.0
2.0
22.0
26.3
After suffering ankle, pinkie and eye injuries in the preseason, it was supposed to take a little while for Amare to get rolling. Scary thought for opponents: He is already unguardable, so what happens if he improves?
9. Kevin Garnett, Celtics
G
MIN
FG%
3P%
FT%
STL
BLK
REB
AST
PTS
PER
3
32
.477
.000
.556
1.7
0.7
10.0
2.0
15.7
16.7
I thought about listing this spot as Kevin Garnett/Paul Pierce since they both mean so much to the C's. KG has consecutive double-doubles, although I'm trying to figure out that beat down they got from the Pacers.
10. LeBron James, Cavaliers
G
MIN
FG%
3P%
FT%
STL
BLK
REB
AST
PTS
PER
4
34.5
.423
.000
.718
1.8
0.8
7.8
7.8
22.0
27.3
Despite his gaudy numbers a season ago, James wasn't rewarded with the MVP award because of the Cavaliers' record. Will the pattern continue this season for Cleveland, which has started 2-2?
Rookie Watch: Blooming Rose

1. Derrick Rose, Bulls:
He had a nine-assist game and a 26-point game in his first three outings as a pro, and his fingerprints are all over the Bulls' 2-2 start. He averaged 18.3 points, 4.7 rebounds and 4.3 assists during the first week; if he maintains those numbers for the season, he'll be just the ninth rookie to do so in league history.
2. Michael Beasley, Heat: Everyone said scoring would come easy for him and so far it has. Saturday he was on the floor for 42 minutes and rewarded the Miami coaching staff with 25 points.
3. Marc Gasol, Grizzlies: We've all seen this before: a Gasol dominating the lane in Memphis with an assortment of polished moves. Of course this time around it was Pau's brother Marc, who scored 27, grabbed 16 rebounds and blocked three shots against the Warriors.
4. Rudy Fernandez, Blazers: Well, at least one Portland player remains in the rankings (feel better, Greg Oden). Wouldn't it be great to play pickup basketball with Rudy and see what passes and shots he would try when the games didn't count?
5. O.J. Mayo, Grizzlies: He is what I thought he'd be: a double-digit scorer who is exciting to watch on the break but needs to get his teammates involved more and learn to take care of the ball.
Coach Watch: Iavaroni Rises

1. Marc Iavaroni, Grizzlies:
The average age of the players on the Memphis roster is 24, and the Grizzlies start a trio of rookies --
Darrell Arthur
, O.J. Mayo and Marc Gasol -- and have a second-year player,
Mike Conley
, at the point. Still, the future looks bright after Iavaroni guided the young Grizzlies to home wins against the Magic and Warriors.
2. Jerry Sloan, Jazz: He has won 998 games since taking over as Utah's coach 20 years ago. His starters scored just 39 points Monday against the Clippers and the result was still a 16-point Jazz victory.
3. P.J. Carlesimo, Thunder: Seattle didn't crack the win column until game No. 9 last year. Playing in Oklahoma City, the Thunder accomplished the same feat in game No. 3.
4. Vinny Del Negro, Bulls: A rookie coach with a rookie point guard is a formula for disaster, but Chicago's record is at .500. His rotation is still a work in progress.
5. Phil Jackson, Lakers: Lamar Odom has accepted coming off the bench and Andrew Bynum is fitting into the rotation nicely. Oh, and most importantly, the Lakers are 3-0 and haven't played a close game yet.
Player of the Week: Defense

Dwight Howard, Magic:
When he is in the game, Orlando opponents have no choice but to think twice about venturing into the lane, where Howard is turning away 4.5 shots a game and has altered countless others. If shot blocks and rebounding (14.5 per contest) weren't enough, he is also averaging 1.75 thefts, including a ridiculous five takeaways against the Hawks.
Player of the Week: Improved

Jose Calderon, Raptors:
He got snubbed for the All-Star Game last year, but fans who followed the NBA closely knew Calderon deserved to be there. With
T.J. Ford
out of the way, his already through-the-roof numbers have received a spike. The most noticeable difference is his scoring average, which has risen from 11 to 18 ppg. And just because he's scoring more doesn't mean he's passing less -- he's averaging a career-best 9.7 dimes.

ESPN'S NBA AWARDS WATCH
Maurice Brooks, former Race to the MVP columnist at NBA.com, is an NBA editor at ESPN.com.
• Send comments/questions | Vote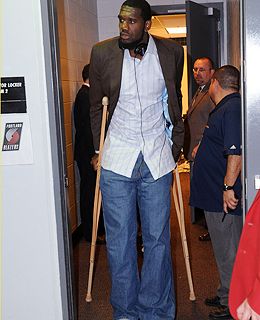 Andrew D. Bernstein/NBAE/Getty Images
Mike (Oregon): From what we have seen from Greg Oden thus far -- what does he need to improve on?
Brooks: Let's start with getting healthy and staying on the court and we'll take it from there. It is hard to believe that he has only played one half of NBA ball since being drafted first in 2007.
D-Will (Salt Lake City): How come I don't get the respect I deserve?
Brooks: I think you're the second best point guard in the league (behind Chris Paul) and I had you ranked seventh in my MVP watch coming into the season before you got sidelined with a bum wheel.
Chad (Wisconsin): I didn't see Carmelo Anthony's name on your list. What would it take for Melo to win the MVP? Top four seed in the West? Scoring title?
Brooks: MVP for Anthony? He just became the best player on his own team Monday when Iverson got shipped out of town.
Hunter (Jacksonville): In your discussion of Executive of the Year, you list only three of Portland's solid rookie class. I wouldn't overlook Nic Batum as I believe he could contribute earlier than anticipated.
Brooks: Ever eat something with a lot of garlic and no matter what you do -- brush your teeth, gargle with mouthwash, chew gum -- you can't get that bad taste out of your mouth? That is me after watching every Portland game during the Summer League in Vegas. Batum was terrible. It is going to take a while for him to change my mind.
Salmi Breakdown: Lakers' Great Start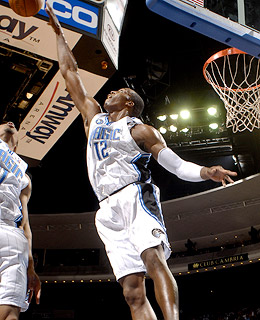 Fernando Medina/NBAE/Getty Images
Official offensive and defensive leaders:
Blocks per game: Dwight Howard, Magic (4.5)
Rebounds per game: Dwight Howard, Magic and Andris Biedrins, Warriors (14.5)
Points per game: Joe Johnson, Hawks (30.0)
Assists per game: Chris Paul, Hornets (12.0)
Steals per game: Josh Smith, Hawks (3.5)
Field goal pct: Roger Mason, Spurs (71.4)
3-point field goal pct: Kareem Rush, Sixers (1.000)
Free-throw pct: Jose Calderon, Raptors (17 players tied at 1.000)