MVP Race: LeBron's Award To Lose
1. LeBron James, Cavaliers
G
MIN
FG%
3P%
FT%
STL
BLK
RPG
AST
PTS
PER
10
37.5
.500
.243
.770
2.0
0.9
8.0
7.3
29.8
34.3
By any definition -- makes his teammates better, best player on the best team, statistically -- he is the MVP. Cleveland's seven-game win streak has made it virtually impossible to say something bad about James.
2. Kobe Bryant, Lakers
G
MIN
FG%
3P%
FT%
STL
BLK
RPG
AST
PTS
PER
8
34.9
.449
.316
.825
1.8
0.6
5.1
3.8
24.8
23.4
Congrats, Kobe, on passing Larry Legend and The Glove for 23rd and 22nd, respectively, on the all-time scoring list, but either the Cavs need to start losing or you need to start stuffing the box scores a little more to defend your award.
3. Amare Stoudemire, Suns
G
MIN
FG%
3P%
FT%
STL
BLK
RPG
AST
PTS
PER
12
38.3
.582
.000
.826
1.2
1.2
8.3
2.0
23.3
25.4
Some random thoughts: Nice Mohawk, a belated happy 26th birthday, and, after a couple of off games last week (11 and 12 points, respectively), it is nice to have you back (combined 59 points past two games).
4. Dwight Howard, Magic
G
MIN
FG%
3P%
FT%
STL
BLK
RPG
AST
PTS
PER
10
36.6
.603
.000
.521
1.1
4.2
14.0
1.7
21.3
30.7
Ever arrive at your job and decide you didn't feel like working, so you spent the day sending personal e-mails and calling your friends and family? That was Howard against Charlotte: six fouls and no made baskets.
5. Chris Paul, Hornets
G
MIN
FG%
3P%
FT%
STL
BLK
RPG
AST
PTS
PER
9
37.9
.500
.313
.857
3.0
0.1
5.2
11.6
20.8
32.3
What's going on in New Orleans when the best point guard in the world is leading the league in assists and steals and dropping 20 points and 10 dimes on the regular and the team still loses four out of six?
6. Paul Pierce, Celtics
G
MIN
FG%
3P%
FT%
STL
BLK
RPG
AST
PTS
PER
11
39.4
.411
.442
.822
1.2
0.5
7.4
3.9
21.0
18.8
The 22-point fourth quarter against the Raptors, the game-winner with less than a second remaining against the Hawks and the career-high 7.4 rebounds per game has him steadily climbing up the rankings.
7. Dwyane Wade, Heat
G
MIN
FG%
3P%
FT%
STL
BLK
RPG
AST
PTS
PER
10
36
.495
.231
.776
2.7
1.6
5.2
7.3
27.9
33.5
With all of the time Wade has missed the past few seasons due to injury, the last thing Heat fans want to see is him limping. He sprained his right ankle against Toronto over the weekend but says he's good to go.
8. Chris Bosh, Raptors
G
MIN
FG%
3P%
FT%
STL
BLK
RPG
AST
PTS
PER
9
41.7
.534
.000
.814
0.4
0.9
10.2
2.1
25.1
22.9
Jose Calderon missed Sunday's game because of his strained hamstring and CB4 still went off for 27 points and seven rebounds. I guess it doesn't really matter who is feeding him the rock ... he's going to produce.
9. Joe Johnson, Hawks
G
MIN
FG%
3P%
FT%
STL
BLK
RPG
AST
PTS
PER
9
38.6
.486
.434
.811
1.9
0.2
4.9
4.9
26.0
25.3
His numbers across the board are on the same level as LeBron and D-Wade. But I value team success as much as I do individual success, and Atlanta lost three straight last week, including two to the Nets.
10. C. Billups, Nuggets
G
MIN
FG%
3P%
FT%
STL
BLK
RPG
AST
PTS
PER
8
35.4
.360
.385
.887
1.8
0.5
3.6
6.4
17.8
20.9
If his midrange jumper didn't appear to be broken since he got to Denver, I wouldn't have to justify moving him into this spot. He has provided the Nuggets (5-1 since he arrived) with points, assists, wins and leadership.
Most Improved Watch: Salmons

1. John Salmons, Kings: He has scored 21 and 31 points, respectively, his past two games and probably is in no rush to see teammate Kevin Martin (injured ankle) return to the lineup.
2. Thaddeus Young, Sixers: On a team featuring big-money players Elton Brand and Andre Iguodala, it is the second-year small forward leading the team in scoring.
3. Devin Harris, Nets: Who knows, if he keeps playing like this he may get some MVP love. The last three games he has played, the Nets have topped 100 points and have won. The last three games he didn't play, neither of those things happened.
4. Andris Biedrins, Warriors: The league leader in rebounds has run his franchise record of consecutive games with double-digit boards to 17.
5. Nene, Nuggets: He has scored in double digits in seven straight games. His season averages are at 14.7 points, 7.6 rebounds and 1.8 blocks per game.
Defensive Player Watch: D12

1. Dwight Howard, Magic: I know it came against the JV team in Oklahoma City, but 19 rebounds and 10 blocked shots are huge.
2. Ron Artest, Rockets: He is one of only two players in the league that I watch throughout the game even when they don't have the ball. The other is Detroit's Richard Hamilton, although I look at him for using screens to get open instead of fighting through them to stay locked on the guy he's covering.
3. Kevin Garnett, Celtics: His points and assists per game numbers are the lowest they have been since his rookie campaign in 1995-96, but his level of intensity on the other end of the floor remains high.
4. Andrew Bynum, Lakers : He clogs the middle, deflects passes in the lane and alters and blocks shots. Sounds like an All-Defense center to me.
5. Dwyane Wade, Heat: All things considered, he may be the most complete player in the game.
Sixth Man of the Year Watch: AK-47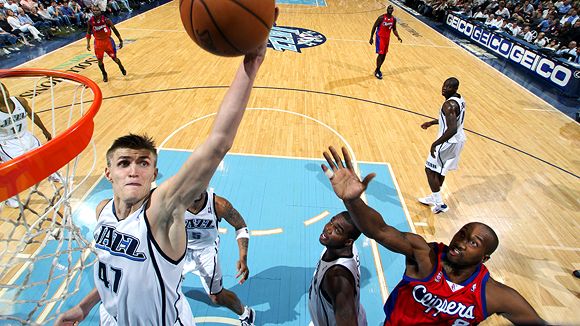 Melissa Majchrzak/NBAE/Getty Images
Deron Williams, the best player on the Jazz roster, has appeared in just two of 11 games thus far because of a bum ankle. It hasn't affected Utah as much as you would think because after two subpar seasons, Andrei Kirilenko has returned to form.
Coming off the bench this season, he has emerged as a Sixth Man of the Year candidate thanks to his versatility. He is averaging 14.6 points, 6.8 rebounds, 2.9 assists, 1.4 blocks and a steal per game -- the type of numbers he used to post when he was considered one of the top forwards in the league.
An injured finger caused him to miss road losses in Charlotte and Cleveland on Nov. 14 and 15, respectively, but he returned to the lineup Monday and had an immediate impact. Playing with a dislocated index finger, he had 19 points, seven boards, three assists and two rejections in a 12-point win over the Suns.
TOP 5: SIXTH MAN OF THE YEAR
1. Andrei Kirilenko, Jazz: See above.
2. Rudy Fernandez, Blazers: He has been great all season, though his past two games were below the lofty standard he has set.
3. Nate Robinson, Knicks: He has formed an excellent one-two punch with Chris Duhon.
4. Ben Gordon, Bulls: Because of injuries to teammates, he has started three of 10 games this season. How much longer will he remain eligible for this list?
5. Trevor Ariza, Lakers: He brings more energy and defensive pressure to the court and averages more points per game than his more famous counterpart, Lamar Odom.

ESPN'S NBA AWARDS WATCH
Maurice Brooks, former Race to the MVP columnist at NBA.com, is an NBA editor at ESPN.com.
Magic Johnson And I Think Alike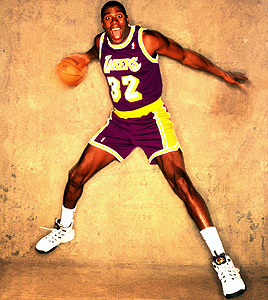 Walter Iooss Jr./NBAE/Getty Images
Thanks to an event sponsored by Cisco TelePresence technology, I had a "face-to-face" conversation with former Lakers great Magic Johnson, even though he was in Los Angeles and I was in New York. Here is what the Hall of Famer had to say about this year's rookie class:
"Derrick Rose and O.J. Mayo have both been outstanding. Rose has been everything that Chicago thought he was going to be. Once he gets a better understanding of the game, he's going to be even better. Mayo is as good as the hype and Memphis is really playing hard.
"Rudy Fernandez's game is more advanced than any one of the rookies. He knows how to play. He can shoot it and drive it.
"Let's not forget Marc Gasol. And that rookie from Miami [Michael Beasley], he's not too bad either."
And here are the Awards Watch rookie rankings for this week:
1. Derrick Rose, Bulls
2. O.J. Mayo, Grizzlies
3. Rudy Fernandez, Blazers
4. Michael Beasley, Heat
5. Marc Gasol, Grizzlies
Johnson, named three times the NBA's MVP, also gave his thoughts on who is the league's best player:
"Paul [Pierce] would like to think he is better than Kobe [Bryant]," Magic said. "Kobe Bryant is the best closer, best player in the game. You have to remember he's done it for a long time at a high level.
"Now, was Pierce better than Kobe in the Finals? Of course he was. He was better than everyone. Pierce is one of the top three or four players in the world. He's right up there with LeBron [James] and Kobe."
Coach of the Year Watch: Mike D

1. Mike D'Antoni, Knicks:
The 6-4 record is nice but the biggest thing he has done in his short time in New York is make the Knicks relevant again.
2. Erik Spoelstra, Heat: Even with Shawn Marion sidelined for a couple of games, he managed to keep Miami at .500.
3. Vinny Del Negro, Bulls: Solid contributor Kirk Hinrich is gone for the next three months, but the first-year coach is doing a good job learning on the fly.
4. Lawrence Frank, Nets: New Jersey was supposed to challenge for the worst record in the league, not a playoff spot.
5. Jerry Sloan, Jazz: Turns out Deron Williams wasn't really ready to return to the lineup. That's OK, Sloan's bunch still has the division lead.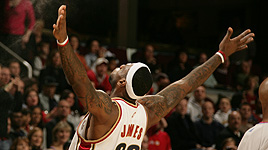 David Liam Kyle/NBAE/Getty Images
Points per game
LeBron James, Cavaliers (29.8)
NBA scoring leaders

Rebounds per game
Andris Biedrins, Warriors (14.9)
NBA rebounding leaders

Assists per game
Chris Paul, Hornets (11.6)
NBA assists leaders
Steals per game
Chris Paul, Hornets (3.0)
NBA steals leaders
Blocks per game
Dwight Howard, Magic (4.2)
NBA blocks leaders
Field goal percentage
Nene, Nuggets (.641)
NBA field goal leaders
3-point field goal percentage
Ryan Anderson, Nets (.667)
NBA 3-point shooting leaders
Free-throw percentage
2 players tied (1.000)
NBA free-throw shooting leaders