MVP Race: Bosh Returns to the Top 10
1. LeBron James, Cavs
G
MIN
FG%
3P%
FT%
STL
BLK
RPG
AST
PTS
PER
17
35.7
.491
.273
.774
1.9
0.9
7.2
6.4
27.8
32.6
He won't play another game at Madison Square Garden until Feb. 4, so maybe we can focus on how well he has the Cavs playing instead of what will happen in the summer of 2010. (Last week: 1 | Team record: 14-3)
2. Kobe Bryant, Lakers
G
MIN
FG%
3P%
FT%
STL
BLK
RPG
AST
PTS
PER
15
33.5
.469
.286
.851
1.7
0.7
5.1
4.2
24.4
24.8
L.A. chipped up Toronto so badly on Sunday that he spent the fourth quarter on the bench. With the 76ers, Wizards, Bucks, Kings and Wolves coming up, this could be a theme. (Last week: 2 | Team record: 14-1)
3. Dwight Howard, Magic
G
MIN
FG%
3P%
FT%
STL
BLK
RPG
AST
PTS
PER
18
37.1
.588
.000
.576
0.8
3.9
14.0
1.6
21.4
28.4
How do you have a four-game stretch of 24 points, 13 rebounds and 6 blocks, 21-14-2, 26-14-3 and 32-21-4, while your team goes undefeated, yet you don't win player of the week? (Last week: 4 | Team record: 13-5)
4. Chris Paul, Hornets
G
MIN
FG%
3P%
FT%
STL
BLK
RPG
AST
PTS
PER
15
37.5
.522
.393
.857
2.8
0.2
5.7
11.6
20.3
31.0
Everyone seems to be losing to Portland these days, but CP3 wasn't even the best playmaker on the floor in that game. That honor went to the Trail Blazers' Brandon Roy. (Last week: 3 | Team record: 9-6)
5. Dwyane Wade, Heat
G
MIN
FG%
3P%
FT%
STL
BLK
RPG
AST
PTS
PER
18
37.1
.492
.267
.763
2.3
1.7
4.9
7.9
28.7
31.2
It's a good thing the Heat beat the Warriors on Monday to get to .500, else I would have had to explain to the Raptors' fans why he was still in the top 10 despite the losing record. (Last week: 6 | Team record 9-9)
6. Chris Bosh, Raptors
G
MIN
FG%
3P%
FT%
STL
BLK
RPG
AST
PTS
PER
16
41.9
.539
.429
.823
0.6
1.0
10.2
2.4
26.8
24.8
Bosh to the Winnipeg Sun on earning the MVP award: "I want to get it. I came into this season saying I'm going to give it a shot. I think I can get it. We need more wins, of course." (Last week: NR | Team record: 8-8)
7. C. Billups, Nuggets
G
MIN
FG%
3P%
FT%
STL
BLK
RPG
AST
PTS
PER
16
34.6
.407
.372
.900
1.5
0.3
2.8
6.8
17.8
21.4
Reality show idea: A contending team trades a solid point guard for a Hall of Famer, only to have the deal backfire. Season 1: Mavs and Nets. Season 2: Pistons and Nuggets. (Last week: 8 | Team record: 12-6)
8. Amare Stoudemire, Suns
G
MIN
FG%
3P%
FT%
STL
BLK
RPG
AST
PTS
PER
18
38
.570
.333
.831
1.3
1.3
8.1
1.8
21.9
23.3
Eventful week for STAT: He made headlines by talking about his desire to be the featured player in Phoenix, he was ejected from a game and the Suns dropped two in a row. (Last week: 5 | Team record: 11-7)
9. Joe Johnson, Hawks
G
MIN
FG%
3P%
FT%
STL
BLK
RPG
AST
PTS
PER
16
39.4
.437
.385
.854
1.4
0.4
4.6
5.4
22.7
20.0
Good news, Joe: Help is on the way. JJ's wingman, Josh Smith, is expected to return Wednesday after missing 12 games because of a sprained ankle. (Last week: 9 | Team record: 10-6)
10. Tim Duncan, Spurs
G
MIN
FG%
3P%
FT%
STL
BLK
RPG
AST
PTS
PER
16
34.8
.519
.000
.674
0.2
1.7
10.0
3.1
20.8
24.9
Even though his Spurs lost by 19 to the Tracy McGrady-less Rockets last week, I'm sure TD was happy to finally have all three members of the big three healthy and on the floor. (Last week: 10 | Team record 9-7)
Awards Watch:
Preseason
|
Week 1
|
2
|
3
|
4
|
5
Most Improved Watch: Does Harris Have A Good Nickname Yet?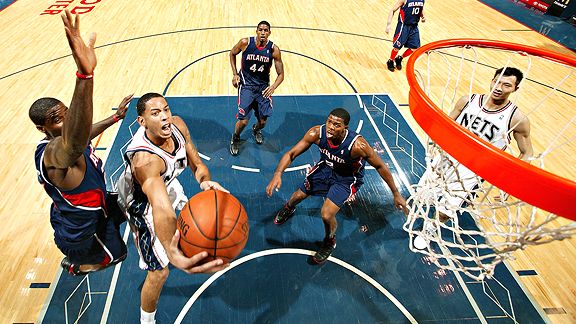 Jesse D. Garrabrant/NBAE/Getty Images
1. Devin Harris, Nets
The Nets remind me of middle school, when there was always one kid on the court who was either bigger or faster than everyone else. That person would bring the ball up while the other four players stood around on the outside, hoping he would drive and kick the ball out to them for an open shot. More times than not, that kid would dial up his own number and score, just as Harris did en route to torching the Suns for a career-high 47 points Sunday. He's fourth in the league in scoring and is in the top 10 in assists, too. And, obviously, the let-Devin-do-what-he-wants style is working (he's averaging 25.3 points and 6.4 helpers) for New Jersey, which has a record of 9-7. (Last week: 1)
2. John Salmons, Kings
He lit up the Nets for a career-high 38 points Wednesday and is averaging 19.2 points per game. Unfortunately for him, that number probably will decrease with the return of Kevin Martin to the lineup this week. (Last week: 2)
3. Andris Biedrins, Warriors
After a red-hot start, the center has cooled off, reaching double digits in rebounds only twice in his past eight games. Still, he has hefty season averages of 15.7 points and 12.4 rebounds, and if you watched him against the Heat on Monday, you realized just how much he has improved. (Last week: 5)
4. Ramon Sessions, Bucks (NR)
Last season with the Bucks, he showed he could distribute the ball with the best of them. This season, he has mainly come off the bench but has proven to be a better scorer than expected, averaging 15.6 points and 5.8 assists a night. (Last week: NR)
5. Nene, Nuggets
He has scored in double digits in 14 of Denver's past 15 games and played Houston's Yao Ming to a draw Sunday. (Last week: 3)
Rookie Watch: Rose Still the 1

1. Derrick Rose, Bulls
I guess nobody ever told D-Rose to respect his elders, because he was wrong for doing
this
to the Sixers'
Andre Miller
. (Last week: 1)
2. O.J. Mayo, Grizzlies
Congrats on the West rookie of the month award and the 22 points per game, but all the losing (Grizz have dropped 10 of 11) would drive me crazy. (Last week: 2)
3. D.J. Augustin, Bobcats
Charlotte is winning games with its two-point-guard lineup featuring Raymond Felton and Augustin, who has scored in double digits in seven of the Bobcats' past eight games. (Last week: NR)
4. Michael Beasley, Heat
Beasley didn't play well coming off the bench for the first time in his career on Friday, scoring zero points on 0-for-5 shooting. He has bounced back big, though, totaling 43 points in his past two games in that role. (Last week: 3)
5. Russell Westbrook, Thunder
He appears ready to take over the starting point guard spot for OKC. His points and assists are impressive, while his play on the defensive end (14th in the league in steals) is earning him more minutes.
(Last week: NR)
Defensive Player Watch: D12

1. D. Howard, Magic
Intimidation, shots altered, rebounds, rejections -- nobody does those things better. And the competition is not even close. (Last week: 1)
2. Dwyane Wade, Heat
He is averaging a career high in points, assists and shooting percentage, and he also is putting up career numbers in steals (2.33) and blocks (1.72). (Last week: 2)
3. Marcus Camby, Clippers
Along with Howard, he is one of two players in the league averaging more than 10 rebounds (10.2) and two blocks (2.5) per game. (Last week: NR)
4. Ron Artest, Rockets
He is arguably the league's top man-to-man defender on the league's second-best defensive squad. (Last week: T-3)
5. Kevin Garnett, Celtics
He is putting up similar statistics to a year ago (8.5 rebounds, 1.3 blocks and 1.1 steals per game), when he won the NBA's Defensive Player of the Year award. The Celtics still have the top D in the league. (Last week: T-3)

ESPN'S NBA AWARDS WATCH
Maurice Brooks, former Race to the MVP columnist at NBA.com, is an NBA editor at ESPN.com.
Sixth Man Watch: Riding the Jet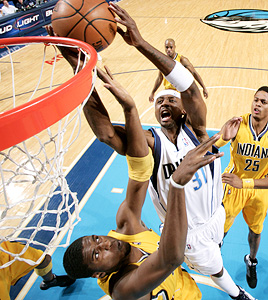 Glenn James/NBAE/Getty Images
1. Jason Terry, Mavs
At age 31, he has found the fountain of youth. He has scored at least 20 points in seven of his past eight games and is not afraid to take (and make) big shots for Dallas, which has found its groove during his hot streak. (Last week: 2)
2. Andrei Kirilenko, Jazz
Following a theme in Utah, AK-47 is sidelined with an injury (ankle). (Last week: 1)
3. Nate Robinson, Knicks
A groin injury, which has forced him to miss New York's past two games, appears to be the only thing capable of slowing him down this season. (Last week: 4)
4. Manu Ginobili, Spurs
He has scored in double digits in all four games since returning to the lineup after ankle surgery, and the Spurs are 3-1 in that span. (Last week: 5)
5. Trevor Ariza/Lamar Odom, Lakers
You can't overvalue the Lakers' second unit, and these two players make it work. Although the high-energy Ariza has scored in double digits in four of his past five games, he has taken on more of a playmaker role with the reserves lately. Odom scored only five points combined in his past two games, but he made up for his lack of point production by tallying 7 assists and 19 boards combined in those games. (Last week: NR)
Sitting Down With the King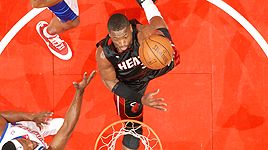 Juan Ocampo/NBAE/Getty Images
Points per game
Dwyane Wade, Heat (28.7)
NBA scoring leaders

Rebounds per game
Dwight Howard, Magic (14.0)
NBA rebounding leaders

Assists per game
Chris Paul, Hornets (11.6)
NBA assists leaders
Steals per game
Chris Paul, Hornets (2.8)
NBA steals leaders
Blocks per game
Dwight Howard, Magic (3.9)
NBA blocks leaders
Field goal percentage
Nene, Nuggets (.628)
NBA field goal leaders
3-point field goal percentage
Anthony Morrow, Warriors (.533)
NBA 3-point shooting leaders
Free-throw percentage
Jose Calderon, Raptors (1.000)
NBA free-throw shooting leaders

NBA Awards Watch columnist Maurice Brooks talks about the improved play of New Jersey's Devin Harris and how Dallas' Jason Terry appears much more comfortable coming off the bench than starting.
NBA Today