Most Valuable Player Watch
1. LeBron James, Cavaliers
G
MIN
FG%
3P%
FT%
STL
BLK
RPG
AST
PTS
PER
30
36.4
.509
.281
.777
2.0
1.1
6.7
6.4
27.5
32.7
For a 24th birthday present, I was thinking about giving him a package of his best interviews, games and highlights shown over a 24-hour period. Apparently, NBA TV beat me to it. (Last week: 1 | Team record: 26-4)
2. Dwyane Wade, Heat
G
MIN
FG%
3P%
FT%
STL
BLK
RPG
AST
PTS
PER
29
36.9
.488
.247
.752
2.2
1.6
5.1
6.9
28.9
30.2
He's first in points, fourth in steals and 19th in blocks, and Miami has won four of five to go three games above .500. LeBron and Kobe included, does anyone mean more to their team? (Last week: 2 | Team record: 16-13)
3. Dwight Howard, Magic
G
MIN
FG%
3P%
FT%
STL
BLK
RPG
AST
PTS
PER
29
36.5
.547
.000
.565
0.9
3.7
13.8
1.4
19.8
25.5
What happens when you wear a Superman costume and win the dunk contest? If the voting for the All-Star Game is an indication, you become the NBA's most popular player. (Last week: 4 | Team record: 24-7)
4. Kobe Bryant, Lakers
G
MIN
FG%
3P%
FT%
STL
BLK
RPG
AST
PTS
PER
30
35.3
.473
.330
.869
1.5
0.4
5.4
4.2
26.3
24.7
He was named the West's Player of the Week after helping the Lakers snap the Celtics' 19-game win streak. He led L.A. to a 4-0 mark, averaging 30 points, 5.5 rebounds and 4 assists. (Last week: 5 | Team record: 25-5)
5. Chris Paul, Hornets
G
MIN
FG%
3P%
FT%
STL
BLK
RPG
AST
PTS
PER
27
37.5
.497
.377
.884
3.0
0.2
5.2
11.4
20.1
30.5
He makes everyone better (hope David West and Tyson Chandler got him nice gifts). He is first in assists and steals, second in double-doubles and his shooting percentages remain high. (Last week: 3 | Team record: 18-9)
6. Tim Duncan, Spurs
G
MIN
FG%
3P%
FT%
STL
BLK
RPG
AST
PTS
PER
30
35.6
.516
.000
.696
0.5
1.7
10.4
3.2
20.7
24.6
He kept the Spurs afloat during their injury-riddled start, is their unquestioned leader, can still be counted on for 20 and 10 and is one of the elite defenders in the league. (Last week: 6 | Team record: 20-10)
7. Joe Johnson, Hawks
G
MIN
FG%
3P%
FT%
STL
BLK
RPG
AST
PTS
PER
30
39.9
.454
.366
.820
1.1
0.5
4.7
5.7
23.3
20.6
His name is normally in the headlines for his offensive exploits, but he gets props here for the defensive job he did while slowing down Denver's Chauncey Billups on Monday. (Last week: 8 | Team record: 20-10)
8. Brandon Roy, Blazers
G
MIN
FG%
3P%
FT%
STL
BLK
RPG
AST
PTS
PER
31
37.1
.473
.365
.843
1.0
0.4
4.5
5.3
23.0
25.1
Portland's front office built a roster stacked with young talent, but Roy makes everything work. The Blazers went from 21 to 32 wins his rookie season and had 41 W's last year. (Last week: 7 | Team record: 19-12)
9. Dirk Nowitzki, Mavs
G
MIN
FG%
3P%
FT%
STL
BLK
RPG
AST
PTS
PER
29
37.6
.474
.372
.908
0.6
0.8
8.9
2.5
25.8
23.5
Even though the Mavs won their one game without Nowitzki (suspension), they gladly welcome his December averages of 28 points on 51 percent shooting back into the lineup. (Last week: NR | Team record: 18-12)
10. C. Billups, Nuggets
G
MIN
FG%
3P%
FT%
STL
BLK
RPG
AST
PTS
PER
30
35.3
.420
.399
.886
1.4
0.2
2.4
6.9
17.6
20.5
Since shipping off A.I., Denver has gone 19-9 and the offense has been more effective with Billups running the show. He is averaging 18 points and almost seven assists per game. (Last week: 10 | Team record: 20-12)
Awards Watch:
Preseason
|
Week 1
|
2
|
3
|
4
|
5
|
6
|
7
|
8
|
9
Most Improved Player of the Year Watch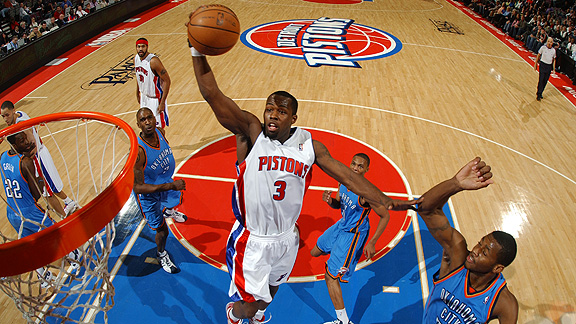 NBAE/Getty Images
Surprisingly, I get more e-mails about the most improved player watch than I do the MVP race. My top five this week are:
1. Devin Harris, Nets
2. Paul Millsap, Jazz
3. Nene, Nuggets
4. Rodney Stuckey, Pistons
5. John Salmons, Kings

This means that the Pacers' Danny Granger, Celtics' Rajon Rondo, Knicks' Chris Duhon, Magic's Jameer Nelson, Hawks' Marvin Williams, Spurs' Roger Mason and Cavaliers' Delonte West are all on the outside looking in.
Fans of those players can e-mail me making a case for why one of the seven players above belongs in the top five and I'll run the best e-mails in next week's Awards Watch.
Simply writing, "Brooks, you are terrible, take out Salmons and put in Mason" won't get it done.

1. Derrick Rose, Bulls:
The league's top rookie is starting to put some distance between himself and the rest of the field. He is closing out 2008 in style, dropping a career-best 27 points on the Hawks on Saturday, and giving out a career-best 13 assists against the Nets on Monday. (Last week: 1)
2. O.J. Mayo, Grizzlies: Kevin Love is going to be a solid NBA player for a long time, but after watching the oh-so-smooth Mayo hang 23 on the Timberwolves on Monday, I bet Minnesota fans wish that draft-day trade never happened. (Last week: 2)
3. Russell Westbrook, Thunder: His confidence is growing and, with the season not even halfway complete, don't be surprised if he makes a serious push to join Rose and Mayo in the conversation for top rookie honors. Of course he needs to improve on his shooting percentage and cut down on his turnovers, but he has been a much better player in December than he was in November and he is only going to keep improving. (Last week: 4)
4. Michael Beasley, Heat: His minutes are still declining from earlier in the season, but when given the time, he produces. He is in the process of trying to figure out what works and what doesn't work for him at this level. (Last week: 3)
5. Marc Gasol, Grizzlies: With Darko Milicic out for up to six weeks with a broken knuckle, expect more playing time and more double-doubles for the rugged big man. (Last week: NR)

1. Mike Brown, Cavaliers: Cleveland has the league's best defense and second best offense. The deficiency the Cavaliers had in the backcourt a year ago is gone thanks to the addition of Mo Williams and the club is 12 games ahead of last season's pace. Come playoff time, Brown's club will be well-rested because of the effective way he uses his bench. (Last week: 1)
2. Doc Rivers, Celtics: Boston lost the most-hyped game of the season to the Lakers on Christmas and followed that up by taking the night off in another defeat a little over 24 hours later to the Warriors. Panic time? Not exactly. The Celtics have a league-best mark of 28-4. (Last week: 2)
3. Gregg Popovich, Spurs: San Antonio, which began the season 2-5, is on pace for its 10th straight season with at least 50 victories. (Last week: 3)
4. Stan Van Gundy, Magic: Jameer Nelson has been selected once as the East Player of the Week this season and Dwight Howard is the leading vote getter for the NBA All-Star Game. Maybe this means that people will soon recognize that Van Gundy's group is a legit challenger for the NBA title. (Last week: 4)
5. Mike Woodson, Hawks: Atlanta went 7-1 during its current homestand and at 20-10 (earliest they have reached the 20-win mark since 1987-88), they have the fourth best record in the East. That is enough to give Woodson this spot instead of Erik Spoelstra's Wades, I mean Heat, Nate McMillan and the young Blazers, and Phil Jackson and the West's best Lakers. (Last week: NR)

ESPN'S NBA AWARDS WATCH
Maurice Brooks, former Race to the MVP columnist at NBA.com, is an NBA editor at ESPN.com.
Defensive Player of the Year Watch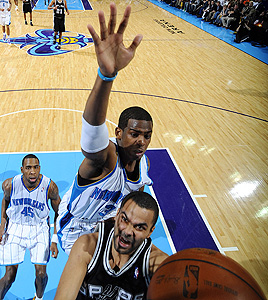 NBAE/Getty Images
1. Dwight Howard, Magic: Howard's average of 3.66 blocked shots per game is the highest in the league since Theo Ratliff rejected 3.74 attempts per contest for the Sixers in 2000-01. (Last week: 1)
2. Kevin Garnett, Celtics: He still rotates better than most bigs, is capable of getting in the passing lanes and never takes a play off. (Last week: 2)
3. LeBron James, Cavaliers: Cleveland is playing the best team defense in the league. James showed that he is ready to take the next step as an elite defender by switching over from Shawn Marion to Dwyane Wade (he semi-slowed Wade down) during the stretch run of the Cavs' win against the Heat. (Last week: 3)
4. Dwyane Wade, Heat: His production is up across the board in the effort categories, where he is averaging career highs in steals (2.2) and blocks (1.6) and pulling down the second-most rebounds per game (5.1) in his six seasons in the league. (Last week: 4)
5. Chris Paul, Hornets: Ironic that he enters the top five on a week that his NBA record consecutive games with a steal streak was snapped at 108. Few are better at harassing opposing point guards and disrupting them from getting to where they want to be on the floor. (Last week: NR)
Sixth Man of the Year Watch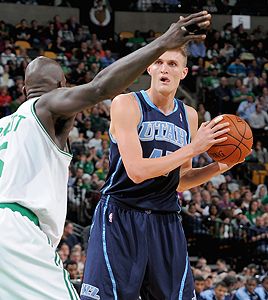 NBAE/Getty Images
1. Jason Terry, Mavericks: According to the Star-Telegram, his average of 20.9 points per game is higher than the last 18 winners of this award. (Last week: 1)
2. Manu Ginobili, Spurs: San Antonio is 14-4, including five straight victories, with Ginobili in the lineup. (Last week: 2)
3. Nate Robinson, Knicks: In the seven games since he has returned from injury, Robinson is averaging 24.1 points. Maybe all of that scoring from him isn't a good thing for New York, which has dropped six in a row. (Last week: 3)
4. Andrei Kirilenko, Jazz: Inserted into the starting lineup four games ago because of Paul Millsap's injury, AK-47 has played his best ball of the season. He has three double-doubles and has topped the 20-point mark twice. (Last week: 4)
5. Trevor Ariza, Lakers: The top reserve for one of the league's best second units averages 1.77 steals and 5.1 rebounds in just 24 minutes. (Last week NR)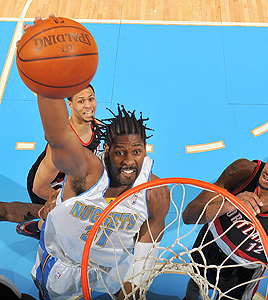 NBAE/Getty Images
Points per game
Dwyane Wade, Heat (28.9)
NBA scoring leaders

Rebounds per game
Dwight Howard, Magic (13.8)
NBA rebounding leaders

Assists per game
Chris Paul, Hornets (11.4)
NBA assists leaders
Steals per game
Chris Paul, Hornets (3.0)
NBA steals leaders
Blocks per game
Dwight Howard, Magic (3.7)
NBA blocks leaders
Field goal percentage
Nene, Nuggets (.607)
NBA field goal leaders
3-point field goal percentage
Jason Richardson, Suns (.489)
NBA 3-point shooting leaders
Free throw percentage
Jose Calderon, Raptors (1.000)
NBA free throw shooting leaders