Most Valuable Player Watch
1. LeBron James, Cavaliers
G
MIN
FG%
3P%
FT%
STL
BLK
RPG
AST
PTS
PER
33
36.8
.506
.298
.779
1.9
1.2
6.7
6.7
27.5
32.2
LeBron's explanation about his blatant travel against the Wizards being a "crab dribble" had a very Donovan McNabb, "I didn't know a football game could end in a tie" feel about it. (Last week: 1 | Team record: 27-6)
2. Kobe Bryant, Lakers
G
MIN
FG%
3P%
FT%
STL
BLK
RPG
AST
PTS
PER
32
35.3
.479
.333
.866
1.5
0.4
5.3
4.2
26.8
25.3
The Lakers have the league's best record, he is third in scoring and despite playing fewer minutes, he's become a more efficient player (career high in shooting percentage). (Last week: 4 | Team record: 27-6)
3. Dwyane Wade, Heat
G
MIN
FG%
3P%
FT%
STL
BLK
RPG
AST
PTS
PER
33
37.6
.476
.225
.752
2.3
1.5
5.2
7.1
28.7
29.4
Ever had someone break up with you and say, "It's not you, it's me?" Wade has been great, but the Heat continue to alternate wins and losses, while the Lakers are rolling. (Last week: 2 | Team record: 18-15)
4. Dwight Howard, Magic
G
MIN
FG%
3P%
FT%
STL
BLK
RPG
AST
PTS
PER
32
36.3
.559
.000
.569
0.8
3.5
13.6
1.4
20.1
26.1
After scoring 39 in a loss to Toronto, Howard said, "We didn't block out on rebounds, and I take the blame for a lot of the stuff that happened." Spoken like an MVP candidate. (Last week: 3 | Team record: 27-8)
5. Chris Paul, Hornets
G
MIN
FG%
3P%
FT%
STL
BLK
RPG
AST
PTS
PER
30
37.6
.500
.356
.871
2.9
0.2
5.4
11.5
20.1
30.2
As of Thursday, Tracy McGrady had a 961,852 to 867,889 lead on CP3 in the All-Star voting for a starting guard spot out West. T-Mac belongs behind Paul and a handful of others. (Last week: 5 | Team record: 21-10)
6. Tim Duncan, Spurs
G
MIN
FG%
3P%
FT%
STL
BLK
RPG
AST
PTS
PER
34
35.4
.519
.000
.684
0.5
1.7
10.3
3.3
20.8
24.7
He has scored in double digits in each game for San Antonio, which has won eight out of its past nine games and sports the second-best record in the Western Conference. (Last week: 6 | Team record: 23-11)
7. Joe Johnson, Hawks
G
MIN
FG%
3P%
FT%
STL
BLK
RPG
AST
PTS
PER
33
40.1
.449
.363
.826
1.1
0.4
4.9
6.0
22.8
20.3
Maybe Johnson should get a blog on NBA.com, too, because he is 11th in the East in All-Star voting, six places behind Gilbert Arenas, who hasn't played a game this season. (Last week: 7 | Team record: 22-11)
8. C. Billups, Nuggets
G
MIN
FG%
3P%
FT%
STL
BLK
RPG
AST
PTS
PER
34
35.5
.415
.413
.899
1.4
0.2
2.6
7.0
17.9
20.6
Denver, 22-9 since acquiring Billups, will count on him for more scoring while Carmelo Anthony is out. On Friday, he faces the Pistons for the first time since the trade. (Last week: 10 | Team record: 24-12)
9. Dirk Nowitzki, Mavs
G
MIN
FG%
3P%
FT%
STL
BLK
RPG
AST
PTS
PER
32
37.5
.474
.373
.899
0.7
0.8
8.7
2.6
26.0
24.1
After completing the biggest comeback in franchise history -- rallying from 29 down against the Wolves -- Dallas lost by 20 to the Grizzlies. Well, at least Nowitzki has been consistent. (Last week: 9 | Team record: 21-13)
10. Brandon Roy, Blazers
G
MIN
FG%
3P%
FT%
STL
BLK
RPG
AST
PTS
PER
31
37.1
.473
.365
.843
1.0
0.4
4.5
5.3
23.0
25.1
Roy is expected to miss seven to 10 days with a strained right hamstring. All news isn't bad: His fiancée just gave birth to a daughter -- Mariah Leilani Roy -- on Monday night. (Last week: 8 | Team record: 20-14)
Awards Watch:
Preseason
|
Week 1
|
2
|
3
|
4
|
5
|
6
|
7
|
8
|
9
|
10
Most Improved Player of the Year Watch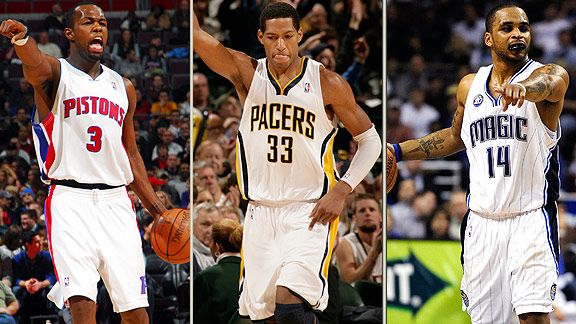 NBAE/Getty Images
1. Devin Harris, Nets: A right hamstring strain made him miss a game against the Heat and forced him to shut it down early Monday against the Kings. (Last week: 1)
2. Paul Millsap, Jazz: Carlos who? Millsap returned to the lineup last week after missing three games with a strained left leg ligament and went right back to being the beast he was before the injury. In his two games since returning, he has a combined 35 points and 31 rebounds and his 18 consecutive double-doubles is the longest active streak in the league. (Last week: 2)
3. Rodney Stuckey, Pistons: The Eastern Conference Player of the Week has led Detroit to a 13-3 record, including seven wins in a row, with him in the starting lineup. He has 62 points, 13 assists and eight rebounds in his past two games. (Last week: 4)
4. Danny Granger, Pacers: Dwyane Wade, LeBron James, Kobe Bryant and Dirk Nowitzki are the only players averaging more points per game than Granger (25.5), who has increased his scoring average by about six points per game in each of his four seasons in the league. (Last week: NR)
5. Jameer Nelson, Magic: Arguably the best-shooting little man in the league with a field goal percentage of .522 and a 3-point field goal percentage of .442, he's also averaging a career high in free throw shooting, rebounds, points and steals for first-place Orlando. (Last week: NR)
---
From the mailbag, as promised:
Lebaka (Johannesburg, RSA):
While it is difficult to find fault with your list of MIP, I really think you need to find room for
Rajon Rondo
. Although the MIP is an individual award, you need to look at the overall effect of an individual's improvement on the team's improvement. Although Rondo may be regarded as the fourth best player on the team, I believe his play is what makes the Celtics unbeatable.
Saad (E. Brunswick, N.J.): I cannot argue Devin Harris being at the top of the list, but I do not agree that Paul Millsap should be in the top 5. The Jazz have been injury plagued this season and Millsap's production was expected. I believe Chris Duhon deserves the number 5 spot. Knicks fans have always expected a lot from their players. Duhon has exceeded all of the expectations made for him and has had a very good season so far. He has become the glue for the team and his statistics do not show his actual improvement.
Nathan (Australia): If the award is truly for the most improved, then Marvin Williams needs to be on that list. The list is full of guys that are just getting more burn. Williams has actually improved a facet of his game, extending his jumper to the 3-point line, and in doing so, has helped his team become a power in the East.
MagicFanatic: Jameer Nelson is clearly a top three candidate for MIP, not just because he is averaging career highs in basically every category that is pertinent to being a good point guard but because he has outplayed all the "elite" point guards he has gone one-on-one with.
David (Tuscumbia): Devin Harris is the same player on a far worse team. His shooting percentages have stayed the same or close to his career averages. He's just up in FGA +3 and FTA +6 from last year. Rodney Stuckey, while also increasing his shot attempts, has increased his shooting percentages (FGA .471 from .401 and 3PFG .326 from .188). This while forcing the trade of one All-Star (Billups) and pushing two other All-Stars (Iverson and Hamilton) aside to move into the starting lineup.

1. Dwight Howard, Magic:
Back in 1998,
Marcus Camby
went into the record books as the youngest player to ever lead the league in blocks (24 years, 28 days). Now he is the only player with a realistic chance of preventing Howard, who will be 23 years, 128 days old at the end of this season, from erasing his mark. Howard averages a league-best 3.47 blocks per game, while Camby is second at 2.79. (Last week: 1)
2. Dwyane Wade, Heat: He invited the Nets' Vince Carter and Brook Lopez to a block party and they both decided to show up. Watch. (Last week: 4)
3. Kevin Garnett, Celtics: Defense is all about effort, so even though he was struggling against the Knicks (1-for-6 shooting for six points), he contributed by blocking a season-high five shots. (Last week: 2)
4. Marcus Camby, Clippers: The All-Star Game is in Phoenix. And while Shaquille O'Neal is putting up numbers in the middle this season, somehow Camby -- 12 points, 13.5 rebounds and 2.8 blocks per game -- needs to be selected as one of the reserve big men. (Last week: NR)
5. LeBron James, Cavaliers: The two main reasons the Cavaliers are serious title contenders this season are the addition of Mo Williams and the James-led defense, which is No. 1 in points against. (Last week: 3)

1. Mike Brown, Cavaliers: With his team flat, the East Coach of the Month provided a spark by picking up his first two technical fouls of the season in Sunday's loss to the Wizards. (Last week: 1)
2. Gregg Popovich, Spurs: From buzzer-beaters to working double overtime (three 2-OT wins this season), Popovich seems to be pushing all the right buttons. Proof: He went into Monday's game against the Heat determined to give extra minutes to George Hill. The rookie rewarded the coach's faith in him by scoring 15 points in 17 minutes. (Last week: 3)
3. Stan Van Gundy, Magic: He holds everyone on his team accountable, including his superstar, Dwight Howard. (Last week: 4)
4. Mike Woodson, Hawks: The surging Hawks get the chance to close the gap on the first-place Magic when the two teams take the court Wednesday in Atlanta and again on Friday in Orlando in a playoff-like miniseries. (Last week: 5)
5. (tie) Jerry Sloan, Jazz, and Doc Rivers, Celtics: Numerous injuries have forced Sloan to use 11 different starting lineups this season while they've stayed five games above .500. Boston's slump has not only cost the Celtics the top overall record, but it has also made Rivers slip in the COY rankings. With a record of 29-7, there is obviously no need to worry. (Last week: NR and 2)

ESPN'S NBA AWARDS WATCH
Maurice Brooks, former Race to the MVP columnist at NBA.com, is an NBA editor at ESPN.com.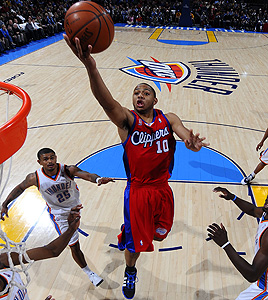 NBAE/Getty Images
1. Derrick Rose, Bulls: Last week, after he posted two of the best games of his young career, I said he was putting some distance between himself and the rest of the field. Back-to-back stinkers (no assists, three turnovers against the Magic and three points on 1-for-6 shooting against the Cavs) have me rethinking things. (Last week: 1)
2. O.J. Mayo, Grizzlies: Co-Rookies of the Year: Elton Brand and Steve Francis (1999-2000), Grant Hill and Jason Kidd (1994-95), Dave Cowens and Geoff Petrie (1970-71), Derrick Rose and O.J. Mayo (2008-09?) -- they are that close. (Last week: 2)
3. Russell Westbrook, Thunder: Was the Western Conference Rookie of the Month not watching the spectacular performance put on by Dwight Howard at last season's slam dunk contest? If he was, why bother trying to get fans to select him as the final participant in this year's dunk contest? Nobody is knocking off Howard. (Last week: 3)
4. Marc Gasol, Grizzlies: This guy was losing playing time to Darko Milicic? (Last week: 5)
5. Eric Gordon, Clippers: He got off to a slow start, but is currently playing better than any other rookie in the league. The 2-guard has scored 19, 12, 24, 21, 21, 31 and a career-best 32 in his last seven games. Unfortunately, the Clippers lost all of those games. (Last week: NR)
Sixth Man of the Year Watch

1. Jason Terry, Mavericks: Critics are quick to point out that Terry isn't a legit sixth man because he plays starter-like minutes. All I know is that by definition, he isn't on the court when the ball is thrown in the air to begin the game, meaning he qualifies to occupy this spot in the rankings. (Last week: 1)
2. Manu Ginobili, Spurs: See above, change the names. (Last week: 2)
3. Andrei Kirilenko, Jazz: Starting or subbing, with Paul Millsap in or out of the lineup, nothing seems to bother AK-47, who has regained the form that made him one of the most versatile players in the league a few seasons ago. (Last week: 4)
4. Nate Robinson, Knicks: Will the real Nate Robinson please show up? Is it the one who had a string of seven games in which he scored at least 19 points or the one who has been held to six points or less in the past two contests? (Last week: 3)
5. Charlie Villanueva, Bucks: The biggest thing holding him back is Scott Skiles' rotation. He is averaging 12.3 points and 6.4 rebounds in just 22 minutes a game. He had 27 points in 29 minutes on Friday and 25 points, six rebounds and four assists in 31 minutes on Monday. (Last week: NR)

Nene, Nuggets: The more I think about it, Nene is more of a Comeback Player of the Year candidate than a Most Improved Player candidate after missing the majority of last season because of testicular cancer. He is leading the league in field goal percentage (62.4), while averaging 14.8 points, 7.9 rebounds and 1.5 blocks per game. If the league officially recognized a "comeback player," Nene would be the man.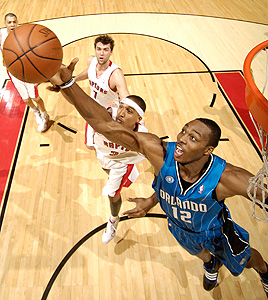 NBAE/Getty Images
Points per game
Dwyane Wade, Heat (28.7)
NBA scoring leaders

Rebounds per game
Dwight Howard, Magic (13.6)
NBA rebounding leaders

Assists per game
Chris Paul, Hornets (11.5)
NBA assists leaders
Steals per game
Chris Paul, Hornets (2.9)
NBA steals leaders
Blocks per game
Dwight Howard, Magic (3.5)
NBA blocks leaders
Field goal percentage
Nene, Nuggets (.625)
NBA field goal leaders
3-point field goal percentage
Jason Richardson, Suns (.485)
NBA 3-point shooting leaders
Free throw percentage
Jose Calderon, Raptors (1.000)
NBA free throw shooting leaders
Bryant Rising In MVP Race

Frank Dale and Joe Mead talk hoops and music with international superstar Lil Wayne and get an Awards Watch update from Maurice Brooks.
NBA Today