Most Valuable Player Watch
1. LeBron James, Cavs
G
MIN
FG%
3P%
FT%
STL
BLK
RPG
AST
PTS
PER
39
37.2
.497
.287
.777
2.1
1.3
7.2
6.6
27.6
31.6
Calm down, Lakers Nation. Just because L.A. got the better of Cleveland does not mean Kobe Bryant is No. 1 in the MVP race, although Bryant is starting to close the gap. (Last week: 1 | Team record: 31-8)
2. Kobe Bryant, Lakers
G
MIN
FG%
3P%
FT%
STL
BLK
RPG
AST
PTS
PER
40
36.4
.476
.359
.858
1.3
0.4
5.6
5.1
27.0
24.8
Does anyone want to win more than Bryant, who mirrored LeBron James on defense and posted his third straight double-digit-assists game while playing with a dislocated ring finger? (Last week: 2 | Team record: 32-8)
3. Dwight Howard, Magic
G
MIN
FG%
3P%
FT%
STL
BLK
RPG
AST
PTS
PER
39
36.2
.563
.000
.580
1.0
3.2
14.1
1.4
20.2
25.9
Orlando has Howard, two good shooting forwards and a solid point guard. Why aren't they the East's favorites? Three superstars (Boston) beats one (Howard) unless you're LeBron. (Last week: 4 | Team record: 33-8)
4. Dwyane Wade, Heat
G
MIN
FG%
3P%
FT%
STL
BLK
RPG
AST
PTS
PER
40
38.3
.473
.267
.754
2.3
1.6
4.9
7.4
28.9
28.9
If Erik Spoelstra wins Coach of the Year, he needs to do something special for Wade, who added to his résumé by scoring 18 points in the first quarter against the Thunder. (Last week: 3 | Team record: 22-18)
5. Chris Paul, Hornets
G
MIN
FG%
3P%
FT%
STL
BLK
RPG
AST
PTS
PER
38
37.7
.495
.350
.867
2.7
0.1
5.4
11.1
20.9
30.0
The Indianapolis Star's Mike Wells wrote that friends Paul and Danny Granger almost got into a fight in college. CP3 landed a blow to Indy on Monday, making the winning 3 at the buzzer. (Last week: 5 | Team record: 25-13)
6. C. Billups, Nuggetss
G
MIN
FG%
3P%
FT%
STL
BLK
RPG
AST
PTS
PER
40
35.7
.414
.390
.909
1.4
0.2
2.7
6.9
18.5
20.2
He helped Detroit win an NBA title and reach the East finals six times. He brought his winning ways to Denver, which has the second-most wins in the West and leads the Northwest. (Last week: 6 | Team record: 27-15)
7. Tim Duncan, Spurs
G
MIN
FG%
3P%
FT%
STL
BLK
RPG
AST
PTS
PER
40
35.3
.511
.000
.686
0.5
1.9
10.3
3.6
20.2
24.5
Coach Gregg Popovich asked for more D. Duncan obliged by turning away a layup attempt by the Bobcats' Raymond Felton in the closing seconds of the Spurs' two-point win Monday. (Last week: 7 | Team record: 27-13)
8. Yao Ming, Rockets
G
MIN
FG%
3P%
FT%
STL
BLK
RPG
AST
PTS
PER
41
33.3
.543
.000
.862
0.4
1.7
9.5
1.8
19.9
23.3
Over the past four games, he has made 41 of 57 shots (72 percent) while leading the Rockets to a 3-1 mark. In the loss to the Lakers, he had 19 points, 17 boards and five dimes. (Last week: NR | Team record: 26-16)
9. Brandon Roy, Blazers
G
MIN
FG%
3P%
FT%
STL
BLK
RPG
AST
PTS
PER
37
37.1
.468
.340
.817
1.1
0.4
4.8
5.3
22.3
24.1
He has led the Blazers in scoring 23 times and assists 19 times. He struggled with his shot on MLK Day against the Bucks, but added six rebounds and seven assists. (Last week: 10 | Team record: 25-16)
10. Joe Johnson, Hawks
G
MIN
FG%
3P%
FT%
STL
BLK
RPG
AST
PTS
PER
40
39.8
.437
.353
.817
1.0
0.4
4.5
6.0
22.2
19.1
He tied Dominique Wilkins for fourth in Hawks history with 500 made 3-pointers. He also made the clinching jumper with 12.5 seconds left in a win against the Raptors on Monday. (Last week: 8 | Team record: 24-16)
Awards Watch:
Preseason
|
Week 1
|
2
|
3
|
4
|
5
|
6
|
7
|
8
|
9
|
10
|
11
|
12
Sixth Man of the Year Watch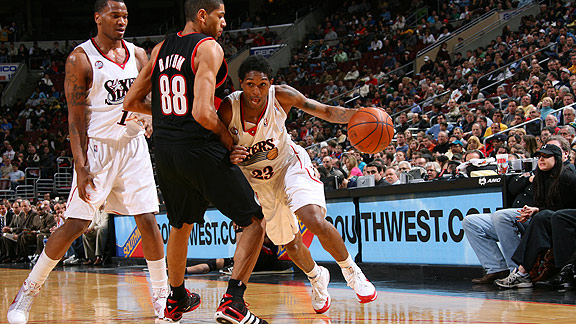 NBAE/Getty Images
1. Jason Terry, Mavericks: After a brief shooting slump to start January, he has regained his touch, averaging 23.8 points on 47-for-93 shooting over his past five games. (Last week: 1)
2. Manu Ginobili, Spurs: In last Wednesday's showdown against the Lakers, he outscored L.A.'s "Bench Mob" 27-25. (Last week: 2)
3. Andrei Kirilenko, Jazz: Although he no longer gets recognized for his defense like he used to, the long-armed forward is still capable of frustrating his opponent. (Last week: 3)
4. Hakim Warrick, Grizzlies: The losses keep piling up in Memphis, but Warrick, who started the season slowly, is doing his part to help the Grizzlies buck that trend. He energizes the second unit with his scoring and rebounding and has made the most of his extended minutes in January. (Last week: NR)
5. Lou Williams, Sixers: He has scored in double digits in 10 straight games, including the 25 points he had in Monday's tight loss to the Mavericks that stopped Philly's seven-game win streak. (Last week: NR)

1. Dwight Howard, Magic:
He is the biggest reason Orlando ranks third in opponents' field goal percentage, fourth in 3-point defense and fifth in points allowed. (Last week: 1)
2. Dwyane Wade, Heat: Critics have pointed out how Wade puts extra pressure on his teammates with all his gambling on D. As the five steals he posted Saturday against the Rockets and three blocks he had Sunday against the Thunder show, he is obviously guessing correctly. (Last week: 2)
3. LeBron James, Cavaliers: He struggled offensively in his hyped matchup with Bryant, but stepped up to the challenge of defending the reigning MVP and finished the game with four steals and a block. (Last week: 4)
4. Kevin Garnett, Celtics: KG after defending the Suns' Shaquille O'Neal: "It is like holding up a wall. Go home, basically knock out the foundation in your house and just hold up the wall, and when it's about to fall on you, that's what it's like holding onto Shaq. Yeah, that's it. Go home, knock the foundation out, just off the side of your house, just knock it out. As the wall is coming toward you, just hold it up. In fact, hold it up for 48 minutes." (Last week: 3)
5. Marcus Camby, Clippers: The league's second-leading rebounder is expected to miss at least a week with a sprained left ankle. (Last week: 5)
Most Improved Player Watch

1. Devin Harris, Nets: The Eagles' Donovan McNabb played some of his best ball of the season after getting benched. How will young Mr. Harris respond? (Last week: 1)
2. Danny Granger, Pacers: The offseason trade of Jermaine O'Neal, along with Mike Dunleavy being injured to start the season, forced Granger to become the man in Indiana. He has responded by increasing his points per game from 19.6 last season to 26.4. (Last week: 1)
3. Jameer Nelson, Magic: He was a big reason the Magic defeated the Kings, Lakers and Nuggets last week, averaging 24.7 points on 58 percent shooting and posting 7.7 assists per game. (Last week: 5)
4. Paul Millsap, Jazz: Unlike what my high school football coach once told me, you actually can lose your position due to injury. Millsap slides down a few notches after bruising cartilage in his right knee (he's missed three of Utah's past four games). (Last week: 2)
5. Rodney Stuckey, Pistons: The three-guard lineup of Stuckey, Allen Iverson and Richard Hamilton isn't working. It might be time for the Detroit coaching staff to make A.I. the sixth man, where he is more than capable of carrying the entire offensive load for the second unit, while Stuckey runs the show with the starting five. (Last week: 4)

Note: I received a handful of e-mails from fans wondering why Denver's Nene is not included on the most improved player watch despite his career season. Like I've written before, his spike in production is partially due to the fact that he has stayed healthy this season. I have him sixth on this list just in front of San Antonio's Roger Mason and Minnesota's Randy Foye.

ESPN'S NBA AWARDS WATCH
Maurice Brooks, former Race to the MVP columnist at NBA.com, is an NBA editor at ESPN.com.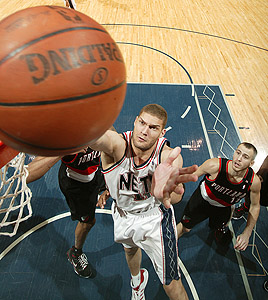 NBAE/Getty Images
1. Derrick Rose, Bulls: According to Chicago coach Vinny Del Negro, there is no need to wait until the end of the season to hand Rose the Rookie of the Year award. ''There's not even a conversation as far as I'm concerned. [O.J.] Mayo's having a great year, and [Michael] Beasley is an incredibly talented player and is playing well. But no one's played at the level Derrick's played from the start to this point. Not even close." (Last week: 2)
2. O.J. Mayo, Grizzlies: His points-per-game average, field goal percentage and 3-point percentage have decreased for the third straight month. (Last week: 1)
3. Russell Westbrook, Thunder: He lost the fan vote to Rudy Fernandez for the right to enter the dunk contest during All-Star Weekend. If Rose and Mayo go into an extended slump, it might be the last time he finishes behind a fellow rookie in anything requiring a vote. (Last week: 3)
4. Brook Lopez, Nets: With leading scorers Devin Harris and Vince Carter handcuffed to the bench by Lawrence Frank because of the Nets' shoddy play in the first half Saturday against the Celtics, the rookie took advantage of the situation, putting up 28 points and 10 rebounds. (Last week: 5)
5. Eric Gordon, Clippers: After his 25-point outburst against the Timberwolves on Monday, he is now averaging 22.3 points over his past dozen games. (Last week: 4)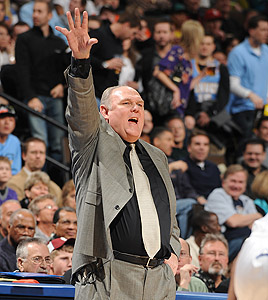 NBAE/Getty Images
1. Stan Van Gundy, Magic: Orlando was supposed to be good, but not possibly the best team in the league. That's enough to make Van Gundy the favorite for this award. The Magic knocked off the Nuggets, Spurs and Lakers -- all division leaders -- on their most recent road trip to improve to 33-8 overall. (Last week: 2)
2. Mike Brown, Cavaliers: Cleveland has lost two of its past three, but that doesn't change the fact that Brown has the Cavs clicking on offense while emphasizing defense like never before. (Last week: 1)
3. Gregg Popovich, Spurs: Impressive win over the Lakers last week for San Antonio, which has a one-game lead on the Hornets in the toughest division in the NBA. (Last week: 3)
4. Phil Jackson, Lakers: After back-to-back losses to the Spurs and Magic, he could have been eager to get the team back onto the court for practice. Instead, he gave the team the day off Saturday and they responded by cruising past the Cavs on Monday. (Last week: 5)
5. George Karl, Nuggets: The moment Denver shipped off Allen Iverson, it went from a team focused solely on outscoring its opponent to a club that also emphasizes defense. The Nuggets, who were 27-14 at the midway point, are off to their best start since the 1977-78 team began 28-13. (Last week: NR)

Points per game
Dwyane Wade, Heat (28.9)
NBA scoring leaders

Rebounds per game
Dwight Howard, Magic (14.1)
NBA rebounding leaders

Assists per game
Chris Paul, Hornets (11.1)
NBA assists leaders
Steals per game
Chris Paul, Hornets (2.7)
NBA steals leaders
Blocks per game
Dwight Howard, Magic (3.2)
NBA blocks leaders
Field goal percentage
Nene, Nuggets (.604)
NBA field goal leaders
3-point field goal percentage
Anthony Morrow, Warriors (.500)
NBA 3-point shooting leaders
Free-throw percentage
Jose Calderon, Raptors (1.000)
NBA free throw shooting leaders