Most Valuable Player Watch
1. LeBron James, Cavaliers
G
MIN
FG%
3P%
FT%
STL
BLK
RPG
AST
PTS
PER
43
37.5
.494
.290
.772
1.9
1.2
7.5
7.0
27.9
31.8
His jumper at the buzzer beat the Warriors. A night later, he had 33 points and drew a key charge in a win at Utah. "Here's a franchise player sacrificing his body," Mike Brown said. (Last week: 1 | Team record: 35-8)
2. Kobe Bryant, Lakers
G
MIN
FG%
3P%
FT%
STL
BLK
RPG
AST
PTS
PER
44
36.5
.474
.361
.864
1.27
0.3
5.6
5.2
26.6
24.5
He is third in scoring and above his career averages in both rebounds and assists per game. He is also shooting a career-high 47 percent and the Lakers have won four straight. (Last week: 2 | Team record: 35-9)
3. Dwyane Wade, Heat
G
MIN
FG%
3P%
FT%
STL
BLK
RPG
AST
PTS
PER
43
38.2
.480
.270
.753
2.2
1.5
4.9
7.2
28.9
29.0
Miami started Yakhouba Diawara, Jamaal Magloire and rookie Mario Chalmers on Monday and still won by 16 against Atlanta thanks to Wade's 35 points. Been like that all season. (Last week: 4 | Team record: 24-19)
4. Dwight Howard, Magic
G
MIN
FG%
3P%
FT%
STL
BLK
RPG
AST
PTS
PER
42
36.1
.563
.000
.587
0.9
3.1
13.8
1.3
20.0
25.2
His play inside frees up the shooters, and his shot blocking covers for blown assignments. Orlando has lost back-to-back games for the first time since the start of the season. (Last week: 3 | Team record: 34-10)
5. Chris Paul, Hornets
G
MIN
FG%
3P%
FT%
STL
BLK
RPG
AST
PTS
PER
41
37.8
.501
.337
.873
2.8
0.2
5.5
11.1
21.3
30.4
Second in the MVP voting last season, he is better this year. He had his second triple-double of the month against the Sixers, falling three steals short of a quadruple-double. (Last week: 5 | Team record: 27-14)
6. C. Billups, Nuggets
G
MIN
FG%
3P%
FT%
STL
BLK
RPG
AST
PTS
PER
43
35.4
.418
.393
.909
1.4
0.2
2.7
6.7
18.9
20.6
His statistics are good, but they don't tell the entire story of what he means to the Nuggets, who continue to win despite playing without leading scorer Carmelo Anthony. (Last week: 6 | Team record: 30-15)
7. Tim Duncan, Spurs
G
MIN
FG%
3P%
FT%
STL
BLK
RPG
AST
PTS
PER
44
35.0
.520
.000
.689
0.5
1.8
10.3
3.6
20.6
25.2
His double-double streak ended at seven in the Spurs' loss to the Lakers, but there isn't a lot not to like about one of the league's best interior defenders who averages 20 and 10. (Last week: 7 | Team record: 30-14)
8. Brandon Roy, Blazers
G
MIN
FG%
3P%
FT%
STL
BLK
RPG
AST
PTS
PER
40
37.1
.467
.359
.819
1.3
0.4
4.7
5.2
22.6
24.7
After a loss to the Cavs, he told the media he would give them something to talk about against the Wizards. He then went out and tied a franchise record with 10 steals. (Last week: 9 | Team record: 27-17)
9. Kevin Garnett, Celtics
G
MIN
FG%
3P%
FT%
STL
BLK
RPG
AST
PTS
PER
45
32.5
.525
.143
.842
1.2
1.2
9.0
2.6
16.3
21.5
Even though his offensive numbers aren't what they used to be, what keeps people mentioning Garnett's name when they talk about the league's elite players is his defense. (Last week: NR | Team record: 37-9)
10. Joe Johnson, Hawks
G
MIN
FG%
3P%
FT%
STL
BLK
RPG
AST
PTS
PER
44
39.9
.427
.341
.807
1.1
0.3
4.5
6.1
21.5
18.2
He has failed to score 20 points in four straight games and Atlanta is 2-2 in that period, including Monday's loss to the Heat in which they went over 13 minutes without a field goal.(Last week: 10 | Team record: 26-18)
Awards Watch:
Preseason
|
Week 1
|
2
|
3
|
4
|
5
|
6
|
7
|
8
|
9
|
10
|
11
|
12
Most Improved Player Watch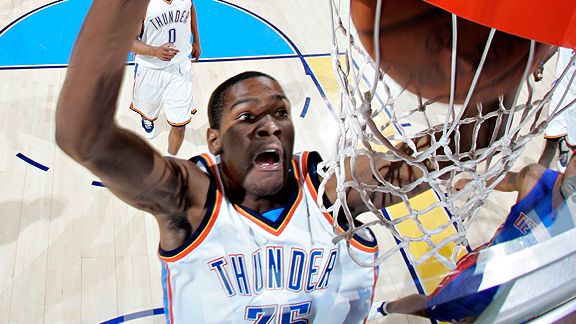 NBAE/Getty Images
1. Danny Granger, Pacers: He's tied for fourth in the league in scoring (25.8 points per game) and has scored more than 30 points 14 times and more than 40 points three times this season. He also rebounds well for his position, is averaging a career high in assists and takes and makes every big shot for Indiana. Team success should have nothing to do with All-Star selections, therefore when the reserves are announced Thursday, he can expect to hear his name. (Last week: 2)
2. Devin Harris, Nets: It was an up-and-down week for the New Jersey point guard, who had two good games sandwiched between two stinkers. He has been dealing with a rib injury that might be the cause of his inconsistent play. (Last week: 1)
3. Jameer Nelson, Magic: The career-high 16.9 points per game along with the 5.4 assists, over 50 percent shooting from the floor and over 44 percent shooting from deep should be enough to get him a trip to Phoenix next month. Last season I thought Orlando needed a serious upgrade at the point. Turns out they had an All-Star in the making. (Last week: 3)
4. Paul Millsap, Jazz: I applaud Millsap for being able to get 20 and 10 on an almost nightly basis by simply outworking everyone else, but can people stop with the Karl Malone comparisons just because they have similar builds (6-foot-8, 255 pounds), are both Louisiana products and played/play power forward for the Jazz? Millsap has a long way to go before he should ever be mentioned in the same sentence as the Mailman. (Last week: 4)
5. Kevin Durant, Thunder: David Thorpe sent me a text telling me that Durant's teammate Jeff Green, who hit a game-winner last week against the Warriors and whose numbers are up across the board, belongs on this list. Agreed, but I had a hard time overlooking Durant, who has made the jump from the league's top rookie to one of the game's top dozen talents. He has become a better scorer and rebounder, improved his shot selection and is giving a much better effort on the defensive end in his second pro season. After shooting 29 percent on treys as a rookie, he has pushed that number up to 42 percent this season, and he went nuts against the Clippers last week, posting 46 points and 15 rebounds. (Last week: NR)

1. Derrick Rose, Bulls:
Kirk Hinrich
has been playing well off the bench at the point since returning from injury. It will be interesting to see what effect this ends up having on Rose. (Last week: 1)
2. O.J. Mayo, Grizzlies: New head coach Lionel Hollins favors a fast-break style of play, which could mean a spike in offensive production for Mayo. (Last week: 2)
3. Russell Westbrook, Thunder: Has he hit the rookie wall? With the exception of his 30-point, seven-assist outburst against the Warriors, he has struggled offensively in four of his past five games. (Last week: 3)
4. Brook Lopez, Nets: He enjoys playing against the Thunder, scoring a career-high 31 against them in their first meeting and muscling inside for a team-best 18 points in Tuesday's loss. He leads all rookies in blocks and is second in rebounds. (Last week: 4)
5. Eric Gordon, Clippers: He continues to fill up the nets, setting a Clippers rookie record for points in a game when he torched the Thunder for 41 last week. (Last week: 5)

1. Stan Van Gundy, Magic: His attention to detail, combined with the league's best 3-point shooters and the game's most dominant big man, make Orlando a serious title contender. (Last week: 1)
2. Mike Brown, Cavaliers: Yes, he has the best player in the world, but Brown deserves credit for Cleveland's team chemistry and their willingness to play defense harder than anyone else. (Last week: 2)
3. Phil Jackson, Lakers: He hinted during his interview with Magic Johnson that he might only coach one more season after this one. If I had Kobe Bryant in his prime and a bunch of standout role players around him, retirement would not be an option. They would have to drag me out of the building. (Last week: 4)
4. Gregg Popovich, Spurs: He recently called out his team for not playing defense as well as they have since he first took over the club 11 seasons ago. San Antonio, which has never finished lower than fifth in field goal percentage, is currently 17th. Look for that to change. (Last week: 3)
5. Erik Spoelstra, Heat: Do the young Heat really have the same record as the battle-tested Pistons? (Last week: NR)

ESPN'S NBA AWARDS WATCH
Maurice Brooks, former Race to the MVP columnist at NBA.com, is an NBA editor at ESPN.com.
Defensive Player of the Year Watch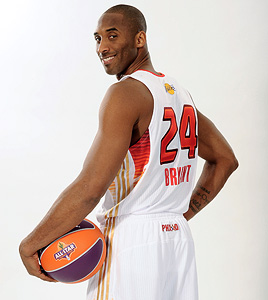 NBAE/Getty Images
1. Dwight Howard, Magic: He became the first player to get over three million votes for the All-Star Game and leads the league in double-doubles, rebounds and blocked shots. (Last week: 1)
2. Kevin Garnett, Celtics: When Gary Payton was still balling, he went by the moniker "The Glove." You would think he would have a greater appreciation for what KG does on the defensive side of the floor and would recognize that yes, he does deserve to start in the All-Star Game. (Last week: 4)
3. Dwyane Wade, Heat: He had two steals, two blocks and helped Miami hold Atlanta to a franchise-low 27 first-half points Monday. (Last week: 2)
4. LeBron James, Cavaliers: Statistically, he is having his best month of the season, averaging 10 rebounds, 2.1 steals and 1.6 blocks in 12 games in January. (Last week: 3)
5. Kobe Bryant, Lakers: The best one-on-one perimeter defender in the league not named Ron Artest locked up San Antonio's Manu Ginobili on Sunday, helping limit him to 4-for-11 shooting. (Last week: NR)
Sixth Man of the Year Watch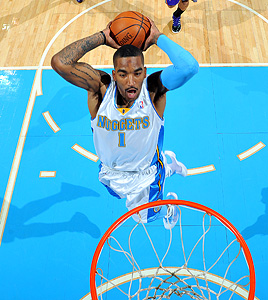 NBAE/Getty Images
1. Jason Terry, Mavericks: With the exception of Golden State's Corey Maggette (who isn't on this list because he hasn't played enough games as a reserve yet), there isn't another sixth man capable of getting 20 points per game on a nightly basis. (Last week: 1)
2. Manu Ginobili, Spurs: He followed up arguably his best game of the season (26 points and eight rebounds) with mediocre showings against the Nets and Lakers. (Last week: 2)
3. Andrei Kirilenko, Jazz: He has missed the past three games because of a bum ankle, and now there is speculation that he might have surgery, which would cost him a month. (Last week: 3)
4. Charlie Villanueva, Bucks: If I were Milwaukee's coach, I'd figure out a way to keep him in the starting lineup, especially now that Michael Redd is gone for the season. The Bucks can use his scoring. (Last week: NR)
5. J.R. Smith, Nuggets: He is not in a hurry for Carmelo Anthony to return to the lineup. Over his past five games (all as a starter), he is putting up 18.8 points, 5.6 rebounds and 3.2 assists. (Last week: NR)

Points per game
Dwyane Wade, Heat (28.9)
NBA scoring leaders
Rebounds per game
Dwight Howard, Magic (13.8)
NBA rebounding leaders

Assists per game
Chris Paul, Hornets (11.1)
NBA assists leaders
Steals per game
Chris Paul, Hornets (2.7)
NBA steals leaders
Blocks per game
Dwight Howard, Magic (3.1)
NBA blocks leaders
Field goal percentage
Nene, Nuggets (.610)
NBA field goal leaders
3-point field goal percentage
Anthony Morrow, Warriors (.506)
NBA 3-point shooting leaders
Free-throw percentage
Jose Calderon, Raptors (1.000)
NBA free-throw shooting leaders
Taking A Look At Three Kevins

Awards Watch columnist Maurice Brooks joins
Jason Smith
to talk about Kevin Durant, Kevin Garnett and Kevin McHale.
NBA Today