Most Valuable Player Watch
1. LeBron James, Cavaliers
G
MIN
FG%
3P%
FT%
STL
BLK
RPG
AST
PTS
PER
46
37.5
.491
.295
.763
2.0
1.3
7.5
7.0
27.8
31.5
Two days after Kobe scored 61 against N.Y., James is coming to town to torch the Knicks' poor excuse for a defense. LBJ (East) and Kobe (West) were the players of the month. (Last week: 1 | Team record: 37-9)
2. Kobe Bryant, Lakers
G
MIN
FG%
3P%
FT%
STL
BLK
RPG
AST
PTS
PER
47
36.4
.480
.355
.868
1.3
0.4
5.5
5.1
27.4
25.4
Andrew Bynum's injury may help Kobe in the MVP race. He may score more and if the Lakers still manage to win the West, he will get the credit for them overcoming a major hurdle. (Last week: 2 | Team record: 38-9)
3. Dwyane Wade, Heat
G
MIN
FG%
3P%
FT%
STL
BLK
RPG
AST
PTS
PER
47
37.9
.484
.277
.746
2.1
1.5
5.0
7.1
28.5
28.8
Thanks to an improved J, he leads the league in scoring, is third in steals and 20th in blocks. Miami doesn't have a gaudy record, but is there another team doing more with less? (Last week: 3 | Team record: 26-21)
4. Dwight Howard, Magic
G
MIN
FG%
3P%
FT%
STL
BLK
RPG
AST
PTS
PER
45
36.2
.569
.000
.593
1.0
3.0
13.9
1.3
20.6
25.9
With Jameer Nelson out, Howard will be counted on to do even more. He has 13 double-doubles in a row, including a 35-point, 11-rebound game Monday against Dallas. (Last week: 4 | Team record: 36-11)
5. Chris Paul, Hornets
G
MIN
FG%
3P%
FT%
STL
BLK
RPG
AST
PTS
PER
45
37.4
.498
.366
.864
2.8
0.2
5.4
10.9
21.5
30.3
If you want to know Paul's worth to the Hornets, look at the Blazers game. New Orleans was up 17 when he hurt his groin in the third. The Hornets ended up losing by eight. (Last week: 5 | Team record: 28-17)
6. Tim Duncan, Spurs
G
MIN
FG%
3P%
FT%
STL
BLK
RPG
AST
PTS
PER
47
35.3
.520
.000
.689
0.5
1.8
10.4
3.7
20.6
25.0
The Spurs are rolling, winners of nine of their past 10. Duncan lit up the Warriors on Monday, tallying 32 points and grabbing 15 boards for his 30th double-double of the season. (Last week: 7 | Team record: 33-14)
7. C. Billups, Nuggets
G
MIN
FG%
3P%
FT%
STL
BLK
RPG
AST
PTS
PER
45
35.2
.414
.384
.899
1.4
0.3
2.7
6.5
18.6
20.2
The West reserve could start the All-Star Game if Paul elects to rest his groin. Billups has done a great job of carrying the load while Carmelo Anthony's injured hand healed. (Last week: 6 | Team record: 31-16)
8. Brandon Roy, Blazers
G
MIN
FG%
3P%
FT%
STL
BLK
RPG
AST
PTS
PER
43
37.1
.468
.358
.819
1.2
0.4
4.6
5.1
22.2
24.2
Portland has won six of seven. Roy's versatility along with the GPS navigation tool the Blazers' media department sent the West coaches was enough to earn him an All-Star spot. (Last week: 8 | Team record: 30-17)
9. Kevin Garnett, Celtics
G
MIN
FG%
3P%
FT%
STL
BLK
RPG
AST
PTS
PER
47
32.5
.525
.143
.844
1.2
1.2
9.0
2.7
16.3
21.6
Garnett was one of three Boston players who decided to skip his flu shot. The result? He has been sidelined for the past two games with flu-like symptoms. Next time get the shot. (Last week: 10 | Team record: 40-9)
10. Dirk Nowitzki, Mavericks
G
MIN
FG%
3P%
FT%
STL
BLK
RPG
AST
PTS
PER
46
37.4
.479
.374
.915
0.7
0.7
8.3
2.4
25.8
23.7
Dallas has won four of five. Nowitzki, the team's lone All-Star, is fourth in the league in scoring and is having a better season statistically than his MVP season two years ago. (Last week: 9 | Team record: 28-19)
Awards Watch:
Preseason
|
Week 1
|
2
|
3
|
4
|
5
|
6
|
7
|
8
|
9
|
10
|
11
|
12
|
13
Most Improved Player Watch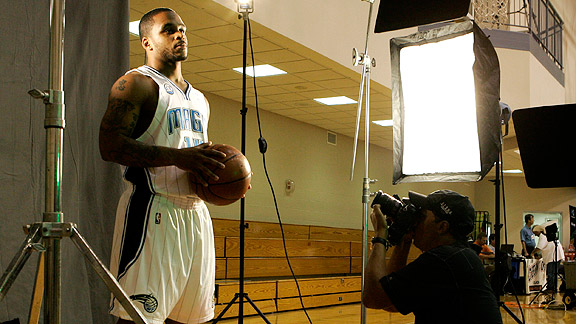 NBAE/Getty Images
1. Danny Granger, Pacers: There is discomfort and swelling in his injured right knee, but with the Pacers chasing a playoff spot, their franchise player continues to play through pain like he has for the past 10 games. (Last week: 1)
2. Devin Harris, Nets: A few months ago, he was the NBA player who got schooled by a fan in London in a clip that was made famous thanks to the craze that is YouTube. Now he is an NBA All-Star. (Last week: 2)
3. Jameer Nelson, Magic: This will probably be the last week that you see Nelson's name on this list. An MRI revealed the All-Star suffered a torn labrum in his dislocated right shoulder on Monday against the Mavs, probably sidelining him for several weeks if not longer. (Last week: 3)
4. Kevin Durant, Thunder: Oklahoma City started the season 3-29, but is 8-8 over its past 16 games. As Durant began to show vast improvement in his all-around game, the team began to take off. With KD, who averaged 27.8 points and 8.8 rebounds in January, leading the way and combining with Russell Westbrook and Jeff Green to form the nucleus, this team will be dangerous in a couple of years. (Last week: 5)
5. Paul Millsap, Jazz: He routinely defends the other team's best player, has the league's seventh-highest field goal percentage (56 percent) and has increased his rebound total from 5.6 per game a season ago to 9.4 this season and his scoring from 8.1 to 15.3. (Last week: 4)

1. Derrick Rose, Bulls:
The top five in the rookie race are exactly the same as last week. Rose reclaims his No. 1 spot after leading Chicago to three victories, scoring over 20 points twice and dishing out 11 assists in the other game. (Last week: 1)
2. O.J. Mayo, Grizzlies: He topped the 30-point mark for the first time since Nov. 29 on Monday, tying his career high by scoring 33 in a victory against the Wizards that snapped Memphis' 12-game losing streak. (Last week: 2)
3. Russell Westbrook, Thunder: He came into the NBA with a reputation for playing lockdown defense, but it is what he is doing on the offensive end that is making him a serious threat to be ROY. He got February off to a good start by posting 34 points, 8 assists and 6 rebounds against the Kings on Sunday. (Last week: 3)
4. Brook Lopez, Nets: He must be a fan of bargains, because it seems as if half of his shot attempts are thunderous dunks off missed shots, meaning he gets the two points for the made basket and a rebound. If you do that enough times, you get lines like the 24 points and 17 rebounds he dropped on the Sixers on Saturday. (Last week: 4)
5. Eric Gordon, Clippers: He hated to see January end. He averaged 22 points and was named the Western Conference Rookie of the Month. Lopez received the same honor in the East. (Last week: 5)
Sixth Man of the Year Watch

1. Jason Terry, Mavericks:
One of his chief rivals for the award, Utah's
Andrei Kirilenko
, had surgery on Friday to remove bone fragments in his right ankle and is expected to miss three or four weeks. With the way that Terry has played all season, it would have been difficult for AK-47 or anyone else to pass him for the top spot on this list. (Last week: 1)
2. Manu Ginobili, Spurs: Bad news for the rest of the league: Manu is completely healthy and playing as well as ever, scoring 30, 22 and 32 points, respectively, in his past three games. (Last week: 2)
3. Charlie Villanueva, Bucks: He has started 18 of 47 games for the Bucks, but technically still qualifies as a sixth man. With Michael Redd on the shelf for the season, he has become Milwaukee's top scoring threat, averaging 27 points and 9 boards over the past three games. (Last week: 4)
4. Nate Robinson, Knicks: Welcome back, Nate. Inconsistent play during the first few weeks of January got Robinson removed from this list. Consistently good play the past two weeks has the offensive spark back on it. (Last week: NR)
5. J.R. Smith, Nuggets: Smith was scoring like Carmelo Anthony, taking the high-scoring forward's spot in the starting lineup the past few weeks. But Anthony is back, and Smith's minutes and numbers went down in his first game coming off the bench again. (Last week: 5)

ESPN'S NBA AWARDS WATCH
Maurice Brooks, former Race to the MVP columnist at NBA.com, is an NBA editor at ESPN.com.
Defensive Player of the Year Watch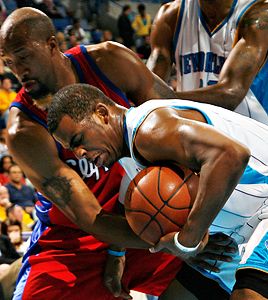 NBAE/Getty Images
1. Dwight Howard, Magic: I receive a fair share of e-mails saying that if Howard is No. 1 on this list then the Clippers' Marcus Camby, who does a lot of the same things, should be No. 2. I disagree. Not only does Howard average more steals, blocks and rebounds, he calls out sick from work a lot less often. (Last week: 1)
2. Dwyane Wade, Heat: One of the reasons that Miami is overachieving this season is its commitment to defense. After notching nine steals, nine blocks and forcing the Clippers to commit 15 turnovers Monday night, this is what Wade had to say: "For us, that always gets it going. You can play defense every night and give yourself a chance to win." Obviously, it has been working. (Last week: 3)
3. Kevin Garnett, Celtics: During Boston's current 11-game winning streak, it has not allowed an opponent to score more than 88 points. (Last week: 2)
4. LeBron James, Cavaliers: Just like everything else in Cleveland, the Cavs' commitment to defense starts and stops with the effort of James. They currently allow the fewest points in the league. (Last week: 4)
5. Chris Paul, Hornets: He takes Kobe's place in the rankings this week. The league leader in thefts plays the passing lanes and harasses dribblers as well as anyone and is averaging a career best in steals (2.8) and rebounds (5.3). (Last week: NR)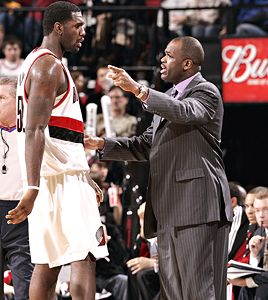 NBAE/Getty Images
1. Stan Van Gundy, Magic: Here is your first real test of the season, Stan. Let's see how your crew does with Anthony Johnson running the point. (Last week: 1)
2. Mike Brown, Cavaliers: Since Doc Rivers coached the Eastern Conference last year, Brown gets to be the coach this time around, even though the Celtics have a better record. (Last week: 2)
3. Phil Jackson, Lakers: It would be panic time for most coaches if they lost one of the best young big men in the NBA for up to three months. Jackson has the luxury of inserting Lamar Odom to the power forward spot, sliding Pau Gasol from the 4 to 5 and telling the reigning MVP that we may need you to do a little bit more. (Last week: 3)
4. Erik Spoelstra, Heat: The more Miami wins, the faster Spoelstra climbs up this list. The Heat are five games above .500 with the second-youngest rotation in the NBA. (Last week: 5)
5. Nate McMillan, Blazers: A colleague of mine told me that this spot belongs to Mike D'Antoni and the play-no-defense Knicks, who are five games below .500. No way. Then I thought about the Spurs' Gregg Popovich, but with Tim Duncan playing like a legit MVP candidate, Tony Parker a West All-Star and Manu Ginobili looking like Manu Ginobili again, how much does Pop have to do? Therefore, McMillan gets the spot for getting key contributions from rookies Jerryd Bayless, Nicolas Batum, Rudy Fernandez and Greg Oden while not affecting the development of stars LaMarcus Aldridge and Brandon Roy. (Last week: NR)

Points per game
Dwyane Wade, Heat (28.5)
NBA scoring leaders
Rebounds per game
Dwight Howard, Magic (13.9)
NBA rebounding leaders

Assists per game
Chris Paul, Hornets (10.9)
NBA assists leaders
Steals per game
Chris Paul, Hornets (2.8)
NBA steals leaders
Blocks per game
Dwight Howard, Magic (3.0)
NBA blocks leaders
Field goal percentage
Nene, Nuggets (.620)
NBA field goal leaders
3-point field goal percentage
Anthony Morrow, Warriors (.500)
NBA 3-point shooting leaders
Free throw percentage
Jose Calderon, Raptors (98.8)
NBA free-throw shooting leaders
Kobe Throws A Party At the Garden

Awards Watch columnist Maurice Brooks joins Jason Smith to talk about Kobe Bryant's 61-point explosion against the Knicks.
NBA Today