Most Valuable Player Watch
1. Kobe Bryant, Lakers
G
MIN
FG%
3P%
FT%
STL
BLK
RPG
AST
PTS
PER
50
36.6
.475
.363
.863
1.3
0.4
5.6
5.1
27.3
25.1
Is this 2009 or 2008? Bryant is playing with an injured finger, Andrew Bynum is hurt, the Lakers are fighting for home-court advantage and Kobe is at the top of the MVP race. (Last week: 2 | Team record: 41-9)
2. LeBron James, Cavs
G
MIN
FG%
3P%
FT%
STL
BLK
RPG
AST
PTS
PER
49
37.7
.486
.295
.769
1.9
1.3
7.5
7.1
28.2
31.5
The Cavs are 1-4 against the Lakers, Celtics and Magic this season. James struggled against the Lakers on Sunday, although he still leads his head-to-head matchup with Bryant, 6-5. (Last week: 1 | Team record: 39-10)
3. Dwyane Wade, Heat
G
MIN
FG%
3P%
FT%
STL
BLK
RPG
AST
PTS
PER
50
38
.478
.283
.739
2.1
1.4
5.0
7.1
28.3
28.4
Miami started 8-9, but has gone 19-14 since. Wade is having a career season and the rookies are progressing. Miami is a player or two away from being a contender in the East. (Last week: 3 | Team record: 27-23)
4. Dwight Howard, Magic
G
MIN
FG%
3P%
FT%
STL
BLK
RPG
AST
PTS
PER
48
36.2
.564
.000
.589
1.0
2.9
14.1
1.3
20.6
25.7
He had his fourth 30-point, 15-rebound game of the season against N.J. Howard, Al Jefferson and Tim Duncan are the only players averaging 20 points and 10 boards. (Last week: 4 | Team record: 38-12)
5. Tim Duncan, Spurs
G
MIN
FG%
3P%
FT%
STL
BLK
RPG
AST
PTS
PER
48
35.4
.521
.000
.694
0.5
1.8
10.5
3.8
20.7
24.9
He looked rested, posting 23 points, 13 rebounds and 5 assists against Boston. I guess Pop, who gave TD the night off against Denver, knows what he is doing. (Last week: 6 | Team record: 34-15)
6. Chris Paul, Hornets
G
MIN
FG%
3P%
FT%
STL
BLK
RPG
AST
PTS
PER
45
37.4
.498
.366
.864
2.8
0.2
5.4
10.9
21.5
30.2
The league leader in assists and steals has missed four straight games with a strained groin. How have the Hornets done without him? They are 2-2 including a loss at Memphis. (Last week: 5 | Team record: 30-19)
7. Brandon Roy, Blazers
G
MIN
FG%
3P%
FT%
STL
BLK
RPG
AST
PTS
PER
46
37.4
.470
.385
.820
1.1
0.3
4.7
5.1
22.4
23.9
The Knicks had a foul to give and didn't with a one-point lead and 4.3 seconds left against the Blazers and Roy made them pay, converting a finger-roll at the buzzer. (Last week: 8 | Team record: 31-19)
8. C. Billups, Nuggets
G
MIN
FG%
3P%
FT%
STL
BLK
RPG
AST
PTS
PER
48
34.5
.413
.385
.901
1.4
0.3
2.6
6.3
18.0
19.8
Billups led Denver to its best 50-game start since joining the NBA in 1976. Game No. 51 this season was forgettable, however. The Nuggets lost by 44 in New Jersey. (Last week: 7 | Team record: 34-17)
9. Dirk Nowitzki, Mavs
G
MIN
FG%
3P%
FT%
STL
BLK
RPG
AST
PTS
PER
49
37.5
.474
.375
.917
0.7
0.8
8.3
2.3
25.8
23.2
After scoring a total of 30 points in Dallas' previous two games, he started 1-for-10 against Chicago on Saturday, before nailing 15 of his next 24 attempts on the way to 44 points. (Last week: 10 | Team record: 30-20)
10. Kevin Garnett, Celtics
G
MIN
FG%
3P%
FT%
STL
BLK
RPG
AST
PTS
PER
50
32.6
.525
.250
.836
1.2
1.3
9.0
2.7
16.5
21.5
He misses two games with the flu and Boston wins them both. He returns and the Celtics drop two of three with the only win coming against N.Y., which has been losing to everyone. (Last week: 9 | Team record: 42-11)
Awards Watch:
Preseason
|
Week 1
|
2
|
3
|
4
|
5
|
6
|
7
|
8
|
9
|
10
|
11
|
12
|
13
|
14
Defensive Player of the Year Watch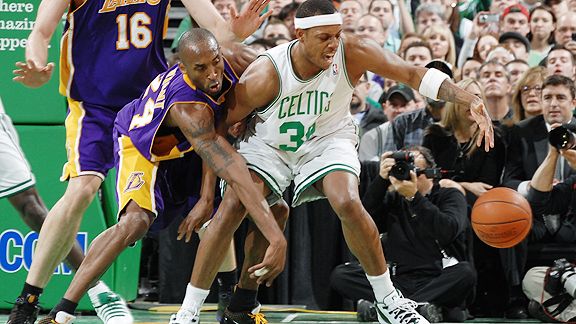 NBAE/Getty Images
1. Dwight Howard, Magic: Howard is averaging only one blocked shot over his past five games. Is he slacking? Not exactly. Besides the countless shots he has altered, he is more than making up for the dip in rejections by pulling down 15.2 rebounds per game over that same period. (Last week: 1)
2. LeBron James, Cavaliers: Phil Jackson is noticing a big difference in James' approach to playing D. "I think he's been a very willing student of the game. The biggest difference we've seen in him is going from not understanding defense to getting himself attuned to how important defense is. He's become an all-around player.'' (Last week: 4)
3. Dwyane Wade, Heat: His left eye was swollen and needed stitches and he had flu-like symptoms, but that didn't stop Wade from making four steals and a block against the Bobcats on Sunday. (Last week: 2)
4. Kevin Garnett, Celtics: Have the Celtics really given up 99 points or more in seven of their past eight games? (Last week: 3)
5. Kobe Bryant, Lakers: Chris Paul is hurt and Marcus Camby's minutes are down as he tries to overcome an ankle injury. That leaves this spot for Bryant, who led a Los Angeles defense that held the Cavs to a combined 30 points in the second half on 28 percent shooting Sunday. (Last week: NR)

1. Derrick Rose, Bulls:
He has been experiencing pain in his left foot all month, but it hasn't affected the play of the No. 1 pick from the 2008 draft. He has topped the 20-point mark in three of his past four games, while still finding time to give out 6.5 helpers per outing. (Last week: 1)
2. O.J. Mayo, Grizzlies: It may have taken him 51 games, but thanks to a career-high 16 rebounds against the Hornets, Mayo (22 points) finally notched his first double-double. (Last week: 2)
3. Russell Westbrook, Thunder: He gave out eight assists in a win on Sunday against the Kings -- the 10th victory in the past 19 games for steadily improving Oklahoma City. (Last week: 3)
4. Brook Lopez, Nets: According to Elias, the 19 points that Lopez scored in the Nets' 101-84 loss to the Magic on Sunday was the highest total ever posted by a rookie center starting opposite Dwight Howard. Lopez also pulled down 12 rebounds. (Last week: 4)
5. Eric Gordon, Clippers: The Clippers are starting to get healthy so it is natural to think that Gordon's points-per-game average would dip dramatically. That hasn't been the case for the shoot-first, pass-later guard. (Last week: 5)

1. Stan Van Gundy, Magic:
Orlando is 2-1 since
Jameer Nelson
injured his shoulder. It will be interesting to see how Van Gundy works newly acquired point guard
Tyronn Lue
into the rotation. (Last week: 1)
2. Mike Brown, Cavaliers: Interesting week for Cleveland: Mo Williams was overlooked again before finally being added to the team on Tuesday for the All-Star Game, LeBron James had a rebound taken away negating his MSG triple-double, the Lakers broke the Cavs' 23-game home winning streak and now the news that Sasha Pavlovic might miss six weeks with a high ankle sprain. (Last week: 2)
3. Phil Jackson, Lakers: So much for having to adjust to life without Andrew Bynum. All the Lakers have done since the big man went down -- again -- is end Cleveland's home streak, stop the Celtics' 12-game win streak and go 6-0 on their recently completed road trip. (Last week: 3)
4. Erik Spoelstra, Heat: Most of his decisions have panned out perfectly for the first-year coach. Hard to believe he has started less-heralded rookie Mario Chalmers in 48 of Miami's 49 games, while Michael Beasley, the second overall pick of the 2008 draft, has come off the bench in 34 of 49 contests. (Last week: 4)
5. (tie) Nate McMillan, Blazers and Tony DiLeo, Sixers: The young Blazers are rolling, winning seven of their past 10 to move 12 games above .500.
Philadelphia is equally as hot, improving to 17-10 under DiLeo, who took over for Maurice Cheeks in December. The fast-breaking Sixers have won 13 of 17 and are 13-8 without Elton Brand (shoulder), who is done for the season. (Last week: 5 and NR)

ESPN'S NBA AWARDS WATCH
Maurice Brooks, former Race to the MVP columnist at NBA.com, is an NBA editor at ESPN.com.
Kobe and LeBron talk about each other
Most Improved Player Watch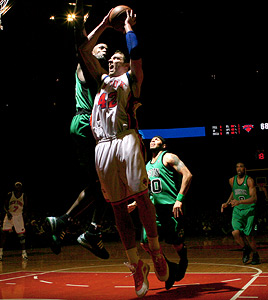 NBAE/Getty Images
1. Danny Granger, Pacers: Reality check: He should take some time off to rest his injured right knee instead of possibly risking further damage to play in the exhibition that is the All-Star Game. (Last week: 1)
2. Devin Harris, Nets: An average January allowed Granger to leapfrog Harris for this award, but the New Jersey point guard is off to a great start in February, averaging 25 points and 7.8 assists for a Nets team that has won four of its past five. (Last week: 2)
3. Kevin Durant, Thunder: He will be playing in Phoenix as part of All-Star Weekend -- just in the wrong game. Instead of suiting up for the sophomore squad as part of the Rookie Challenge, he should be playing for the West in the signature event. (Last week: 4)
4. David Lee, Knicks: Sure, playing in a Mike D'Antoni system means better stats, but Lee, who is averaging over five points and almost three rebounds more than a season ago, was considered as an All-Star Game candidate. He has 11 straight games of at least 10 points and 10 rebounds. (Last week: NR)
5. Paul Millsap, Jazz: What happened to the Millsap who was making Utah fans forget about the injured Carlos Boozer? That guy is gone and Millsap has pulled down 10 or more rebounds only once in his past seven games. Boozer is expected back after the All-Star break, which could mean fewer minutes for one of the season's best first-half stories. (Last week: 5)
Sixth Man of the Year Watch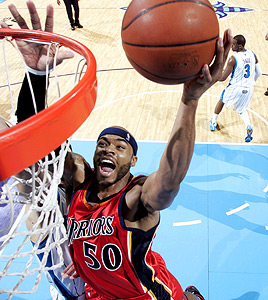 NBAE/Getty Images
1. Jason Terry, Mavericks: He had surgery on his fractured left hand and Dallas has no clue when its second-leading scorer (20 points per game) is going to return to the lineup. (Last week: 1)
2. Manu Ginobili, Spurs: Thanks to Terry's injury, it is looking more likely that Ginobili will repeat as the Sixth Man award winner. (Last week: 2)
3. Nate Robinson, Knicks: This spot was reserved for the Bucks' Charlie Villanueva, who has come off the bench (29 games) more times than he has started (20), but with all of the injuries in Milwaukee, it is not only clear that he is the Bucks' top scoring threat, but also that he won't be a sixth man any longer. As for Robinson, he may take a lot of bad shots, but he causes havoc all over the floor and scores in bunches. (Last week: 4)
4. Corey Maggette, Warriors: Coming off the bench is the perfect role for the high-scoring Maggette, who gets to fire away at will with Golden State's second unit. (Last week: NR)
5. Leandro Barbosa, Suns: Phoenix coach Terry Porter has been giving him more minutes lately, resulting in a spike of offensive production. He dropped a season-high 32 points on the Bulls 11 days ago. He has reached double digits in six of his past eight games, including scoring at least 20 four times. (Last week: NR)
Will Bryant Repeat As League MVP?

Awards Watch columnist Maurice Brooks joins Jason Smith to talk about what Kobe Bryant has done to replace LeBron James at the top of the MVP race.
NBA Today