Most Valuable Player Watch
1. Kobe Bryant, Lakers
G
MIN
FG%
3P%
FT%
STL
BLK
RPG
AST
PTS
PER
56
36.6
.472
.355
.871
1.3
0.4
5.5
5.0
27.6
24.9
He scored 28 Sunday against the Wolves to move past Elgin Baylor for 20th on the NBA all-time scoring list. Bryant has 23,164 points, just 13 behind Adrian Dantley for 19th. (Last week: 1 | Team record: 46-10)
2. LeBron James, Cavaliers
G
MIN
FG%
3P%
FT%
STL
BLK
RPG
AST
PTS
PER
54
37.5
.493
.313
.773
1.8
1.2
7.4
7.1
28.7
32.2
He lit up the Bucks on Friday for 55 points, taking just 29 shots, draining 8 of 11 3-pointers and still finding time to give out 9 assists and grab 5 rebounds in a Cleveland win. (Last week: 2 | Team record: 43-11)
4. Dwyane Wade, Heat
G
MIN
FG%
3P%
FT%
STL
BLK
RPG
AST
PTS
PER
55
38.1
.483
.272
.755
2.1
1.4
4.9
7.1
28.8
29.1
Scoring 50 isn't the same anymore. Sunday against Orlando, Wade became the fourth player to score at least 50 in a 20-point loss, joining Dana Barros, George Gervin and Wilt. (Last week: 3 | Team record: 29-26)
5. Tim Duncan, Spurs
G
MIN
FG%
3P%
FT%
STL
BLK
RPG
AST
PTS
PER
53
35.2
.518
.000
.700
0.5
1.9
10.7
3.8
20.7
25.0
First the Spurs had no Manu Ginobili. Then they lost Tony Parker. And now Manu again. Still, they have the West's second-best record, and the reason why is the big man. (Last week: 5 | Team record: 37-17)
6. Brandon Roy, Blazers
G
MIN
FG%
3P%
FT%
STL
BLK
RPG
AST
PTS
PER
51
37.4
.480
.404
.820
1.1
0.3
4.8
5.2
22.8
24.3
He is the leader of the league's second-youngest team, which is in position for its first playoff berth since 2003. He is averaging 26 points and six assists over his past five games. (Last week: 7 | Team record: 35-20)
7. Chris Paul, Hornets
G
MIN
FG%
3P%
FT%
STL
BLK
RPG
AST
PTS
PER
51
37.5
.505
.359
.854
2.7
0.2
5.3
10.8
21.8
30.0
The Hornets have been stung by injuries but Paul has never played better than right now. He has to be thrilled that his alley-oop partner, Tyson Chandler, is back in town. (Last week: 6 | Team record: 33-22)
8. C. Billups, Nuggets
G
MIN
FG%
3P%
FT%
STL
BLK
RPG
AST
PTS
PER
54
34.8
.420
.392
.903
1.3
0.2
2.6
6.1
18.0
19.3
The Celtics just handed the Nuggets their worst loss in 11 years, but if you want to know Billups' worth, look at how Denver has risen this season and how Detroit has fallen. (Last week: 8 | Team record: 37-20)
9. Yao Ming, Rockets
G
MIN
FG%
3P%
FT%
STL
BLK
RPG
AST
PTS
PER
53
32.9
.546
.000
.867
0.4
1.7
9.6
1.7
19.8
23.3
Houston is 15-6 without T-Mac, so just because he is done doesn't mean all is lost. Yao leads a Rockets defense that has held its past four opponents under 89 points. (Last week: NR | Team record: 35-21)
10. Paul Pierce, Celtics
G
MIN
FG%
3P%
FT%
STL
BLK
RPG
AST
PTS
PER
58
37.2
.450
.390
.851
1.0
0.3
5.8
3.8
20.1
18.1
Kevin Garnett is out with a knee injury, but that isn't a problem for Boston, which will simply lean more on Pierce, who has been playing his best ball of the season the past month. (Last week: NR | Team record: 46-12)
Awards Watch:
Preseason
|
Week 1
|
2
|
3
|
4
|
5
|
6
|
7
|
8
|
9
|
10
|
11
|
12
|
13
|
14
|
15
Sixth Man of the Year Watch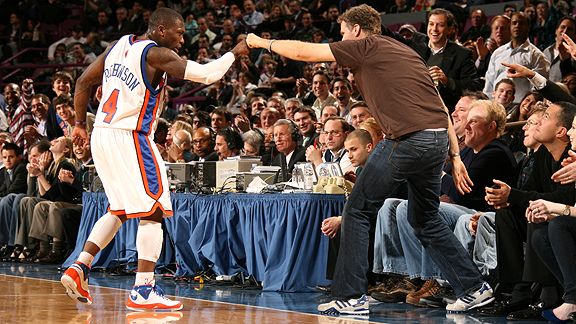 NBAE/Getty Images
1. Nate Robinson, Knicks: Not only has the newly crowned dunk king been performing better than any other reserve over the past six games (averaging 30 points per game), he has played as well as anyone in the league. He had 41 points and eight rebounds against the Pacers on Monday -- the fourth time in the past six games that he has scored at least 30. (Last week: 3)
2. Corey Maggette, Warriors: His average of 19.7 points per game is one point lower than that of Stephen Jackson, Golden State's leading scorer, but Maggette plays almost eight fewer minutes an outing. (Last week: 4)
3. Leandro Barbosa, Suns: Phoenix returning to its run-and-gun ways is good for Barbosa, who is one of the fastest players in the league. He made fantasy owners smile after his 41-point, 7-rebound, 7-assist, 6-steal gem on Friday against the Thunder. (Last week: 5)
4. Richard Hamilton, Pistons: The former All-Star is still capable of filling up the net with his midrange shooting -- he had a three-game stretch of 38, 27 and 30 points, respectively -- but Detroit, which has dropped six straight, is struggling to win games with him in this role. (Last week: NR)
5. (tie) Jason Terry, Mavericks and Manu Ginobili, Spurs: The only reason these two are still on this list is because they had built up such a big lead on the rest of the field prior to their injuries. (Last week: 1 and 2)

1. Derrick Rose, Bulls:
Chicago coach
Vinny Del Negro
sent Rose a clear message in Sunday's loss to the Pacers: If you want to be on the floor, you have to play defense. Rose gave up consecutive baskets to
T.J. Ford
early in the third quarter and found himself on the bench. "He's still young and has to learn defensively," Del Negro said. (Last week: 1)
2. O.J. Mayo, Grizzlies: A month ago, the Cavaliers held Mayo to a season-low six points. He has scored in double digits in 17 straight games since then heading into Tuesday's rematch between Memphis and Cleveland. (Last week: 2)
3. Russell Westbrook, Thunder: The biggest knock on Westbrook is his shooting percentage. He is shooting 41 percent from the field and 30 percent on 3-pointers. But when he has games like he did Saturday against the Warriors (31 points, 11 assists, 5 rebounds), who cares? (Last week: 3)
4. Brook Lopez, Nets: According to The (Newark) Star-Ledger, his free throw percentage of .819 puts him on pace to set the NBA record for rookie centers (100 attempts). Yao Ming shot .811 in 2002-03 and Marc Jackson shot .802 in 2000-01. (Last week: 4)
5. Eric Gordon, Clippers: He has scored in double digits in 30 straight games and even though Los Angeles has gotten healthier, he continues to take and make the big shots. Against the Warriors on Monday, he had 27 points (6-for-7 on 3-pointers), 5 assists and 7 rebounds in a 13-point victory. (Last week: 5)

1. Stan Van Gundy, Magic:
The Magic are 27 games over .500 and have built a 9½-game lead over Atlanta in the Southeast Division. He made newly acquired Rafer Alston the starting point guard in just his second game with the team, easing the loss of
Jameer Nelson
, who had season-ending shoulder surgery on Thursday. (Last week: 1)
2. Mike Brown, Cavaliers: He won 188 of his first 300 games as head coach, placing him behind Phil Jackson (220), Rick Adelman (206), Stan Van Gundy (190) and Rick Carlisle (189) for most wins by active coaches in their first 300 games on the bench. (Last week: 2)
3. Phil Jackson, Lakers: At 46-10, the Lakers have the best record in the league. The have also won 9 of 10 since Andrew Bynum went down with a knee injury. (Last week: 3)
4. Erik Spoelstra, Heat: Miami has already overachieved this season, and now Spoelstra has two new toys -- Jamario Moon and Jermaine O'Neal -- to work with. (Last week: 4)
5. Gregg Popovich, Spurs: Manu Ginobili is out for the next three weeks with an injured right shin, but Popovich has already shown this season that San Antonio can win not only without Ginobili, but also with Tony Parker out of the lineup. (Last week: NR)

ESPN'S NBA AWARDS WATCH
Maurice Brooks, former Race to the MVP columnist at NBA.com, is an NBA editor at ESPN.com.
Defensive Player of the Year Watch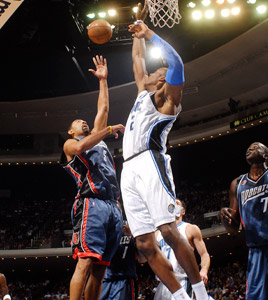 NBAE/Getty Images
1. Dwight Howard, Magic: He is averaging 15 rebounds and four blocks over his past five games. Obviously, he really enjoys playing defense against the Bobcats, turning away 14 shots in two games against Charlotte last week. (Last week: 1)
2. Dwyane Wade, Heat: Yes, defense is about more than just blocking shots, but it is interesting to note that he averages more stuffs per game than the Wallaces (Ben and Rasheed), Kevin Garnett and Chris Bosh. (Last week: 3)
3. LeBron James, Cavaliers: The Cavs are giving up just 90.8 points per game -- fewest in the league -- and the return of Delonte West, who is arguably their best on-ball defender, will only make James more effective playing the passing lanes. (Last week: 2)
4. Kobe Bryant, Lakers: The Lakers have lacked intensity on defense the past few games, but with Bryant leading the way, they always seem to get the crucial stops down the stretch. (Last week: 5)
5. Chris Paul, Hornets: The 2.75 steals are great, the 5.3 rebounds, including 4.4 on the defensive end of the floor from a 6-0 point guard, are even better. (Last week: NR)
Most Improved Player Watch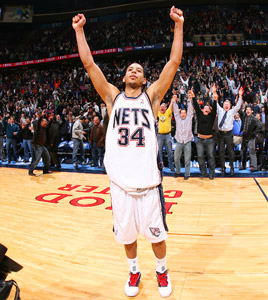 NBAE/Getty Images
1. Devin Harris, Nets: In what seemed like the longest 1.8 seconds for any Sixers fan, Harris hit a game-winning half-court shot to give New Jersey a two-point win over Philadelphia on Monday. The 3-point bomb overshadowed all of the other wonderful things the lead guard did in a 39-point, eight-assist effort. (Last week: 2)
2. Kevin Durant, Thunder: He has scored 30 or more in 12 of the past 16 games, including that 47-point effort against the Hornets a week ago. He is averaging 38 points on 57 percent shooting, 5.7 rebounds and 3.3 assists over his past three games. (Last week: 3)
3. Danny Granger, Pacers: In a touch of irony, Indiana has won five of the seven games its All-Star small forward hasn't played in. Granger, who is averaging 25 points and five rebounds a game, is expected to be out two more weeks with a partial tendon tear in his right foot. (Last week: 1)
4. David Lee, Knicks: Lee, who is averaging 16.6 points and 11.9 rebounds per game, has notched 20 straight double-doubles. His partner in crime, Nate Robinson, is also emerging as a candidate for this award. (Last week: 4)
5. Paul Millsap, Jazz: For one game at least, the return of Carlos Boozer to the Utah lineup didn't hurt Millsap's production. Monday night against the Hawks, Millsap came off the bench to tally 16 points and grab 12 rebounds in 29 minutes. (Last week: 5)

Points per game
Dwyane Wade, Heat (28.8)
NBA scoring leaders
Rebounds per game
Dwight Howard, Magic (14.2)
NBA rebounding leaders

Assists per game
Chris Paul, Hornets (10.8)
NBA assists leaders
Steals per game
Chris Paul, Hornets (2.8)
NBA steals leaders
Blocks per game
Dwight Howard, Magic (3.0)
NBA blocks leaders
Field goal percentage
Nene, Nuggets (.609)
NBA field goal leaders
3-point field goal percentage
Matt Bonner, Spurs (.497)
NBA 3-point shooting leaders
Free throw percentage
Jose Calderon, Raptors (98.1)
NBA free throw shooting leaders
Robinson and Harris On the Move

Awards Watch columnist Maurice Brooks joins Jason Smith to talk about Nate Robinson taking over the top spot in the sixth man watch and Devin Harris doing the same in the most improved player watch.
NBA Today