Most Valuable Player Watch
1. LeBron James, Cavaliers
G
MIN
FG%
3P%
FT%
STL
BLK
RPG
AST
PTS
PER
59
37.4
.490
.333
.773
1.7
1.2
7.3
7.0
28.5
31.8
Despite key injuries to his team, LeBron has Eastern Conference-leading Cleveland -- with Mo Williams the only key addition -- on pace to destroy last season's 45-37 record. (Last week: 2 | Team record: 47-12)
2. Kobe Bryant, Lakers
G
MIN
FG%
3P%
FT%
STL
BLK
RPG
AST
PTS
PER
60
36.4
.474
.342
.866
1.3
0.4
5.6
5.0
28.0
25.4
His 49-point effort in the Lakers' loss to the Suns was the 96th 40-point game of his career, ranking him third in league history behind Wilt Chamberlain and Michael Jordan. (Last week: 1 | Team record: 48-12)
3. Dwyane Wade, Heat
G
MIN
FG%
3P%
FT%
STL
BLK
RPG
AST
PTS
PER
59
38.2
.487
.282
.764
2.2
1.4
5.0
7.4
29.2
29.8
He was the East player of the month after averaging 30.7 points, 8.7 assists and 2.0 steals in 12 games. His fourth quarter against the Knicks on Saturday is the stuff of legend. (Last week: 4 | Team record: 31-28)
4. Dwight Howard, Magic
G
MIN
FG%
3P%
FT%
STL
BLK
RPG
AST
PTS
PER
57
36.2
.572
.000
.600
1.0
2.9
14.1
1.2
20.9
25.8
He has failed to block a shot in two of the Magic's past four games. And the Sixers made him look ordinary Saturday, limiting him to 12 points, eight rebounds and six fouls in 33 minutes. (Last week: 3 | Team record: 43-16)
5. Chris Paul, Hornets
G
MIN
FG%
3P%
FT%
STL
BLK
RPG
AST
PTS
PER
55
37.7
.493
.354
.849
2.7
0.2
5.3
11.0
21.3
29.0
The Hornets have won five in a row, and Paul's fingerprints were on all the victories, highlighted by the season-high 20 assists he posted in a one-point win over the Bucks. (Last week: 7 | Team record: 37-22)
6. Brandon Roy, Blazers
G
MIN
FG%
3P%
FT%
STL
BLK
RPG
AST
PTS
PER
55
37.2
.480
.395
.825
1.1
0.3
4.7
5.1
22.6
24.1
Greg Oden will miss another week thanks to his left kneecap, but Roy has ensured Portland hasn't missed a beat. Facing the Spurs on Sunday, he scored 26 points in just 27 minutes. (Last week: 6 | Team record: 37-22)
7. Tim Duncan, Spurs
G
MIN
FG%
3P%
FT%
STL
BLK
RPG
AST
PTS
PER
55
34.9
.517
.000
.699
0.5
1.8
10.6
3.8
20.5
25.3
He missed three games with a sore right knee. Since his return, he had 14 points and four rebounds in a blowout loss at Portland and 18, 12 and six assists in a win at the Clippers. (Last week: 5 | Team record: 40-19)
8. C. Billups, Nuggets
G
MIN
FG%
3P%
FT%
STL
BLK
RPG
AST
PTS
PER
57
35
.421
.392
.905
1.4
0.2
2.7
6.1
18.5
19.7
He has led the Northwest Division leaders to a 37-18 record since being traded for Allen Iverson, while the Pistons are just 23-28 with A.I. Denver plays at Detroit on Tuesday. (Last week: 8 | Team record: 39-21)
9. Yao Ming, Rockets
G
MIN
FG%
3P%
FT%
STL
BLK
RPG
AST
PTS
PER
57
33
.549
.000
.869
0.4
1.8
9.6
1.6
19.8
23.0
The blame starts with him for Houston's loss to Chicago, as the Rockets failed to hold a 17-point lead with less than six minutes to play. Still, Houston has won seven of eight. (Last week: 9 | Team record: 38-22)
10. Deron Williams, Jazz
G
MIN
FG%
3P%
FT%
STL
BLK
RPG
AST
PTS
PER
46
36
.465
.319
.833
1.0
0.2
2.7
10.5
18.6
20.6
He averaged 23.2 points and 10.9 assists as the Jazz saved their season with a 10-1 February. Against the Warriors, he dished out 20 assists as Utah won its eighth straight. (Last week: NR | Team record: 37-23)
Archive:
Preseason
|
Week 1
|
2
|
3
|
4
|
5
|
6
|
7
|
8
|
9
|
10
|
11
|
12
|
13
|
14
|
15
|
16
Defensive Player of the Year Watch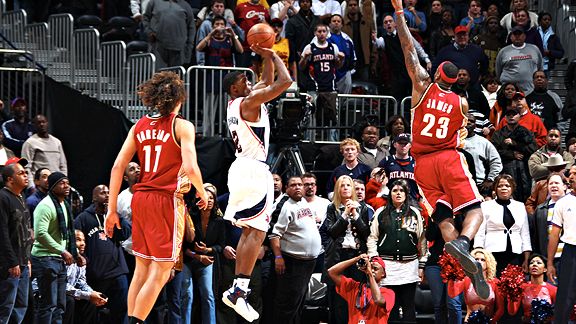 NBAE/Getty Images
1. Dwight Howard, Magic: Howard is second to the Knicks' David Lee in double-doubles (48 for Lee, 47 for Howard), but he still leads the league in rebounds and blocks. (Last week: 1)
2. Dwyane Wade, Heat: He followed up Saturday's four-steal, three-block performance against the Knicks by tallying a career-high seven steals against the Cavs on Monday. (Last week: 2)
3. LeBron James, Cavaliers: In the closing seconds of the Cavs' win in Atlanta on Sunday, Joe Johnson freed himself -- thanks to a solid pick by Al Horford -- from James for what appeared to be a wide-open, winning shot attempt at the buzzer. But James never gave up on the play (as pictured above) and was still able to bother Johnson just enough on the closeout to force the miss. (Last week: 3)
4. Kobe Bryant, Lakers: He hasn't been concentrating on defense the past two games -- he jacked up 31 shots in a loss at Denver on Friday and followed that up with 38 attempts (the highest total for any player this season) in the defeat to the Suns. However, the shooting guard pulled down 19 rebounds in those two contests. (Last week: 4)
5. Chris Paul, Hornets: He had three steals against the Nets on Monday, including two in the final minute that sealed the Hornets' three-point win. (Last week: 5)

1. Derrick Rose, Bulls:
Good news for Rose: Bulls general manager
John Paxson
has instructed head coach
Vinny Del Negro
to keep him on the court during the closing minutes of games. No more sitting and watching
Kirk Hinrich
. (Last week: 1)
2. Russell Westbrook, Thunder: With Kevin Durant and Jeff Green both sidelined, the point guard carried the load and then some against the Mavericks on Monday, notching the first triple-double of his career (17 points, 10 rebounds and 10 assists) in a nine-point win. (Last week: 3)
3. O.J. Mayo, Grizzlies: Although his February shooting percentage of .412 was his lowest for a single month, he continues to produce points, scoring in double digits in 28 of his past 30 games. (Last week: 2)
4. Brook Lopez, Nets: He was named the East's best rook for the second consecutive month after averaging 15.9 points, 8.5 rebounds and 1.7 blocks, and shooting 61 percent from floor, in 10 games. (Last week: 4)
5. Eric Gordon, Clippers: The shooting guard has missed three straight games thanks to a bruised left shoulder. (Last week: 5)
Most Improved Player Watch

1. Devin Harris, Nets:
Not a bad stretch of games for the point guard, who capped a 39-point performance by hitting the game-winner from half court against the Sixers, dropped 42 points on the Bulls and put up 26 points and 14 assists in his head-to-head matchup against
Chris Paul
and the Hornets. (Last week: 1)
2. Kevin Durant, Thunder: The fourth-leading scorer in the NBA at 26 points per game is sidelined with a sprained right ankle. (Last week: 2)
3. David Lee, Knicks: He has reached double digits in points and rebounds in every game but one since Dec. 26. (Last week: 4)
4. Danny Granger, Pacers: According to published reports, the All-Star forward is still two to three weeks away from returning from the partially torn tendon in his right foot. (Last week: 3)
5. (tie) Paul Millsap, Jazz and Charlie Villanueva, Bucks: While Carlos Boozer and Andrei Kirilenko continue to get completely healthy, Millsap has been a nice fallback plan in Utah. (Last week: 5)
Villanueva (16.4 points, 6.6 rebounds) has made the most of injuries to teammates and extended playing time, becoming the No. 2 scoring option behind Richard Jefferson for Milwaukee. The Bucks, at 29-33, are the eighth seed in the East. (Last week: NR)

ESPN'S NBA AWARDS WATCH
Maurice Brooks, former Race to the MVP columnist at NBA.com, is an NBA editor at ESPN.com.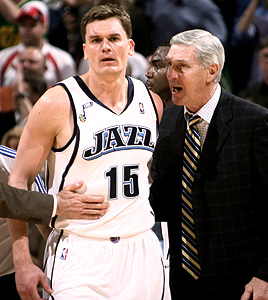 NBAE/Getty Images
1. Stan Van Gundy, Magic: It is not easy working a new player into the lineup, especially replacing an All-Star at the lead guard position. But so far, Van Gundy's crew is off to a 4-2 start with Rafer Alston running the show. (Last week: 1)
2. Mike Brown, Cavaliers: Cleveland gave up just 89 points per game on average en route to a 9-3 February. And thanks to superior execution in the closing minutes against the Hawks and Heat, the Cavs are off to a 2-0 start in March. (Last week: 2)
3. Erik Spoelstra, Heat: The 31 wins Miami has through 59 games already are 16 more than it had last season. (Last week: 4)
4. Jerry Sloan, Jazz: Although his team has suffered countless injuries, the Western Conference Coach of the Month for February has guided Utah to 11 wins in 12 games, including eight in a row, to move 14 games above .500. (Last week: NR)
5. Phil Jackson, Lakers: At 48-12, the Lakers have the best record in the league and are 11-3 since Andrew Bynum went down. (Last week: 3)
Sixth Man of the Year Watch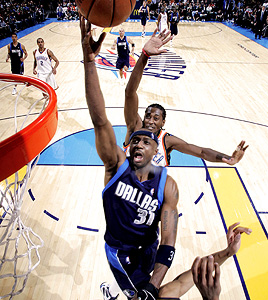 NBAE/Getty Images
1. Nate Robinson, Knicks: Some fans were surprised when the high-scoring guard, who currently has a sprained left ankle, knocked off Dwight Howard in the slam dunk contest a few weeks ago. Holding off Jason Terry for the NBA's Sixth Man of the Year award would be an even bigger upset. (Last week: 1)
2. Jason Terry, Mavericks: After missing eight games with a broken bone in his left hand, the Mavs' second-leading scorer, averaging almost 20 points a game, scored eight against the Raptors on Sunday and 20 against the Thunder on Monday. (Last week: 5)
3. Corey Maggette, Warriors: His scoring average of 19.9 points per game makes him the highest-scoring reserve in the league. He will miss Tuesday's game against the Wolves with a sprained right hand. (Last week: 2)
4. Leandro Barbosa, Suns: He has averaged 17 points per game in his past six contests and started at point guard on Sunday against the Lakers with Steve Nash out. (Last week: 3)
5. Andrei Kirilenko, Jazz: Although his minutes have been down in his seven games since returning from ankle surgery, he still has provided Utah with points, rebounds, assists and his usual tough defense. (Last week: NR)

Points per game
Dwyane Wade
, Heat (29.2)
NBA scoring leaders
Rebounds per game
Dwight Howard, Magic (14.1)
NBA rebounding leaders

Assists per game
Chris Paul, Hornets (11.0)
NBA assists leaders
Steals per game
Chris Paul, Hornets (2.7)
NBA steals leaders
Blocks per game
Dwight Howard, Magic (2.9)
NBA blocks leaders
Field goal percentage
Nene, Nuggets (.608)
NBA field goal leaders
3-point field goal percentage
Matt Bonner, Spurs (.487)
NBA 3-point shooting leaders
Free throw percentage
Jose Calderon, Raptors (98.3)
NBA free-throw shooting leaders