Most Valuable Player Watch
1. LeBron James, Cavs
G
MIN
FG%
3P%
FT%
STL
BLK
RPG
AST
PTS
PER
62
37.5
.488
.339
.769
1.7
1.2
7.4
7.0
28.1
31.2
Cleveland is the league's top 3-point shooting team because of the open looks created by the extra defensive attention given to James. It also helps that he is a great passer. (Last week: 1 | Team record: 49-13)
2. Dwyane Wade, Heat
G
MIN
FG%
3P%
FT%
STL
BLK
RPG
AST
PTS
PER
63
38.5
.495
.316
.764
2.2
1.4
5.1
7.7
29.7
30.5
Seats on his MVP bandwagon are filling up quickly after his 48-point, 12-rebound, winning-shot effort against the Bulls. If Miami wins 48 games, this could get interesting. (Last week: 3 | Team record: 34-29)
3. Kobe Bryant, Lakers
G
MIN
FG%
3P%
FT%
STL
BLK
RPG
AST
PTS
PER
63
36.2
.472
.335
.870
1.3
0.4
5.4
4.9
28.0
25.3
The Lakers have lost three of their past five games, but still are the only team in the league with 50 wins. If voters select the best player on the league's best team, he can repeat. (Last week: 2 | Team record: 50-13)
4. Dwight Howard, Magic
G
MIN
FG%
3P%
FT%
STL
BLK
RPG
AST
PTS
PER
61
36.1
.568
.000
.610
1.0
2.9
14.0
1.1
21.0
25.8
He bullied a Kevin Garnett-less Boston front line for 18 points, 15 rebounds and 5 blocked shots Sunday and followed that up by tallying 27, 14 and 4 in a loss Monday to the Pistons. (Last week: 4 | Team record: 46-17)
5. Chris Paul, Hornets
G
MIN
FG%
3P%
FT%
STL
BLK
RPG
AST
PTS
PER
58
37.7
.495
.343
.855
2.8
0.2
5.3
11.1
21.4
29.1
The Hornets have won 7 of 8 with Paul getting it done on both ends. He is averaging 11.8 assists and 3.4 steals in the past five games as New Orleans tries to catch the Spurs. (Last week: 5 | Team record: 39-23)
6. Brandon Roy, Blazers
G
MIN
FG%
3P%
FT%
STL
BLK
RPG
AST
PTS
PER
59
37.4
.485
.389
.821
1.1
0.3
4.7
5.1
22.9
24.4
He scored 27 in Portland's rout of the Lakers on Monday, and equally as important was the way he stood up to the Lakers' Trevor Ariza after a hard foul on Rudy Fernandez. (Last week: 6 | Team record: 40-23)
7. Tim Duncan, Spurs
G
MIN
FG%
3P%
FT%
STL
BLK
RPG
AST
PTS
PER
58
34.6
.512
.000
.695
0.5
1.8
10.6
3.8
20.1
25.0
He had just five points and five rebounds in a blowout of the Wizards on Friday, but followed that up by posting 17 and 15 with four assists two days later in a win over the Suns. (Last week: 7 | Team record: 42-20)
8. Yao Ming, Rockets
G
MIN
FG%
3P%
FT%
STL
BLK
RPG
AST
PTS
PER
62
33
.543
.000
.867
0.4
1.9
9.7
1.8
19.7
22.9
He has led the Rockets to 11 wins in their past 13 games and has been more active on the defensive end of the floor, blocking a season-high 3.3 shots per game in March. (Last week: 9 | Team record: 42-23)
9. Deron Williams, Jazz
G
MIN
FG%
3P%
FT%
STL
BLK
RPG
AST
PTS
PER
49
36.3
.472
.316
.826
1.0
0.3
2.8
10.6
19.0
21.0
He's averaging almost 20 points and 13 assists in Utah's 11-game win streak and is the No. 1 reason Utah, which was 26-22 at the end of January, now leads the Northwest. (Last week: 10 | Team record: 40-23)
10. C. Billups, Nuggets
G
MIN
FG%
3P%
FT%
STL
BLK
RPG
AST
PTS
PER
62
35.5
.420
.394
.908
1.3
0.2
2.8
6.1
18.7
19.4
The winning touch he brought with him from Detroit is starting to wear off. Denver has dropped four of its past five and surrendered its lead in the Northwest Division. (Last week: 8 | Team record: 40-25)
Archive:
Preseason
|
Wk 1
|
2
|
3
|
4
|
5
|
6
|
7
|
8
|
9
|
10
|
11
|
12
|
13
|
14
|
15
|
16
|
17
Sixth Man of the Year Watch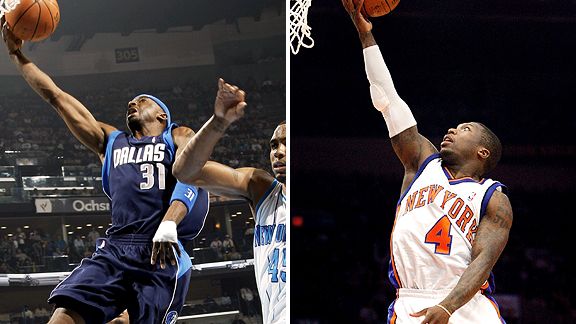 NBAE/Getty Images
Jason Smith, who is an ESPN TV personality and host of AllNight with Jason Smith on ESPN Radio checks in with his top five Sixth Man of the Year candidates.
1. Jason Terry, Mavericks: He scored 33 points against the Wizards on Saturday to vault over Krypto-Nate for the top spot (Hey, when you miss a game, as he did, you miss a lot!). Terry has had a tough time getting back in the groove post-injury, and yes, he is one-dimensional, but that dimension has been too good to keep him from the top spot.
2. Corey Maggette, Warriors: Had he played against Detroit last week, it could be Maggette in the top spot. Consistently 20 points in addition to six rebounds per game, you just wish his field goal percentage were a bit higher.
3. Travis Outlaw, Blazers: His 22 points in a huge win over the Lakers finishes a four-game stretch in which he averaged 18 points and more than five boards a game. He has been in double digits for scoring in nine of his past 10 games. Throw in the couple of 3s and blocks he's had, and suddenly it's no wonder why Portland has won eight of its past 11.
4. Nate Robinson, Knicks: After missing a game with a sprained ankle, Robinson returned in back-to-back games and posted 20 and 17 points to go along with the normal four assists per game he's been tallying. However, Nate's production hasn't translated into the win column for New York.
5. Leandro Barbosa, Suns: Had he not had a 3-for-10 night against the Heat last week, he might be higher (Boy, is this category competitive or what?). He's been getting 30 minutes a night off the bench the past few nights, and scoring 20 per game as a result.
---
Here at Awards Watch headquarters, we rank the top reserves like this:
1. Nate Robinson, Knicks: (Last week: 1)
2. Jason Terry, Mavericks: (Last week: 2)
3. Corey Maggette, Warriors: (Last week: 3)
4. Leandro Barboso, Suns: (Last week: 4)
5. Andrei Kirilenko, Jazz: (Last week: 5)

1. Derrick Rose, Bulls:
The Bulls are in contention for the final postseason berth in the East thanks to the play of their point guard, who has exploded for a total of 50 points, 9 assists and 10 rebounds in their past two games. (Last week: 1)
2. Russell Westbrook, Thunder: No Kevin Durant, no Jeff Green, no problems for the Thunder, who are 4-1 without their star second-year players thanks in large part to Westbrook, who is averaging 17.8 points, 6.4 assists, 6.0 rebounds and 2.0 steals in that span. (Last week: 2)
3. O.J. Mayo, Grizzlies: He is the highest-scoring first-year player (18.9 points per game), followed by Rose (16.7), Westbrook (15.8) and Eric Gordon (15.5). (Last week: 3)
4. Brook Lopez, Nets: The leading shot-blocker among rookies has 118 rejections this season, smashing the Nets' franchise record of 113 set by Kenyon Martin in 2000-01. (Last week: 4)
5. Eric Gordon, Clippers: He missed four games with an injured shoulder, but scored 35 and gave out six assists in his return to action Saturday against the Pacers. (Last week: 5)
Most Improved Player Watch

1. Devin Harris, Nets:
New Jersey has been inconsistent with its play all season, but Harris has been the best point guard in the East since Week 1 (no, I haven't forgotten about Boston's
Rajon Rondo
), a fact that few predicted back in October. He dropped 35 points and 10 assists on the Knicks on Sunday. (Last week: 1)
2. Kevin Durant, Thunder: In a touch of irony, Oklahoma City has won four out of five since do-everything Durant went down with a bum ankle. (Last week: 2)
3. David Lee, Knicks: With teams jostling for playoff spots, New York has lost five of its past six games. Although the team is struggling, Lee is not, notching 47 double-doubles in his past 51 games. (Last week: 3)
4. Danny Granger, Pacers: The stretch of nine games he has missed with a foot injury leaves him with a lot of ground to make up in the MIP watch when he returns to the Indiana lineup, as expected, this week.(Last week: 4)
5. Paul Millsap, Jazz: A colleague sent me a text telling me to take a close look at Bulls forward Tyrus Thomas, who has a Chicago record of 25 straight games with at least one blocked shot, but this spot still belongs to Millsap, who once again finds himself in the Utah starting lineup because of a Carlos Boozer (ankle) injury. (Last week: 5)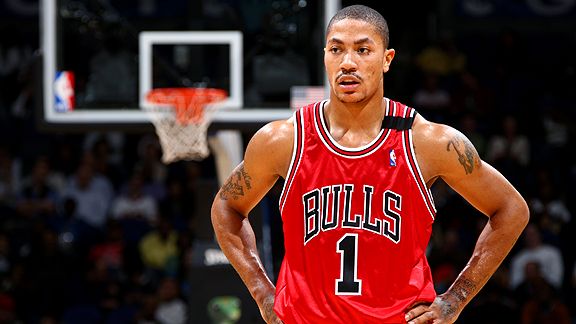 Ned Dishman/Getty Images

ESPN'S NBA AWARDS WATCH
Maurice Brooks, former Race to the MVP columnist at NBA.com, is an NBA editor at ESPN.com.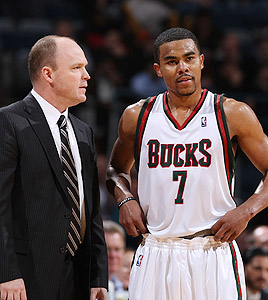 NBAE/Getty Images
1. Stan Van Gundy, Magic: Regardless of how Shaquille O'Neal feels about him, SVG is pushing all the right buttons for the Magic, who knocked off the Celtics on Sunday and are just 3.5 games behind the Cavs for the best record in the East. (Last week: 1)
2. Mike Brown, Cavaliers: Cleveland, which is 21-12 on the road this season, needs one more victory to tie the franchise record set in the 1991-92 season for wins away from home. (Last week: 2)
3. Jerry Sloan, Jazz: The injury bug has bitten the Jazz hard -- causing Carlos Boozer to miss 45 games, Deron Williams 14 and Andrei Kirilenko 10. Jazz owner Larry Miller died a few weeks ago. Through all the adversity, Sloan has been there to hold everything together. (Last week: 4)
4. Erik Spoelstra, Heat: The Heat are five games over .500 and have won 19 games more than they did last season. He has done a good job of working Jermaine O'Neal and Jamario Moon into the rotation. (Last week: 3)
5. Scott Skiles, Bucks: This team, minus Michael Redd, would be the No. 8 seed in the East if the playoffs started today. Really, it would. (Last week: NR)
Defensive Player of the Year Watch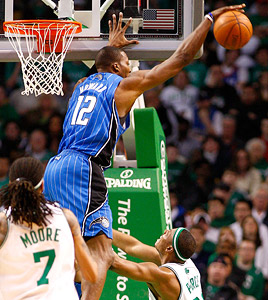 NBAE/Getty Images
There is little change in this week's top five:
1. Dwight Howard, Magic: (Last week: 1)
2. Dwyane Wade, Heat: (Last week: 2)
3. LeBron James, Cavaliers: (Last week: 3)
4. Chris Paul, Hornets: (Last week: 5)
5. Kobe Bryant, Lakers: (Last week: 4)
---
Royce Webb, an NBA editor for ESPN.com, was in Boston on Sunday for Howard's dominating performance against the Celtics. Here are his thoughts on the runaway favorite for Defensive Player of the Year:
Dwight Howard is the Defensive Player of the Year, and it was easy to see why Sunday as Orlando was knocking off the Celtics in Boston -- especially on two late plays that won't show up in his section of the box score.
First, let's briefly focus on what did show up in the box score.
Howard's 13 defensive rebounds kept the Perkins-Davis-Powe combo off the glass -- the three tallied only four offensive rebounds after running roughshod over the Cavs' interior defensive for seven offensive boards Friday night.
More impressive were his five blocked shots, mostly of the volleyball variety. His first one set the tone, landing about six rows back after Perkins dared try a jumper over Howard early in the first quarter. But not all the BLKs found the fans -- in the second quarter, he batted the ball Bill Russell-style to teammate Mickael Pietrus on the wing, then ran the 94 to beat Boston down the floor for a massive two-hand slam five seconds later. It was one of the more impressive end-to-end sequences we'll see all season.
But it was the two late plays that did the most to preserve the Magic's narrow victory.
With about 85 seconds left in the game, Ray Allen, who already had scored 15 in the fourth quarter, made yet another drive to the basket with the Celtics down five (they had been down 22 just minutes before).
As Allen drove and tried to make the sort of runner he had made several times earlier in the quarter, the whistle blew -- shooting foul on Courtney Lee. But Allen and Howard kept playing. A couple of minutes earlier, Allen had made a beautiful teardrop over Howard, but this time Howard got a little closer to Allen and spiked the ball back down to the floor, harmlessly. Allen made his two free throws, of course, but Howard had prevented an extra point that could have been crucial to Orlando's chances, getting a blocked shot that won't show up in the box score.
After Allen's free throws cut the lead to 3, Boston got the ball back with a chance to tie, and Allen ended up with the ball, wide open in the left corner. The man who will probably go down as the greatest 3-point shooter ever needed only to sink a shot that for him is like a layup to complete Boston's incredible comeback.
Howard found himself under the basket and could have stayed there -- that's generally what centers do. Instead, he flew at Allen and made the world's most frightening closeout, forcing Allen to rush the shot just enough to miss it. Dwight's flight was the play that allowed Orlando to maintain its lead and beat Boston for the first time this season.
D-12 will win Defensive Player of the Year because of the numbers. But on Sunday, it was the plays that didn't count that made the difference -- and made it clear who is the DPOY.

Points per game
Dwyane Wade
, Heat (29.7)
NBA scoring leaders
Rebounds per game
Dwight Howard, Magic (14.0)
NBA rebounding leaders

Assists per game
Chris Paul, Hornets (11.1)
NBA assists leaders
Steals per game
Chris Paul, Hornets (2.8)
NBA steals leaders
Blocks per game
Dwight Howard, Magic (2.9)
NBA blocks leaders
Field goal percentage
Shaquille O'Neal, Suns (.603)
NBA field goal leaders
3-point field goal percentage
Anthony Morrow, Warriors (.500)
NBA 3-point shooting leaders
Free throw percentage
Jose Calderon, Raptors (98.3)
NBA free throw shooting leaders
There Is No Quieting the Jazz

Awards Watch columnist Maurice Brooks joins Jason Smith to talk about Jazz point guard Deron Williams, who is climbing up the MVP rankings, while Jerry Sloan is doing the same in the coach of the year watch.
NBA Today