Most Valuable Player Watch
1. LeBron James, Cavs
G
MIN
FG%
3P%
FT%
STL
BLK
RPG
AST
PTS
PER
73
37.9
.487
.338
.769
1.7
1.2
7.7
7.4
28.4
31.7
From the pregame skits to the 15-1 record they posted in March to the 35-1 record at home to the league-best 60-13 record: How fun is it for the Cavs and their leader? (Last week: 1 | Team record: 60-13)
2. Kobe Bryant, Lakers
G
MIN
FG%
3P%
FT%
STL
BLK
RPG
AST
PTS
PER
73
36.4
.466
.340
.863
1.4
0.5
5.4
5.0
27.2
24.6
He has failed to score 20 points in four of his past seven games, but more importantly the Lakers won five of those games and trail the Cavs by just two for the league's best record. (Last week: 2 | Team record: 58-15)
3. Dwyane Wade, Heat
G
MIN
FG%
3P%
FT%
STL
BLK
RPG
AST
PTS
PER
73
38.5
.489
.300
.765
2.3
1.4
5.0
7.5
29.9
30.4
I guess the heavy workload from winning gold this summer and carrying the Heat on his back to the playoffs hasn't worn him down. He averaged 34 points per game in March. (Last week: 3 | Team record: 39-35)
4. Dwight Howard, Magic
G
MIN
FG%
3P%
FT%
STL
BLK
RPG
AST
PTS
PER
71
35.9
.579
.000
.604
0.9
3.0
14.0
1.4
21.0
26.0
He is on pace to join Wilt Chamberlain and Kareem Abdul-Jabbar as the only players with multiple seasons of 20-plus points and 14-plus rebounds with a 55-plus field goal percentage. (Last week: 4 | Team record: 55-18)
5. Chris Paul, Hornets
G
MIN
FG%
3P%
FT%
STL
BLK
RPG
AST
PTS
PER
68
38.1
.500
.347
.872
2.8
0.1
5.4
10.9
22.2
29.8
He set a record for consecutive games with a steal, notched six triple-doubles and posted four games of at least 25 points, 10 assists and 5 steals (rest of league has 3). (Last week: 5 | Team record: 45-27)
6. Brandon Roy, Blazers
G
MIN
FG%
3P%
FT%
STL
BLK
RPG
AST
PTS
PER
69
37.8
.479
.376
.828
1.1
0.3
4.9
5.1
23.0
24.1
He is fourth behind Paul, Bryant and Wade in player efficiency for guards. Let's hope the Blazers clinch a postseason berth soon so he can shave off his playoff-chase beard. (Last week: 6 | Team record: 46-27)
7. Deron Williams, Jazz
G
MIN
FG%
3P%
FT%
STL
BLK
RPG
AST
PTS
PER
59
36.7
.471
.307
.839
1.1
0.3
2.9
10.6
19.0
20.7
He is just 0.3 assists behind Paul for the league lead. After his 24-point, 13-assist performance against the Knicks, he has notched five straight double-doubles. (Last week: 7 | Team record: 46-27)
8. Yao Ming, Rockets
G
MIN
FG%
3P%
FT%
STL
BLK
RPG
AST
PTS
PER
70
33.4
.547
1.000
.870
0.4
1.9
9.8
1.8
19.6
22.7
He is a candidate for West Player of the Month after powering the Rockets to an 11-4 March with averages of 18.6 points, 10.7 rebounds, 2.7 blocks and 2.1 assists per game. (Last week: 8 | Team record: 48-26)
9. C. Billups, Nuggets
G
MIN
FG%
3P%
FT%
STL
BLK
RPG
AST
PTS
PER
71
35.5
.419
.405
.907
1.2
0.2
2.9
6.4
18.1
19.0
He makes players such as Nene and J.R. Smith, who are having career years, better. With eight games left, Denver has a 1.5-game lead on Portland and Utah in the Northwest. (Last week: 9 | Team record: 48-26)
10. Tony Parker, Spurs
G
MIN
FG%
3P%
FT%
STL
BLK
RPG
AST
PTS
PER
63
34
.500
.305
.797
0.9
0.0
2.9
6.9
21.8
23.2
He has replaced Tim Duncan as the No. 1 option in San Antonio. Parker, who was chosen as the West Player of the Week, scored the 10,000th point of his career Sunday. (Last week: NR | Team record: 48-25)
Preseason
|
1
|
2
|
3
|
4
|
5
|
6
|
7
|
8
|
9
|
10
|
11
|
12
|
13
|
14
|
15
|
16
|
17
|
18
|
19
|
20
Defensive Player of the Year Watch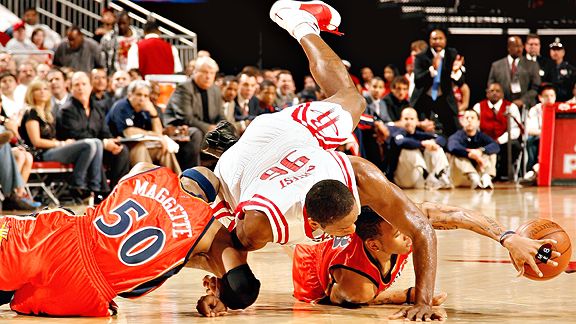 NBAE/Getty Images
1. Dwight Howard, Magic: On a night when the Heat were honoring former defensive standout Alonzo Mourning by retiring his jersey, Howard spoiled the celebration by grabbing 18 rebounds to pass Wilt Chamberlain as the youngest player to grab 5,000 boards in a career. (Last week: 1)
2. Dwyane Wade, Heat: He has at least one steal in his past 17 games, including four Monday night against the Magic. (Last week: 2)
3. LeBron James, Cavaliers: Cleveland is the league's best defensive team, and King James can guard any position on the floor. (Last week: 3)
4. Shane Battier/Ron Artest, Rockets: What team wouldn't want Battier on it? He is a super smart player, one who is always in the right position on defense and is a team leader for Houston. These quotes from the Clippers after going up against Ron-Ron are great: "He's so accustomed to doing that, that's just the way he plays," said Al Thornton about Artest's aggressiveness. "The refs are not going to call the foul every time. That's him. He plays every game like that. No one compares to him. If you go into the game not mentally prepared for him, he'll eat you alive. You know he's going to bring it every possession." Rookie Eric Gordon: "They let him get away with a lot of contact. He plays real physical. It's just crazy you could just move the dude like that. It's crazy how he can maneuver people like that." Coach Mike Dunleavy: "He mugs people every night, whatever you're allowed to get away with. It's good defense unless somebody calls a foul. Certain guys can play certain ways, and he's established that." (Last week: 4)
5. (tie) Chris Paul, Hornets, Tyrus Thomas, Bulls: Paul's 193 steals are 27 more than the tally for Wade, who is second with 166 in five more games. (Last week: 5) Thomas has been on a rebounding and shot-blocking tear. In his past four games, he has pulled down a dozen boards twice, and the league's seventh-leading shot-blocker followed Saturday's seven-block performance by rejecting four more Sunday. (Last week: NR)
Sixth Man of the Year Watch

1. Jason Terry, Mavericks:
Although
Nate Robinson
is matching Terry bucket for bucket, the Jet is scoring his points in meaningful games as Dallas tries to lock up the No. 8 seed in the West and Robinson's Knicks are already planning their summer vacations. (Last week: 2)
2. Nate Robinson, Knicks: Lately, he has been in the news more for bumping officials and getting into confrontations with opponents than for his play on the court. (Last week: 1)
3. Travis Outlaw, Blazers: He plays solid defense, has crazy hops and attacks the basket hard. What's not to like? (Last week: 5)
4. Corey Maggette, Warriors: The struggling forward has missed the past three games with a head injury. (Last week: 4)
5. (tie) Leandro Barbosa, Suns and Paul Millsap, Jazz: Sidelined for the past six games with a bone contusion in his left knee, Barbosa is expected to return to the lineup Wednesday. (Last week: 3)
Millsap has provided the Jazz with what they have needed all season. If he comes off the bench in Utah's remaining nine games, the candidate for Most Improved Player will have played exactly 38 games as a reserve and 38 games as a starter. (Last week: NR)

1. Mike Brown, Cavaliers:
Cleveland has won a franchise-record 60 games and is riding a franchise-record 12-game winning streak. (Last week: 1)
2. Stan Van Gundy, Magic: Interesting note from my man Joel Glass in the Orlando communications department. The Magic, who have now posted back-to-back 50-win seasons and are two-time Southeast Division champions, are 48-1 when leading a game with five minutes to go. (Last week: 2)
3. Rick Adelman, Rockets: He revamped the Houston lineup once Tracy McGrady went down, and the lineup of Yao Ming, Aaron Brooks, Shane Battier, Ron Artest and Luis Scola is more balanced than the one that relied on T-Mac to make plays. (Last week: 3)
4. Jerry Sloan, Jazz: There aren't a lot of coaches who could get away with sitting star forward Carlos Boozer down the stretch of crucial games. With all that Sloan has accomplished, who can second-guess him, really? (Last week: 4)
5. Nate McMillan, Blazers: As well as Joel Przybilla has played, how much longer before McMillan puts Greg Oden back into the starting lineup? (Last week: 5)

ESPN'S NBA AWARDS WATCH
Maurice Brooks, former Race to the MVP columnist at NBA.com, is an NBA editor at ESPN.com.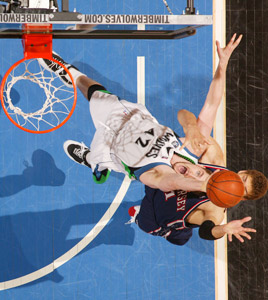 NBAE/Getty Images
1. Derrick Rose, Bulls:
He is on pace to become just the eighth first-year player to have averages of at least 16 points, 6 assists and 3.5 rebounds. (Last week: 1)
2. Brook Lopez, Nets: New Jersey has mailed it in, losing five in a row, but Lopez has continued his strong freshman campaign with averages of 12.2 points, 9 rebounds and almost a block per game during that skid. (Last week: 3)
3. Russell Westbrook, Thunder: Not only has he been shooting poorly from the field but now he is having a difficult time keeping opposing point guards in front of him. (Last week: 2)
4. O.J. Mayo, Grizzlies: Mayo was so good at the beginning of the season that he will still get love from the voters despite dropping off in performance. On a positive note, he had one of his best games Monday against the Warriors, scoring 24 points on 50 percent shooting and giving out a career-high 10 assists. (Last week: 4)
5. (tie) Kevin Love, Timberwolves and Eric Gordon, Clippers: Despite all the losses in Minnesota, Love has been the league's best rookie the past month. He leads all first-year players in double-doubles and rebounds and has scored in double digits in nine straight. (Last week: NR)
A slow first month is the only reason Gordon's points-per-game average isn't closer to that of Mayo, who is the top-scoring first-year player. Gordon puts up points in bunches. (Last week: 5)
Most Improved Player Watch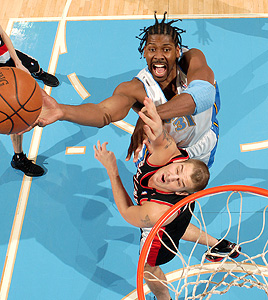 NBAE/Getty Images
1. Kevin Durant, Thunder:
It is natural for a player to improve from his rookie to sophomore season, but Durant has exceeded expectations. Should he not be at the top of this list -- even though he is a much better player this season than a year ago -- just because stardom was expected? (Last week: 2)
2. Devin Harris, Nets: He has struggled with his shot and is averaging just 14 points per game in his three games back in the lineup after a shoulder injury. (Last week: 1)
3. Danny Granger, Pacers: I guess it is safe to say he is all the way over his injury. He has made 30 of his past 60 shots and went off for 28, 32 and 31 points in his past three games. (Last week: 3)
4. Paul Millsap, Jazz: He has teamed with Carlos Boozer to give Utah the best pair of power forwards on one team in the league. (Last week: 4)
5. Nene, Nuggets: There is no official comeback player of the year award, but Nene deserves some type of recognition for the season he has put together. Healthy, he is averaging 14.5 points, 7.7 rebounds and 1.3 blocks and is second in the league in shooting percentage (60.4). Now, if only he would stop head-butting opponents. (Last week: NR)

Points per game
Dwyane Wade
, Heat (29.9)
NBA scoring leaders
Rebounds per game
Dwight Howard, Magic (14.0)
NBA rebounding leaders

Assists per game
Chris Paul, Hornets (10.9)
NBA assists leaders
Steals per game
Chris Paul, Hornets (2.8)
NBA steals leaders
Blocks per game
Dwight Howard, Magic (3.0)
NBA blocks leaders
Field goal percentage
Shaquille O'Neal, Suns (.612)
NBA field goal leaders
3-point field goal percentage
Anthony Morrow, Warriors (.493)
NBA 3-point shooting leaders
Free throw percentage
Jose Calderon, Raptors (97.8)
NBA free throw shooting leaders
Bron-Bron, KB24, Wade and ... D12

Awards Watch columnist Maurice Brooks talks about how Dwight Howard is not only a top MVP candidate but also the overwhelming favorite to win Defensive Player of the Year.
NBA Today