NBA Latino Power Rankings: Week 1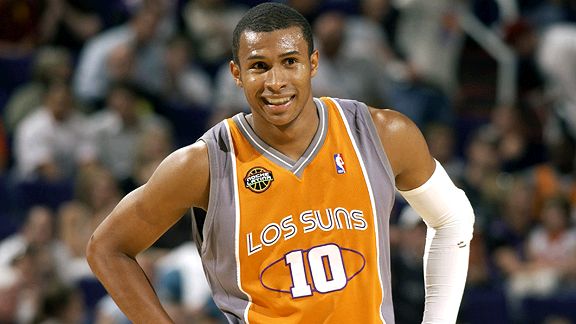 Barry Gossage/NBAE via Getty Images

It's Week 1 of the NBA Latino Power Rankings, which we'll update weekly through the end of the regular season.

We have broadened the term Latino to include both Brazilians and Spaniards, as they are part of the international scope, and their countries are influential and well-recognized in the basketball community. Most of these players took part in the FIBA qualifiers at the American and European levels. Almost all will prepare to compete at the FIBA World Championship in Turkey in August. For that matter, their names are familiar to us not only during the NBA's regular season but also in the international arena. The NBA Latino Power Rankings by ESPNdeportes.com are based on games played through Sunday.
1. Leandro Barbosa
G
MIN
FG%
3P%
FT%
STL
BLK
RPG
AST
PTS
PER
3
29
.563
.455
.667
0.7
0.0
1.7
1.3
15.7
15.9
Barbosa has peaked in the first three games he's played, making the best of his starting opportunity due to Jason Richardson's two-game suspension.
2. Al Horford
G
MIN
FG%
3P%
FT%
STL
BLK
RPG
AST
PTS
PER
2
36.5
.536
.000
.800
0.0
3.5
14.0
2.0
17.0
23.3
Horford begins his second season the way he ended his rookie season: being a vital part of the Hawks' starting unit. The Dominican-born player will continue to be a big factor for Atlanta.
3. M. Ginobili
G
MIN
FG%
3P%
FT%
STL
BLK
RPG
AST
PTS
PER
3
23.7
.448
.231
.750
1.0
0.0
2.7
3.7
13.7
22.9
After season-ending injury last season, the Argentine has returned to his usual self as a vital part of the unbeaten Spurs' offense. Plus, on Halloween he showed his abilities as a bat catcher.
4. Marc Gasol
G
MIN
FG%
3P%
FT%
STL
BLK
RPG
AST
PTS
PER
2
27.5
.706
.000
.889
1.5
2.0
11.0
1.0
20.0
37.5
Gasol has been solid in his three games with the Grizzlies, even though they have lost two of them. He is averaging 20 points per game with solid performances.
5. N. Hilario
G
MIN
FG%
3P%
FT%
STL
BLK
RPG
AST
PTS
PER
2
35
.500
.000
.500
1.0
1.0
8.5
0.0
11.5
11.1
Nene has excelled in all three Nuggets wins on both defense and offense. The Brazilian is doing a fine job under the boards and is a great complement to Denver's solid offensive game.
6. A. Varejao
G
MIN
FG%
3P%
FT%
STL
BLK
RPG
AST
PTS
PER
4
31.5
.407
.000
.889
2.0
0.8
7.5
1.0
7.5
13.2
Shaquille O'Neal's arrival in Cleveland has taken away both minutes and shine from the Brazilian's game. But Varejao is still a force on the Cavaliers and one of the reasons they had the best record in the NBA last season.
7. Luis Scola
G
MIN
FG%
3P%
FT%
STL
BLK
RPG
AST
PTS
PER
3
25.3
.452
1.000
.500
1.0
0.3
7.0
1.0
10.7
12.2
Scola is part of the miracle workers in Houston, and although his numbers in the season's first few days have not been that impressive, Scola is one of the best players at his position in the Americas. I believe his production will improve in the next few weeks and he will be one of the top Latinos all season.
8. J.J. Barea
G
MIN
FG%
3P%
FT%
STL
BLK
RPG
AST
PTS
PER
3
21
.450
.500
.933
0.3
0.0
3.3
3.3
11.3
21.1
Barea will get his minutes and keep contributing points as the Mavs' seventh or eighth player all season. He hit double digits twice this past week and will keep up that performance.
9. R. Fernandez
G
MIN
FG%
3P%
FT%
STL
BLK
RPG
AST
PTS
PER
3
26.7
.522
.357
.800
1.3
0.3
3.0
1.3
12.3
19.3
The Spanish-born shooting guard had a very good game against Denver, but his numbers dropped in the next two. Still, he's capable of putting good numbers consistently.
10. C. Arroyo
G
MIN
FG%
3P%
FT%
STL
BLK
RPG
AST
PTS
PER
2
15.5
.333
.000
.000
0.0
0.0
1.5
2.0
2.0
3.4
Arroyo was a late signing by the talent-rich Heat at the guard position. On Sunday, he made good of the minutes he's been given, scoring 12 points in only 16 minutes of action to earn his share in the top 10 this week.
11. J. Calderon
G
MIN
FG%
3P%
FT%
STL
BLK
RPG
AST
PTS
PER
2
33
.368
.200
.714
0.5
0.0
2.0
7.0
10.0
7.1
After the Raptors' season ended, Calderon had surgery so he could return in his best form. So far this season he's done well in a unit that includes Chris Bosh and Hedo Turkoglu, who will take some shine from the Spaniard.
12. C. Villanueva
G
MIN
FG%
3P%
FT%
STL
BLK
RPG
AST
PTS
PER
3
24.7
.370
.333
.750
0.0
1.0
4.0
0.3
9.0
6.8
Even though his wallet is thicker this season, Villanueva has had his playing time cut short at Detroit. I believe he is one of the top forwards of the Latino crop, so look for him to shine in the next few weeks as he grows into more of a key player.
13. A. Nocioni
G
MIN
FG%
3P%
FT%
STL
BLK
RPG
AST
PTS
PER
3
22
.364
.273
.600
0.3
0.3
3.3
0.7
7.3
9.0
The Argentine is one of three Latinos on the Kings' roster, and like the other two, he has to make the best of his stay. He had a good game against the Hornets, scoring 16 points in 24 minutes.
14. S. Rodriguez
G
MIN
FG%
3P%
FT%
STL
BLK
RPG
AST
PTS
PER
3
7
.286
.500
.000
0.3
0.0
1.0
1.0
1.7
6.7
Although Francisco Garcia's injury could lead to more playing time for the Spanish-born guard, he saw very limited action this week. Still, he can shine if given playing time, even if he is playing in Sacramento.
15. E. Najera
G
MIN
FG%
3P%
FT%
STL
BLK
RPG
AST
PTS
PER
2
14.5
.333
.000
.500
0.5
0.0
4.0
1.5
3.0
11.1
The Mexican forward returns to action after almost a full season off thanks to injuries. He saw limited action in the Nets' first three games but can contribute as a support player if healthy.
16. F. Oberto
G
MIN
FG%
3P%
FT%
STL
BLK
RPG
AST
PTS
PER
3
19.7
.750
.000
1.000
0.0
0.0
2.7
2.7
4.3
10.1
Oberto's contribution has been very low in the Washington Wizards' first three games of the season, even though he has seen a fair share of minutes. I believe he is capable of more.
17. C. Delfino
G
MIN
FG%
3P%
FT%
STL
BLK
RPG
AST
PTS
PER
1
20
.286
.333
.000
0.0
0.0
3.0
1.0
5.0
4.1
Delfino has seen very limited action to qualify his ranking fairly. But in the 20 minutes he played against Detroit, his numbers were below what he is capable of doing. We will wait longer before passing judgment on the Argentine's performance.
NR. Pau Gasol
G
MIN
FG%
3P%
FT%
STL
BLK
RPG
AST
PTS
PER
-
-
-
-
-
-
-
-
-
-
-
Pau has missed all three Lakers games this season because of a hamstring injury. But when the Spaniard is cleared to play, he will be a top-10 player, as the center-forward is one of the mainstays of the NBA champions.
NR. F. Garcia
G
MIN
FG%
3P%
FT%
STL
BLK
RPG
AST
PTS
PER
-
-
-
-
-
-
-
-
-
-
-
Garcia, from the Dominican Republic, broke his wrist during the preseason and won't be available for at least three months. The way the Kings started the season, he can consider taking his time.
*NR = Not Rated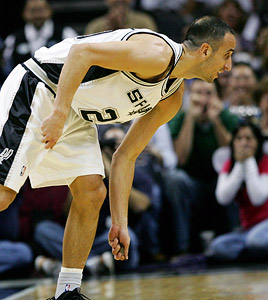 NBAE/Getty Images
By Henry Abbott
If you have an internet connection (and I know you do) then you have undoubtedly already seen the amazing Manu Ginobili defending innocent NBA games from evil Halloween bat assaults.
It's a great thing. I mean, honestly, have you ever been in an enclosed space with a bat? Did you bare-hand it out of the sky? Did it even occur to you to try? We live in a world that addresses that by opening the window and leaving the house. Or pillow cases and lacrosse sticks and all that. But just snagging it? That's what Kobe Bryant was talking about in "Kobe Doin' Work." When Manu appeared on the screen, Bryant says, with meaning, "that's a bad boy right there."
Watch again, and this time look at Kevin Martin, raising his arms in self defense. That's what any normal human would do.
There are three parts of that video that I feel are especially important:
• Ginobili lulls the bat into a false sense of security by pretending to scratch an itch on his neck. (In fact, that's a total lie. He had no idea where that bat was. Then he reacts and pounces before the bat could fully exit the range of his arms. On his first try. Not even cats can do that. Somewhere in there is why he's in the NBA and you -- and your cat -- are not.)
• After hitting it, it's down. Stunned, or dead, depending whom you ask. But it's lying there on the court. I'm thinking a lot of people, at this point, would appeal for help, literally not wanting to get their hands dirty. Not Manu. He's over there to finish the job. No hesitation. Picks the little potential-rabies-carrier up, grins, and celebrates. He's no neat freak. (Side note: In May 2008, there was a mouse in Manu Ginobili's laundry in the Spurs' locker room. At the time Mike Monroe quoted Ginobili on MySanAntonio.com saying "I guess I've got to do laundry more often.")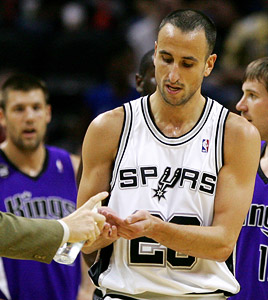 NBAE/Getty Images
• The hand sanitizer. Honestly, that's what I'd buy stock in these days. For one thing, it's riding a tidal wave of swine flu-induced popularity. But that's not enough. "After saving the whole town from invasion, and with little regard for my own safety," they could have Ginobili saying in the commercial, "just a couple of squirts and I'm on my way, germ-free."

Host Ryen Russillo shares his thoughts on the first week of the season and Marc Stein stops by to discuss the latest power rankings on the "NBA Today" podcast.
Listen to the podcast
ESPN NBA.com Fantasy Basketball

The best fully featured and totally free fantasy game around. Whether you're a fantasy fanatic or just a fan of basketball, ESPN has everything you could want and even a few extras you didn't expect.
For notes on Sunday's games and tips for your Monday night lineups, check out ESPN.com's fantasy basketball blog.

Leandro Barbosa, Suns (from Keith Lipscomb): He's going six rounds later than Ray Allen, but the production he offered after coach Alvin Gentry took over last season (16.8 points, 3.0 rebounds, 3.0 assists, 1.5 3s, 1.6 steals, .497 field-goal percentage, .865 free-throw percentage) is quite comparable to what Allen can supply.
More on Leandro Barbosa (from Brian McKitish): The last time Barbosa played for an up-tempo offense, he averaged 18.1 points, 1.2 steals and 2.4 3-pointers. He won't be that good this season, but he'll be a steal in Round 9 or later if he even comes close to approaching those numbers.

Andres Nocioni, Kings (from Josh Whitling): With Francisco Garcia sidelined for several months because of a broken hand, the Kings signed Desmond Mason as a stopgap, and Mason likely will be the opening-night starter at small forward. But Mason won't be nearly as effective or earn as many minutes as Garcia would have, opening up playing time and opportunity for Nocioni, who averaged two 3s per game in his 21 games with the Kings last season. They'll desperately need scoring to help Kevin Martin, as well as 3-point shooting to stretch the floor, and Mason is awful from behind the arc. Nocioni could be among the league leaders in 3s, is fantastic from the free-throw stripe and tosses in the occasional steal and block as well. Throw in the fact that he's arguably the Kings' best two-way player and has never averaged more than 27 minutes per game, and Nocioni is easily set to outperform all expectations.