1. Celtics' Message: We're Not Going Anywhere
By
Brian Robb
| ESPN.com/TrueHoop Network
BOSTON -- The wins keep piling up, but the trade winds won't stop blowing into the TD Garden.
With a 116-95 demolition of the Los Angeles Lakers Thursday night, the Celtics dealt Kobe Bryant his worst loss of the season while tying their season high with a six-game winning streak. Kevin Garnett became the 16th player in NBA history to score 25,000 points in the win, highlighting what should have been a banner night for the hosts as they ran their rivals out of the building with a third-quarter scoring onslaught.
Yet after the game, the atmosphere in the Boston locker room wasn't completely jovial. It's not often you hear players feel the need to address trade rumors in the midst of a six-game winning streak, but that's exactly what happened Thursday night. Garnett closed his news conference with an unprompted statement about his status and future in Boston.
"On a last note, I just want to say that I love my situation here," Garnett said. "I don't know what y'all sources or whoever's making up these bulls--- a-- articles about me getting traded to Denver and all these other places. But I bleed green and I continue to do that. And if it's up to me then I'm going to retire a Celtic. So I just want everybody to know that, all right?"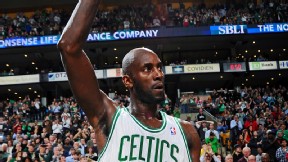 Brian Babineau/NBAE/Getty ImagesKG has more than 25,000 reasons to celebrate.
It was a strong declaration by Garnett, with the threat of Celtics president of basketball operations Danny Ainge blowing up this team's core still hanging over Garnett's head. Ainge remains adamant that dealing either Garnett, who has a no-trade clause, or Paul Pierce is unlikely, but there's no doubt he is exploring his options with an eye toward the future for this group. The question now is whether this injury-ridden roster can prove to Ainge that he should stand pat and let this group, led by the veteran duo, take another shot at a deep playoff run.
"I don't know what Danny and upper management has up their sleeves as far as making this team better. But we as players can only control us," Garnett said.
Reloading, not rebuilding, was the plan this summer once Ainge coaxed Garnett into pushing off retirement. By surrounding Garnett, Pierce and Rajon Rondo with a talented supporting cast signed to long-term deals, the hope was Boston could compete once again with the top contenders in the Eastern Conference.
Despite universal acclaim for Ainge's moves, the new-look Celtics failed to click for a variety of reasons over the first half of the season, stumbling to a 20-23 record. A host of uninspiring efforts led to Doc Rivers' threatening the possibility of "getting guys out of here" after a game against Detroit on Jan. 18. Days later, Rondo tore his ACL, seemingly putting the death knell in the Celtics' season. Whether the Celtics could even make the postseason became the more pressing question, as any dreams of Boston remaining a threat in the Eastern Conference vanished to most fans.
After the injury to Rondo, common wisdom also said Ainge should look to deal the aging Pierce and Garnett (if he signed off on a deal to a contender) to maximize their value and improve Boston's future outlook. Yet as the rumors continue to float around Garnett and Pierce, the Celtics are quietly playing their best basketball of the season with their undermanned roster.
With no healthy natural point guard on the roster, Rivers has turned to a new-look spread offense that allows newer players like Jeff Green, Jason Terry and Leandro Barbosa to shine in the open floor.
"Right now we are in a rhythm; we are moving the ball," Garnett said. "I know I kind of sound like a broken record, but we are continuing to consolidate the ball and everybody's touching the ball and playing with a lot of confidence. We are playing together on both ends, and that's important right now."
Aided by the return of Avery Bradley last month, Boston's defense has also returned to its usual top form, pestering opponents into tough shots, turnovers and inefficient offense.
With the six straight wins, including ones over the Heat and Clippers, Boston's veteran core appears to be sending a message to the league, and perhaps more important, to the team's front office: We don't want to go anywhere, and we can still make some noise.
"We got a lot of talent in this locker room," Pierce said. "We're fine with flying under the radar, no expectations, everybody not expecting anything from us. We're going to just keep moving along and try to get better."
Rivers points to his team's unwavering confidence for its success.
"Our guys just think they're good," he said. "They are going to keep playing. They never doubted themselves. Other people did, and they should have really when you lose guys like Rondo and [Jared] Sullinger. I get that. The guys in the locker room like what they are."
"It's typical Celtics basketball," Bryant explained. "They all just put their hard hats on, and they go out and go hard and figure things out. It always just seems like whenever their backs are against the wall, you know that's when you really see the best from them. Then they perform and step up and play well, just like they did last year. They made that playoff run ... that's just what this team does. They kind of rope-a-dope you a little bit."
Despite Bryant's praise, the jury is still out on whether Pierce, Garnett & Co. will have a chance to make that playoff run together.
With each win though, the case becomes stronger that this is a team Rivers has going up and not one that Ainge should be blowing up.
Brian Robb's work appears on Celtics Hub. Follow him @celticshub.
Dimes past: Jan. 24 | 25-26 | 27 | 25-26 | 27 | 28 | 29 | 30 | 31 | Feb. 1-2 | 3 | 4 | 5 | 6
2. Around the Association
| | | | | |
| --- | --- | --- | --- | --- |
| Los Angeles Lakers | 95 | FINAL | 116 | Boston Celtics |
---
MVP: Paul Pierce led the Celtics' third-quarter onslaught, scoring 12 of his 24 points on 5-of-6 shooting and notching four of his six assists in the third quarter. A nostalgic performance on a nostalgic night.
That was ... well-deserved: Kevin Garnett surpassed 25,000 career points tonight in front of a roaring Boston crowd. The Celtics' blowout win punctuated a night of celebrating Garnett's sparkling career achievements and the way he's helped evolve the power forward position. Congratulations, KG.
LVP: Dwight Howard, wearing a protective shell to alleviate the pressure in his injured shoulder, did little to hide the fact that he was a shell of his former self. He finished with nine points, nine rebounds and six fouls.
| | | | | |
| --- | --- | --- | --- | --- |
| Chicago Bulls | 96 | FINAL | 128 | Denver Nuggets |
---
MVP: Kenneth Faried was all over the court. He scored 21 points on 9-of-10 shooting, grabbed 12 rebounds (four offensive) and recorded two steals in less than 26 minutes.
LVP: There were a lot of Bulls in the running for this one, but Rip Hamilton takes it. He shot 1-for-7 (14.3 percent) and somehow recorded a minus-28 in his 17 minutes of action.
That was ... the worst defensive performance for the Bulls in a while: The Nuggets shot 58.1 percent from the field and scored 128 points. That is the most points the Bulls have given up under Tom Thibodeau.
3. Thursday's Best
Mile-High Magic:
The Manimal was in full effect, and Wilson Chandler couldn't miss from long range in Denver. Kenneth Faried finished with 21 points and 12 rebounds, and Chandler was 5-for-5 from deep for 24 points as the Nuggets shot 58 percent in a blowout of the Bulls.
4. Thursday's Worst
Lakers in Beantown:
Aside from Kobe Bryant, who scored a team-high 27 points but had zero assists, L.A.'s next-leading scorer was Jodie Meeks with 13. Dwight Howard and Steve Nash added just nine points each as the Lakers could never get going against the Celtics.
7. Quote Of The Night
"It always feels good when you can give them a little old-fashioned beatdown in your house."
-- Paul Pierce, on the Celtics' 116-95 win over the Lakers Thursday night in Boston.
8. Such Great Heights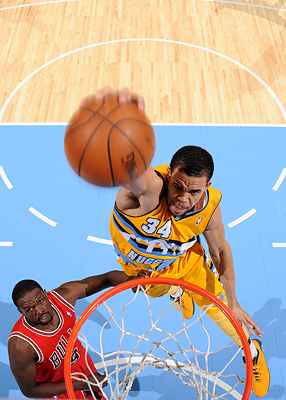 Garrett W. Ellwood/Getty ImagesJaVale McGee was playing above the rim all night for the Nuggets. Luol Deng had a front-row seat.
9. Stat Check
Kenneth Faried made 9 of 10 shots and Wilson Chandler went 8-for-9 (including 5-for-5 on 3-pointers) in Denver's win over Chicago on Thursday. Over the last eight seasons, there's been only one other game in which teammates each made at least eight field goals while missing no more than one apiece, and Chandler was involved in that one also: On Nov. 12, 2008, New York defeated Memphis, with Chandler going 11-for-12 and Nate Robinson making all eight of his shots.