5. Eastern Conference

Some trade items in the East to keep track of in addition to the Carlos Boozer/Andrea Bargnani talks ESPN.com reported Thursday:
• The Sixers, sources say, are open to a shake-up as they continue to wait for the return of Andrew Bynum to give All-Star point guard Jrue Holiday some badly needed help. I'm told Philly, as such, is shopping (or at least making calls to gauge the value of) swingman Evan Turner.
• My ESPN colleague Chris Broussard filed some newsy dispatches Friday, reporting that the Nets and Bobcats have discussed a Kris Humphries-for-Ben Gordon swap while also asserting that the likelihood of Atlanta dealing free-agent-to-be Josh Smith is rising.
It's still a tricky call for the Hawks, given their longstanding reluctance to take on money in a Smith trade and thus squander not only some of this summer's precious salary-cap space but also because they'd be giving up their lead Dwight Howard recruiter. The subsequent scuttle, furthermore, that I heard from one interested team: Atlanta wants a quality young center in return in the event it does decide to part with Smith before the deadline.
• To clarify some tweeting from earlier this week, Milwaukee was indeed shopping center Samuel Dalembert before his 35-point, 12-rebound eruption in just 27 minutes Tuesday night at Denver. The reality, though, is that the Bucks could end up moving any number of players before the Feb. 21 trade deadline, with Beno Udrih -- like Ellis -- also available out of the Bucks' backcourt.
P.S. Dalembert's 35 points were a career high in his 754th regular-season game. According to the Elias Sports Bureau, no other player in league history has played 600 regular-season games before his first 30-point game. The next-highest total to Dalembert's is the 584 games logged by Fred Roberts before Roberts, also for the Bucks, finally cracked the 30-point plateau on April 2, 1991.
---
Some numbers of note in the East this week:
13: LeBron James is the 13th-highest-paid player this season at $17.5 million, more than $10 million below Kobe Bryant's 2012-13 salary. Read this excellent Kevin Pelton piece to dig deeper into the matter.
23: Wednesday's Miami/Houston shootout was the first non-overtime game in nearly 23 years to feature three players with at least 30 points, 5 rebounds and 5 assists. LeBron and Dwyane Wade got there for the Heat; James Harden countered with 36 points, 12 rebounds and 7 assists for the Rockets. The last time that happened in a regulation game was March 14, 1990, when the Lakers' Magic Johnson combined with Philadelphia's Charles Barkley and Johnny Dawkins to hit the 30-5-5 benchmarks.
20: New York's Tyson Chandler became the first player to collect exactly 20 rebounds in three straight games since Kareem Abdul-Jabbar in 1970-71. Both Abdul-Jabbar, then with Milwaukee, and Houston's Elvin Hayes pulled that off during the 1970-71 season.
41: The Bulls had won a whopping 41 games in a row when scoring at least 100 points -- tied for the longest such streak in NBA history -- before's Monday's loss at Indiana in a game postponed by heavy snow on the day after Christmas.
10: Cleveland's out-for-the-season Anderson Varejao still has the season's longest run of games with 15 or more rebounds, at 10 in a row, after Houston's Omer Asik was held to 14 boards in Miami after five straight 15-or-better rebound games.
---
What a difference three years makes. It emerged on New Year's Day in 2010 that an unsavory round of the card game Bourre on the Wizards' team plane led to the guns-in-the-locker room nightmare that changed the course of Gilbert Arenas' career. In February 2013? A press release pops into your inbox inviting you to cover a "Pro Athlete and Celebrity Invitational Bourre Tournament" at All-Star Weekend in Houston, touting Pacers swingman and All-Star debutant Paul George as the host. … It was a big week for former Sixers general manager Brad Greenberg. Coaching Maccabi Haifa in Israel since leaving the college ranks, Greenberg and NBA prospect Gal Mekel had Haifa leading mighty Maccabi Tel Aviv with six-plus minutes to go in the fourth quarter of Thursday night's State Cup final before the perennial European powerhouse with the far bigger budget rallied to pull out a 76-68 triumph. Mekel had 28 points on the big stage and remains on course to get his NBA shot in summer league.
6. That's The Ticket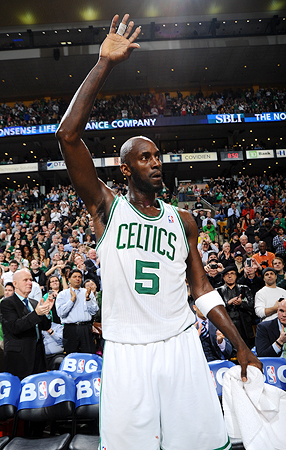 Brian Babineau/Getty ImagesKevin Garnett salutes the Boston Garden crowd during Thursday's rout of the rival Lakers after crossing the 25,000-point plateau. (See Box 7)
7. Select Club(s)
Garnett
Kevin Garnett has made it clear, over and over in recent days, that he wants to retire as a Boston Celtic.
Whether he does or not, KG is ultimately going to leave this game in the next few years remembered as an absolute pioneer for what he's achieved jumping straight from high school to the NBA in 1995.
As our good friend Sean Grande noted via Twitter on Thursday night after his radio call of Garnett crossing the 25,000-point threshold, we've never seen anyone like this guy statistically. Put aside all the dramas, hard fouls and occasional turnoffs of KG's win-at-all-costs mentality -- as well as all the recent KG trade speculation -- and let these numbers, courtesy of Grande, sink in: Garnett is the only player ever with at least 25,000 career points, 10,000 rebounds, 5,000 assists, 1,500 blocks and 1,500 steals.
Boston's No. 5, furthermore, is officially the 16th member of the NBA's 25,000-point club. It probably won't surprise you to hear that, of the other 15 members, 13 are already in the Naismith Memorial Basketball Hall of Fame, with the other two headed there as soon as they're eligible: Kobe Bryant and Shaquille O'Neal.
All of the above is why, so soon after his heated exchanges with Carmelo Anthony and all the latest talk about Boston potentially asking Garnett to waive his no-trade clause to send him to the Clippers, I can't stop myself from descending straight into nostalgic sap mode and rewinding all the way to the fall of 1995. Something tells me that I've probably told this story before, but I'll never forget covering one of Garnett's first exhibition games in the NBA and seeing Cal State Fullerton's Cedric Ceballos throw one down right over the skinny teenager, prompting Club Ced to wheel away mouthing "not ready, not ready" to the Great Western Forum crowd.
It was the first and last time that I can remember anyone being able to say that about Kevin Garnett.
He was a mere 19 years and 168 days old when he made his official NBA debut on Nov. 3, 1995. Here's one more impressive stat: Garnett is up to third all-time in NBA scoring, some 17 years and change later, when it comes to players who didn't play collegiately.
Here's how that club breaks down:
All-Time Top Scorers Who Didn't Play In College
| Name | Points |
| --- | --- |
| Kobe Bryant | 30,881 |
| Moses Malone | 27,409 |
| Kevin Garnett | 25,009 |
| Dirk Nowitzki | 24,427 |
| LeBron James | 20,309 |
| Tracy McGrady | 18,381 |
| Pau Gasol | 15,343 |
8. Chatter Box
In his weekly visit with the NBA on ESPN Radio studio show, Marc Stein joins host Marc Kestecher to discuss the latest on the Carlos Boozer/Andrea Bargnani trade talks, Boston's latest leanings leading up to the Feb. 21 trade deadline and all the latest drama in Lakerland.
Click here to hear the audio

9. Alternative Listening
Marc Stein drops by the Ben & Skin Show on ESPN Radio in Dallas (103.3 FM) to weigh in on the collective vow this week from Mavericks players not to shave their beards until the 21-28 outfit claws back to .500 ... as well as all the freshest drama in Lakerland that the Big D talk-show hosts can't resist dissecting..
Click here to hear the audio

10. Corner 3
Three quick slams and dunks from the deepest recesses of Weekend Dimedom:

1. The slumping Grizzlies have clearly bought into all the external chatter suggesting that new ownership broke up a championship contender by trading away Rudy Gay. That's even though I can't remember anyone (A) picking them to so much as win the West this season or (B) ever describing Memphis as a Superteam before Gay was dealt to Toronto. I'd argue, furthermore, that the stage for a sulky locker room was largely set by Lionel Hollins, who has continually made his displeasure with the trade obvious, which continues to stun me because Hollins is in the final year of his contract and has been publicly lobbying for a contract extension since before Michael Heisley sold the team to Robert Pera. Hard to knock Hollins' unvarnished honesty, I guess, but I tend to think that the Griz might have been able to rally around the idea of integrating Tayshaun Prince and realizing that their ceiling for this season really hasn't changed if their coach could bring himself to do so. That didn't happen until Friday night, before Memphis' home game against Golden State, when Hollins finally announced: "Me, as a leader, has to bring a spirit of work and togetherness."

2. Better without Rajon Rondo? No. Playing harder -- and happier -- without everything revolving around Rondo and his, uh, moods? Hard to argue against the claim that life around the Celtics is simply lighter these days when you see them lock in, win six in a row without the All-Star point guard and move the ball better than they have all season. The Celtics, for the first time in ages, really look like a team. The numbers during the win streak back it up, with Paul Pierce averaging nearly 18 points, 10 boards and six assists in the six straight W's and Jeff Green and Jason Terry shooting lights out.

3. The news that Usain Bolt is playing in the annual Sprint NBA All-Star Celebrity Game immediately turned it into a must-see extravaganza for the 9- and 6-year-old Bolt fanatics residing at Stein Line HQ. Dad has a question, though: Why couldn't Michael Jordan commemorate his forthcoming 50th birthday by joining in? Would love to see if MJ could still score on Bruce Bowen.