Firing Woodson Won't Solve Knicks' Woes
For a while now, the firing of New York Knicks' coach Mike Woodson has become a "when," not an "if," conversation.
Whether it happens before the All-Star break, after the All-Star break or after the season, there is almost certainly going to be a new coach for New York. The Knicks' front office knows this, or at least it seems like it does, already quietly reaching out to potential candidates to gauge interest. The Knicks players appear to know it, both publicly and privately grumbling about Woodson's strategies and methods.
Woodson himself probably knows it, too. Frankly, it's a credit to him that he appears to have kept a positive outlook despite this months-long march to resolution. He's been dogged in defending his decisions and insisting there is time for the Knicks to improve enough to make the playoffs, which there certainly is.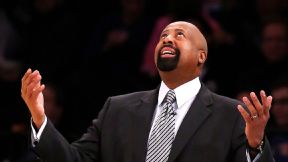 Al Bello/Getty ImagesThere are few places left where embattled Knicks coach Mike Woodson can appeal for help.
Woodson took over the Knicks in March 2012, and a quick improvement earned him the job full-time. His experience is telling him to keep working and keep fighting because the length of the season affords many chances. He's also got his future to think about, and melting down under this pressure, which probably has been tempting, will not help that.
But starting with Sunday's game at the hot Oklahoma City Thunder (ABC, ESPN Radio, 1 p.m. ET), the Knicks play nine of their next 12 games on the road, which is not the recipe for a saving turnaround. The brief cushion that came with a couple of good weeks in January seems to have expectedly worn off quickly, as they Knicks are back to 10 games under .500 and falling.
Woodson is in one of the most miserable positions in the coaching landscape: being a lame duck for a New York pro team. It's part of the reason coaches get paid millions, dealing with being called a bum by the fans and media.
When the moment of finality comes, though, it seems unclear what those calling for his termination think is supposed to happen. Relieving Woodson -- or forcing him to resign, as Mike D'Antoni was before him -- will make some fans temporarily happy. It will be excellent tabloid fodder. It will be yet another opportunity for Phil Jackson's name to be floated for a job. It might eventually be an opportunity for John Calipari to get another raise at Kentucky.
But thinking it is going to fix the Knicks, save this season or assure that Carmelo Anthony will re-sign in July is foolish. And it's not because there is anyone on the Knicks bench with a track record of success who is waiting to take over. There isn't.
The record of interim coaches in league history is dismal even with the expected brief bounce a team often gets after the move. Everyone remembers what happened when the substitute teacher took over during school.
Feel free to target Woodson for the Knicks' plunge in offense this season, dropping from third-best to 15th as some of the bad habits of his isolation game have popped up. It's a fair to question the effectiveness of his controversial strategy to regularly switch defenders on pick-and-rolls, which doesn't seem to fit this roster.
SUNDAY'S ABC, ESPN RADIO GAMES
• Thunder-Knicks, 1 p.m. ET
• Lakers-Bulls, 3:30 p.m. ET

When a team runs a pick-and-roll against the Knicks, the ball handler scores 42 percent of the time he tries to score. The roll man scores 57 percent of the time. Both of those rank dead last in the league. This is on Woodson, no doubt, and his stubbornness to not see these numbers and seriously adjust has not helped the team.
But is Woodson the reason J.R. Smith is having the worst shooting season of his career? Is Woodson the reason Iman Shumpert is shooting worse than 40 percent? It's almost unheard of for a guard to shoot worse as a third-year player than a rookie, but Shumpert is doing it, as he's appeared to lose confidence in his game. It is Woodson's fault that Raymond Felton is having his worst shooting season since he was a rookie? It is Woodson's fault that Tyson Chandler broke his leg and has seen his rebound rate plunge? Is it Woodson's fault that his big men have battled nonstop injury problems since the start of the season?
The Knicks' failures are widespread. After the success of last season recalibrated the expectations -- owner Jim Dolan publicly talked about this being a championship team -- the team has done little right. That includes the front office's bet on Andrea Bargnani and the professionalism of many of the players on the roster.
When situations like this happen in the NBA, regardless of how high profile the market is, the coach is the man who pays the first price. That's going to happen yet again, it's just a matter of time. Thinking that is going to change the course of the Knicks' season, though, appears to be seriously shortsighted.
ESPN Senior Writer
ESPN.com NBA writer since 2010
Covered Cleveland Cavs for seven years
Author of two books
Derrick Rose Is Out But Not Down
OAKLAND -- The crowd was tight to the court a half-hour before the Chicago Bulls and Golden State Warriors tipped off, and only one player was left shooting.
Moving clockwise, around the top of the 3-point arc, Derrick Rose pushed off both feet and shot effortlessly, repeatedly. There is still daily rehab, but there are also two workouts per day, there is running on a treadmill, now there is shooting. There are no timetables, none spoken of publicly anyway, because everyone involved is taking a much smarter approach this time with Rose's Recovery, The Sequel.
Nobody has spoken publicly of being "cleared by doctors," and presumably nobody will. Not a word has been uttered aloud about Rose coming back anytime soon to play for the Bulls.
But it doesn't mean for a second that Rose is down or dour; quite the opposite. While Rose hasn't talked publicly in weeks about this second comeback, his demeanor is absolutely upbeat. A torn medial meniscus in the right knee isn't nearly as painful or as difficult to come back from as a torn ACL. The rehab isn't nearly as difficult, neither is the recovery time, and the psyche isn't as battered on the road back.
Last winter, even when Rose had resumed practicing with his teammates, he'd say to people he knew, "I know I'm doing the right thing." Even so, there was a caution, if not trepidation about playing again, advisedly so, given that so many players with ripped up ACLs had come back too soon and said so.
Pardon the Interruption co-host
Michael Wilbon is a featured columnist for ESPN.com and ESPNChicago.com. He is the longtime co-host of "Pardon the Interruption" on ESPN and appears on the "NBA Sunday Countdown" pregame show on ABC, in addition to ESPN. You can follow him on Twitter: @RealMikeWilbon
Melo's Tea Party
Anthony
NEW YORK -- Carmelo Anthony recently met with Knicks owner James Dolan, the Knicks star confirmed on Friday.
Anthony wouldn't reveal what they talked about, though. The meeting was first reported by the New York Daily News.
"Did I meet with him? Yeah, I hope I could meet with the owners sometimes," Anthony said following the Knicks' 117-90 win over the Denver Nuggets. "I met with him. It wasn't nothing serious. It was just generic conversations. Just talking.
"I had tea. We had tea. That's it. We didn't get into details about anything. It was just a conversation that we had."
Considering the Knicks have been a major disappointment and just snapped a three-game losing streak that put coach Mike Woodson back on the hot seat, any conversation between the owner and the team's franchise player likely wasn't about anything generic.
Nash Living In Moment
Nash
PHILADELPHIA -- Back in the summer of 2012, both the Los Angeles Lakers and Philadelphia 76ers felt like winners before they even won a game because of the deals they had been able to pull off.
For the Lakers, they thought they had acquired perhaps the greatest pick-and-roll tandem of all time in Steve Nash and Dwight Howard and would pair them with Kobe Bryant and Pau Gasol to get the team back on a championship trajectory.
For the Sixers, they thought they had found the missing link in their lineage of monsters in the middle, with Andrew Bynum set to pick up where Wilt Chamberlain, Moses Malone and Dikembe Mutombo had left off in dominating the Eastern Conference.
Both plans went woefully awry, of course.
After Bynum said, "I'm really looking forward to making this my home," at his block party-like introductory news conference, he ended up not playing a single game during the season he spent in the City of Brotherly Love.
He has since found homes in Cleveland and Indiana, and whispers of Bynum's failed marriage with Philadelphia still echoed throughout the Wells Fargo Center on Friday, with one league source sharing how Bynum would often park one of his luxury cars in the reserved space for Ed Snider, chairman of Comcast Spectacor -- the company that owns the arena where the Sixers play -- on purpose on game days. The source also passed on the story about the day Bynum showed up at the Sixers' practice facility with a police car following him into the parking lot because he had sped off from a gas station with the pump nozzle still inside of his car and the officer noticed the severed hose flapping alongside the road as Bynum merrily drove along.