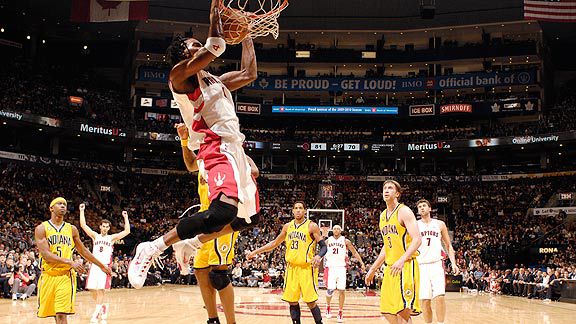 Photo by NBAE via Getty Images Despite starting the season 7-8, Chris Bosh and the Raptors will still be a playoff team in the East.
1. East Playoff Forecast: Raptors In, Sixers Out
We've previewed the Western Conference playoff projections. Now, four weeks into the season, let's look at the East.
First, I see two teams that made the cut last season that won't be booking a road trip come April.
The Sixers aren't in. I think Philly misses Andre Miller a lot. Lou Williams is a good player, but he's more of a combo guard who performs better when he can go get his offense. This now looks like a team that does not have a definitive style of play. They have to figure out what kind of team they are.
The Pistons? Out. They have one of the weakest offensive front lines in the NBA. It's difficult to shoot jumpers night in and night out and win. Their top five players are all jump-shooters, even Charlie Villanueva. That's a very difficult way to win.
So, here's how I see the seeds playing out, 1 through 8:
1. Boston Celtics: Still the best team in the East. The Celtics have the best defensive team, even with guys currently banged up. They know how to win in the most consistent way, which is to defend, rebound and spread it out on offense. Still the class of the East.
2. Orlando Magic: To me the Magic have the deepest offensive team in the East. They have more guys whom you can run a play for and have success in the East. The guys they got in the offseason give them depth. Jason Williams, Brandon Bass, Matt Barnes, Ryan Anderson and Vince Carter give them a lot more depth than they had a year ago.
3. Atlanta Hawks: This team has grown up together. The Hawks have had four of their top six guys together since 2005 and have created some great chemistry. They are a much smarter team than they were. In Joe Johnson they have a star go-to player who can control the game offensively in the fourth quarter. This team can rebound with anybody. That, plus a star and great chemistry, explains why they are 11-3.
4. Cleveland Cavaliers: They are a team that is playing well now but relies too much on one player to win. They don't look to me like they learned the lesson taught last season by Orlando -- you have to have more diversity in the offense. This team has very predictable play sets. On most nights, the Cavs have struggled against good defensive teams.
5. Miami Heat: They are kind of in the same boat as Cleveland. They are so highly reliant on Dwyane Wade. It makes it difficult to win when you have only three guys averaging double figures. You're in trouble if how well your second-best player does that night will determine whether you're going to win or lose.
6. Milwaukee Bucks: Brandon Jennings has been sensational. Question now is, can he sustain this? Can he light up defenses like this? It's difficult to form a game plan against a guy this quick. Can he keep shooting this well from deep? This team is going to be over .500. I don't think anybody thought that was going to happen. Ersan Ilyasova and Andrew Bogut both have been great. Bogut is giving the Bucks the productivity they expected when he was the No. 1 overall pick. This team is having fun. As long as Jennings can adjust and adapt to the defenses, Milwaukee can keep it up.
7. Chicago Bulls: They are a team whose best is yet to come. John Salmons has struggled (36.1 percent FG shooting), and the Bulls do miss Tyrus Thomas, who is out with a broken arm. I think you're going to see their best basketball over the next month. Luol Deng has been solid, a guy they need to play at a high level to move higher than a seven seed.
8. Toronto Raptors: The Raptors get this final spot by default. Nobody else is worthy. In many ways this team has been a huge disappointment. I looked at a team with Jose Calderon, Hedo Turkoglu and Chris Bosh as a Canadian version of the Celtics' Big 3. But that team is just so bad defensively. Giving up 108 points a game is not going to get it done, not when you lack depth.
ESPN analyst Tim Legler is a regular contributor to the Daily Dime.
Dimes past: November 6-7 | 8 | 9 | 10 | 11 | 12 | 13-14 | 15 | 16 | 17 | 18 | 20-21 | 22 | 23
2. Wizards owner Abe Pollin's Legacy
By J.A. Adande
ESPN.com

If you're in the age range of the typical NBA player, you probably think of Washington Wizards owner Abe Pollin as the man who fired Michael Jordan. In fact, that's the exact phrase that appeared at the top of a Google search of Pollin's name Tuesday. And if you do remember him that way, then the image that popped in your head upon hearing the news that Pollin died at age 85 Tuesday was of Jordan driving off from the arena in his convertible Mercedes on May 7, 2003, the day Pollin told him he would not regain his position as Wizards president.
You should stop focusing on that close-up, pull back and look at the bigger picture. Go ahead, click on the link, pan around the neighborhood and look at the sleek new buildings, the restaurants, bars and shops that went up after Pollin paid for the construction of the $260 million Verizon Center. Before he built the arena, the area was filled with run-down row houses. Now, it's a vibrant destination.
To read the entire Adande column, click here
3. Daily Dime Live Recap
ESPN.com writers and TrueHoop Network bloggers chatted with fans and gave their in-game opinions throughout Tuesday night's slate of games -- all in Daily Dime Live.
4. Durant Is In Great Company
Elias Sports Bureau

Durant
Kevin Durant scored 28 points Tuesday, giving him 407 in 15 games this season. Only three other players in league history had as many as 400 points over the first 15 games of a season at age 21 or younger: LeBron James (twice), Shaquille O'Neal and Michael Jordan.
By Maurice Brooks
ESPN.com
TUESDAY'S BEST

Monta Ellis, Warriors: Golden State used just six players against the Mavs, but the way Ellis was playing, that was plenty. He scored a season-high 37 points while playing 48 minutes to help the Warriors become the first team to win a game using six or fewer players since 1952.

TUESDAY'S WORST

Elton Brand, Sixers: It is never a good thing to have the same amount of fouls (four) as points. He missed eight of his nine attempts from the floor.

QUOTE OF THE NIGHT

"We are a team that usually wins 35-plus games at home and now we're off to a slow start. We need to turn this thing around fast because it will catch up on us."

-- Utah forward Carlos Boozer after the Jazz fell to the Thunder to drop to 4-3 at EnergySolutions Arena.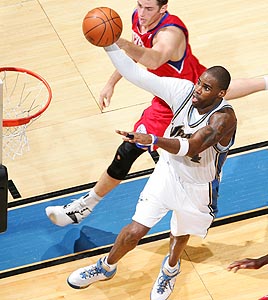 BNBAE/Getty
Antawn Jamison popped in 32 points and grabbed 14 rebounds as the Wizards edged the Sixers. He is averaging 25 points and 10.8 rebounds since making his season debut four games ago.
8.

Lakers' Bench Not Clicking

Odom
Might as well pick nits with the Lakers, since some of the purple and gold faithful have already used a cushy early schedule to project them to run the table to a 79-win season. Eventually the Lakers have to hit the road, and at some point their poor bench play will catch up with them.
Although the Lakers have won their past four games by double digits, they've been outscored in each of them during the fourth quarter -- when the reserves have been on the court and given an opportunity to finish off their opponent.
Tuesday night the Knicks outscored L.A. 28-17 in the fourth, cutting what had been a 25-point lead down to 10 in the last 90 seconds, forcing Kobe Bryant and Ron Artest to pull off their warm-up jackets and re-enter the game to finalize a 100-90 Lakers victory.
"Right now they're just filling minutes in for guys that are getting rest on the bench," coach Phil Jackson said of the reserves. "We've gotta have better than that."
At the moment the reserves check in and seem intent on going about things their own way, seeking stats, following their own agendas, not doing the things that got the Lakers the lead in the first place. Pau Gasol's return and Lamar Odom's rejoining the second unit were supposed to restore order, but Odom is among those struggling to find his offensive rhythm coming off the bench.
"We come in after sitting down for an hour or so, expect to just come right in and disrupt the pace of the game [against] guys who have already been in the flow and are in a lather," backup point guard Jordan Farmar said. "They're playing from behind with nothing to lose and we're kind of playing to play the right way instead of just flowing and playing basketball and playing the right way. That's what we really have to find out, each other's strengths. Just play to everybody's strength and we'll be all right. We're just out there playing and not doing it together."
For now it's still in the annoying stage for Jackson. But if there's anything that's going to be a problem for the Lakers, this is an area to watch.
9.

The All-Underrated Team
By John Hollinger
ESPN.com

Douglas-Roberts
It's tough to find underrated players at the shooting guard spot since so many of them receive heavy ink for their offense. So let's at least go with a player whose steady play has been lost in his team's struggles. Sure, the Nets are winless, and critics will say it's easy to get points on a bad team. But it's not easy to shoot accurately while getting those points, and that's what Chris Douglas-Roberts has done so far.
To read the entire Hollinger column, click here.