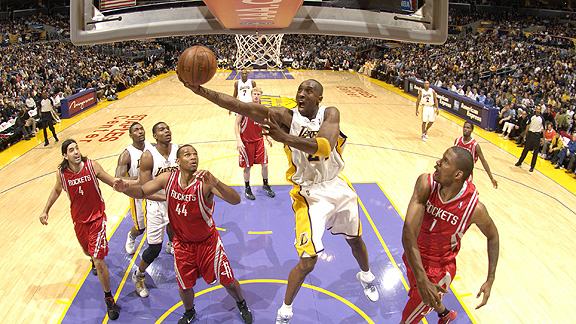 Photo by NBAE via Getty Images Kobe Bryant and the Lakers are one of the many things in the NBA our writers are thankful for.
1. What Are You Thankful For?
Editor's note: With Thursday being Thanksgiving, we asked some of our writers to tell us what they are thankful for. Here are there NBA-related responses.
"We should be thankful that the league hasn't split into four haves and 26 have-nots like many expected -- at least not yet. It's made for a much more interesting start to the season than we expected." -- John Hollinger, ESPN.com
"Greg Oden's relevance, Kobe's post game, Josh Smith's shot selection, Chris Paul's class, Brandon Jennings' Italian journey, Joakim Noah's passion, Melo's evolution into greatness, Superman's willingness to talk to his coach, Stan's willingness to listen, those grinding Rockets, Boston's help-side defense, all things Wade and LeBron, and Steve Nash and his running Suns." -- David Thorpe, Scouts Inc.
"We should be thankful that Golden State didn't draft Brandon Jennings because we wouldn't be witnessing one of the finest rookie performances in years. Nellie would probably have him in and out of the lineup, 35 minutes one night, six the next (i.e., Anthony Randolph)." -- Chris Broussard, ESPN The Magazine
"I am thankful that we are on a collision course to see another classic Lakers-Celtics NBA Finals! As long as they are healthy, you can count on it! Oh, I'm also thankful that Brandon Jennings is back from Italy!" -- Jon Barry, ESPN
"Carmelo Anthony's dunk over Paul Millsap, Mark Cuban's not being on Dancing With the Stars this year, Kevin Durant's Twitter videos, Joakim Noah's evolution, H1N1 and Ron Artest both somewhat under control, Tim Donaghy's publisher's dropping his book and (for 28 teams) the Minnesota Timberwolves and New Jersey Nets." -- Henry Abbott, TrueHoop
"Thanks for the most notable notables from November: Brandon Jennings' 55-point game, Ron Artest on 'The Jimmy Kimmel Show,' the Atlanta Hawks' turning the East's Big Three into the Big Four, basketball sells books: Bill Simmons No. 1 on New York Times Best-Seller List, random Thunder, Blazers and Bucks games on League Pass, the Golden State daily drama, Brent Barry on NBA-TV and the Lakers as the league's Alpha Dog." -- Chris Sheridan, ESPN.com
"At the moment I'm really thankful that the NBA decided to bring back games on Thanksgiving Day. The league restored its traditional Thanksgiving program last season after two years off and scheduled two more Thanksgiving games (Orlando at Atlanta and Chicago at Utah) this season. Between the turkey and trimmings in the afternoon and a TNT doubleheader at night, I am all hooked up!" -- Marc Stein, ESPN.com
"I'm thankful for getting to watch guys maximize their talents to reinvent their games: Josh Smith for harnessing his freakishness to become an efficiency machine; Chris Kaman for discovering his inner peace to become a master on the block; Will Bynum for reaching back to his days at Alexander Memorial to become a fearless warrior. Kobe Bryant for adding a devastating post game because greatness can always be improved upon. And Greg Oden for his inexhaustible work." -- Kevin Arnovitz, TrueHoop
"I'm thankful for any time I turn on a Golden State Warriors game and Anthony Randolph is actually playing. He's one of the most unique players in the league, and yet Don Nelson insists on playing him only 21 minutes a game, making Randolph sightings unexpected surprises -- like flipping through TV late at night and catching 'Cheaters.'" -- J.A. Adande, ESPN.com
Dimes past: November 8 | 9 | 10 | 11 | 12 | 13-14 | 15 | 16 | 17 | 18 | 20-21 | 22 | 23 | 24
2. Iverson's Final Answer
By Marc Stein
ESPN.com

Iverson
The day before Thanksgiving seemed to begin with some rare and genuine hope for Allen Iverson.
There on the pages of the morning's Boston Herald were some unexpectedly promising quotes from a longtime Iverson fan named Danny Ainge, confirming that the Celtics had recently held "internal discussions" about signing the four-time scoring champ at a time when so many of us believed no team in the league was prepared to have those kinds of discussions.
Yet it was only a few hours later that Iverson, through his longtime confidant and our former ESPN colleague Stephen A. Smith, announced to the world that he intends to retire now, at age 34.
So why would he quit so abruptly?
Forget, for a moment, that pretty much no one who follows this sport thinks he's serious about staying away for long. Let's try to ignore the fact that Iverson's retirement statement, as one of my editors cracked, reads more like a job application than a farewell, with claims that there's "a whole lot left in my tank" and Iverson's strong belief that he "can still compete at the highest level."
I can still think of at least three reasons the most famous No. 3 of his generation would try to convince us that he's sincere about walking away.
To read the entire Stein column, click here
3. Daily Dime Live Recap
ESPN.com writers and TrueHoop Network bloggers chatted with fans and gave their in-game opinions throughout Wednesday night's slate of games -- all in Daily Dime Live.
4. And The Losing Continues For The Nets
Elias Sports Bureau

The Nets are 0-15 this season after losing in Portland. Coupled with the Timberwolves' loss to Denver, it was the first time since March 29, 1996 (Grizzlies and Bucks) that two NBA teams each extended a losing streak of 13 or more games on the same day.
By Maurice Brooks
ESPN.com
WEDNESDAY'S BEST

Monta Ellis, Warriors: It is not too often that a player from a losing team gets this spot, but it is impossible to ignore Ellis, who followed up his 37-point game on Tuesday by dropping 42 on the Spurs.

WEDNESDAY'S WORST

Toronto Raptors: They lost by 35 to the Bobcats -- their fifth loss in seven games -- and set a season low for points (81) in the process.

QUOTE OF THE NIGHT

"I hope this game showed a lot of Syracuse fans why I left early. This was my dream, playing in the NBA. But I caught heck for leaving college early."

-- Sacramento's Donte Greene, who struggled as a rookie last season, but scored 24 points, including six 3-pointers, against the Knicks.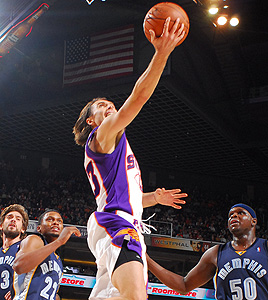 NBAE/Getty
Steve Nash, who leads the league in assists, gave out 16 more to power the Suns to a 126-111 win against the Grizzlies.
8.

Terry Sparks Mavs To Win
By Tim MacMahon
ESPNDallas.com

Terry
HOUSTON -- All Jason Terry could think while sitting on the bench at the beginning of Wednesday night's game was, not again.
The night after an awful home loss to the undermanned Golden State Warriors, the Dallas Mavericks came out with another lifeless effort Wednesday in Houston. The wake-up call came when coach Rick Carlisle went to the bench.
It didn't take long for the Mavericks to turn the contest at the Toyota Center into a laugher in their favor, running the Houston Rockets out of their own gym en route to a 130-99 victory.
To read the entire MacMahon column, click here
9.

Wallace Stuffs The Box Score
By Brett Hainline
TrueHoop Network

Wallace
Without looking, take a guess at Gerald Wallace's age. Twenty-nine? Thirty? Nope: He is 27. Yes, in his ninth year in the league, Wallace is just entering what normally represents the prime of a player's career. Gerald's early season results though are much closer to representing his worst season in the Queen City.
He was averaging 13.7 points per game on just 37.7 percent shooting going into last night's contest with Toronto -- hardly the stuff of career years. But then the player nicknamed Crash had the type of game that helped him earn the moniker: 31 points on 10 of 20 from the floor and 11 of 12 on free throws, 13 rebounds, three assists, two blocks and two steals.
The scoring is great but represents just a small part of the puzzle; more exciting are the double digit free throw attempts and efficient shooting. Gerald topped 30 only four times last season and it was just his third game over 20 this year -- the Bobcats are not counting on him getting 30, but need 15 to 18 points a night in a quick hit manner.
Enough about the scoring and look at those other numbers again: 13 rebounds, three assists, two blocks and two steals. The rebounding of a power forward, the shot blocking of a center, and the quick hands of a guard in a 6'7", 220-pound dynamo. Oh, and the floor burn of a 12th man from earning those trips to the line. It does not happen every night, but with Gerald it happens more often than one would expect. Welcome back, Crash.
To read more, check out Hainline's TrueHoop Network blog, QueenCityHoops.