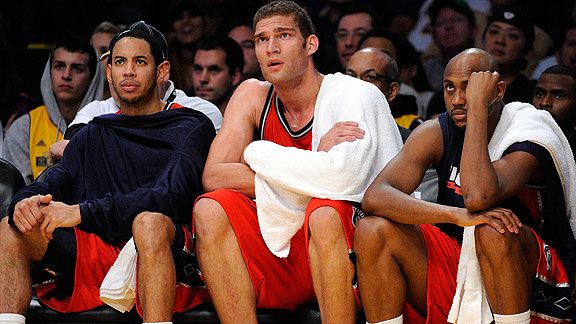 Photo by NBAE via Getty Images Despite playing with a new coach, the Nets were unable to earn their first win of the season Sunday.
1. Who Knows What's Next For The Nets?
"NETS RELIEVE LAWRENCE FRANK OF COACHING DUTIES," the press release said, and never has the wording on a release been more accurate. The Nets did Frank a favor, relieving -- and releasing -- him from the dubious distinction of having an 0-17 record on his ledger, matching the worst start in NBA history.
There were two inevitabilities in the NBA this week: the Nets' losing to the Lakers and Frank's losing his job. The only question was the timing of the latter. Turned out it occurred Sunday morning, before the Lakers beat the Nets 106-87 to give New Jersey that record-tying 0-17 record. Assistant coach Tom Barrise took over the duties for one night, while general manager Kiki Vandeweghe said team officials would meet after the squad returns to New Jersey and discuss who will coach for the rest of the season. Vandeweghe declined comment on reports that he would be the one who would take the job.
The question is, why would anyone want it? The long-term prospects aren't good, with a potential new owner if Russian billionaire Mikhail Prokhorov's bid is approved and the possibility that president Rod Thorn will not return. Rule No. 1: New owners always want their people. Any coach hoping to impress the new bosses would be hindered by an abundance of losses with this young team. Even if things get better as players return from injuries and the law of averages kicks in at some point (it has to, right?), you're looking at a sub-.300 team.
As one person plugged into the Nets said, Vandeweghe would be better off staying in the background than having his name directly associated with this mess. Mike Fratello is doing the Nets' color commentary and could seemingly move down about 30 feet to the coach's seat, but he doesn't seem interested.
Things could get better in the future if the Nets land the No. 1 draft pick to go with a potential major free agent, given their generous salary-cap space this summer, plus an infusion of cash from the new owner and a pending move to a new arena in Brooklyn.
But if you're a coach, do you commit in advance of knowing those variables -- or if you're a free agent, do you sign without knowing who will be the coach and team president?
So the Nets are stuck, just like they're stuck in the Meadowlands for at least another season. Lakers coach Phil Jackson said that location was the primary reason he didn't accept the Nets job despite a substantial offer back in 1999.
"I interviewed with the Nets ownership in '99 and talked a lot about the fact that being a basketball team in the swampland there is very difficult," Jackson said. "It's different in Giants Stadium [across the parking lot]; everyone can come out, spend three hours in the parking lot getting ready before the game. They have a community that goes in there and roots for the Giants, roots for the Jets, whoever it is that's playing in Giants Stadium. It's another thing to have your games in that building, where there's no heartland, there's no paper really that represents them.
"I liked the personnel that they had. They had some young personnel, interesting personnel. The offer was probably the best offer that I've ever seen as a coach. It certainly wasn't enough. I just didn't think it has what a team has to have, a heartland, a fan base, an energy source."
That could all change. The best-case scenario would involve LeBron James playing for the Nets in their sold-out new arena in Brooklyn in front of Jay-Z, Beyonce and their celebrity pals. It's hard to be that visionary when the current coach can't even project his future on the job.
"Oh, wow. I don't know," Barrise said when asked about it. "That's really hypothetical."
Nothing hypothetical about 0-17 anymore. Now it's historical, a fact, earning them a spot next to the 1988 expansion Miami Heat and the 1999 Los Angeles Clippers for the worst start in league history. Instead of a bounce from a coaching change (the way, say, the Phoenix Suns did in beating the Clippers 140-100 after Alvin Gentry replaced Terry Porter last season), the Nets "came into the game a little scattered," point guard Devin Harris said. They were down 27-12 after the first quarter and never made it a game, never gave themselves a chance to avoid the record book.
"It's one of the records you don't want to be a part of," Harris said.
Frank was a part of it. But not all of it. That's the only good thing anyone associated with the Nets could claim on Sunday.
J.A. Adande is an ESPN.com senior writer and the author of "The Best Los Angeles Sports Arguments." Click here to e-mail J.A.
Dimes past: November 12 | 13-14 | 15 | 16 | 17 | 18 | 20-21 | 22 | 23 | 24 | 25 | 27-28
2. Are The Nets Or Wolves The Worst Team Ever?
By ESPN.com

Injuries have played a part in the terrible starts in both New Jersey and Minnesota, but facts are facts. And as the facts say, the Nets and Wolves are on pace to win about as many games combined as the 1972-73 Philadelphia 76ers won when they stumbled to a 9-73 season.
To read the entire story, click here
3. Daily Dime Live Recap
ESPN.com writers and TrueHoop Network bloggers chatted with fans and gave their in-game opinions throughout Sunday night's slate of games -- all in Daily Dime Live.
4. Wallace Is A Weekend Warrior
Elias Sports Bureau

Wallace
Ben Wallace, who grabbed 10 offensive rebounds on Friday night, pulled down 11 in the Pistons' 94-88 win over the Hawks on Sunday. Only two other active players have ever posted consecutive games with at least 10 offensive boards: Zydrunas Ilgauskas (Feb. 25-27, 2005) and Joe Smith (Feb. 5-7, 1996).
By Maurice Brooks
ESPN.com
SUNDAY'S BEST

Los Angeles Clippers: The Clippers, who trailed by as many as 20, used a 33-7 fourth quarter to rally past the Grizzlies for a 98-88 win. Coach Mike Dunleavy earned his 600th regular-season win.

SUNDAY'S WORST

Denver Nuggets: The Wolves hadn't won since opening night. The Nuggets had won 17 in a row at home. None of that mattered as Minnesota used a big third quarter to upset Denver 106-100.

QUOTE OF THE NIGHT

"It's something that's been out there and it doesn't have any legs except for the media and fans."

-- Sixers coach Eddie Jordan on rumors that Philadelphia plans to bring back standout Allen Iverson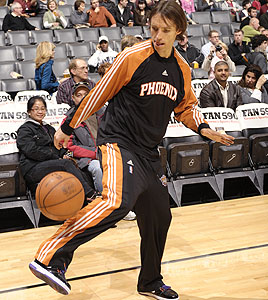 NBAE/Getty
Steve Nash had a ball in Toronto again, scoring 20 points and handing out 16 assists to lead the Suns to a 113-94 win against the Raptors.
8.

Rockets Lose Scola, Top Thunder
By Matt Moore
TrueHoop Network

Scola
The Rockets lost Luis Scola, arguably their best overall player, Sunday night to an eye injury on a freak play. Scola entered the night second in PER on the Rockets, who value efficient, smart basketball above all else. They take the second-fewest number of shots from 16 to 23 feet, according to HoopData.com.
Losing Scola surely was the final straw to break the Rockets' back, right? After all, they entered the night without Tracy McGrady and Yao Ming, who comprise almost $30 million in salary. Losing Scola had to be the dagger.
And yet, the Rockets boost on.
Part of Houston's run to stay above .500 has not only been their tough play and gritty effort, a plethora of clichés to be sure, but their versatility. There are nights when they've needed volume scoring from Trevor Ariza and they've gotten it. There have been nights when they've needed to control the paint with second-tier post players like David Anderson and Chuck Hayes, and they've gotten it. And they've had nights when they needed Aaron Brooks to use his speed to attack while Carl Landry filled in when Scola had an off night. Sunday night was one of those nights as the Rockets defeated the Thunder 100-91.
Finding a pattern for what the Rockets do at an individual level that leads to victories is difficult, because they manage to consistently vary their attack to fit their opponent. It's a necessary component for a team utterly void of star power, and it means that some nights they'll simply be overwhelmed by their opponents' firepower. But it also means that every single game will be a battle for the other team for a full 48 minutes.
On Sunday night, a young Thunder team loaded with talent discovered that no matter what blow you deliver the Rockets, coach Rick Adelman's club is full of veterans who simply will not relent in their attack, and will adjust on the fly. The question, of course, is whether this team of faceless vigilantes would be better served by remaining a collective, nebulous force, or if McGrady, the former franchise savior, could give them one consistent weapon to rally around. GM Daryl Morey will need all the math he can muster to figure out that equation.
To read more, check out Moore's TrueHoop Network blog, Hardwood Paroxysm.
By Nick Friedell
ESPNChicago.com

Rose
Derrick Rose is shy, but once you start talking to him you realize that in many ways he is like most other kids his age. The Bulls' 21-year-old point guard is a huge fan of movies. He loves chowing down on pizza, and one of his favorite pastimes is sleeping.
Whenever the reigning Rookie of the Year isn't busy racing past defenders on the court, you can probably find him watching TV in his bed.
To read the entire Q&A, click here.