Monday Game Notes: Rough Start For Barrise

• What an introduction to the NBA it was for Nets interim coach Tom Barrise, whose team fell to 0-17 after Friday's 106-87 loss to the Lakers, thereby matching the longest winless start in league history. Barrise was the first coach to make his NBA debut for a team on a single-season losing streak as long as 16 games. The previous high: 12, by Gar Heard of the Mavericks in 1993. By facing Phil Jackson, Barrise was only the fifth coach to make his NBA debut against an opposing coach with at least 1,000 career victories. The others were Jay Triano of the Raptors against Jerry Sloan (2008), and Ed Tapscott of the Wizards (2008), Pete Myers of the Bulls (2003) and Frank Johnson of the Suns (2002), all against Don Nelson.
• Carmelo Anthony leads the NBA in scoring with an average of 30.1 points per game, but he needs only 20 points on Monday night to reach a milestone of sorts. Anthony has scored at least 20 points in each of his 17 games this season. Only one active player started a season with 18 consecutive 20-point games: Shaquille O'Neal in 1994.
Schedule: Sunday, Nov. 29


Bulls at Bucks
Box score | Conversation


76ers at Mavs
Box score | Conversation


Grizzlies at Jazz
Box score | Conversation


Pacers at Warriors
Box score | Conversation
Hairy Situation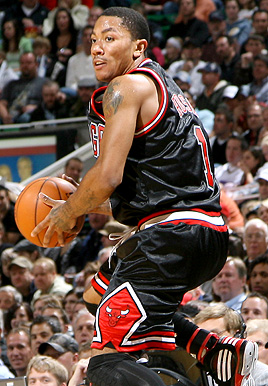 Photo by Rocky Widner/NBAE via Getty Images
Derrick Rose has vowed to not cut his hair until he plays better. With Chi-Town 1-5 on its circus road trip, the second-year PG may be sporting a Dr. J fro in the not-too-distant future.
Sizing Up The Sixers
By Jeff Wade
ESPNDallas.com

On Monday night, the Mavericks will host a Sixers team mired in a mountain of controversy, injuries and losing. The controversy, of course, is about whether the Sixers should bring Allen Iverson back into the fold. One report that surfaced last week had Sixers coach Eddie Jordan flying out to meet with A.I. immediately following Monday night's game against Dallas.
The reason the A.I. question is being posed is because the Sixers have been slowed early by injuries. Marreese Speights was off to a great offensive start before a partial MCL tear in his left knee sidelined him until sometime in early 2010. Lou Williams was good for 17 a night on 50 percent shooting before a broken grill put him on the shelf for eight weeks. Early reports are that Elton Brand will return Monday night after missing three games with a sore hammy.
As you may have suspected, the injuries have been followed by the losing. At 5-12, the Sixers are one of the worst teams in the East and roll into town for the second night of a back-to-back after San Antonio dropped them Sunday night for their sixth consecutive loss. Andre Iguodala stuffs the stat sheet every night (last night he delivered 21/8/7 with 5 steals and 3 blocks) but there's just not enough help right now.
Then again, if things were going well, would anyone have even remotely entertained the idea of The Answer? Exactly.