1. Del Negro Watch Is On In Chicago
By John Hollinger
ESPN.com
ATLANTA -- That crackling sound you hear is the ice breaking under Vinny Del Negro's feet.
With Chicago's embattled coach already faced with what appeared to be precarious job security, the Bulls went to Atlanta and dropped a 118-83 stinker in which they barely bothered showing up for the second half. That 35-point shellacking made it nine losses in 10 games, including six by double figures.
So badly outplayed were the Bulls that the Hawks shot 4-for-17 on 3s in the first three quarters and still led by 30. Just imagine if they'd been hitting. It was so bad that Atlanta's Maurice Evans needed just four seconds in the third quarter to tie his career high in blocks, rejecting successive shots by Kirk Hinrich and Luol Deng. It was so bad that Noah missed a wide-open dunk, so bad that Derrick Rose was called for traveling while going down the lane on a simple 2-on-1 break.
The biggest problem wasn't any of those mistakes, however, but the simple fact that these Bulls don't appear to trust one another or the system. "What system?" Bulls observers might ask, as Chicago's strategy once again seemed incoherent. In particular, Rose and his teammates seem to be reading from different pages of the manual on offense. More than once Wednesday night, it appeared that a teammate weighed the option of giving the ball to Rose, decided there was no chance he'd get it back and let fly with a quick shot.
"I thought in that third quarter we settled for too many jump shots instead of attacking off the dribble," Del Negro said. "Once you get down, guys are trying to do it themselves a little bit to try to get it back. It's not from being selfish, it's from trying to do the right thing, and sometimes it backfires."
In other words, they don't trust each other. Partly this is because Rose is still more scorer than passer at this point, and if he doesn't start editing the Steve Francis tendencies out of his game, he's going to have a disappointing career. Another cause is that the Bulls still run everything through Rose even though he hasn't been any more productive than several of his teammates.
It was perhaps symbolic of that dissonance between point guard and teammates that Rose identified the team's big problem as rebounding and the others pointed to defense and competitiveness.
Here's the thing: They're both right. The Bulls entered the game 29th in defensive rebound rate at 70.0 percent (of available rebounds on their defensive end), and when Joakim Noah checked out with this second foul late in the first quarter, the Hawks began playing volleyball on the glass. Atlanta had seven offensive boards in the second quarter to take control of the game and never let its foot off the gas.
But things really began to unravel in a 20-4 run to start the third period when the trust issues offensively torpedoed to the surface. Chicago had four turnovers and five missed long jumpers -- all coming with plenty of time on the shot clock -- to open the period. By the time 3:35 remained, Chicago had mustered only four points in the period and was down by 30. The final Atlanta deuce came in humiliating fashion, with Evans' rare shot-blocking display fueling Joe Johnson's off-the-backboard pass to Josh Smith for a dunk.
Game over, and possibly a coaching career, too.
The Del Negro watch was on in the Windy City even before the Atlanta debacle, as the Bulls came off a home defeat to the lowly Nets on Tuesday. Nobody in Chicago's locker room would say it directly, but the players have lost faith.
Although the Bulls' record speaks for itself, Rose's performance this year is the most damning line on Del Negro's résumé. He put in a system specifically for the second-year point guard to thrive, but even Rose is struggling. Rose's numbers are slightly down from his rookie season despite the fact that point guards historically improve sharply in their second season. An early-season ankle injury is partly to blame, but Rose mustered some of his worst performances in the recent slide and was a basket case in the third quarter Wednesday night.
Meanwhile, the timing couldn't be better for the Bulls to pull the trigger on hiring a new coach, and it could be a matter of just hours before they make a change. Teams normally like to switch coaches when a block of home games and/or off days permits practice time and the new guy can put in some of his own material, making now the best opportunity the Bulls will have all season, with six straight home games on the schedule. With assistant Bernie Bickerstaff essentially a coach-in-waiting on the Chicago payroll and already up to speed on the Bulls' personnel, it doesn't take a rocket scientist to figure out where the team might turn for an interim candidate.
Even if the Bulls' management had no intention of canning Del Negro heading into the Hawks game, Wednesday's blowout has to give them pause. Yes, the Bulls are a bit short on offensive talent, especially with injuries to Hinrich and Tyrus Thomas, but they have enough quality players to avoid getting hammered every night.
"If we were losing close games, you could blame the injuries," one Bull said. "But this?"
Del Negro has had more than a year to implement his system, and it's one his players clearly don't believe in. Whether he is removed Thursday morning or at some other point, the clock is ticking on his tenure in Chicago. Wednesday's humiliating loss in Atlanta might just be the crack that sends him through the ice.
John Hollinger writes for ESPN Insider. To e-mail him, click here.
Dimes past: Nov. 20-21 | 22 | 23 | 24 | 25 | 27-28 | 29 | 30 | Dec. 1 | 2 | 3 | 4-5 | 6 | 7 | 8
2. Iverson Passes Up Shot At Game-Winner
By Chris Sheridan
ESPN.com

PHILADELPHIA -- Allen Iverson wanted to take the final shot. Really, he did.
The Sixers trailed by two with the final seconds ticking away, the ball was in his hands, he was isolated against his defender at the top of the key, and he made his move -- driving to his right and heading into the lane.
Then, Iverson's eyes and brain took over.
Standing off to his right, all lined up behind the 3-point line, was Andre Iguodala, and there wasn't a Piston within shouting distance of him after Iguodala came off a double-screen and his defender slipped and fell.
So rather than shoot, Iverson passed.
And the other A.I.?
He missed.
"I wanted the shot, but I don't think I could have gotten a better shot than the shot we had. That was the best shot that we could get. Guy falls down and Dre gets a 3 for the game? Gotta take that shot regardless of who it is," Iverson said. "But inside of me, yeah, I wanted to take that shot. But Dre had a better shot."
To read the entire Sheridan column, click here.
3. Daily Dime Live Recap
ESPN.com writers and TrueHoop Network bloggers chatted with fans and gave their in-game opinions throughout Wednesday night's slate of games -- all in Daily Dime Live.
By Maurice Brooks
ESPN.com
WEDNESDAY'S BEST

Roy

Brandon Roy, Blazers: Portland was down to just nine active players, but thanks to Roy's 29 points, seven rebounds and five assists, the Blazers were able to knock off the Pacers, 102-91.

WEDNESDAY'S WORST

Hinrich

Kirk Hinrich, Bulls: He didn't provide much relief off the bench, missing all nine of his attempts from the floor, including 0-for-3 on triples. He finished with zero points.

QUOTE OF THE NIGHT

"I don't like knee injuries anyway. I've never had any, but from seeing other people with knee injuries, you can be out a long time."

-- Milwaukee rookie Brandon Jennings, who hyperextended his knee in the third quarter against the Raptors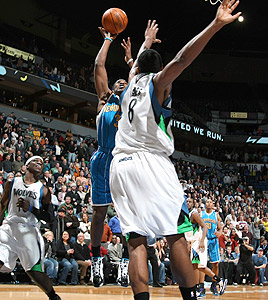 NBAE/Getty
Chris Paul hit the game-winning layup with just 1.4 seconds left as the Hornets turned away the Timberwolves, 97-96.
By Chris Broussard
ESPN The Magazine

On the way home from the Knicks' 0-3 West Coast trip in late November, Al Harrington suggested that he and his teammates read the book "Winning Everyday" by Lou Holtz.
"Everybody looked at me like I was crazy," Harrington said. "But since they've started reading it they've said it's pretty good."
It's the first time in Harrington's two seasons with the Knicks that they've read a book together. But with the effect it's had on their record, it may not be the last. After going 3-13 to start the season, the Knicks have won four of their last six games.
A big fan of Holtz, Harrington's trying to get the collegiate coaching legend to visit and speak with the team.
• Read more from Broussard on TrueHoop
7.

A Shower But No Clean Getaway

Bryant
It might seem normal for a team's executive vice president to inform the coach that a key player would miss practice because of extenuating circumstances. But is anything in Lakerland really normal? So here's how coach Phil Jackson learned that Bryant wouldn't be at the morning shootaround Wednesday after a SWAT team standoff in Bryant's Newport Beach neighborhood following a robbery.
"I was in the shower and Jeanie walked in," Jackson said.
Jackson and Buss, the team's executive vice president of business operations, have dated since Jackson's first season coaching the Lakers in 1999-2000.
According to the Los Angeles Times, four armed men entered the home of former subprime mortgage lender Daniel Sadek Tuesday night, while a fifth suspect waited outside. Police sealed off the barricaded community and Bryant remained home as a precautionary measure. Three men were caught and arrested and the two others were at large.
Bryant played in the Lakers' game against the Utah Jazz at Staples Center on Wednesday night.
To read more, check out Adande's TrueHoop Network blog entry.
8.

The Grizzlies Are Rolling
By John Hollinger
ESPN.com

Break up the Grizzlies! Memphis' OT win over the Cavs on Tuesday was the Grizzlies' eighth victory in 12 games, pulling them to a respectable 9-12 on the season after an ugly 1-8 start.
What's impressive is that the Grizzlies are finally paying as much attention to defense as they are to their scoring totals. I've been particularly harsh on Rudy Gay for his one-dimensional play, but he was inspired at both ends against Cleveland, checking LeBron James on D and sharing the ball on offense.
To read more, check out Hollinger's PER Diem.
9.

A Different Leader Each Night
Richard Jefferson scored a game-high 23 points to lead the Spurs to a 118-106 win over the Kings. San Antonio has had a different outright scoring leader in each of its last five games; Matt Bonner, Tony Parker, DeJuan Blair and Tim Duncan did it over the previous four games. That matches the longest streak of its kind for the Spurs during the Gregg Popovich era. Parker, Duncan, Beno Udrih, Manu Ginobili and Brent Barry took turns leading the team in points over a five-game stretch in April 2006.