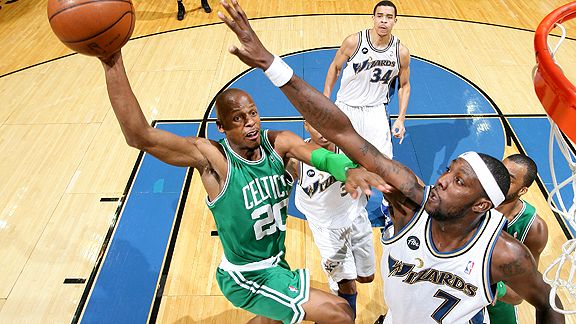 NBAE/Getty Boston shooting guard Ray Allen scored 18, including the 20,000th point of his outstanding career.
1. Businesslike Approach Working For Celtics
As I sat and watched Boston scratch out its 18th win of the season in Washington on Thursday night it occurred to me that even with all the Celtics have accomplished over the last two and a quarter seasons they are still, remarkably, underrated.
Surprisingly, Doc Rivers doesn't feel slighted or disrespected. He's actually fine with it because it motivates his team as they employ a quietly determined approach to consistent excellence.
Underrated? Really? Let me explain.
The Celtics have sprinted to an 18-4 record, tops in the Eastern Conference, yet they have somehow managed to operate in the immense shadow cast by the universal admiration of LeBron James and Kobe Bryant. The Celtics don't generate the lead plays on nightly highlight reels, nor do they dance on the sideline during blowout wins. They aren't as sexy as the Cavs and Lakers. They don't have a player capable of putting up video game numbers every night. What they do have is a group of guys that define what winning basketball in the NBA is all about.
The Celts share the ball. They defend on every possession. They accept roles. They play with energy, passion and pride. They look, feel and play like a group of guys that love playing together. Their balance makes them incredibly difficult to defend because teams cannot "lock in" on a particular player, set or area of the floor.
All five starters average between 11 and 18 points per game, and they can initiate their offense through anyone on the court. Despite claiming an NBA title in 2008 and winning 62 games a year ago, this team is the best of the three under the leadership of Kevin Garnett.
There are several reasons for that. First, Rajon Rondo has emerged as a legitimate All-Star-caliber point guard. He has transformed himself from an inconsistent blur with unlimited potential to an elite floor leader mastering the balance between taking over a game with his diverse talents and steadying the offense when things get tight down the stretch.
Secondly, in adding Rasheed Wallace and Marquis Daniels, Boston has added the type of versatility to its bench that gives Rivers numerous options in terms of defensive matchups.
Finally, the Celtics' top three scorers, Paul Pierce, Ray Allen and KG haven't begun to show any signs of diminished scoring ability. They all seem to be as efficient as they were a few years ago.
It is early, and an NBA season is as much about attrition as anything else, but the Celtics have shown to this point that they are sitting in the pole position in the Eastern Conference. They will continue to win almost silently, etching a notch in the win column from night to night with the same combination of businesslike demeanor and individual excellence that makes watching them so much fun.
Now if they'd only work on their sideline dance moves once in awhile they'd really get everyone's attention.
ESPN analyst Tim Legler is a regular contributor to the Daily Dime.
Dimes past: Nov. 22 | 23 | 24 | 25 | 27-28 | 29 | 30 | Dec. 1 | 2 | 3 | 4-5 | 6 | 7 | 8 | 9
2. Versatile Pistons Top Nuggets
By Dan Feldman
TrueHoop Network

Daye
In the first half of the Pistons' 101-99 win over the Nuggets yesterday, Denver's J.R. Smith drove to the basket. The 6-foot-6 Smith has good height for a shooting guard and incredible hops.
So he must have been pretty shocked to jump for a layup and crash right into a backpedaling, 6-foot-11
Austin Daye
, who easily took the ball from Smith.
Daye wasn't rotating to contest Smith's shot. Three guards in Detroit's rotation -- Richard Hamilton, Ben Gordon and Will Bynum -- missed the game. So the rookie, usually a combo forward, was playing shooting guard and covering Smith.
"The days of just slotting people into one position, you just don't see that as much in the NBA anymore," Detroit general manager Joe Dumars recently told Pistons.com.
Dumars actively sought versatile players when remaking the team last summer, and that has helped the Pistons (10-12) remain competitive while Hamilton and Tayshaun Prince have missed a combined 40 games this season.
It also led to some early hiccups for the Pistons, who lost seven straight earlier this year. The roster presents many possibilities, and it took time to find the right combinations.
But credit Pistons coach John Kuester for continuing to experiment. He inserted Chucky Atkins and Jason Maxiell to the starting lineup, and Detroit has won five of six games and four straight.
Perhaps no player signifies the Pistons' flexibility better than Jonas Jerebko, who played center in the summer league and power forward in the preseason. Now he's Detroit's starting small forward and has averaged 13.8 points and 9.0 rebounds during the winning streak.
Everything is starting to click, and instead of longing for Hamilton and Prince to return, Detroit fans are almost beginning to dread it because it will mean another adjustment period for the Pistons.
At least they seem to have enough interchangeable parts to find the right lineup again.
To read more, check out Feldman's TrueHoop Network blog, PistonPowered.
3. Daily Dime Live Recap
ESPN.com writers and TrueHoop Network bloggers chatted with fans and gave their in-game opinions throughout Thursday night's slate of games -- all in Daily Dime Live.
4. Nuggets Need To Improve On Road
By Jeremy Wagner
TrueHoop Network

Nene
In 1977, the Nuggets went 22-19 on the road -- their best record away from home since joining the NBA in 1977.
Last season the Los Angeles Lakers had a road record of 29-12 and ended the season NBA champs. Eastern Conference finalist Orlando tied Boston and Cleveland for second with 27 wins away from home. In 2007-08 the Celtics won 31 of their 41 road games and the Larry O'Brien Trophy, while the Lakers, who made the Finals and Magic both won 27.
It is no surprise that the two teams who lead the NBA in road wins the last two seasons were champions and that is why 22-19 is so damning for Denver. If the Nuggets want to truly be considered a contender, they will prove they belong in that category by winning games like the two they fumbled away over the previous three days at Charlotte and at Detroit.
Champions can make the little plays on the road without needing that extra boost of adrenaline from the crowd. Contenders do not let pressure on the outlet pass get to them. Denver turned over four outlet passes including when Nene handed the ball to Ben Wallace with 75 seconds remaining in a one-point game.
Defensively, with only two Pistons, Rodney Stuckey and Charlie Villanueva, able to score consistently, Denver did not adjust to slow either player down. Whether it was an inability to consistently challenge Stuckey off the pick-and-roll, or never putting an appropriate defender on Villanueva, Denver allowed both players to dictate the game. I firmly believe the Nuggets are the second best team in the Western Conference. However, I also think it is clear that they are not on the same level of the Lakers, Celtics or Magic.
The Nuggets finished their four-game road trip 2-2. They did fight their way to a big win in San Antonio and managed to down the Sixers in the emotional return of AI. A 2-2 road trip is good. In the last five campaigns there have been two seasons where six or fewer teams were over .500 on the road.
The bad news is good teams do not win championships in the NBA and right now it is impossible to argue that Denver is anything more than a good team.
To read more, check out Wagner's TrueHoop Network blog, Roundball Mining Company.
By Maurice Brooks
ESPN.com
THURSDAY'S BEST

Williams

Deron Williams, Jazz: He made his fantasy owners very happy, torching the Magic for 32 points, 15 assists and eight rebounds as Utah ended Orlando's six-game win streak.

THURSDAY'S WORST

Orlando Magic: Where's the D? The Magic, who have Defensive Player of the Year Dwight Howard, gave up at least 30 points in three different quarters in a 120-111 loss to the Jazz.

QUOTE OF THE NIGHT

"We're not a great team. We're a good team. We should be winning games like this, and the Charlotte game."

-- Denver guard Chauncey Billups after the Nuggets fell on the road to the 10-12 Pistons
6.

Carmelo's 40 Points Not Enough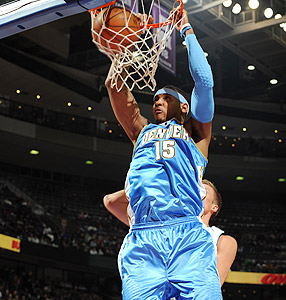 NBAE/Getty
Carmelo Anthony, the league's leading scorer, shook loose for 40 points, but it wasn't enough to keep the Nuggets from losing to the Pistons.
8.

Inconsistent Wizards Fall To C's
By Kyle Weidie
TrueHoop Network

Arenas
"The basketball gods will get you in the end," Flip Saunders likes to say. The Wizards' coach didn't incite one of his oft-used phrases after his team lost to the Celtics, but that doesn't mean the powers that be didn't strike.
Unlike past troubles, the Wizards fared just fine in the first quarter. It was the second period that, perhaps, led to retribution from above, or below, which came in the form of two Gilbert Arenas missed free throws that would have tied the game at 100 with 26 seconds left. In the second quarter, the Wizards failed to secure even one rebound, mostly due to Boston going 12-for-16 from the floor and scoring 22 points in the paint.
"We took some bad, quick shots in the second quarter, and they got going, and they got confidence," said Saunders after the game. Basically, the Wizards played undisciplined basketball like non-playoff teams tend to do, and the Celtics did what championship teams do.
But Saunders also gave his team credit for surmounting a Mount Olympus-sized barrier and making the game competitive in the end. In the second half, the Wizards held Boston to 37.5 percent from the field and only 16 points in the paint.
But when a team like Washington is finding ways to beat themselves, detrimental gaffes don't just come over an extended period of time. They also come in the form of a Rajon Rondo dunk with the score tied at 98 and 1:09 on the clock. That dunk, also preceded by a Rondo layup, came easy with the lesser experienced, but offensively versatile Andray Blatche in the game while the Wizards' leading defensive protagonist, Brendan Haywood, watched from the bench.
Not to knock Blatche, he played with the hustle and focus Wizards' fans have been looking for out of him for years. It was just one of those "can't win" situations the Wizards have been faced with this season and beyond.
Team moral is obviously down, but captain Antawn Jamison indicated he would continue to prod his teammates to fight and stay positive. Wizards' fans can only hope the persistent theme of inconsistency doesn't render that fight moot.
To read more, check out Weidie's TrueHoop Network blog, Truth About It.
9.

Villanueva Lights It Up
Charlie Villanueva had 27 points, five rebounds and five assists as a substitute for the Pistons on Thursday. Vinnie "the Microwave" Johnson had three 25/5/5 (points/rebounds/assists) games off the bench for Detroit in the 1980s, but since he retired, the only other Pistons player to do it was Jerry Stackhouse in 1998.