Portland A Pretender?
By John Hollinger
ESPN.com

Will a plausible rival to the Lakers in the Western Conference please step forward?
A month into the season the Lakers look as good as ever, but their competition for the conference crown seems deeply flawed. Not only do today's Playoff Odds project no West team besides L.A. to win more than 52 games, today's Power Rankings place only one West team -- the aforementioned Lakers -- in the league's top five.
Suffice it to say that most of L.A.'s potential foils have disappointed. Denver, its chief rival a year ago, has looked like a champion on some nights and a lottery team on others. On Thursday night, for instance, the Nuggets managed to lose to a Detroit team that was missing Will Bynum, Ben Gordon, Tayshaun Prince and Richard Hamilton. San Antonio, another rival on paper, may scramble just to make the playoffs as age and injuries continue to chip away at the Spurs' nucleus. Similar cases apply as we call the roll: The Hornets, Rockets and Jazz also look well short of their standard of the previous two seasons, while Dallas doesn't seem any better than last season's second-round speed bumps.
And then there's Portland. If there was one team I thought could provide a legitimate threat to Laker hegemony in the Western Conference, it was the Trail Blazers. They were young, they had size and they seemed to match up well against L.A.
But at the one-quarter mark of the season, the aspirations in Portland are no longer the sugarplum dreams of reaching the Finals but the less lofty concern of making the playoffs. The 14-9 Blazers are a far cry from the squad that won 54 games a year ago and boasted the league's best scoring margin after the All-Star break, especially at the offensive end.
• Read the rest of Hollinger's PER Diem

Schedule: Friday, Dec. 11


Pacers 107, Nets 91
Box score | Conversation


76ers 96, Rockets 91
Box score | Conversation


Hawks 111, Raptors 89
Box score | Conversation


Mavs 106, Heat 93
Box score | Conversation


Knicks 113, Hornets 96
Box score | Conversation


Bulls 96, Warriors 91 (OT)
Box score | Conversation

Cavaliers 104, Blazers 99
Box score | Conversation (ESPN)


Thunder 102, Grizzlies 94
Box score | Conversation


Spurs 104, Bobcats 85
Box score | Conversation


Lakers 104, Wolves 92
Box score | Conversation


Suns 106, Magic 103
Box score | Conversation (ESPN)
Sunny Disposition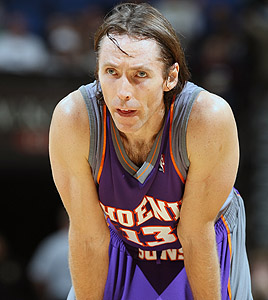 David Sherman/Getty
After losing four of the past five, can Steve Nash and the Suns get back on track Friday?
Friday Game Notes

James
• LeBron James, whose Cavaliers host the Trail Blazers on Friday, has recorded three triple-doubles in 12 games against Portland. Only one opponent has posted more than three triple-doubles against the Blazers: Magic Johnson (10 in 59 regular-season games).
• James has been the Cavaliers' leading scorer in each of their past 11 games against the Trail Blazers, and he's led Cleveland in points, rebounds and assists in five of those games. James' career scoring average against Portland (27.0 ppg) is fourth-highest all-time, behind Michael Jordan (34.0), Larry Bird (29.8) and Kobe Bryant (27.7).
… The Blazers are 14-3 this season in games in which they posted a better field goal percentage than their opponent, but they are 0-6 in games in which they were outshot by their opponent. The only other NBA teams that are winless under those circumstances this season are Golden State (0-10) and Indiana (0-10).
• The Mavericks, who visit Miami on Friday, have a 6-0 record against the Heat since losing the NBA Finals to them in 2006. The last team to win its first six regular-season games against an opponent immediately after a loss to that team in the NBA Finals was the Jazz, who won 10 straight against the Bulls after the 1997 Finals.