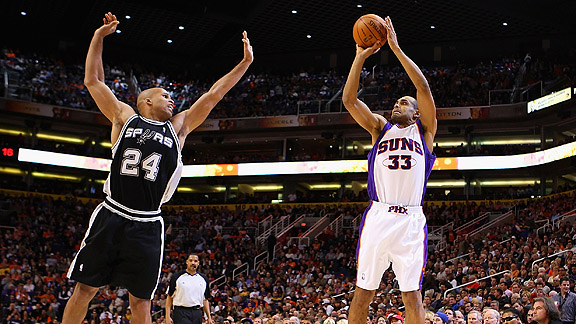 Garrett W. Ellwood/NBAE via Getty Images Grant Hill and the Suns pulled away from the Spurs in the fourth quarter to remain unbeaten at home.
1. Breaking Down The Spurs
By John Hollinger
ESPN.com
PHOENIX -- Forecasting the demise of the Spurs is a fool's errand. Too many times this club has looked underwhelming in the season's first third before dominating down the stretch, a track record that earns the club a fair degree of latitude in assessing its prospects.
Indeed, the consensus from the Spurs' side before Tuesday's game was that they're going to be good ... eventually.
That said, there were some very un-Spur-like things in Tuesday's 116-102 loss to the Suns.
While San Antonio has earned the benefit of the doubt when it comes to slow starts, let the record show that the "doubt" part of that equation grows with each passing day that we don't witness a Spurs renaissance.
Let's start, of course, with their unfamiliar win-loss record of 12-10 after the defeat. Optimists will point out that San Antonio's record has come with a strongly positive point differential, so perhaps the record overstates their problems. This is true, but on the other hand, San Antonio has played only twice against the league's six heavyweights (Lakers, Nuggets, Celtics, Cavs, Hawks and Magic) and was outclassed on its home floor both times. The Spurs have mustered only two road wins all season, with a home-heavy early schedule protecting them from a worse fate in the standings.
It's happened even though Tim Duncan is playing unbelievably well. On Tuesday, he had 34 points, his most since scoring 40 in a double-overtime thriller against this same Suns team in Game 1 of the 2008 playoffs. It was an efficient 34, too, as he shot a stellar 14-of-22 from the floor. Yet it still wasn't nearly enough -- the Spurs lost by double figures as his teammates shot only 40.6 percent from the floor.
That has to worry the Spurs because Duncan started like gangbusters last season, too, only to wither down the stretch as a knee injury gradually wore him down. Right now he's the only part of the Spurs' four-man core performing up to expectations, so if his output stumbles they're really in trouble.
Dig a little deeper in Tuesday's loss, however, and three areas of concern stand out.
• The defense. Let's start with the big kahuna. I can't remember seeing a Duncan-era defense lit up the way it was in the second quarter Tuesday. Phoenix scored 39 points, en route to getting 67 for the half, and built the lead up to 20 points early in the third quarter before the Spurs mounted a too-little, too-late comeback. This was doubly notable because it came against the Suns -- a club the Spurs normally defend as well as any team in the league.
"We missed a lot of rotations," said Tim Duncan. "Game plan-wise, I think we made a lot of mistakes early on and they capitalized."
"We started soft," said Manu Ginobili. "We gave up [67] points in the first half; that's not who we are. We didn't follow what we were supposed to do and they made a ton of shots."
San Antonio entered the game 10th in defensive efficiency and likely will be a few rungs lower by Wednesday morning -- this after last season's sixth-place finish was their worst finish of the Duncan era. Quietly, the Spurs have become primarily an offensive team.
• Richard Jefferson. "We got pathetic games from too many people" said Spurs coach Gregg Popovich, but my question about whether Jefferson might be one of those players was met with crickets.
I'll answer for him, then -- Jefferson was awful. He dunked on a sweet baseline drive on the Spurs' second trip and then disappeared the rest of the night, to the point that the Spurs kept him on the bench for the final 6:05 and used Roger Mason in his place.
Jefferson finished 2-of-7 with four points and four rebounds, continuing his struggles to acclimate to the Spurs' offensive attack. He's lost more than five points off his 40-minute average this season, without any increase in shooting accuracy. Worse yet, his problems seem to be getting more acute as the season wears on. Jefferson's best five-game stretch came in early November, but since then he's scored more than 17 points just once in his last 15 games. That hasn't been a major milestone for him in the past -- his career average is 17.6.
Jefferson's acquisition was hailed as the missing piece that would help get the Spurs back into the West's elite after losing in the first round of last season's playoffs, so his lack of production has been glaring. Without a significant improvement, it's hard to put San Antonio on equal footing with the likes of Denver, Phoenix or Dallas in the Western Conference hierarchy ... let alone the Lakers.
• The turnovers. San Antonio had only 13 miscues Tuesday, a relatively low total for them, but a few proved crucial -- most notably Duncan's only turnover of the night, a poke-check away by Amare Stoudemire on a post-up that led to a game-sealing Goran Dragic layup.
The Spurs entered the game just 18th in turnover ratio, a category in which they led the league last season. While some of that is because they've adopted a more attacking mentality on offense, the empty trips are hurting them -- both offensively and in transition defense.
How they resolve these three issues likely will define their fate the rest of the way. In the Spurs' defense, we did see vestiges of the championship teams of yore on Tuesday. The Spurs continued their habit of cutting off Phoenix's running game, limiting the Suns to eight fast-break points. They also suffered from an unexpected 3-point binge by Dragic, who went 4-for-5 shooting triples that the Spurs basically conceded to him -- obviously, that's not a phenomenon we'd expect to repeat in the future.
Nonetheless, we're getting close to uncharted waters for the Spurs. We've seen them hang back in the pack in the early part of the season and make their move late, but not from this deep in the peloton. And while their Rodeo Road Trip in February normally marks the spot where the Spurs turn it up another gear, it's the upcoming batch of schedule -- with a 10-game cookie sheet of winnable games against lesser teams -- that may end up making or breaking their season.
"I'm not sure if it's just chemistry," said Ginobili succinctly. "We're not playing well."
We've heard this song before, of course, and the Spurs have always managed to come out of it with 50-plus wins and a high playoff seed. No sane person is ready to write this team's epitaph, or even to purchase a chisel. We're not used to hearing it this loudly this far into the season, however, and one wonders if there might be a reason for that.
John Hollinger writes for ESPN Insider. To e-mail him, click here.
Dimes past: Nov. 29 | 30 | Dec. 1 | 2 | 3 | 4-5 | 6 | 7 | 8 | 9 | 10-11 | 13 | 14
2. Bulls Give Strong Effort
By Nick Friedell
ESPNChicago.com

Noah
Sure, the Bulls lost to the Lakers -- nobody can be surprised by that -- but for the first time in over three weeks, the team has played with purpose. The Bulls played with energy for most of the game. They proved to everyone that they could hang with the best team in the NBA. The problem is, as it has been all season, the Bulls simply don't have the type of talent to match up with the elite teams in the league.
There is only one Kobe Bryant, as the Lakers superstar proved again by dropping home 42 points with a broken finger. But the Bulls don't even have the type of consistent scorer who can deliver when the game is on the line. Energy and passion can only take you so far.
The good news for Vinny Del Negro and company is that a loss to the defending world champions might have actually helped the Bulls crawl closer toward finally getting out of their funk.
To read the entire story, click here.
3. Daily Dime Live Recap
ESPN.com writers and TrueHoop Network bloggers chatted with fans and gave their in-game opinions throughout Tuesday night's slate of games -- all in Daily Dime Live.
By Maurice Brooks
ESPN.com
TUESDAY'S BEST

Bryant

Kobe Bryant, Lakers: Despite playing with a broken finger, he scored a game-high 42 points (101st 40-point game of his career) to help the Lakers stop the Bulls for their 12th win in 13 games.

TUESDAY'S WORST

Jefferson

Richard Jefferson, Keith Bogans and Antonio McDyess, Spurs: You're not going to win many games when 60 percent of your starting lineup combines to score just six points on 3-for-11 shooting.

QUOTE OF THE NIGHT

"I think it's been long enough for me playing average. I'm just kind of mad at myself for not stepping out of the box. I'm kind of angry right now."

-- Heat forward Michael Beasley after posting 28 points and 11 rebounds in a win against the Raptors.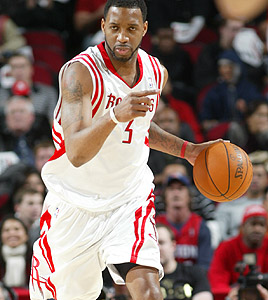 NBAE/Getty
Tracy McGrady made his season debut against the Pistons, scoring three points in eight minutes off the bench as the Rockets rolled to a 107-96 win.
7.

Is Boston's O Better Without KG?
By Zach Lowe
TrueHoop Network

Garnett
The Celtics' offense is functioning better with Kevin Garnett on the court than with him on the bench. Specifically: The C's are scoring 111.21 points per 100 possessions with KG on the court and 109.67 points per 100 possessions with him on the bench, a difference of +1.54. Basketball Value.
For a while I was beginning to get worried. Last season, the Celtics' offense played remarkably well in the 22 games KG missed due to his knee injury. The C's scored more than 114 points per 100 possessions in those games, up from about 110 points/100 possessions with KG in the lineup. That is the difference between a once-in-a-decade offense and a top-three or top-five offense in any given season. It's a big difference.
I theorized last June that the trend had to be a weird statistical blip; there's no way the C's offense could perform better without Kevin Garnett, right? The C's scored more in those 22 games primarily because they hit 43.2 percent of their 3s without KG, an unsustainable number and significantly better than the (already awesome) 39 percent they hit the rest of the season.
And indeed, the offense couldn't sustain that level of production during the postseason. The team's efficiency dropped back down to KG levels (110.1 points per 100 possessions) against Chicago and plummeted to 104 points/100 possessions against Orlando, when the team hit just 29 percent of its 3s in the seven-game loss. But then this season started, and the numbers started to look bad again for KG.
To read more, check out Lowe's TrueHoop Network blog, Celtics Hub.
8.

Bobcats Rally Past Knicks

Wallace
Things didn't look good for the Bobcats when they trailed the Knicks by six points with three minutes remaining in the fourth quarter, but that was still enough time for Larry Brown's team to score 15 points and hold the Knicks to two as Charlotte took a 94-87 decision. The Bobcats didn't miss a shot of any kind down the stretch: they went 5-for-5 from the floor (including a 3-pointer) and 4-for-4 from the line to secure the victory.
It was only the fourth time in their six seasons in the NBA that the Bobcats won a game in which they trailed by at least six points anytime in the last three minutes of either the fourth quarter or any overtime period. But the NBA's youngest team has won those four games against a quartet of opponents that has been playing in the league since the 1940s. Charlotte earned wins in that manner against the Celtics in 2005, against the Pistons and the Lakers last season, and now against the Knicks.
9.

Thunder's Amazing Turnaround
By John Hollinger
ESPN.com

The Thunder didn't win Monday night against the Nuggets, but at 12-11 and playing the league's most difficult schedule, I think it's safe to say they're ahead of schedule. Tuesday's Playoff Odds project the Thunder to win 45 games, which would nearly double last season's total of 23, even though Oklahoma City has virtually the same personnel it had in 2008-09.
To read more, check out Hollinger's PER Diem.