1. Nate Robinson: Buyout Or Trade?
By Chris Sheridan
ESPN.com
NEW YORK -- Nate Robinson, Mike D'Antoni and Donnie Walsh all went into damage control mode Sunday, giving everyone an earful about how there's nothing personal between the player and the coach, how Robinson really, truly wants to be a Knick, and how cooler heads might prevail after Walsh speaks Monday with Robinson's agent, Aaron Goodwin.
We'll spare you too much of the details and quotes, because all of it probably can be summed up in one word:
Bunk.
Robinson does want out, and a source close to the Robinson camp tells ESPN.com there's one place the former slam-dunk champion would truly like to land if a trade can be worked out: Boston.
If that can't happen, Robinson wants a buyout, believing he will be able to sign with one of the top contending teams in the league, including the Lakers, Cleveland and Orlando -- the thinking being that he can provide the instant offensive boost for any of those teams that he once provided for the Knicks.
Sunday night's 98-94 victory against Charlotte marked the ninth consecutive DNP-CD for Robinson, whose tension-filled relationship with D'Antoni has reached a tipping point. The Knicks have gone 6-3 since D'Antoni removed Robinson from the rotation -- a point D'Antoni repeatedly used in his own defense in addressing the matter prior to the game -- and Robinson's camp has made the decision to go public with its displeasure, formally requesting a trade while letting the media know it was doing so.
But a couple of problems exist in regard to Robinson's demanding a trade:
• Robinson has the right to veto any trade (because he would be forfeiting his Larry Bird rights by accepting a trade), and as unhappy as he is, at the end of the day he'd rather sulk at the end of the bench in New York than battle Wayne Ellington for spot minutes in Minnesota. One source close to the Knicks said the list of teams that Robinson would accept a trade to could be described as "slim and/or none."
• Robinson also is what's known as a base-year compensation player, a designation given to any player whose salary rises more than 20 percent from the previous season (Robinson went from making $2.02 million to $4 million). If the Knicks found a trade for Robinson that was to his liking, they could only take back a player making $2.02 million or less -- and Walsh has been adamant that he will not take on any contracts that eat up the cap space he has squirreled away for next summer. A Robinson-Marquis Daniels swap -- possibly brokered through a third team -- would make more sense for New York payroll-wise, but it is questionable whether that would interest the Celtics -- even with Daniels sidelined until the All-Star break by thumb surgery.)
• Robinson cannot be traded until Dec. 24 -- 90 days after he signed his contract, when the Knicks gave him a deal more than $1 million above what he would have had to accept under New York's qualifying offer, in large part to assure he would not have a base-year designation next summer.
• By waiving his trade veto, accepting a trade and thereby forfeiting his Bird rights, Robinson would preclude himself from being a part of any sign-and-trade deal the Knicks might make next summer to reel in a top-tier free agent. And if he returns to the rotation in March and April, that'll be the time for Robinson to establish greater financial value.
But a number of team executives and player agents believe next summer's free agent market is going to be especially difficult to navigate, especially if the top three players on the market -- LeBron James, Dwyane Wade and Chris Bosh -- are less than hasty in making their decisions.
"After those three and a couple others, it's going to shut down -- and it's going to shut down quick," one agent told ESPN.com. "A lot of guys are going to be left waiting at the doors."
And that is why the preferable endgame for Robinson is a buyout, despite what he maintained Sunday in saying he preferred to remain with the Knicks -- provided he gets a chance to play.
The Knicks still have an interest in pumping up Robinson's value for the sign-and-trade market, which is why Robinson could land back in the rotation by the time the trading deadline passes and New York either has or hasn't moved Jared Jeffries, the player with the cap-clogging contract deemed most movable by management. Jeffries logged another 31 (scoreless) minutes Sunday night after playing 31 the previous game, 40 against Chicago on Thursday, and 40 Tuesday at Charlotte when he defended everyone from Tyson Chandler to Raymond Felton and produced one of his better statistical lines of the season: 11 points, six steals, five rebounds, three assists, two blocks and a 3-pointer.
But Robinson's patience would certainly be tested by another two months of riding the pine, and the Knicks' aversion to having controversial players around (part of the reason they shied away from Allen Iverson, and the sole reason why they banished Stephon Marbury a year ago) could possibly make them agreeable to a buyout.
But things will have to get a lot uglier than they've already gotten (Robinson took it personally when D'Antoni joked that he'd play Satan himself if it helped get a win) for Robinson to force the Knicks' hand regarding a buyout. And it seems the wisdom of being seen by other teams as even more of a problem child would dissuade Robinson from heading too hard down that road.
That being said, something has to give at some point in this standoff, and Monday's discussion between Walsh and Goodwin should at least set the table for identifying what possible exit ramps might be available in the weeks ahead. Then again, Walsh will make the argument -- as D'Antoni did -- that players have been in and out of the rotation all season, and Robinson could be as key a component as Larry Hughes, who was in D'Antoni's doghouse when the season began.
But when Robinson didn't play in Chicago on Thursday, with D'Antoni shortening his rotation to six players despite the fact Hughes was sidelined by a strained groin, the dam burst.
Goodwin came out and said Robinson wanted a trade, Walsh said Monday would be a good day to discuss it, and everyone tried to say the right thing Sunday as the crisis crept along. But remember this: Walsh has historically been averse to doing buyouts (Marbury's was the first he had ever done as an NBA executive), and it's hard to see anyone in the Knicks' organization seeing any way in which a buyout of Robinson brings a long-term benefit.
So expect this situation to remain at loggerheads for the time being -- unless one of the key players changes the equation in a major way through their actions or words.
If that's the case, a buyout may be the best thing for everyone involved. And make no mistake: Barring a trade to a contender, a buyout (and it doesn't have to happen tomorrow, next week or next month if that means it's more likely come in late February, when Robinson will still be free to sign with a contender and still be playoff-eligible) is the endgame Robinson likely sees as his most palatable option.
Chris Sheridan covers the NBA for ESPN Insider.
Dimes past: Dec. 1 | 2 | 3 | 4-5 | 6 | 7 | 8 | 9 | 10-11 | 13 | 14 | 15 | 16 | 17 | 18-19
2. Athleticism Is In The House
By Chris Forsberg
ESPNBoston.com

Allen
BOSTON -- When Celtics guard Eddie House tipped the ball away from Minnesota's Ramon Sessions, coach Doc Rivers didn't think he was athletic enough to chase down the ball as it streamed toward the scorer's table near midcourt.
Not only did House split Sessions and Kevin Love, while tracking down the ball, but he made a jaw-dropping, behind-the-back save that hit a streaking Tony Allen in stride at the opposite 3-point arc. Allen went hard to the hoop and threw down a one-handed jam over Corey Brewer, drawing the foul in the process, as the Celtics' lead ballooned to 38-21 with 11:17 to play in the second quarter.
"Well, first of all I didn't think [House] was athletic enough to get to the ball," said Rivers. "So the fact that he got to the ball, I was shocked. And then he made a play once he got to the ball -- it was pretty spectacular. It was great. I was happy because it was a great defensive play."
Allen, who registered season highs with 15 points (5-of-8 shooting) and 24 minutes, couldn't believe how the play unfolded, either.
"That was random -- a transition play, Eddie got a tip on the ball, defensively, chased it down to me and I was just running the lane for the fast break and we got the bucket," explained Allen, who said he initially didn't intend to go for the jam.
To read the entire blog, click here.
3. Daily Dime Live Recap
ESPN.com writers and TrueHoop Network bloggers chatted with fans and gave their in-game opinions throughout Sunday night's slate of games -- all in Daily Dime Live.
SUNDAY'S BEST

Randolph

Zach Randolph, Grizzlies: Z-Bo goes for 32 points and 24 boards in Memphis' 102-96 win over the Chauncey-less Nuggets, helping overcome Carmelo's 41 points. That's notable wins over the Mavs, Cavs and Nugs for the Grizz.

SUNDAY'S WORST

Lawson

Ty Lawson, Nuggets: The promising rookie's first career start did not go well. Filling in for Chauncey Billups, Lawson had only his second scoreless night, missing three shots in 18 minutes of action during the loss to Memphis.

QUOTE OF THE NIGHT

"The basketball gods didn't want us to win this one."

-- Heat guard Dwyane Wade, whose team was also done in by Portland's Brandon Roy (28 points, sinking all five 3-point attempts.)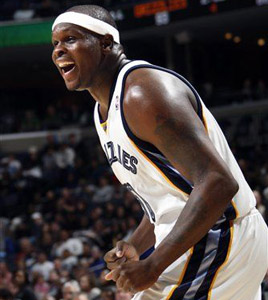 AP Photo/Nikki Boertman
Grizzlies forward Zach Randolph reacts during the second half of his team's win over Denver.

Shamus (Plattsburgh, NY): Instead of LeBron to OKC, how about Houston? They could very well have the cap space, they have an international icon, a GM who knows what he's doing, ditto coach, and arguably the best collection of gritty role players in the NBA!
J.A. Adande: This brings up a good point about the changing nature of the biz. You never hear Houston mentioned with the big cities like N.Y., L.A. or Chi. But look at the popularity of Tracy McGrady, all because of the Internet and because he plays with Yao Ming. McGrady's huge in China, and I'm sure that's where a lot of his All-Star votes are coming from.
As an agent told me, I could play alongside Yao and get voted to the All-Star Game because of the Yao effect. I do think LeBron is savvy enough to think of something like that. Not that all of the pieces can come into place to make it work, but it's yet another argument against "LeBron has to go to N.Y."
To read more, see the full Adande chat transcript.
8.

Wizards' Woes Won't Disappear
By John Hollinger
ESPN.com

For the league's three "W" teams, 2009-10 hasn't produced many W's. The Warriors, Wizards and Wolves are a combined 20-59, with all three falling short of what already were fairly modest expectations this season. Wizards fans might rightly argue, however, that Golden State is in much better shape than their team. The Warriors will have cap room in 2010 and have several quality young players to build the team around. Washington, on the other hand, is in far more dire straits going forward. The Wizards essentially went all-in over the past summer to try to join the Eastern Conference's elite, a questionable premise in light of the fact they won only 19 games last season. Now Washington finds itself at 7-16 after a series of heartbreaking losses, and with the team well over the luxury-tax threshold, many are wondering if it's time to reassess and start over.
It won't be easy. The Wizards have two major negatives facing them in rebuilding that the Warriors don't. First, they have one genuinely horrible contract in Gilbert Arenas' six-year, $111 million deal that still has four seasons to go after this one. Yes, the Warriors have a couple of doozies on their roster, too, but nothing of this magnitude. Arenas is giving them midlevel-caliber production at a superstar price, and it will be virtually impossible to trade him given his history of knee problems and middling production this season. Not even the Warriors would take the bait on that.
To read more, check out Hollinger's PER DIEM, and click here.

Evans
Tyreke Evans put an exclamation point on Saturday's meeting of the NBA's top two rookies with a game-winning layup in the final second of the Kings' one-point win at Milwaukee. Evans outscored Brandon Jennings, 24-15. Both rookies had played 11 games through Nov. 21, with Jennings averaging 25.3 points per game compared to Evans' 18.2 PPG. But over the past three weeks (14 games for each player since Nov. 22), Evans has outscored Jennings by an average of five points per game (21.4 to 16.4).