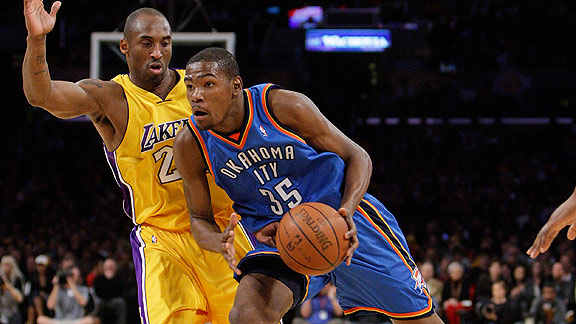 Photo by Jonathan Daniel/Getty Images Kevin Durant scored 30 points before fouling out in the Thunder's road loss to the Lakers on Tuesday.
1. Thunder Ready To Take Next Step
LOS ANGELES -- The Oklahoma City Thunder had earned this moment, the right to have their say on the outcome of the game. Russell Westbrook wanted this moment, and wasn't going to let anyone or anything deter him from taking the 3-pointer that would send the game into overtime or send the Thunder to their 14th defeat of the season.
You had to like the determination in the second-year guard's face, the confidence he had in himself even though one of the best defenders in the league, Ron Artest, had stepped out to guard him.
"You live for moments like that," Westbrook said.
Westbrook made a little move to give himself some space, then fired the 3-pointer from the right side. It skipped from one side of the rim to the other like a stone across the water, never dipping quite low enough into the basket. The Thunder had lost to the Lakers, 111-108. Their breakthrough moment would have to come some other night. Their reality at the moment is they're a game under .500 and tied with Sacramento (Sacramento?????) for the ninth spot in the Western Conference.
Westbrook looked dismayed, then doubled over as if he'd just taken a body blow. Kevin Durant, who had watched the play unfold from the bench after fouling out with 1:31 remaining, was the first to reach Westbrook to give him a hug.
"I told him that was a great look," Durant said. "He'll have many more of those shots. I was proud of him for taking that shot, for getting that look. It happens that way sometimes. I'm here for him. We're all a family here."
You get the sense that these guys (these Thunder? That's why I hate singular team nicknames) have that familial understanding; they know each other's strength's and weaknesses, know who to trust in what situations. They're growing, as evidenced by their professional approach from the start of this game after what could have been a distracting two off days in Los Angeles. They had the Lakers down by 12 points in the first half, had Phil Jackson worried enough to break from his normal pattern and play Kobe Bryant the entire fourth quarter.
That was a lot of time for Bryant to be in harm's way. He went to the ground and clutched his left knee after his leg bowed outward while landing after a layup and later grabbed his jaw when Westbrook elbowed him on a drive. (Bryant said the knee is "a little sore, but it's OK," and the Lakers said they would not take any scans of the knee).
Bryant scored 11 points in the quarter and Westbrook matched all of them. The Thunder had answers for just about everything the Lakers gave to them, only not quite enough to beat the champions in their own building. They're not quite there yet.
"That's the next step," Thunder coach Scott Brooks said. "The Lakers are an elite, championship-ready team right now. They're the best team in basketball. For us to beat a team like this, we have to keep fighting -- keep fighting and keep believing in what we're doing and keep working. That's the only way you get respect in this league, is to challenge your opponent."
The way you get championships is to have Hall of Fame-caliber players on your team, and it's up to Durant to become that. He scored 30 points on Tuesday night, but picked up his sixth foul reaching for a rebound on a missed 3-pointer by Thabo Sefolosha. The Thunder will also need another big man if they're going to take on a team with Pau Gasol and Andrew Bynum. (Serge Ibaka, to his credit, grabbed 14 rebounds in 28 minutes off the bench. He also missed a critical short jumper in the lane).
Great NBA teams have breakthroughs, not just baby steps. It will take more than a game like this or an acquisition such as Tuesday's trade for Eric Maynor to back up Westbrook. At some point, GM Sam Presti has to cash in on his years of solid drafting and salary-cap management and swing the big deal to land a top-notch frontcourt player.
Bryant said the Thunder "have a lot of potential. Hopefully they can keep that group together for years to come." I remember Michael Jordan saying the same thing about the Washington Bullets in the 1990s and Magic Johnson saying the same thing about the Cleveland Cavaliers in the 1980s, and those teams never hung banners. Or ask the Portland Trail Blazers, who have watched their hopes for this season collapse in a heap of patella injuries that have hit their big men.
At the moment, the Thunder can continue to live on the promise of what's to come.
"We're getting better," Durant said. "I'm so proud of our guys. I know we don't like to take moral victories. Tonight we showed a lot of toughness and a lot of maturity."
They demonstrated all of that. It makes you want to believe. It should make them understand that the time to produce results is closer than they think.
J.A. Adande is an ESPN.com senior writer and the author of "The Best Los Angeles Sports Arguments." Click here to e-mail J.A.
Dimes past: Dec. 2 | 3 | 4-5 | 6 | 7 | 8 | 9 | 10-11 | 13 | 14 | 15 | 16 | 17 | 18-19 | 20 | 21
2. Mavericks Fall In Nowitzki's Return
By Tim MacMahon
ESPNDallas.com

Nowitzki
DALLAS -- Dirk Nowitzki's recently lacerated right elbow didn't bother him too much Tuesday night. But his back was aching from trying to carry the Dallas Mavericks at home again.
The Mavs had another miserable offensive night at the American Airlines Center, shooting 38.8 percent from the floor. They've managed to pull out wins on many of those types of occasions this season, but that wasn't the case against a pesky Portland team that was dealt yet another devastating injury.
Portland defeated Dallas 85-81 -- the Mavericks' fifth loss at home, one more than they have on the road. The Mavs' home record would be mediocre if not for a handful of dominant clutch performances by Dirk, but he had a good look go in and out in the final minute and didn't touch the ball when Dallas had a chance to tie or take the lead on their final possession.
"It just feels like at home I've got to make every shot down the stretch to win," said Nowitzki, who had 27 points on 10-of-16 shooting in his first game since a gruesome collision Friday night with Houston's Carl Landry. "That's how it feels. If I don't make it, like that pull-up left, we're losing. I don't know; we've got to figure something out."
To read the entire MacMahon column, click here
3. Daily Dime Live Recap
ESPN.com writers and TrueHoop Network bloggers chatted with fans and gave their in-game opinions throughout Tuesday night's slate of games -- all in Daily Dime Live.
By Maurice Brooks
ESPN.com
TUESDAY'S BEST

Bryant

Kobe Bryant, Lakers: He had 40 points, eight rebounds and six assists to help the Lakers erase a 12-point deficit on the way to a 111-108 win against the Thunder.

TUESDAY'S WORST

Miller

Brad Miller, Bulls: The slump continues for Miller, who went scoreless in a loss to the Knicks. He has just two points in his past four games for Chicago.

QUOTE OF THE NIGHT

"I was getting great shots, man. I thought something was wrong with the rim, not with me."

-- Boston forward Paul Pierce, who started 0-for-10 in a win against the Pacers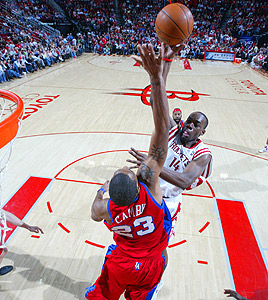 NBAE/Getty
In his first game back following dental surgery, Houston's Carl Landry tied his career high with 27 points on 7-for-10 shooting, as the Rockets cruised past the Clippers, 108-99.
7.

Implications Of Maynor Deal
By John Hollinger
ESPN.com

Maynor
Coming into the season, we knew the Oklahoma City Thunder would be able to demand a hefty price for the privilege of renting their salary-cap space this winter, because so many teams are in tight spots financially. We also knew that Carlos Boozer's not opting out of his contract would likely cost the Jazz a player somewhere down the road.
Today, their destinies collided. A full two months before the trade deadline, the Thunder made their move when the Jazz dangled rookie point guard Eric Maynor as the prize for taking on the contract of soon-to-be-retired forward Matt Harpring.
To read the entire Hollinger column, click here.
8.

Did Del Negro Save His Job?
By Chris Sheridan
ESPN.com

NEW YORK -- The Chicago Bulls played poorly enough in the first half to cost Vinny Del Negro his job, then well enough in the second half to save it.
So where does that leave Del Negro on the eve of Christmas Eve -- a.k.a. this decade's doomsday for Bulls' coaches?
Just a guess, but an educated one: There's probably a little better than a 50-50 chance that Del Negro is wrapping presents rather than packing boxes on the night before Christmas (which also is the night the Bulls fired former coaches Scott Skiles and Tim Floyd).
I would not have made that strong a statement at halftime, when the Bulls were down by 22 and looking even more lifeless than they were in the closing 18 minutes of their previous night's game, when they blew a 35-point lead and lost to the Sacramento Kings in one of the most epic collapses in NBA history.
To read the entire Sheridan column, click here.
9.

Randolph A Force In The Paint

Randolph
Zach Randolph scored 33 points and grabbed 18 rebounds in the Grizzlies' 121-108 home win over the Warriors. In his previous game, Randolph had 32 points and 24 rebounds against the Nuggets. He's the first player in Grizzlies' franchise history with back-to-back 30-point, 15-rebound games, and the first NBA player to do it since Dwight Howard in December 2007.