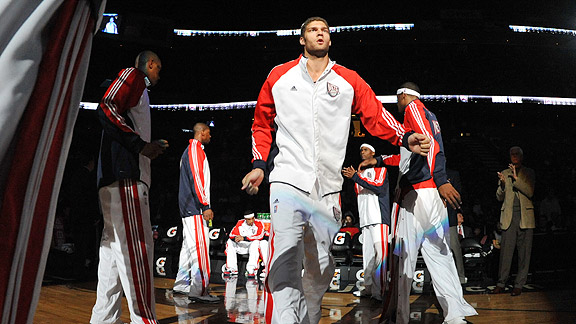 Garrett W. Ellwood/NBAE via Getty Images Brook Lopez has performed at an All-Star level despite New Jersey's lack of outside shooting.
1. What Do You Want For Christmas?
Editor's note: With Friday being Christmas, we asked some of our TrueHoop Network bloggers what they want Santa Claus to bring for their respective teams. Here are their responses.
---

"The one thing that I would like to see the Nets get for Christmas is a 3-point shooter. They are last in the NBA in 3-point shooting at 26.8 percent. Brook Lopez sees a ton of double-teams and even triple-teams because of this lack of a shooting threat."
-- Sebastian Pruiti, NetsAreScorching
---

"A shot-blocking, floor-running, slam-dunking, high-jumping, powerful power forward. In short: Derrick Favors."
-- Jeremy Schmidt, Bucksketball
---

"What I want for the Warriors is a legitimate big man who can score and rebound. Play for now, quit playing for the future."
-- Rasheed Malek, Warriors World
---

"I'd like the Kings to get a healthy Kevin Martin to pair with Tyreke Evans in the backcourt. We've discovered that Evans is a force on his own, and with Martin's ability to score the ball, they could end up being the best backcourt in the NBA."
-- Zach Harper, Cowbell Kingdom
---

"I want the Hornets to get their hands on at least one non-specialist player to run with Chris Paul. Every Hornet other than Paul is good at only one or two things. They need another multi-threat talent."
-- Ryan Schwan, Hornets247.com
---

"Dear Santa: Thank you for the early Wesley Matthews gift. The rest of the Jazz have been naughty with all this losing on the road (and at home). Please overlook all that and bring some killer instinct and some inspirational leadership. For the fans, Peter Fehse throwback jerseys for all."
-- Spencer Hall, Salt City Hoops
---

"The Clippers don't want a Zhu Zhu hamster, a Nintendo Wii, or even a pony. All they want for Christmas is a completely healthy Blake Griffin. Of course, they can't get that quite yet, so they'll probably end up getting socks. Lots and lots of socks."
-- D.J. Foster, Clipperblog
---

"The Wizards don't want Ernie Grunfeld to break up their team. The big three of Gilbert Arenas, Caron Butler and Antawn Jamison are in their fifth year together and each player has too much pride to call it quits. So what do the Wizards want for Christmas? They want to go 10-3 in the next 13 games, pushing their record to a respectable 20-20. Flip Saunders recently extended his initial judgment period from 20 to 40 games, and at that point an even .500 would show a lot of promise. Seems like a tall order, but what are holiday wishes for?"
-- Kyle Weidie, Truth About It
---

"The Hawks need the perimeter defense to approach the quality that the young, athletic frontcourt provides. Rebounding's up, more turnovers are being forced, but teams are making their jump shots at a higher rate and the team defense is not much better than last season."
-- Bret LaGree, Hoopinion
---

"Dear Santa: For Christmas this year, all I want is for the Timberwolves to win the lottery in May. You see, they've never won the lottery before (never even moved up, for that matter) and they could really use the help. P.S. I'll even promise to leave extra cookies for you by the fireplace."
-- Patrick Hodgdon, Howlin' T-Wolf
---

"Santa, listen up, if you take away the defensive intensity you brought us over the last three games, I might just lock you up in the chimney. While you're at it, bring us a taker for Jose Calderon who remembers him for what he was in January and February of 2008. Nothing past that."
-- Zarar Siddiqi, Raptors Republic
---

"If you asked most every Thunder fan, they'd tell you they were pretty content right now. A big win over Phoenix and a .500 ballclub is a pretty good gift as it is. But if there were something extra you could slide in the stocking for OKC, it would be a starting spot in the All-Star Game for Kevin Durant. Come on Santa, he's been good. Very, very good."
-- Royce Young, Daily Thunder
---

"Health. Richard Hamilton, Ben Gordon and Tayshaun Prince have missed a combined 63 games due to injury, and all three are still out. With them, Detroit is likely a playoff team. Without them, well, it's time to start dreaming about John Wall and wondering if he and Rodney Stuckey would make a good backcourt."
-- Dan Feldman, PistonPowered
Dimes past: Dec. 3 | 4-5 | 6 | 7 | 8 | 9 | 10-11 | 13 | 14 | 15 | 16 | 17 | 18-19 | 20 | 21 | 22
2. Celtics' Depth To Be Tested Without Pierce
By Chris Forsberg
ESPNBoston.com

Pierce
The Celtics do not appear inclined to make a reactionary move after learning captain Paul Pierce will be sidelined for two weeks after undergoing arthroscopic irrigation on his right knee Wednesday.
Instead, the team simply reached down to its NBA Development League affiliate and recalled second-year forward Bill Walker, who didn't make the trip to Orlando with the team Wednesday morning, but should join the club soon.
With Pierce expected to miss the team's entire four-game road trip, including a Christmas Day game against the Magic, Boston's depth will receive its stiffest challenge of the season. Boston played without Kevin Garnett (day-to-day, right hip bruise) on Tuesday night and looked disjointed early, but rallied from a 15-point deficit to top the Indiana Pacers.
The Celtics have leaned on their depth when injuries have arisen this season. When Glen Davis fractured his thumb two days before the season opener, Shelden Williams picked up some extra minutes off the bench. When Marquis Daniels underwent surgery to repair a torn ligament in his left thumb earlier this month, Tony Allen returned to the lineup and has exceeded expectations at both ends of the court.
The Celtics showed Tuesday that -- even when Garnett is out and Pierce struggles -- they have other players who are capable of shouldering the offensive load. Eddie House came off the bench to carry the offense in the second quarter before Ray Allen and Kendrick Perkins kicked into high gear. In fact, Celtics coach Doc Rivers shortened his rotation without Garnett, holding Williams off the floor, despite the hole in the front court.
To read the entire Forsberg column, click here
3. Daily Dime Live Recap
ESPN.com writers and TrueHoop Network bloggers chatted with fans and gave their in-game opinions throughout Wednesday night's slate of games -- all in Daily Dime Live.
By Maurice Brooks
ESPN.com
WEDNESDAY'S BEST

James

LeBron James, Cavs: He had 34 points, 16 rebounds and 10 assists for Cleveland, which held Sacramento scoreless in overtime on the way to a 117-104 win.

WEDNESDAY'S WORST

Stuckey

Rodney Stuckey, Pistons: Playing without Ben Gordon, Richard Hamilton and Tayshaun Prince, Detroit needed a strong performance from Stuckey, but the guard made only 3 of 13 shots on the way to an eight-point night.

QUOTE OF THE NIGHT

"I know that the only thing that is important is that if I'm blocking shots and rebounding we're going to win games."

-- Orlando center Dwight Howard after grabbing 20 rebounds against the Rockets
5.

Smith, Not Anthony, Goes Off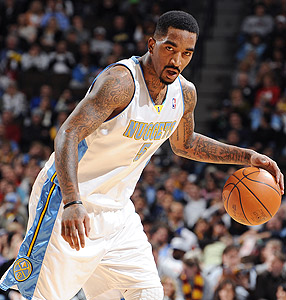 NBAE/Getty
J.R. Smith came off the bench to score 41 points to power the Nuggets to a 124-104 win over the Hawks. Smith went 10-for-17 on 3-pointers.
By Sebastian Pruiti
TrueHoop Network

Yi
Despite the Nets' picking up their NBA-worst 27th loss Wednesday against Minnesota, they can take some positives away from the game, the most important being the return of Yi Jianlian.
After sitting out six weeks due to injury, Yi went for 22 points on 7-for-12 shooting (4-of-6 on 3s) and grabbed eight rebounds. More importantly, Yi showed something he hasn't really shown in his short NBA career: emotion and aggressiveness. He was attacking the basket and being aggressive on the boards; in fact, at one point late he grabbed a rebound over two Timberwolves while initiating the contact.
He was also arguing calls, calling for the ball and showing passion. Late in the game Yi was trailing behind Keyon Dooling calling for the basketball. Dooling passed it to him and Yi calmly knocked down a big 3; afterward, he pounded his chest and yelled, "Give me the ball!"
It has been a rough road back for Yi, who was injured Nov. 2 against Charlotte. Not only did he have to deal with a sprained MCL, but just as he was ready to return, he suffered a cut above his lip that required 50 stitches. He couldn't work out during the two-week healing period because team doctors feared it would get infected. Perhaps going from being close to returning to sitting out another two weeks due to a stray Sean Williams elbow got Yi going.
Now that he has returned, the Nets should improve on their league-worst 26.8 3-point percentage. His shooting ability will also clear room for Brook Lopez (19.5 points per game), who has faced constant double- and triple-teams.
To read more, check out Pruiti's TrueHoop Network blog, NetsAreScorching.
8.

Boykins Stars Late For Wizards
By Kyle Weidie
TrueHoop Network

Boykins
It wasn't the first time the Wizards relied on the late-game heroics of Earl Boykins. His 12 fourth-quarter points Wednesday night propelled the Wizards to a 109-97 win over the Milwaukee Bucks, giving Washington only its third two-game winning streak this season.
Late-game offense led by the 5-foot-5 Boykins hasn't always been ideal, but more often than not, it's been effective. Wizards' fans tend to cringe when he dribbles the air out of the ball, burning precious seconds worth of offensive movement off the shot clock. But that anxiousness often results in an explosion of excitement from the seemingly improbable sight of such a small guy rapidly moving around the court and making key buckets.
Unlike previous takeovers, such as when the Wizards beat the Bucks in D.C. and Boykins notched 11 points in the game's final 10 minutes, the little guy had some help Wednesday night. Caron Butler and Antawn Jamison didn't get caught watching the show, and Gilbert Arenas sat out of necessity after he took a knee to the leg with just over seven minutes left, instead of riding the bench as an experiment because his Hibachi grill was cold. After Arenas went down, Jamison pitched in 11 points and Randy Foye stepped up with three assists to serve as Earl's supporting cast.
Boykins still isn't the ideal late-game solution for the Wizards, but fans should not see him as any less a part of the team. With the Wizards searching for wins by any means necessary, all options are on the table. Flip Saunders doesn't have a plan as to how he will implement fourth-quarter strategy past the next game. He searches for the right combination of those who want to rise to the occasion and runs with it. If team veterans put themselves in that combination, the Wizards just might achieve their longest winning streak of the season on Saturday in Minnesota.
To read more, check out Weidie's TrueHoop Network blog, Truth About It.
9.

Ellis Goes The Distance

Ellis
Monta Ellis played his sixth complete game of the season on Wednesday (i.e., he played all 48 minutes). He has already tied the most complete games for any player in any of the past five seasons; Ellis had six in 2007-08 and Allen Iverson had six in 2005-06. The last player with more was LeBron James, who had 10 in 2004-05. (By the way, 20 of the 30 Major League Baseball teams had fewer than six complete games from their starting staff this past season.)