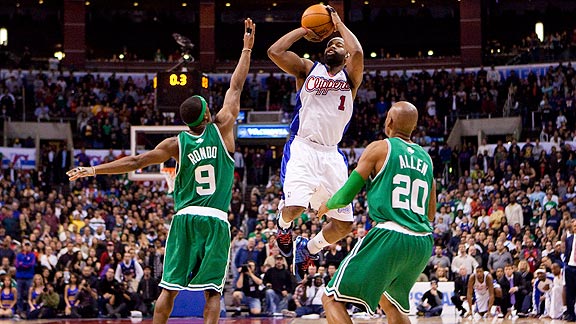 Garrett W. Ellwood/NBAE via Getty Images Baron Davis had 24 points, 13 rebounds, three steals and the game-winning jumper at the buzzer.
1. Clippers Follow Davis' Plan To Victory
LOS ANGELES -- Since Mike Dunleavy is inexplicably still the head coach even though he has produced only one winning record in six-plus seasons, and assistant John Lucas doesn't officially have the job despite spending most games on his feet shouting and waving his arms, why not end the confusion and name Ricky Davis the coach of the Clippers?
Yes, that Ricky Davis, whose latest stop in his career has brought him to the end of the Clippers' bench. He's the guy Baron Davis credits with inspiring him to lead the Clippers to their best victory of the season, a 92-90 buzzer-beater over the Celtics that Baron delivered with a high-arcing jumper over Rajon Rondo.
"What he said to me before the game really stuck with me," Baron said. "He just told me to be aggressive, don't worry about nobody else out there, just worry about what you've got to do, and I guarantee you that we're going to stay close. You just be aggressive, you just worry about taking care of BD, don't get frustrated, and play your game."
Baron did it from beginning to end, getting into the lane to score the Clippers' first basket, throwing an over-the-shoulder lob to DeAndre Jordan for a jam, getting the Clips off to a good start before picking up his second foul midway through the first quarter. Sporting a modified Mohawk (he called it "the Boomhawk"), he had 13 points and seven assists in 18 minutes in the first half, 24 and 13 for the game. All, apparently, thanks to Ricky Davis, who got the credit for this victory despite playing all of 14 seconds.
"On this team, he's one of our best teammates," Baron said. "He's a guy who doesn't really get an opportunity to play a lot, but he's a very smart individual and he knows the game. A lot of times, he's out there and he sees things. If I'm not going to Coach Lucas, I'm going to Ricky. From a player's standpoint, I always ask him what he sees. Before the game he pulled me to the side and he told me what I need to do. Sometimes it's good to hear that from your teammates."
One name was conspicuously absent from that paragraph. Well, if Dunleavy isn't one of the guys Davis goes to, at least credit Dunleavy with listening to Baron during the final timeout, when the point guard said "Coach, run this play for me, I'm going to shoot it, we're going to win."
So, with 1.0 on the clock and the game tied 90-90, Dunleavy had Rasual Butler inbound the ball to Davis. Before catching the pass, though, Davis set a back screen for Chris Kaman, and then released out beyond the top of the key, caught the pass from Butler and fired a turnaround jumper that dropped cleanly through the net.
That worked better than the previous play the Clippers ran out of a timeout, when Kaman came up near half court, Davis picked up his dribble and then passed to Eric Gordon, who lost the ball as he tried to dribble into the lane.
But the Clippers' deficit stayed at three points when Ray Allen missed a jumper. This time, with Davis operating on his own, he called for a screen from Kaman, split Rondo and Kevin Garnett and got into the lane, drew Allen away from Butler and fired a pass to Butler in the right corner. Butler drained the 3-pointer to tie the score.
Rondo drove on Baron Davis and drew a foul with 1.5 seconds remaining, but missed both free throws to give the Clippers the chance to win it with a two-pointer. Rondo took it hard, staring glumly at the floor in the locker room 20 minutes after the game. The rest of the Celtics weren't too worried, aware they couldn't expect to get through the season with only one road loss (at Indiana in November). Plus, the Celtics were playing their first game of a West Coast trip when their bodies are still on Eastern time, Paul Pierce (knee infection) isn't with the team, and Glen Davis is just coming off an injury. All told, it was a scenario that didn't lead to their best basketball.
They were disappointed in their defensive breakdowns (Kaman was the biggest beneficiary with 27 points), but stayed on message about the "process" of building toward a championship.
Where the Clippers go from here is much more uncertain. The word is that Dunleavy will get a chance to coach through the debut of No. 1 draft pick Blake Griffin, which is expected in mid-January. Can the Clippers maintain consistency, will Baron keep delivering these types of performances, will the 13-17 Clippers get to .500?
Maybe everything is possible if they just listen to Ricky Davis.
J.A. Adande is an ESPN.com senior writer and the author of "The Best Los Angeles Sports Arguments." Click here to e-mail J.A.
Dimes past: Dec. 7 | 8 | 9 | 10-11 | 13 | 14 | 15 | 16 | 17 | 18-19 | 20 | 21 | 22 | 23 | 25-26
2. Spurs Feast On Knicks At Garden
By Chris Sheridan
ESPN.com

Ginobili
NEW YORK -- A cupcake diet is fattening their win total, so San Antonio Spurs coach Gregg Popovich wasn't going to overly sugarcoat his assessment of his team after they defeated the New York Knicks 95-88 Sunday night.
But one night after Popovich was positively effusive in his praise after the Spurs shot over 60 percent in a victory at Milwaukee, he was pretty darn pleased with what he saw -- and with what he has been seeing over the past couple of weeks.
"We've been really inconsistent all year and haven't been doing the things we're used to doing, so last night and tonight is really the first time all year where we played two games in a row and played for 48 minutes -- played the defense, rebounded, executed pretty well. It was the best two games of the season in that regard, so I'm pleased with that," Popovich said.
"But we're not there yet. I'm glad the playoffs don't start next week, because we wouldn't fare very well. But the good thing is we know that. We know we have a long way to go, we know what we have to improve, and guys are willing -- so it's an exciting time, changing the team over a little, adding so many new faces. So we'll see where it goes."
The victory improved San Antonio's record against sub-.500 teams to 12-3, and the cream puffs will keep on coming in the days ahead as San Antonio plays its next five against Minnesota, Miami, Washington, Toronto and Detroit. But the Spurs also have played the fewest games of any team in the NBA (28 -- tied with New Orleans, Washington, Milwaukee, Miami, Chicago and Charlotte), and Sunday was only their 11th road game -- the fewest of any of the NBA's 30 teams.
So the schedule is eventually going to get tougher, but the ease of the Spurs' slate thus far (they have played 11 games against teams with winning records, emerging victorious only four times) has been sort of a blessing in disguise in that it has allowed team mainstays Tony Parker and Tim Duncan to grow accustomed to playing alongside three new starters and seven new teammates following one of the largest offseason overhauls the franchise has made in years.
Parker was 10-for-17 from the field for a team-high 22 points, and Manu Ginobili bounced back from an 0-for-5 start to finish 6-for-14 from the field for 17 points as San Antonio improved to 17-11 -- one fewer victory than they had after 28 games last season.
"[Ginobili] was a little more free with his game tonight than he's been all year. He took the 3s tonight, pulled up in transition for a long one after he made the first one -- and we haven't seen that," Popovich said. "That's when he's at his best, when he just plays."
Chris Sheridan covers the NBA for ESPN Insider.
3. Daily Dime Live Recap
ESPN.com writers and TrueHoop Network bloggers chatted with fans and gave their in-game opinions throughout Sunday night's slate of games -- all in Daily Dime Live.
By Maurice Brooks
ESPN.com
SUNDAY'S BEST

Bosh

Chris Bosh, Raptors: The Raptors extended their season-high winning streak to four games thanks to 25 points, 16 rebounds and three blocks from the power forward.

SUNDAY'S WORST

Watson

Dahntay Jones and Earl Watson, Pacers: Indiana's starting guards went scoreless, missing their four combined shot attempts (in 33 combined minutes) in Indiana's 114-80 loss to the Heat.

QUOTE OF THE NIGHT

"It's a lot of weapons. That's a big plus when you've got everybody on the court at the same time that can score."

-- Dallas forward Drew Gooden after the Mavericks had seven players score in double digits against the Nuggets
5.

Cavaliers Ground Rockets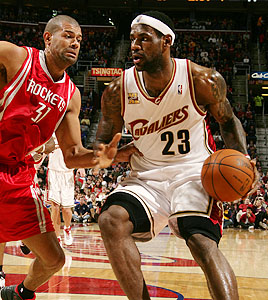 NBAE/Getty
LeBron James tallied 29 points, five rebounds and six assists, helping the Cavaliers dominate the third quarter of their home win against Houston.
7.

Influential Pistons Top 10
By Dan Feldman
TrueHoop Network

Prince
PistonPowered.com will unveil its list of the 10 most influential Pistons of the last decade Wednesday. The ranking is based on Time Magazine's Person of the Year and will be ordered by which Piston -- including all members of the organization -- "for better or worse, has most influenced events" in the last decade. Here's a preview:
10. Tayshaun Prince
In addition to providing near All-Star-level production for seven seasons, Prince made the Pistons' greatest play of the previous decade.
He ran the length of the court to block Reggie Miller's breakaway layup, preserving a Detroit win in Game 2 of the 2004 Eastern Conference finals against the Pacers. The play itself was spectacular, but the ramifications were even more extraordinary.
Rasheed Wallace had guaranteed a win before the game, and Prince's block helped Detroit maintain its swagger, even its series with the Pacers and eventually win the NBA championship.
Prince, the Pistons' leader in games during the previous decade, was one of the league's premier wing defenders at his peak.
When Detroit trailed 3-1 against the eighth-seeded Magic in the first round of the 2003 playoffs, Pistons coach Rick Carlisle inserted Prince, then a little-used rookie, into the rotation.
The former Kentucky Wildcat covered Tracy McGrady, who led the league in scoring during the regular season and had made 52 percent of his shots in the series.
But with Prince's 7-foot-2 wingspan bothering him, McGrady made just 36 percent of his shots in the final three games -- all Pistons' wins. That led to the first of Detroit's record six straight conference finals.
His strong defense of Kobe Bryant in the 2004 Finals was also key to the Pistons' title. The only reason he's not higher is his defense has been quite mediocre the last couple of years.
But at one point, he appeared on track to be a star. Still, he's certainly been one of Detroit's top players of the decade.
To read more, check out Feldman's TrueHoop Network blog, PistonPowered.
8.

Sources: Del Negro Firing Closer
By Chris Broussard
ESPN The Magazine

Del Negro
The decision to fire head coach Vinny Del Negro has already been made, according to sources with knowledge of the Chicago Bulls' thinking. The fact that the Bulls' front office has not been able to settle on a replacement is the main thing keeping the embattled Del Negro employed, the sources said.
To read the entire Broussard column, click here.
9.

Lee And Duhon Star In Defeat

Lee
The Knicks got some noteworthy performances but they weren't enough to avoid a loss to the Spurs, who posted a 95-88 win at Madison Square Garden on Sunday. It had been 15 years since a Knicks center scored as many points against the Spurs as David Lee did (28), the last one being Patrick Ewing in 1994. And it was 21 years since any Knicks player recorded as many assists against San Antonio as Chris Duhon did (13).