1. Where Paths Of Nash And Kobe Split
By Dave McMenamin
ESPNLosAngeles.com
PHOENIX -- For a guy who won back-to-back MVPs playing in a "Seven Seconds or Less" system -- a system that required taking the first available shot and was intolerant of a player taking his time -- it's ironic how one of Steve Nash 's best qualities as a person is his patience.
It's a quality belonging to the Suns' captain that manifested itself in the home locker room after Phoenix blasted the Los Angeles Lakers 118-103 on Monday.
The mood was satisfaction, sure, but not celebration.
"We want to just play well," Nash said after posting his 18th double-double of the season with 16 points and 13 assists.
"More than the win, it was just that we played well today. ... For me, what was important was that we came out and had a great approach and mentality and we fought for it. That's what's going to have to be a lasting characteristic for our team to continue to have a successful season."
Coming into the game, Phoenix was just 5-9 in the month of December after starting the season 14-3. There are a lot of teams in this league that would puff their chests out and say, "We're back," if they were mired in the kind of rut that the Suns have been in and suddenly came out and dominated the defending champs for 48 minutes.
But not Nash and the Suns.
"It's one win against a really quality team, but that's all it is: one win," Suns coach Alvin Gentry said.
"I think in a week everybody will forget about it, so it's not a statement game," Nash added.
Kobe Bryant scored 34 points to lead all scorers, but the Lakers, who had already beaten Phoenix twice this season, fell behind by as many as 22 and continued a disturbing trend of losing by double digits. Despite being tied with Cleveland for most wins in the NBA with 24, L.A.'s average margin of defeat is 15.0 points in its six losses.
Nash and Bryant have a lot in common. They're former MVPs. Each is playing for the franchise he started his career with. Each is in his 14th season and is still leading the league in one of the five major statistical categories -- Bryant in scoring (29.9 points per game) and Nash in assists (11.2).
But this past summer, when Nash was faced with a situation similar to what Bryant went through two years ago, the point guard's patience directed his decision.
We all remember Kobe's I've-had-it trade demand in May 2007, just a few short weeks after Nash's Suns knocked Bryant and the Lakers out of the first round of the playoffs in a five-game series.
Bryant sensed his championship window in Los Angeles was closed, and he wanted to jump through the glass and flee to greener pastures rather than wait for another window to open in L.A.
Nash was in the same boat this past summer. It's been more than two seasons since the Suns were truly championship contenders in 2006-07. (The epitaph on the Shaquille O'Neal experiment turned out the move was ultimately more about publicity than title plausibility.) Nash has seen the franchise let go of his coach (Mike D'Antoni), part with his best friends on the team (Raja Bell and Boris Diaw) and trade draft picks to avoid paying their salaries, yet he signed a two-year extension that will keep him in Phoenix for what's left of his prime. He'll be 38 years old when the contract is up.
"I'm glad as [expletive] it ain't me," Bryant said at shootaround on Monday when he was asked about Nash's situation as an elite player with little immediate hope for a championship.
"It's tough. We went through it. We used to come up here during the playoffs and get our butts kicked and it was brutal. I'm sure he's feeling it a little bit, but I know he likes his chances here with the team he has."
Where Bryant has it wrong is that Nash concerns himself with the team and not the chances. The journey and not the results. It's kind of an old-school character trait that's survived today's instant-gratification society.
"Sometimes after games he's frustrated with the outcome and lack of execution, but I don't think he's someone who is going to go to a team just to win a championship," Suns forward Jared Dudley said after putting up 19 points and seven rebounds off the bench, proving to be the difference-maker in Phoenix's bench outscoring L.A.'s 52-31.
"I told the guys in the locker room, 'You guys really screwed up because we know what you can do now, so we expect this to happen,'" Gentry said after his team tied the Lakers on the glass, even though the Lakers were starting a nearly all 7-foot frontline of Lamar Odom, Pau Gasol and Andrew Bynum.
The win lifts Phoenix to 20-12, tied with Denver for the third-best record in the West. The playoffs are in sight. And for a Suns team that has now beaten Los Angeles, Boston and Orlando, it's not that far-fetched to start thinking about the ultimate reward of a championship.
Not that Nash will be crushed if that doesn't happen quite so fast.
"There's a lot of reward just playing with these guys," Nash said. "I really enjoy myself. I love competing, I love being around these guys, so it's fun. Patience is not really something I have to worry about."
Dave McMenamin writes about the Lakers for ESPNLosAngeles.com
Dimes past: Dec. 10-11 | 13 | 14 | 15 | 16 | 17 | 18-19 | 20 | 21 | 22 | 23 | 25-26 | 27
2. Randolph On A Roll
Elias Sports Bureau

Randolph
• Zach Randolph had 23 points and 13 rebounds on Monday, and over his last five games he's scored 141 points and collected 91 rebounds. The last NBA player with as many points and rebounds in a five-game span was Shaquille O'Neal in February 1993, his rookie season.
• Rajon Rondo had 30 points and 15 assists on Monday, making him only the third Celtics player to have a 30/15 (points/assists) game: Bob Cousy and Larry Bird each did it twice, although neither did it in a loss, as Rondo did on Monday against the Warriors.
• Monta Ellis had his seventh complete game of the season on Monday, giving him three more than all other NBA players combined this season. The only other NBA players to play an entire game this season are Ellis' teammates: Anthony Morrow (twice), Vladimir Radmanovic (once) and C.J. Watson (once).
3. Daily Dime Live Recap
ESPN.com writers and TrueHoop Network bloggers chatted with fans and gave their in-game opinions throughout Monday night's slate of games -- all in Daily Dime Live.
MONDAY'S BEST

Durant

Kevin Durant, Thunder: Dropping a season-high 40 points on the Nets' curb is one way to keep the Meadowlands down. Overall, Durant made 15-of-22 shots from the field for OKC, which has won three games in a row.

MONDAY'S WORST

Boykins

Earl Boykins, Wizards: The best 5-foot-5 player misses all seven shots in an overtime loss to the Grizzlies. It was only the second scoreless night of the season for the bench spark, who is averaging 9.2 points.

QUOTE OF THE NIGHT

"Scott Skiles is a good coach. Obviously, he did it for a reason, but it helped us that they weren't out there."

-- Charlotte guard Stephen Jackson after the Bucks' coach did not play Andrew Bogut and Michael Redd in the second half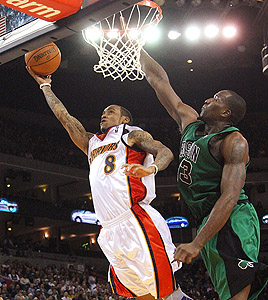 Jed Jacobsohn/Getty Images
Warriors guard Monta Ellis (37 points) shoots over Celtics big man Kendrick Perkins during Golden State's 103-99 win. Ellis played the full 48 minutes for the seventh time this season.
By Sebastian Pruiti
TrueHoop Network

Yi
When Nets forward Yi Jianlian put up 22 points and eight rebounds in his return from a sprained right knee against Minnesota on Dec. 23, I was excited. However, that excitement quickly turned into trepidation. Yi has had performances like this in the past; the problem is that he hasn't been able to do it night in and night out. Even though it is a small sample size, the past three games are starting to ease my worries, because he is now showing that he can perform on a consistent basis.
Yi, who had a career-high 29 points in Monday's loss to the Thunder, has shown a newfound consistency that can be attributed to his willingness to attack the basket. When Yi makes the catch on the outside, defenders close out hard on him, respecting the shot. In previous years, Yi would look for his shot and if it wasn't there, he'd pass it off. This year, he is using the hard close-out to his advantage, getting his defender on his hip and getting into the paint, where he has finished with a variety of layups and dunks.
Attacking the basket not only results in easier shots, but it gets you to the foul line more, and since Yi is a good shooter, that leads to easy points. Yi's free throw rate (foul shot attempts/shot attempts) is .44 this year, up from .25 last year. Because Yi is now attacking the basket, he has the ability to be productive on nights when he struggles with his shot.
So why the sudden change? I think that the coaching change has played a large role here. After Lawrence Frank was fired, Kiki Vandeweghe was made coach. Vandeweghe brought in Del Harris, who was Yi's coach in 2004 when he played for Team China. Del and Yi are very familiar with each other, and I think Del has been able to get through to Yi.
To read more, check out Pruiti's TrueHoop Network blog, NetsAreScorching.

McGrady
Ben (NYC):
What do you think will happen with the whole
Tracy McGrady
situation?
Chris Sheridan: I think his agents and the Rockets will work together to find a deal that makes sense for both sides. I did a piece recently documenting the Knicks' interest, and that remains strong. But Jared Jeffries is the deal-killer unless they can find a third-team willing to take him, because Houston doesn't want him.
Another factor in the equation: McGrady' $23.2 million salary was being paid by an insurance company before he made his comeback, and now that money is coming out of Les Alexander's wallet. If there is a Knicks-Rockets trade for McGrady, Cuttino Mobley's contract would be a piece, and that is being paid by an insurance company, too.
That is one strong asset the Knicks have in their favor in the T-Mac chase, because there aren't a lot of teams out there with the goods to get him since you have to put an awful lot of money together to meet the 125 percent rule as it relates to T-Mac's $23.2 salary.
To read the entire Sheridan chat wrap, click here.